For thermal coal it is very bad news, via Platts:
Import restrictions are continuing to hold up shipments of Australian thermal coal at Chinese ports and a solution to the deadlock is not expected any time soon, market sources said on Friday.

Chinese officials are still to advise on the likely duration of the import controls, which include customs clearance times of 40-50 days for arriving Australian coal ships, market sources said.

As a result, very few bids were seen during Friday's Asian trading session for Australian 5,500 kcal/kg NAR thermal coal, and sources described this market as well offered at $59-$60/mt FOB Newcastle in terms of June and July shipments.

Adding to the gloomy demand for Australian cargoes is the Chinese yuan's slide in value against the US dollar, which imported cargoes are priced at, and a squeeze in the arbitrage between imported and domestic thermal coal prices, market sources said.

Market speculation that some state-owned power generators in China had shown fresh interest in High Ash Australian 5,500 kcal/kg NAR cargoes for August loading have proved unfounded.

A number of smaller Chinese buyers such as cement companies and those in the steel industry have been booking cargoes of this Australian grade, but only because they appear prepared to wait through lengthy customs clearance for this origin at Chinese ports.

Eight Capesize ships carrying Newcastle coal cargoes are currently waiting to discharge at Chinese ports, according to S&P Global Platts vessel tracking software, cFlow, Friday.

These cargoes add up to 1.36 million mt of coal and worth approximately $82 million, based on the average price for FOB Newcastle 5,500 kcal/kg NAR thermal coal of $60/mt during April, when the cargoes were likely sold.

Market sources said an estimated 1 million to 1.5 million mt of Australian thermal coal had been booked for China over March-April.
The chart: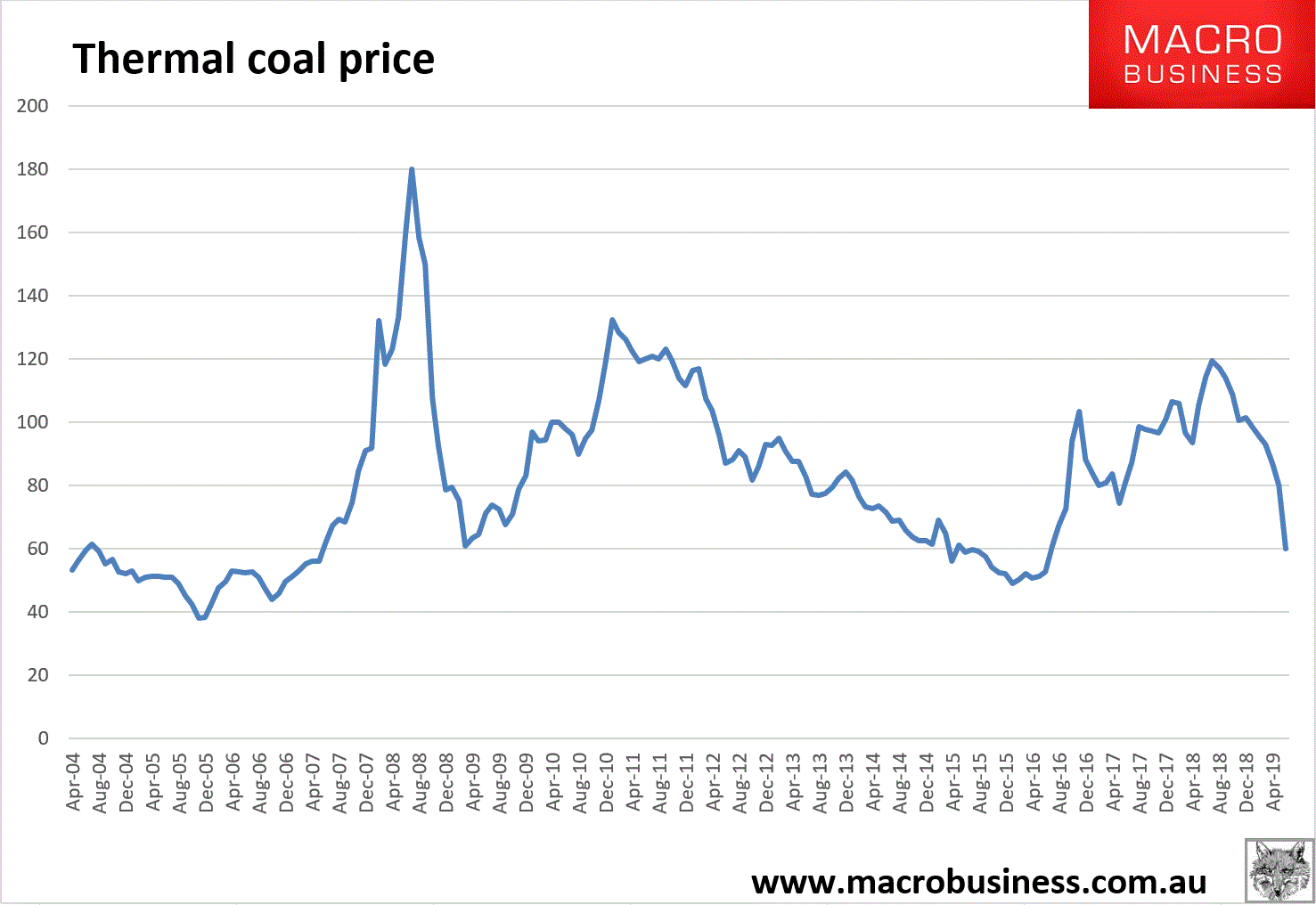 Volumes have oscillated from 40-50mt over the past few years. In 2018 we shipped 52.6mt. If the recent pace of loading continues then it will crash to 10-15mt. It could halve the value of total thermal coal exports from mid-$20bns to low teens this year.
It will be interesting to watch international students!
David Llewellyn-Smith is Chief Strategist at the MB Fund and MB Super. David is the founding publisher and editor of MacroBusiness and was the founding publisher and global economy editor of The Diplomat, the Asia Pacific's leading geo-politics and economics portal.

He is also a former gold trader and economic commentator at The Sydney Morning Herald, The Age, the ABC and Business Spectator. He is the co-author of The Great Crash of 2008 with Ross Garnaut and was the editor of the second Garnaut Climate Change Review.
Latest posts by David Llewellyn-Smith (see all)