Via the CBA:
Latest PMI data pointed to a return to growth in output across the Australian manufacturing and service sectors in May, following no change in the previous month. In fact, the rise in activity was the first in four months and the strongest in 2019 so far. That said, the rate of expansion was relatively muted. Overall growth was driven by the service sector, which saw a solid rise in activity in May. Manufacturing production increased at the fastest pace for three months, rebounding from April's decline. The rise in business activity coincided with a pick-up in the rate of new order growth, again led by the service sector. Some panellists reported that marketing drives had helped secure greater new business. Rises in new orders fed through to increased backlogs of work. In turn, companies took on extra staff following a slight reduction in employment in April. Moreover, the rate of job creation was the fastest in the year-to-date. May data pointed to a marked rise in input prices, with the rate of inflation ticking up from that seen in April. Currency weakness and higher fuel costs were mentioned by those panellists seeing input prices increase. Output charges also rose at a faster pace during the month. Business confidence strengthened for the second month running amid higher new orders and expectations that demand conditions will improve following the federal election. Confidence was higher in both the manufacturing and service sectors.
The employment indexes also did better: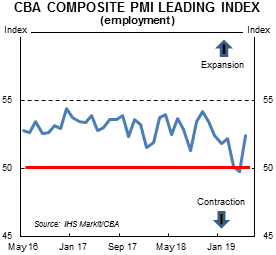 But the key services measure was still weak: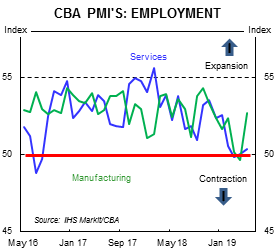 Better though.