Tonight is shaping up as a seminal moment for Australia's bulging international student industry, with ABC's Four Corners to run a segment tonight, entitled "Cash Cows", which promises to expose how "Australia's higher education system is being undermined by a growing reliance on foreign fee-paying students":
Academics and students are speaking out to reveal a picture, across the nation, of compromised academic standards.

"Many students seemed to be unable to understand instructions or understand the material that was put in front of them." Academic

"I would do my best to make sure that the team would understand the topic each week, and then I would get them to send to me what they had written, and I would try and rephrase it into more readable English." Student…

Teaching staff say that universities are risking their reputations by taking on students who are not capable of advanced levels of learning.

"Admitting students who don't have the right qualifications, or right prerequisites, or correct language capabilities is setting them up for failure. This is just not what a university should do. That's not what education is about." Academic

Insiders warn that with international student numbers continuing to grow, the problem needs to be tackled urgently.

"I think it's a train wreck. I think it's, it's coming and it's coming hard and the incoming government's going to have to deal with (it)." Private education consultant.
The international student influx has led to regular and widespread reports of cheating and an erosion of education standards across Australia's tertiary institutions.
The issue first burst into the spotlight in 2011 when economist, Gigi Foster, released damning empirical evidence showing that tertiary education standards are being lowered by high numbers of Non-English Speaking (NESB) international students:
Abstract

Do international students and/or students from non-English language speaking backgrounds (NESB students) perform worse than other students in Australian undergraduate classrooms? What happens to other students' marks when these students are added to classrooms? I provide new empirical evidence on these questions using very recent administrative panel data from the business faculties of two Australian Technology Network universities. Results show that both international students and NESB students perform significantly worse than other students, even controlling for selection into courses. Both effects are large and do not disappear after the first semester, but non-English speaking background predicts substantially more of a reduction in marks than international student status. Adding international NESB students to a tutorial leads to a reduction in the marks of English-speaking students in that tutorial, whereas the marks of all students benefit from the addition of domestic NESB students to tutorials. Finally, evidence of an upward buoying effect on marks is found from adding international NESB students to courses, which is likely due to the presence of grading on a curve at the course level, but this effect is only felt by international NESB students themselves. Logic suggests that this rise is unlikely to be due to a true learning effect, implying that on average, international NESB students' already low marks are inflated in courses with large fractions of such students.
Since then, regular reports have emerged sounding the alarm.
For example, in 2014 a large-scale essay ghostwriting service targeting Chinese students made national headlines. Whistleblowing academics also accused their universities of contributing to systemic cheating by welcoming international students who are "functionally illiterate".
In 2015, both Fairfax and the ABC reported that international student colleges had received cash kickbacks for helping overseas workers and students win Australian visas using fake qualifications.
Also in 2015, Four Corners aired a report entitled "Degrees of Deception", which uncovered that cheating and plagiarism was rife across Australia's universities, driven by international students.
Nothing happened and the international student rort was allowed to balloon to current epic proportions. In the past five years alone, international student numbers surged from just over 300,000 in 2013 to 500,000 as at end-2018: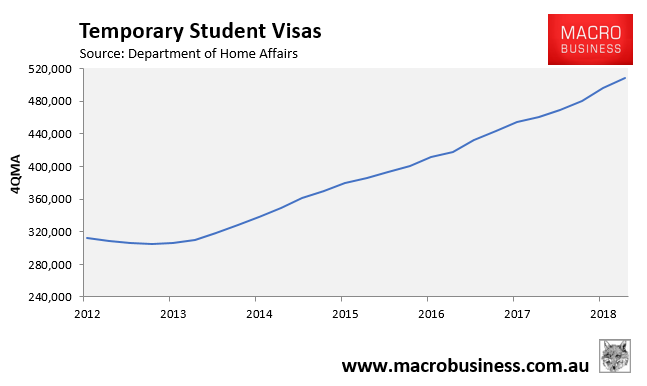 In a similar vein, the concentration of international students at Australia's universities has hit alarming levels: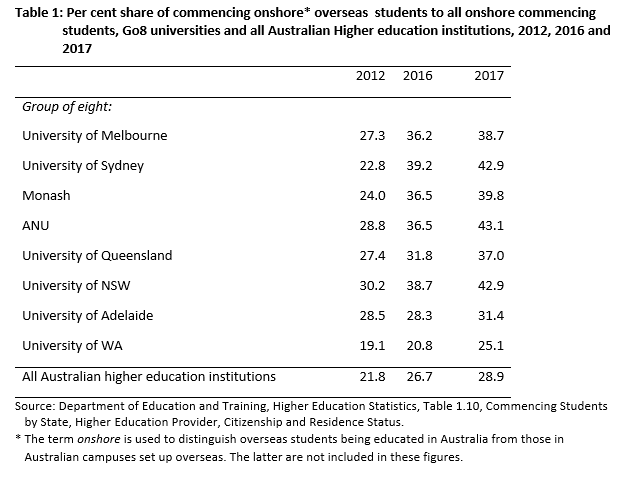 Not surprisingly, then, an ABC investigation last year "uncovered an abundance of international students who describe struggling to communicate effectively in English, participate in class, or complete assignments adequately". Academics, employers and education experts also informed the ABC that "English language standards are often too low or can be sidestepped via loopholes, and that students are often put in stressful classroom situations that can lead to cheating".
Perhaps the best dissection of the problem came from economics lecturer at the University of Queensland – Dr Cameron Murray – who released the following damning indictment via Twitter:
A thread on my experience:

1. 90% of students in my economics masters classes are international.
2. Half of them struggle with basic English
3. When I ask in tutorials why they are doing the degree, half tell me that they "need more points for their residency visa" (1/n)
4. They tell me they choose economics because they can do the maths but don't need to understand anything or write anything.
5. I always set written essays or reports. Students tell me that they know other students are using paid 'essay writing' services to pass my class (2/n)
6. If half the class can't understand English it brings down standards. It must—unless I fail half the class.
7. Think about the incentives—a casual lecturer who costs $25,000 fails 50 students paying $250,000. Change lecturer next year or reduce intake to keep standards? (3/n)
8. It is frustrating when top international students from foreign governments/central banks come to your class, then sit next to rich Chinese (almost always Chinese) who can't understand a word and are there to buy a visa (4/n)
9. The evidence shows the effect on standards is real. https://www.sciencedirect.com/science/article/abs/pii/S027277571200028310
None of this is a secret. That research is from 2011. Here's an article from 2014: https://www.smh.com.au/education/academics-accuse-universities-of-addiction-to-international-students-and-their-cheating-20141112-11lbdi.html
10. Unfortunately, this reality conflicts with the widely believed myth that our immigration program brings in "high skilled" workers.
11. 350,000 international students paying $25,000+ per year to study is $9billion being pumped through our top dozen universities. (6/n)
12. Halving the number of international students would keep all the good students, boost standards for all, and remove the visa scams.
13. But this would remove $4.5billion per year of revenue to the universities. (7/n)
14. In sum, universities are being degraded so they can be used as a back-door immigration program, and no one at the senior levels of universities or major political parties want to change it.
15. It is nearly career suicide for younger academics to say anything about it (8/8)

I forgot to add that almost every student I failed or called out for plagiarism got second and third chances until they passed. After the first chance it is taken out of my hands to higher ups at the faculty…

There is nothing new in this thread. @4corners did a big investigation a few years ago. Nothing changed AFAIK. People are just used to the new reality. https://economics.com.au/2015/04/17/universities-corruption-and-standards-its-not-just-academic-anymore/

More here: https://www.theaustralian.com.au/higher-education/free-ride-past-language-barrier/news-story/9082a4d2234f019af2ddd1f68be73a8f  and here: https://economics.com.au/2011/03/16/are-we-going-easy-on-foreign-students-in-order-to-get-more-revenue/
In response to these widespread concerns, the Victorian Government in January called for a review of entry requirements into Australia's universities, which was immediately supported by academics, who "inundated" Fairfax with stories of how they had been forced to lower standards and pass failing international students in order to maintain numbers.
Even the international student association has acknowledged the problems, also calling for greater regulation of overseas education/migration agents amid widespread cheating on English tests to gain access to Australian universities.
Therefore, with concerns around international students seemingly at its zenith, tonight's Four Corners report threatens to blow the issue wide open.
Hopefully, the incoming federal government will use the Four Corners report as an opportunity to stare down the rent-seeking universities and order a warts-and-all Productivity Commission review of the costs and benefits of the international student trade.
It's time to take stock before the issue mushrooms further out of control.
Leith van Onselen is Chief Economist at the MB Fund and MB Super. Leith has previously worked at the Australian Treasury, Victorian Treasury and Goldman Sachs.
Latest posts by Unconventional Economist (see all)