MB has gone to great lengths to expose the crash in real employee incomes that has taken place this decade, as evident by the circa 5% fall in real average employee compensation since March 2012: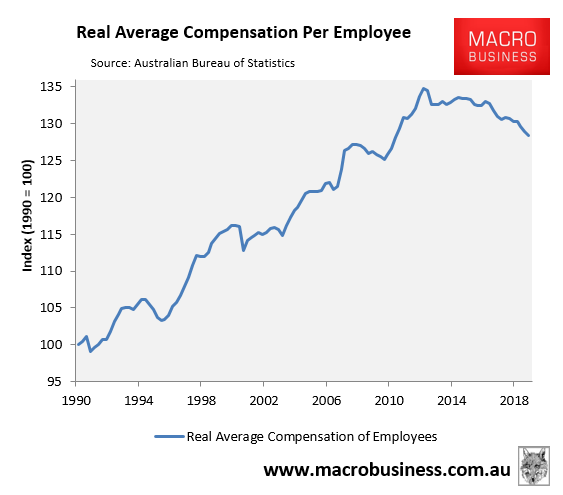 And the 0.3% real decline in per capita household disposable income since June 2012: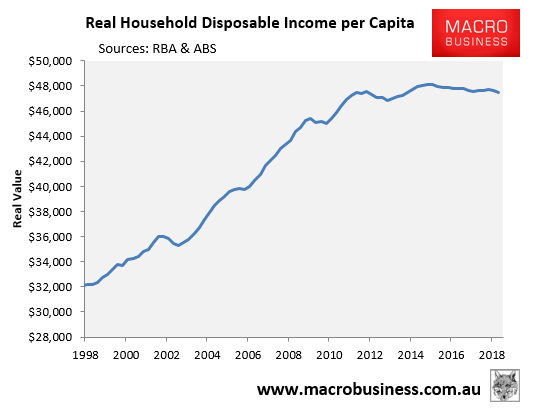 Now, research released by the Centre for Future Work confirms wage growth in all parts of the country fell to historic lows, and has fallen in real terms:
This briefing note reports on new estimates of wage growth in Australia's economy using a novel source of data: personal income tax returns collected by the Australian Tax Office (ATO)…

We compared income tax returns for 2012-13, when wages first began decelerating dramatically in Australia, to the most recent year available (2016-17). The analysis confirms that wage growth has indeed slowed to historically low rates: wage and salary income per employed tax-filer increased over that four-year period at an average rate of just 1.71% per year. That was slower than the average annual growth in consumer prices (1.88% nationally over the same period), producing a cumulative decline (of about 0.6%) in average real wages over the 4-year period…

The analysis confirms that wages across Australia have been growing unusually slowly since 2012, and that average real incomes (and hence living standards) have declined. The pain has been particularly acute in several key regions of the country, however – and those regions will be especially important in determining the outcome of the federal election. Frustration regarding falling real incomes could thus prove a politically potent factor on May 18…

Table 1 reports the overall findings of the analysis at the national level. Some 10.1 million tax-filers reported wage or salary income in 2012-13, growing to 10.8 million four years later (see Table 1). Aggregate wages and salaries totaled $563 billion in 2012-13, and $645 billion in 2016-17 – a cumulative increase of nearly 15%. That growth in aggregate wage income was driven equally by the growing number of employed people, and by growing average nominal incomes. Over the 4 years, nominal wage and salary income declared per employed tax-filer grew by 7%. That amounts to an annual average increase in declared wages per tax-filer of 1.71%.

Nominal wage growth over this period lagged behind the growth in consumer prices – which increased at an average annual rate of 1.88% (comparing financial years 2012-13 and 2016-17). Cumulated over four years, that gap between wage growth and price inflation translated into a cumulative decline in average real wages of about two-thirds of one percent. This is consistent with other studies which have reported a decline in Australian real incomes over this period…

It is interesting to compare the wage growth estimates generated from the ATO data to corresponding figures from other statistical sources (Table 2). The most commonly reported indicator of wage growth is ABS's quarterly Wage Price Index (WPI), which measures the change in wages paid for a composite "basket" of jobs. That basket is constructed after adjusting for changes in the composition of employment in the labour market; its methodology is similar to the Consumer Price Index, which also measures inflation in a hypothetical basket of goods and services (also held constant from one period to the next). The problem with this approach is that in reality the composition and quality of jobs does change over time. In particular, Australia's labour market has seen a growth in part-time jobs (now accounting for almost one in three positions), labour hire, temporary and casual positions, contractors, and 'gigs.' In its search for a "pure" measure of wage inflation, the WPI does not capture the impact of these changes in employment composition on actual wages earned in the economy. At a time when average job quality is declining (as has been the case in recent years), the WPI will overstate actual realised wage growth; the opposite is the case (as during the mid2000s) when average job quality is improving.

Our analysis of ATO data on wage and salary income confirms that the WPI series has been overstating the rate of growth of employment income – and by a significant margin, in excess of 0.5 percentage points per year. The WPI measure (for all sectors) rose at an annual average rate of 2.27% over those four years. That was 0.56% per year more per year than the average annual growth in wage and salary income declared per employed tax-filer on ATO tax returns. Because of shorter hours, more temporary work, the growing importance of insecure and low-wage work, and other compositional changes, the realised wage and salary income received by Australians has been growing even more slowly than the most commonly-cited ABS indicator suggests.

Two other indicators of wage growth are also reported in Table 2: the annual growth in weekly earnings, and the growth in labour compensation (including wages, salaries, and superannuation contributions) per employed Australian. Those indicators do take account of changes in employment quality (unlike the WPI), and hence are more consistent with the realised reality of Australians' pay packets. The estimate of wage growth derived from ATO data suggests a very similar trajectory as the ABS report on average weekly earnings; it is slightly higher (by about 0.2% per year) than the measure of labour compensation per employed person derived from the national accounts. In sum, our analysis reinforces the conclusion that wage increases reported by the WPI provide an overly optimistic assessment of the true state of labour incomes in Australia.
As usual, there's no explicit admission that the importation of massive amounts of migrant workers into the labour market is contributing to the poor wage outcomes. But we'll leave that for another day.