See the latest Australian dollar analysis here:
DXY was strong last night as EUR and CNY wilted: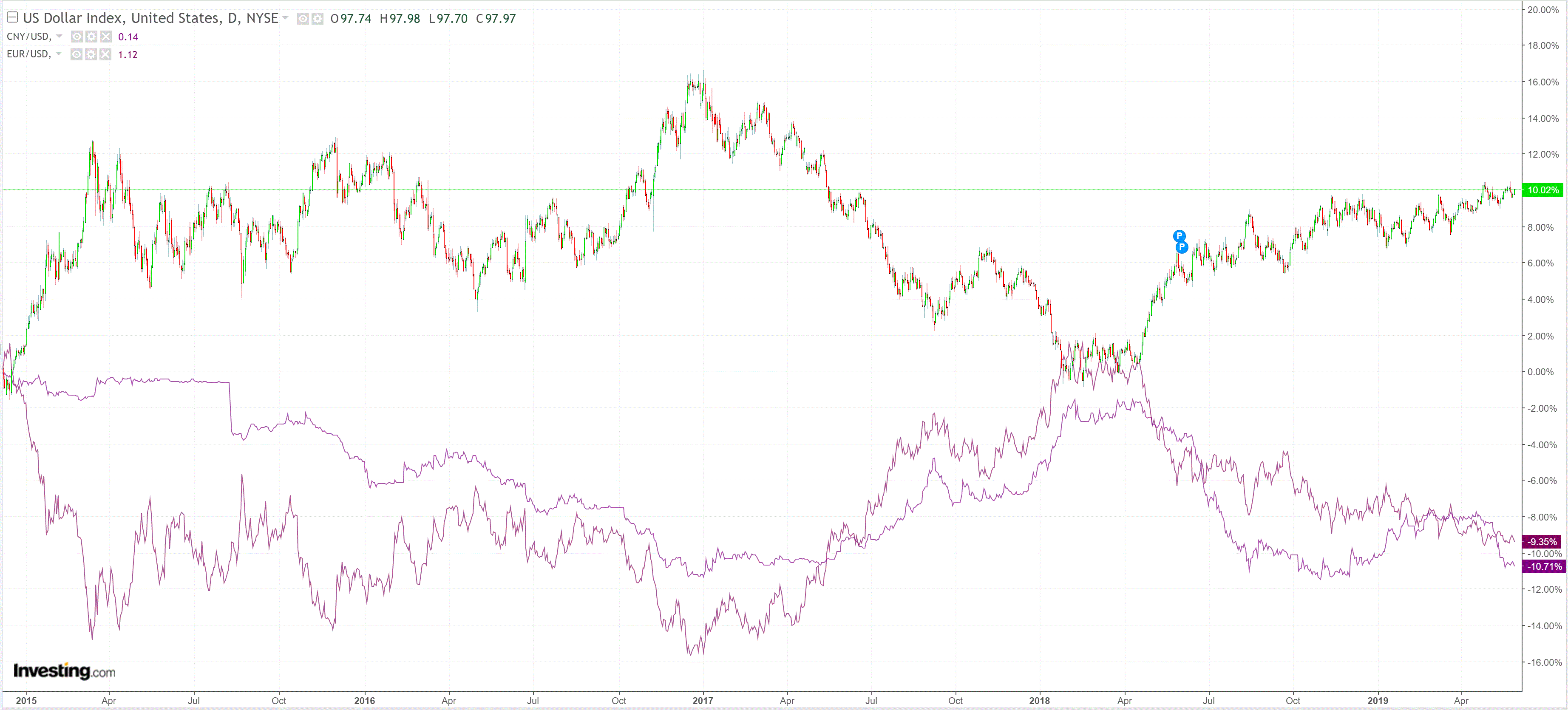 But the Aussie dollar was just as strong versus DMs: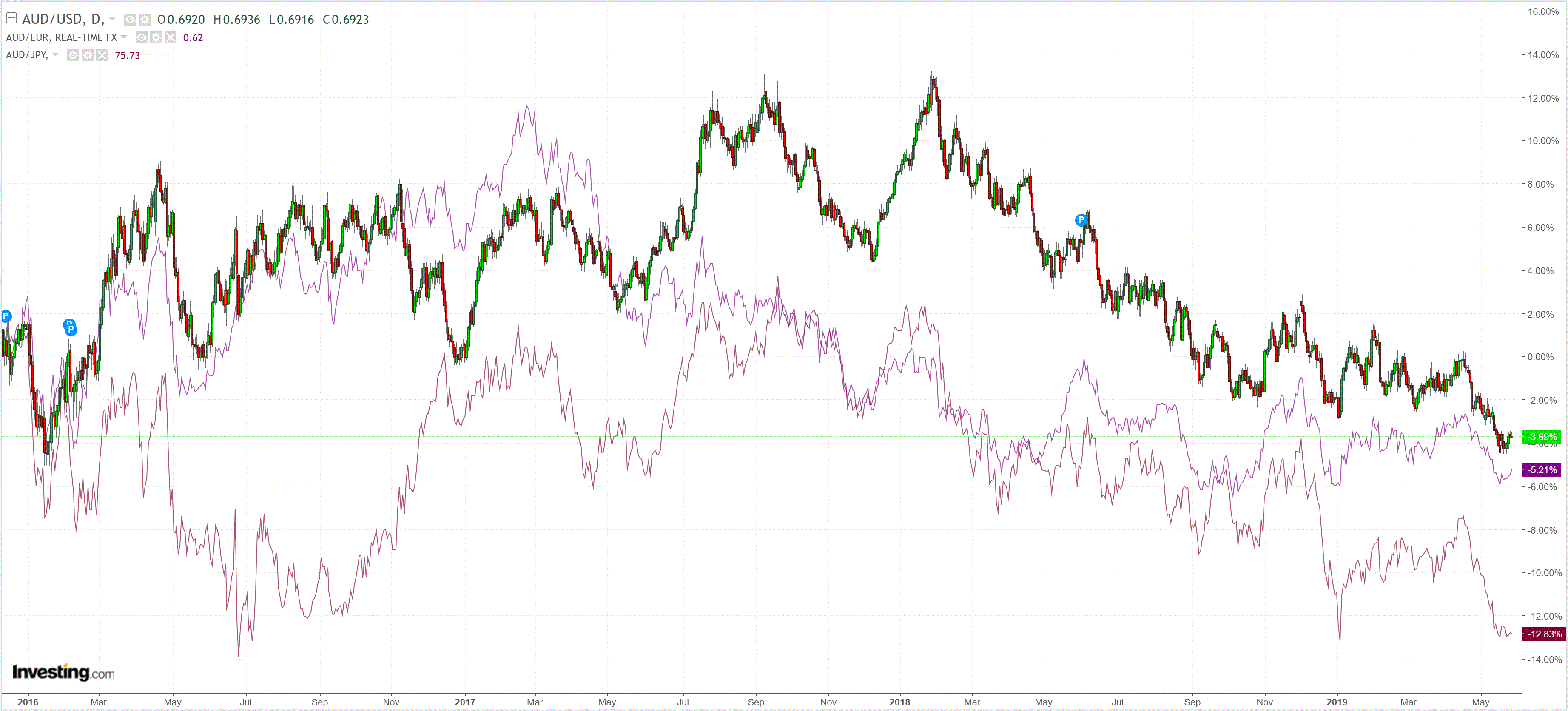 And plunging EMs: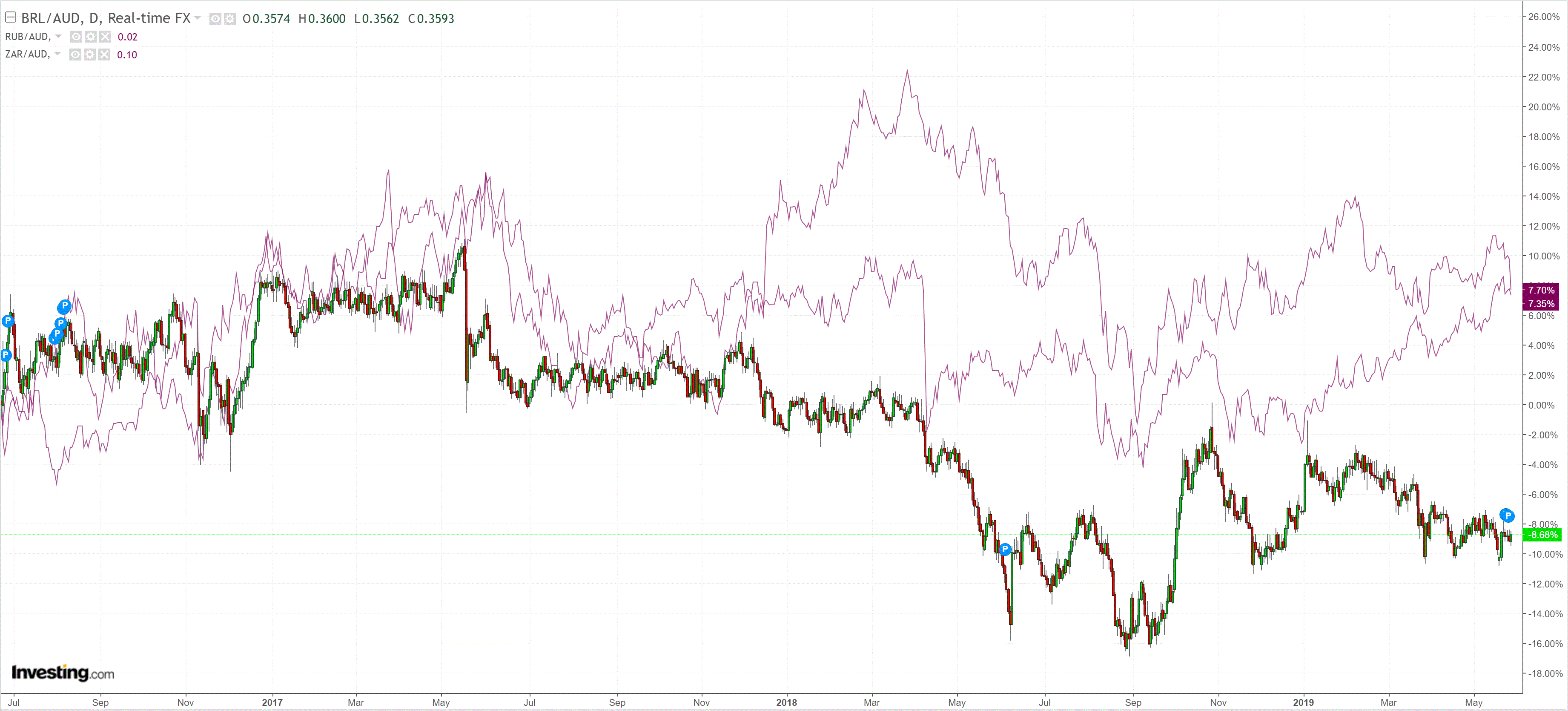 Gold got hit: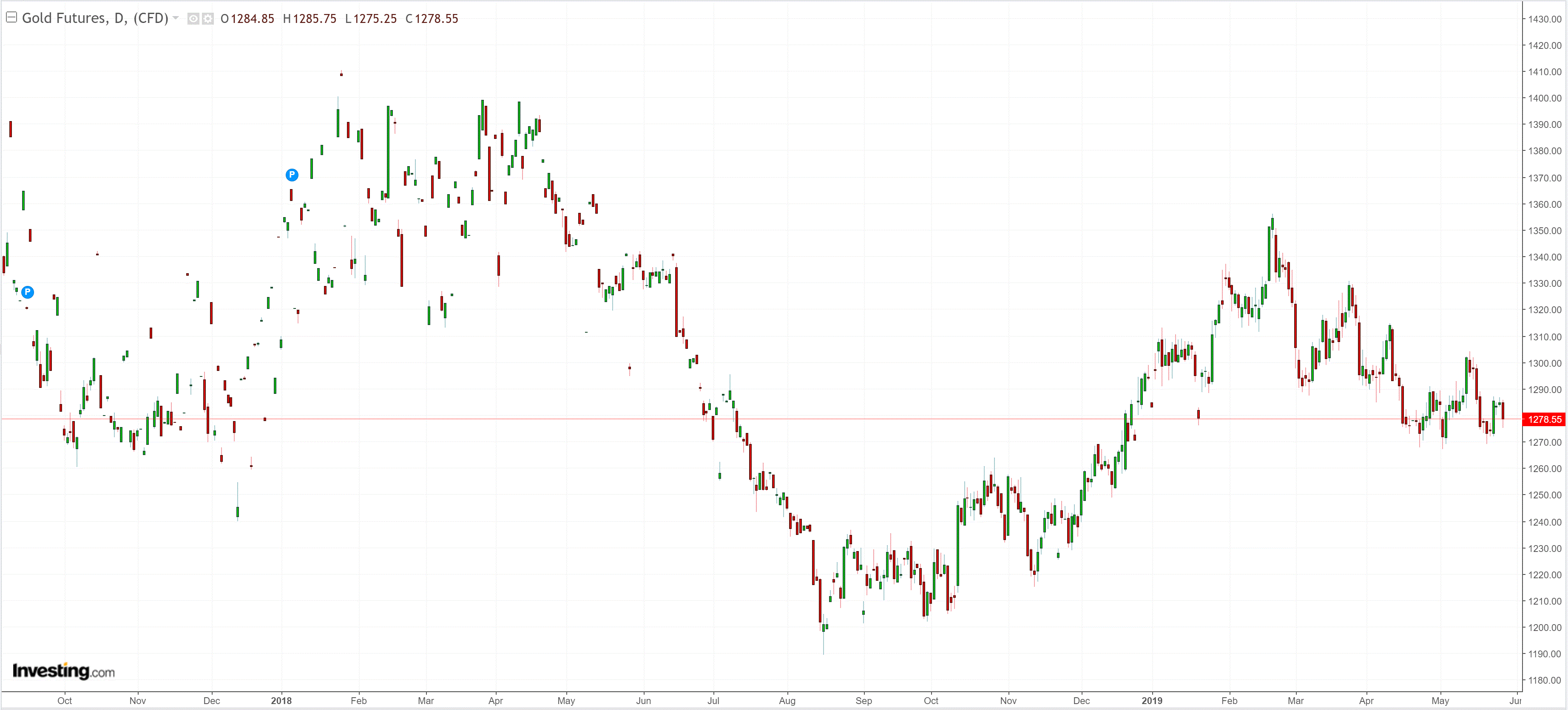 Oil was soft: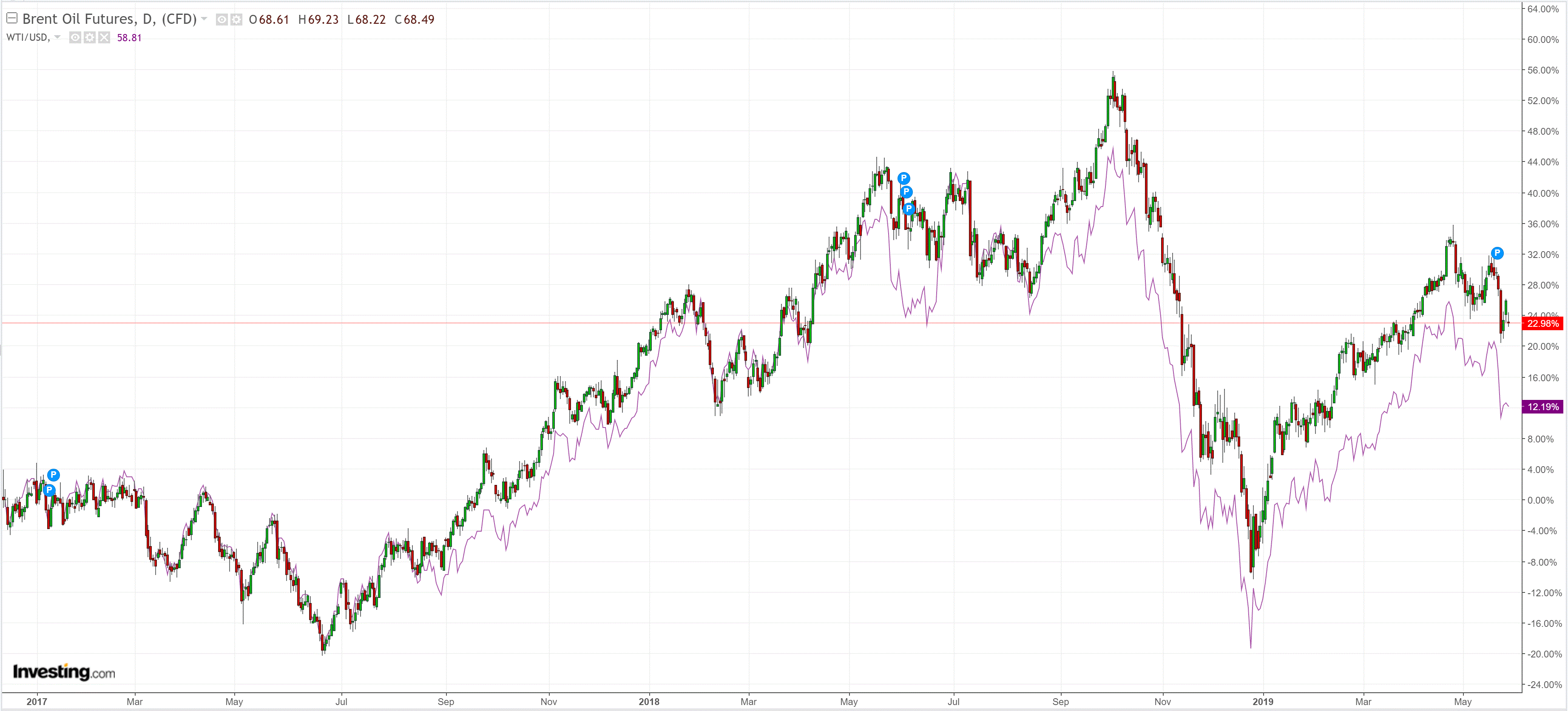 Metals fell: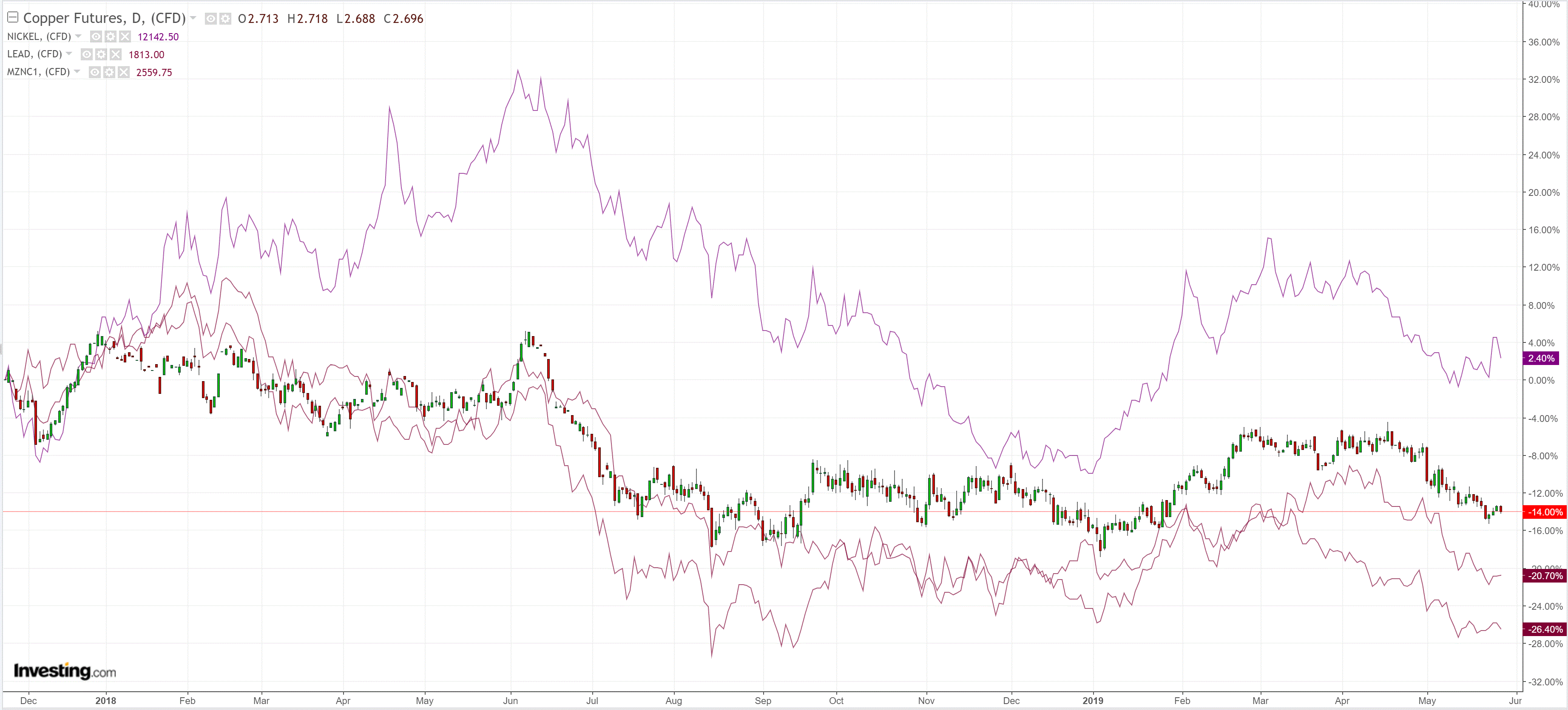 Miners soared: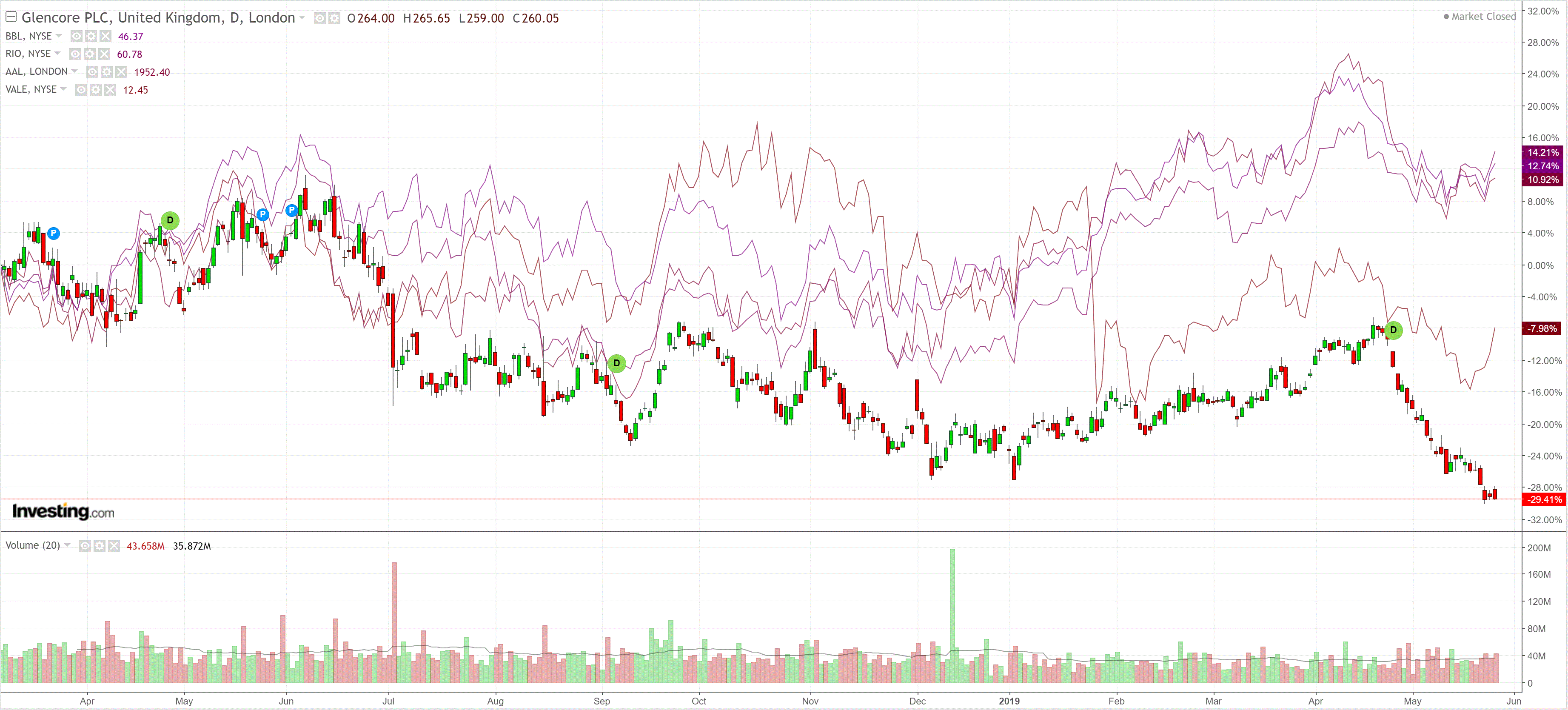 EM stocks are stuck: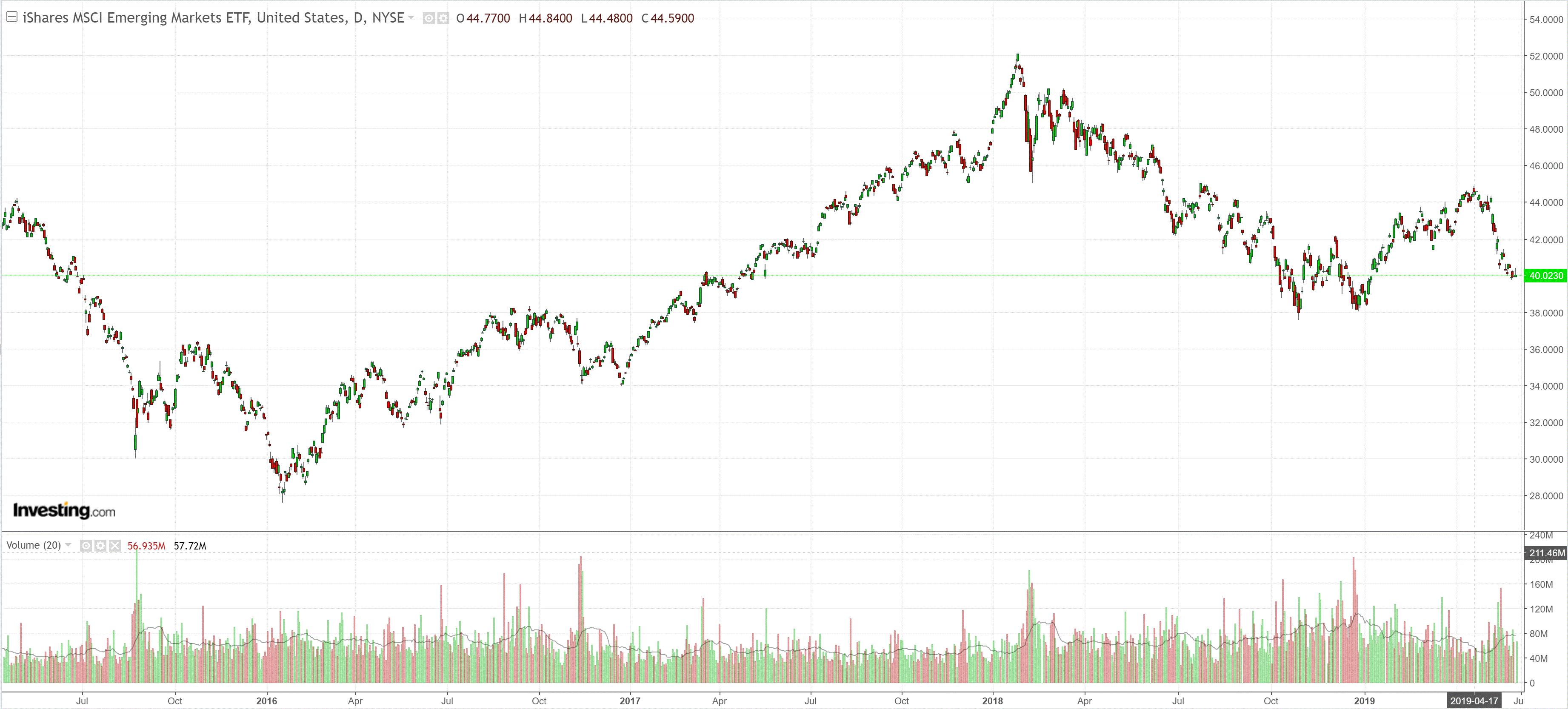 Junk is weakening: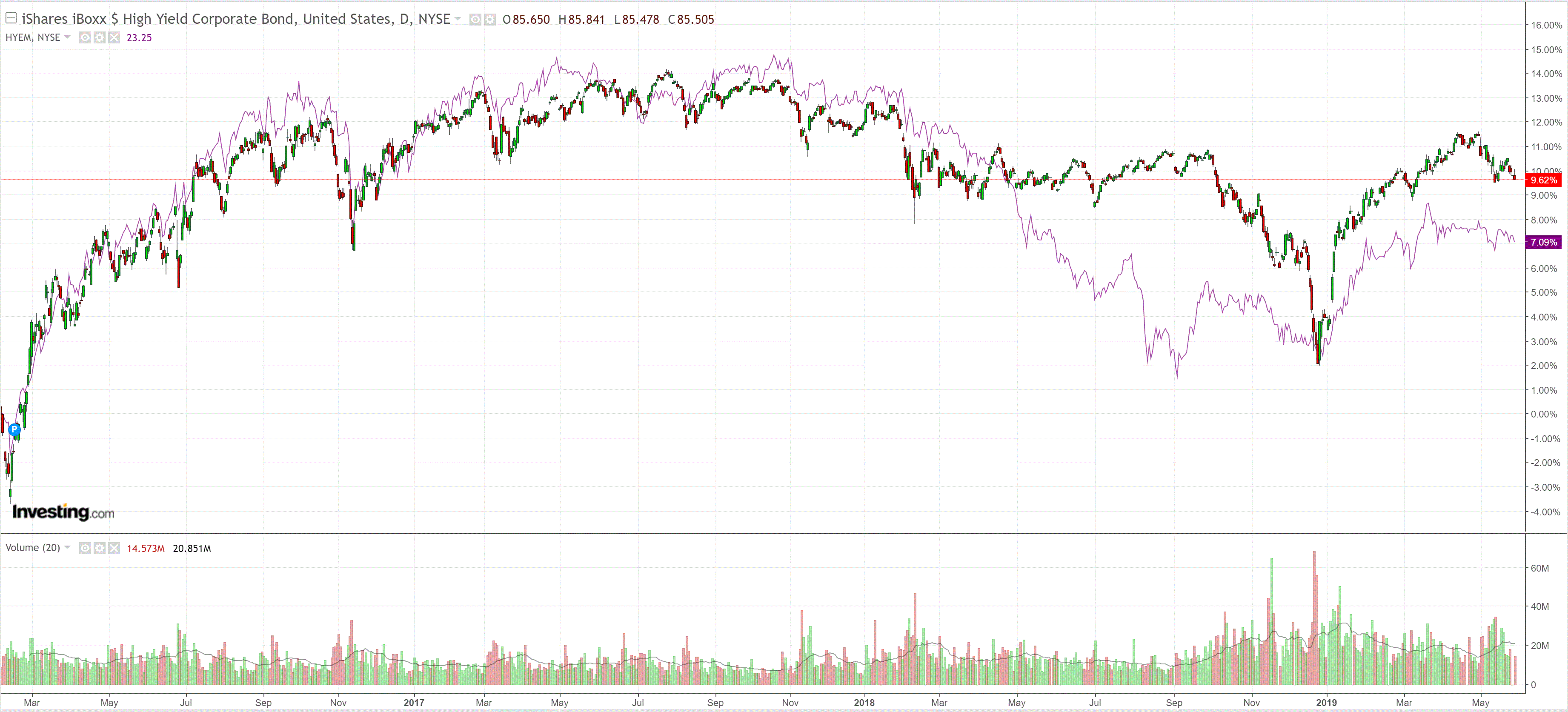 Treasuries were on fire: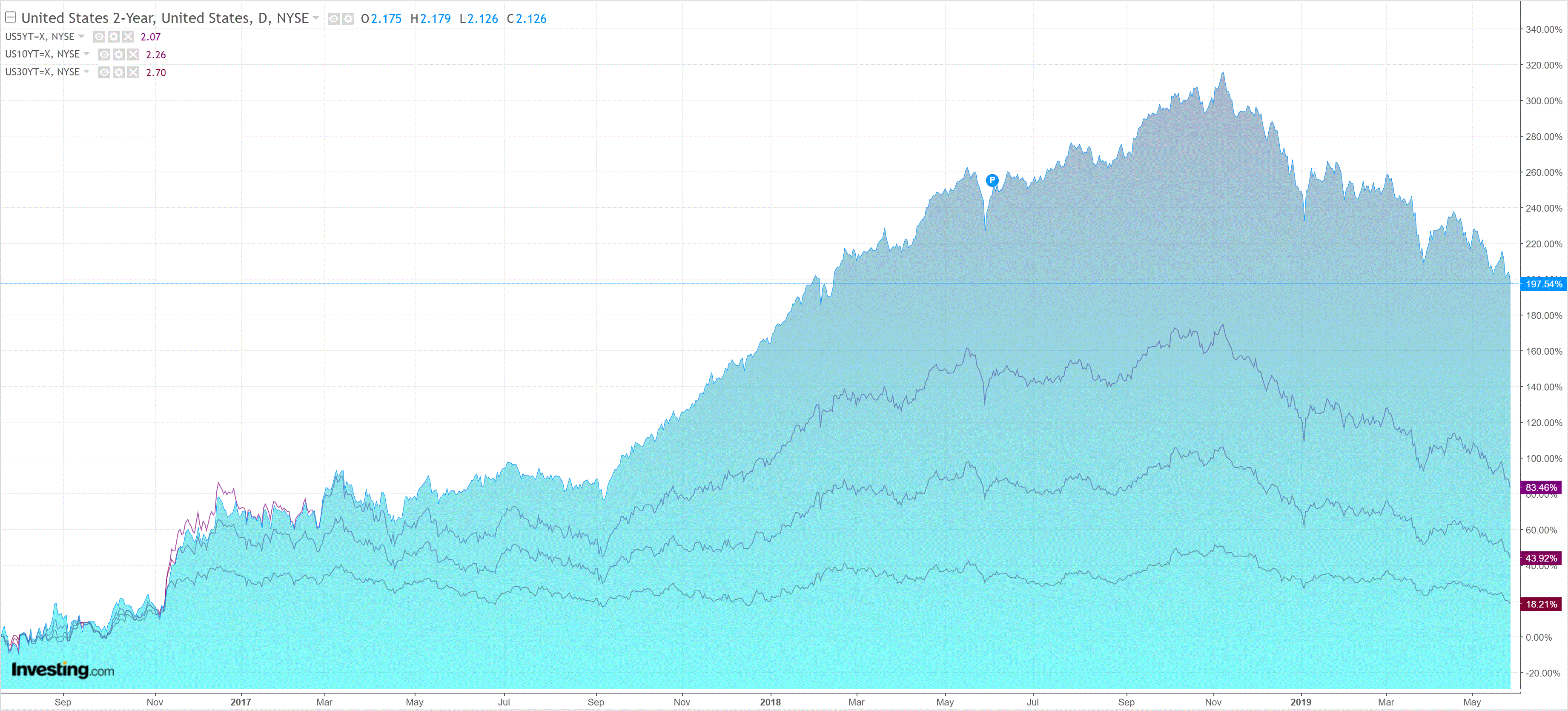 The bund curve bashed: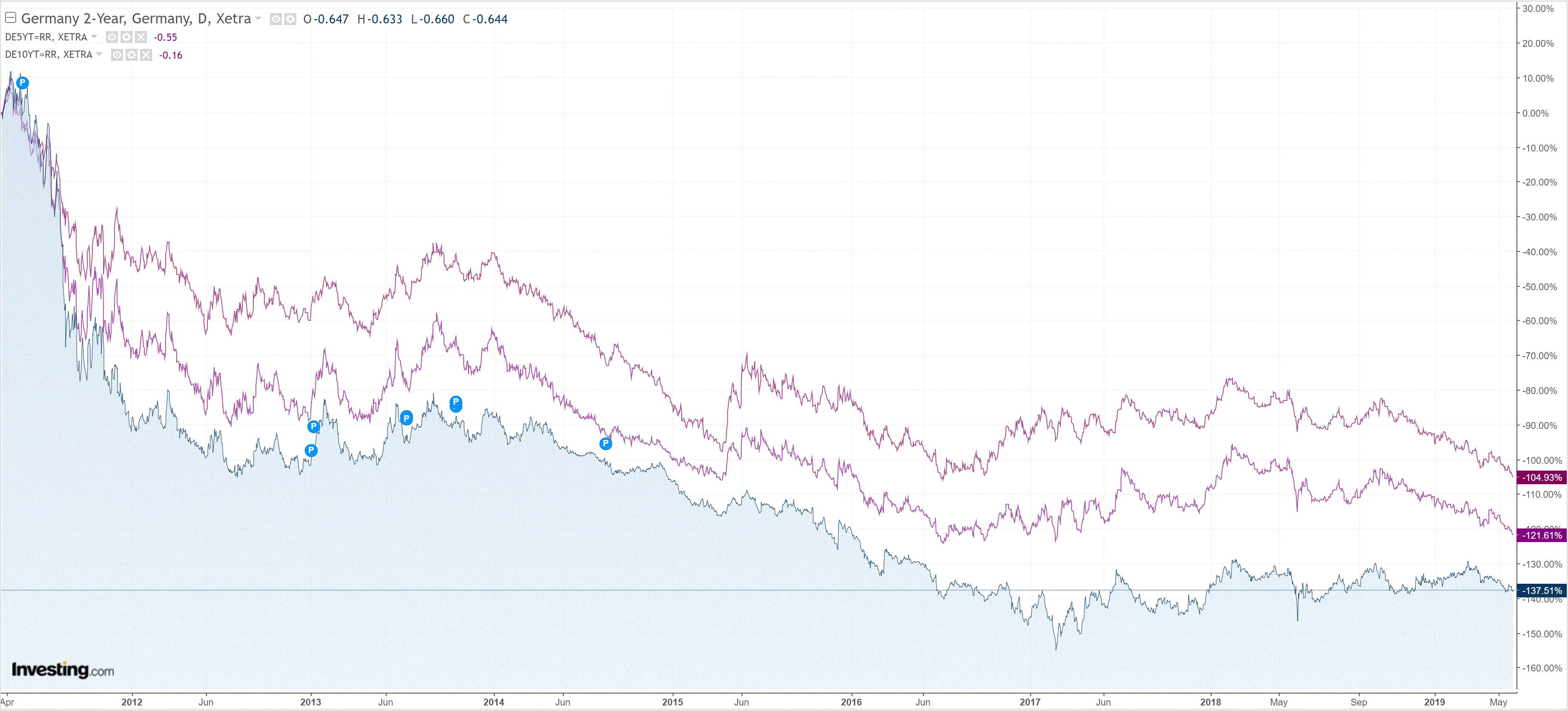 Aussie bonds bid: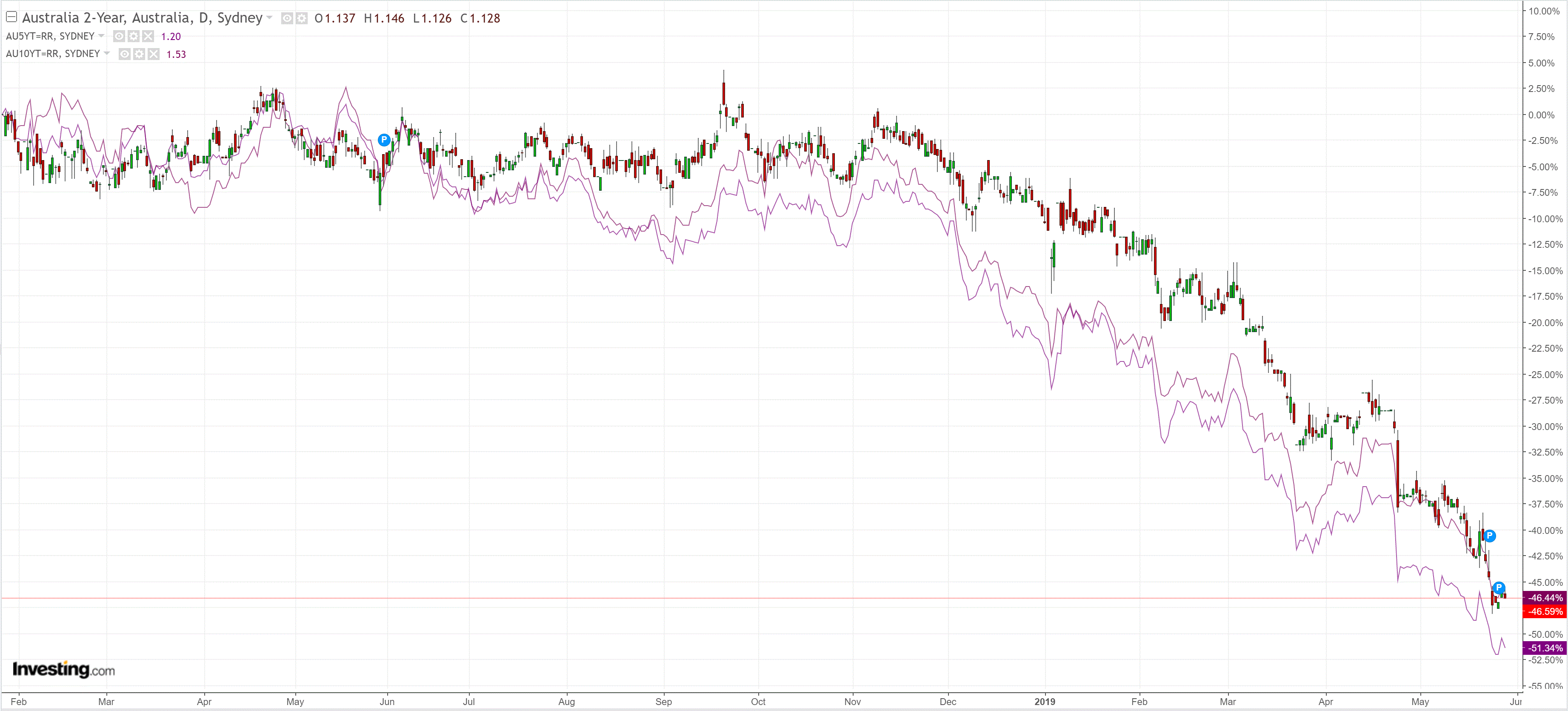 And stocks are sitting at the neckline of a nasty head and shoulders pattern: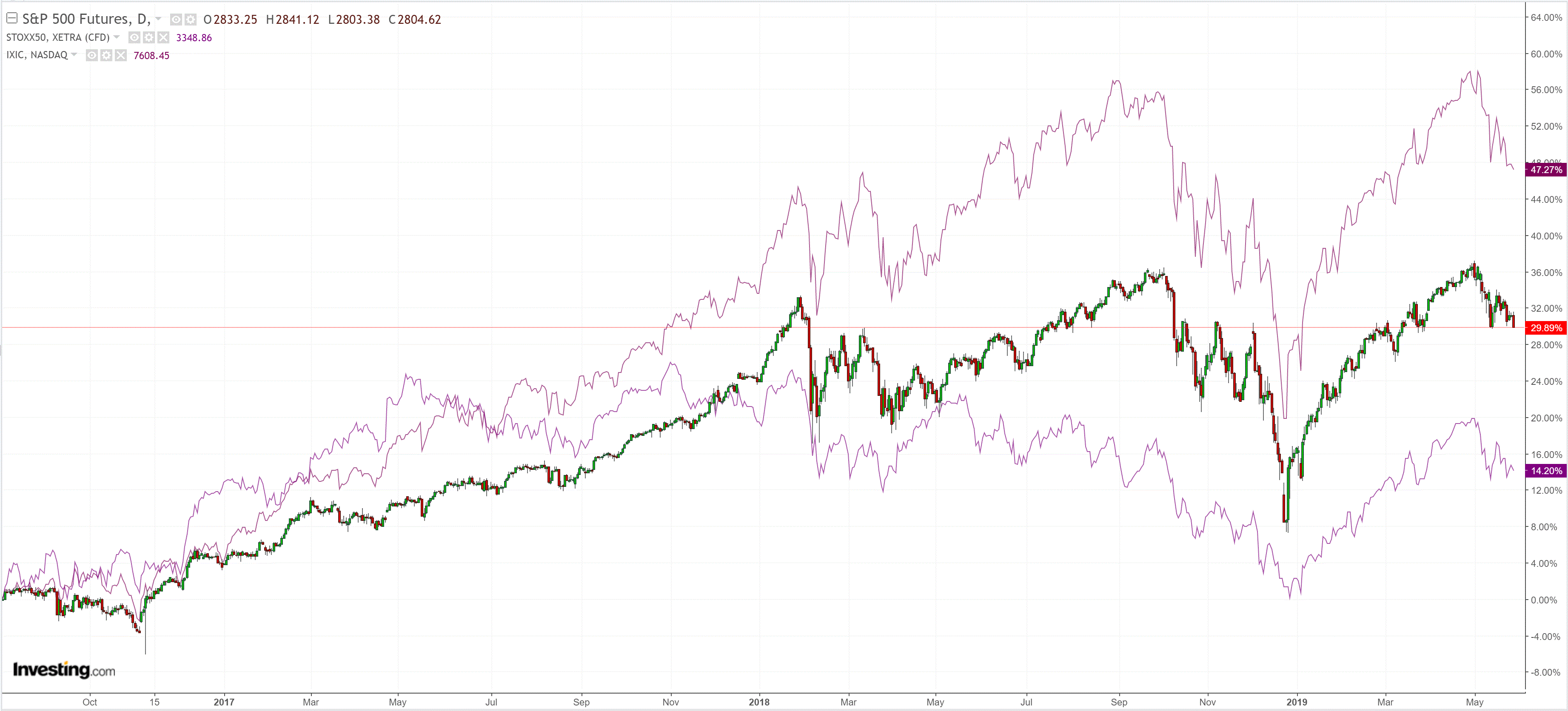 US data wasn't bad with a good consumer confidence reading at 103, stable house price growth at 3.7% but soft Dallas Fed at -5.
But the trade war casualties continue to mount fast. Credit Suisse nicely illustrates China's vulnerability:
"We are deep in the trenches of a trade war. The global growth recovery that began a few months ago has been aborted, in our view."

"Donald Trump has an incentive to make a deal because not doing so risks the strong growth and solid equity market performance that will help his prospects in next year's election."

"President Xi has an incentive to make a deal because China faces a significant growth shock, with business failures and rising unemployment, if no deal is reached."
Yet for now we march ever deeper. Bloomberg lists a few US casualties:
The most obvious target is Huawei's smartphone rival Apple Inc., which gets about a fifth of its revenue from China and manufactures its iPhones there. The Cupertino, California-based company has already been suffering in the region, seeing sliding revenue as consumers buy more phones from Huawei and other local brands.

…Despite trade wars and a slowing economy, "the huge story still is China," according to the world's largest hotelier. Marriott International Inc. will open more than 30 hotels in China this year and has more than 300 new hotels planned for the country – more than half of its total in the Asia-Pacific region.

…China is an increasingly important market for Nike Inc., which sponsors the Shanghai Marathon and the top Chinese soccer league. In the quarter ended in February, Greater China revenue soared 24%, the 19th consecutive quarter of double-digit gains.
The Chinese military wants out of Microsoft:
Amidst an escalating trade war and political tensions with the US, Beijing officials have decided to develop a custom operating system that will replace the Windows OS on computers used by the Chinese military.
Huawei is dumping FedEx:
Chinese telecoms equipment maker Huawei is reviewing its relationship with FedEx Corp after it claimed the U.S. package delivery company, without detailed explanation, diverted two parcels destined for Huawei addresses in Asia to the United States and attempted to reroute two others.

Huawei told Reuters on Friday that FedEx diverted two packages sent from Japan and addressed to Huawei in China to the United States, and attempted to divert two more packages sent from Vietnam to Huawei offices elsewhere in Asia, all without authorization, providing images of FedEx tracking records.

Reuters could not verify the authenticity of the records. Shown the images of the tracking records, FedEx declined to make any comment, saying company policy prevented it from disclosing customer information.
Let's face it, just about any business decision can be weaponised in this atmosphere.
Chinese are also voting with their feet:
After more than a decade of rapid growth, Chinese travel to the US is falling. And that has cities, malls and other tourist spots scrambling to reverse the trend.

Travel from China to the US fell 5.7 percent in 2018 to 2.9 million visitors, according to the National Travel and Tourism Office, which collects data from US Customs forms. It was the first time since 2003 that Chinese travel to the US slipped from the prior year.
Or you can just threaten openly. China made the rare earth's suicide move explicit:
China's powerful planning body has threatened to use rare earths exports as leverage in the trade war with the US, in a sign of increasing tensions between the two powers.

Rare earths, a group of 17 metals with a variety of high-tech applications, used in magnets, instrument displays and other strategic applications, are the one raw material where China dominates global supply.

A tightening in Chinese export quotas a decade ago brought the little-known minerals to the attention of the international security community as a potential strategic threat.
Before long there will be earnings casualties all over the place and it is increasingly likely that equities will crack despite the support of lower bond yields. I still think the AUD will fall further as this shakeout attempts to drive the parties back to the negotiating table.
But the recent strength of the Aussie is a warning that once into the shock, the iron ore supply crunch, plus a slash and burn Fed, will lift it again.
Latest posts by David Llewellyn-Smith (see all)