See the latest Australian dollar analysis here:
DXY is again at the verge of breakout as CNY and EUR sink: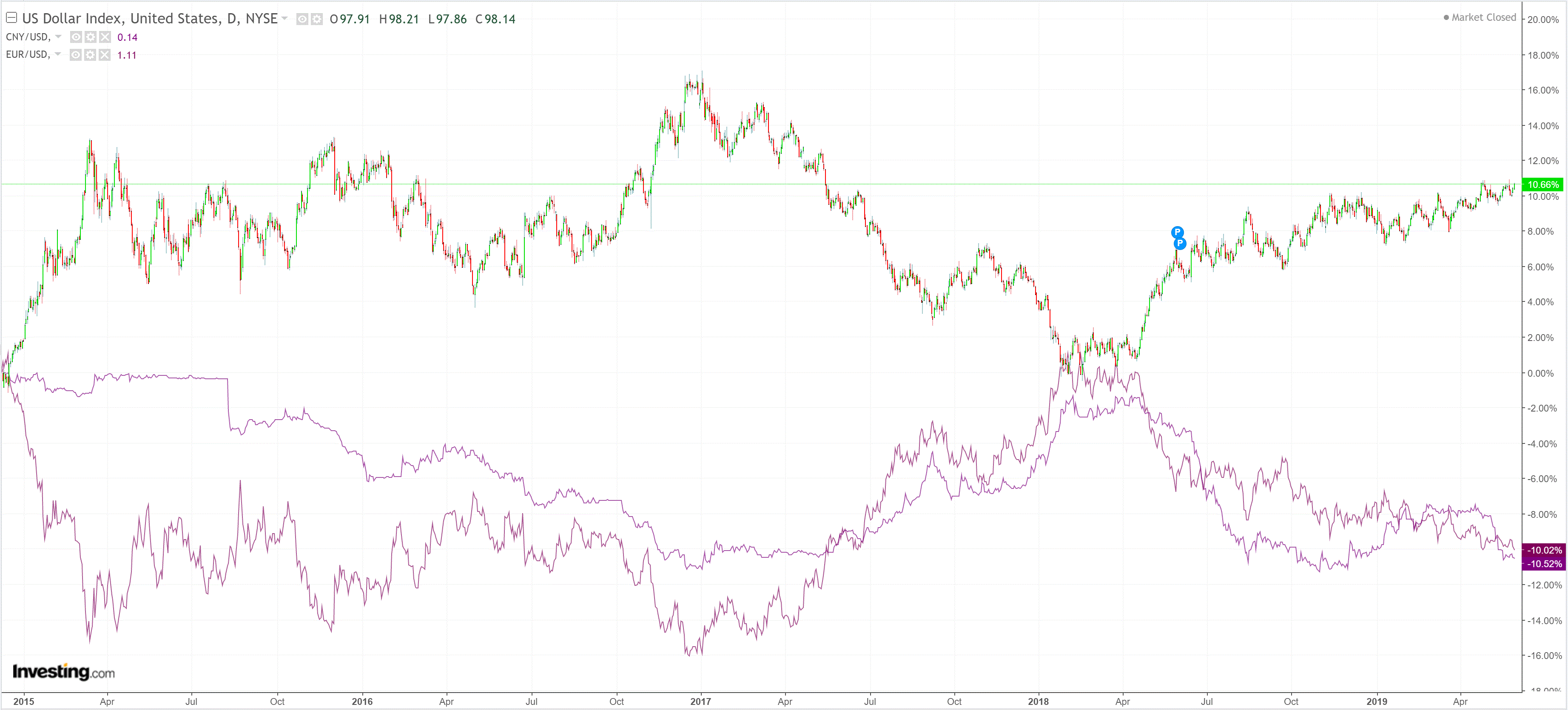 The Australian dollar still held on against DMs: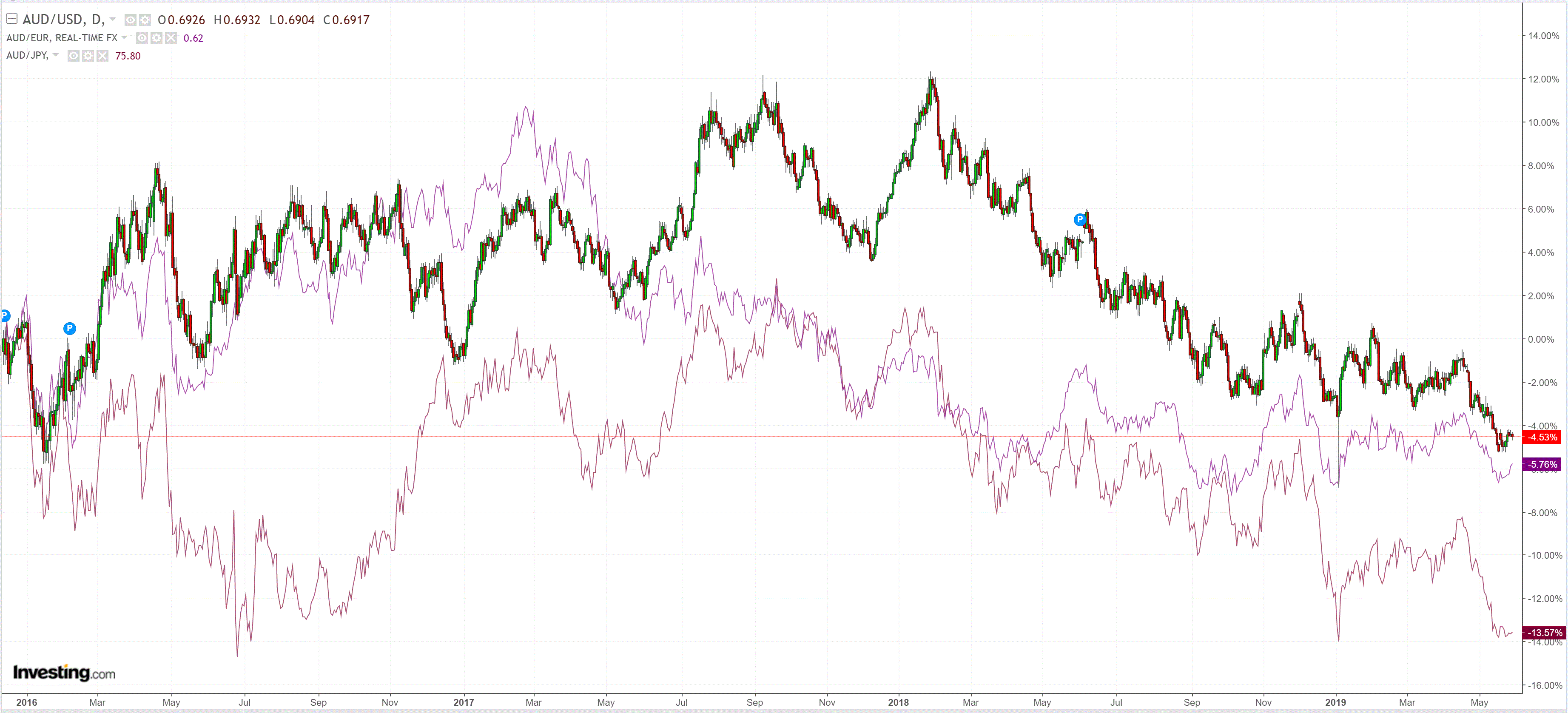 No so much against EMs: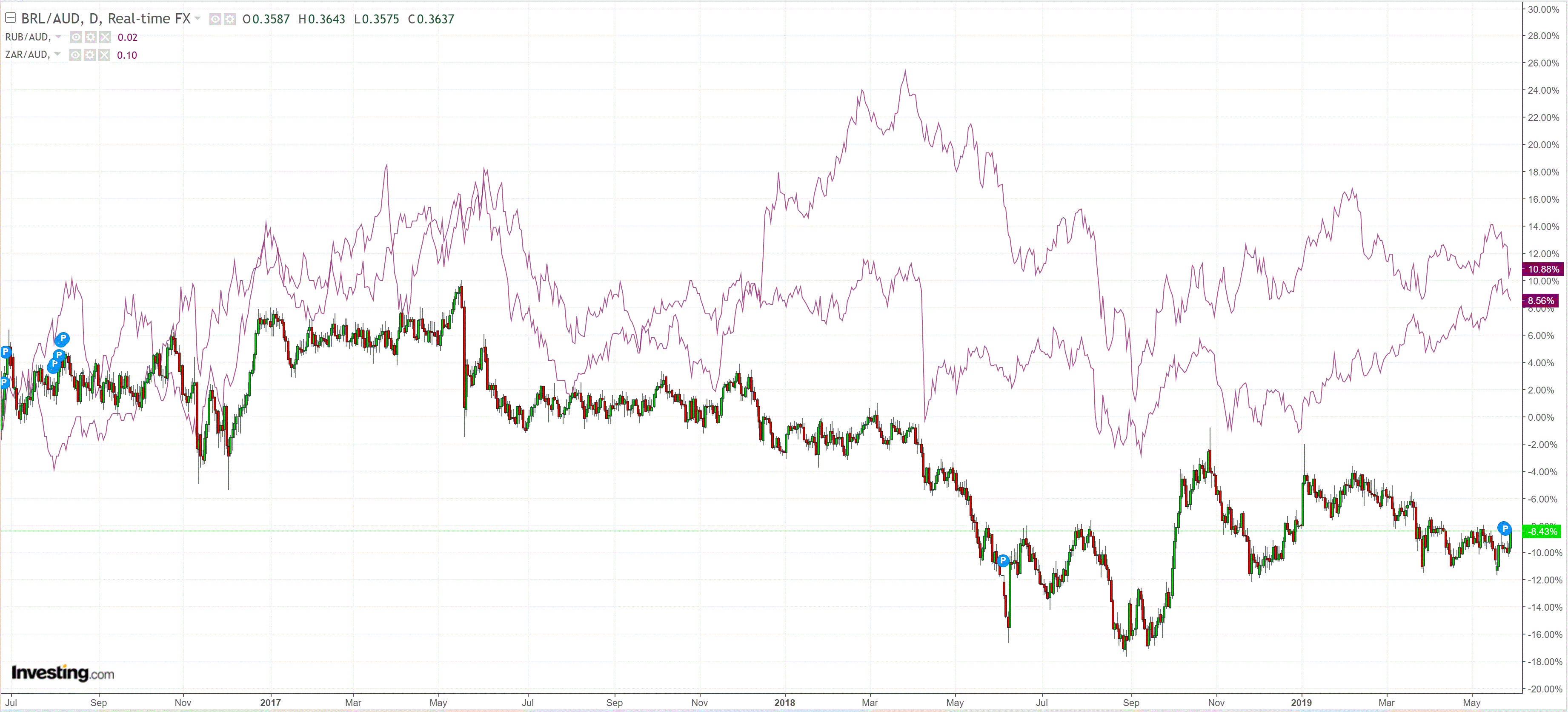 Gold is soft: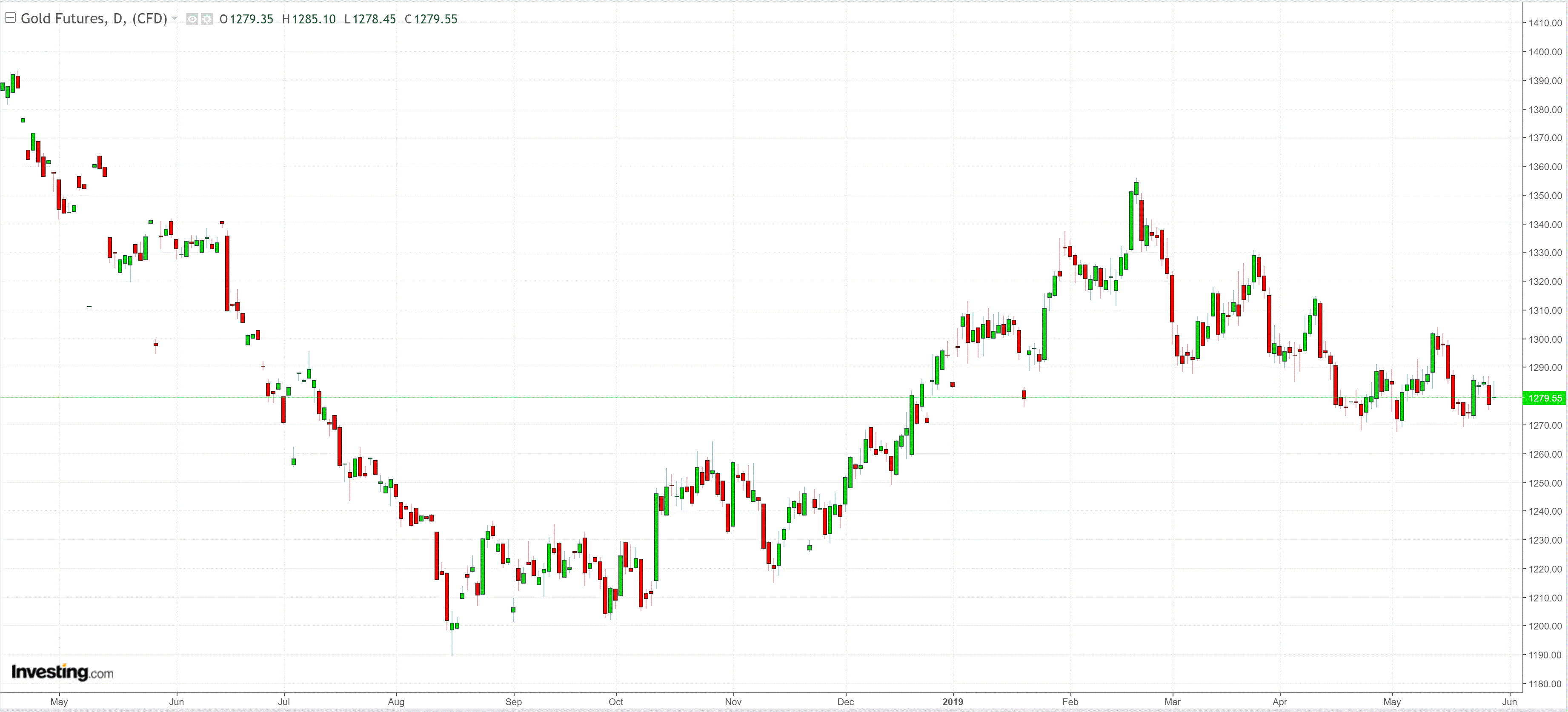 Oil belted: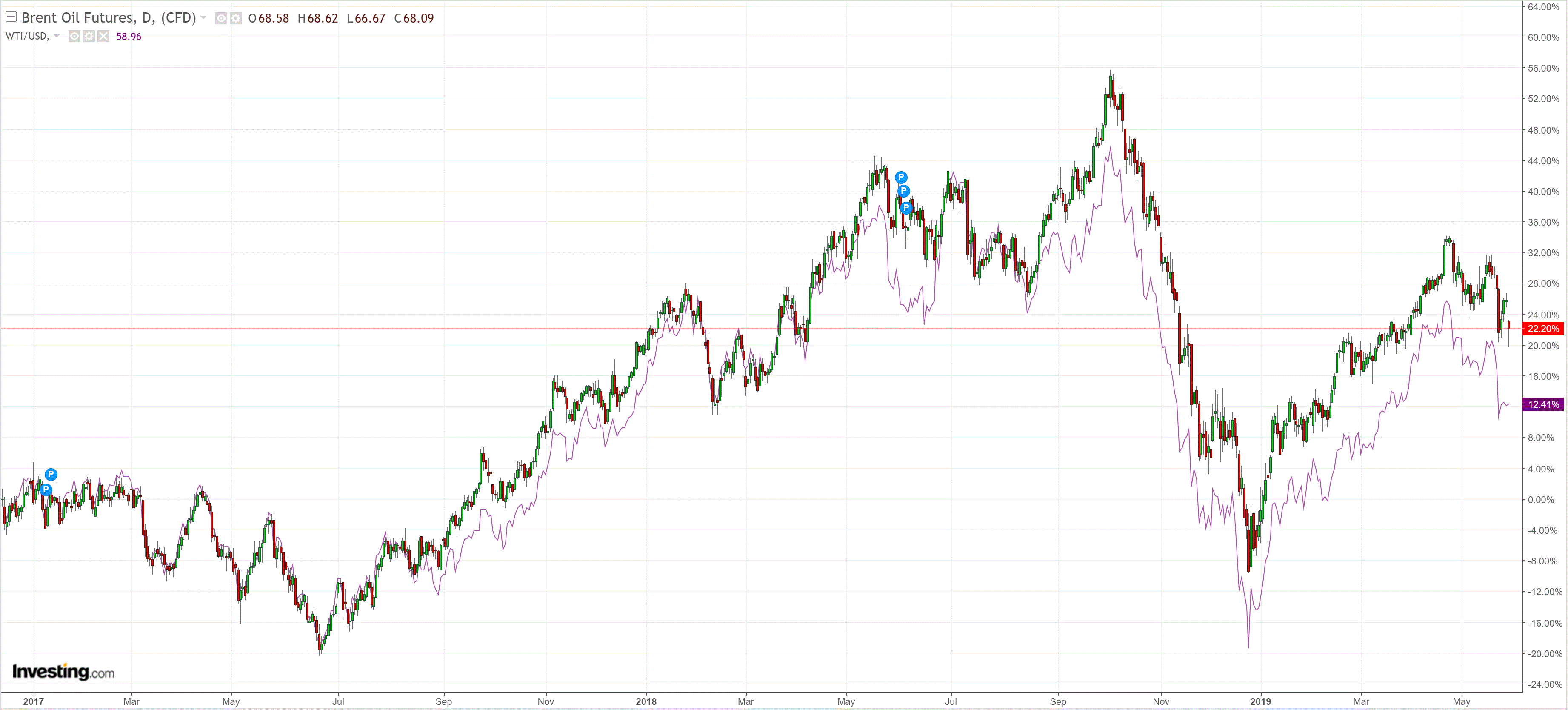 Metals mixed: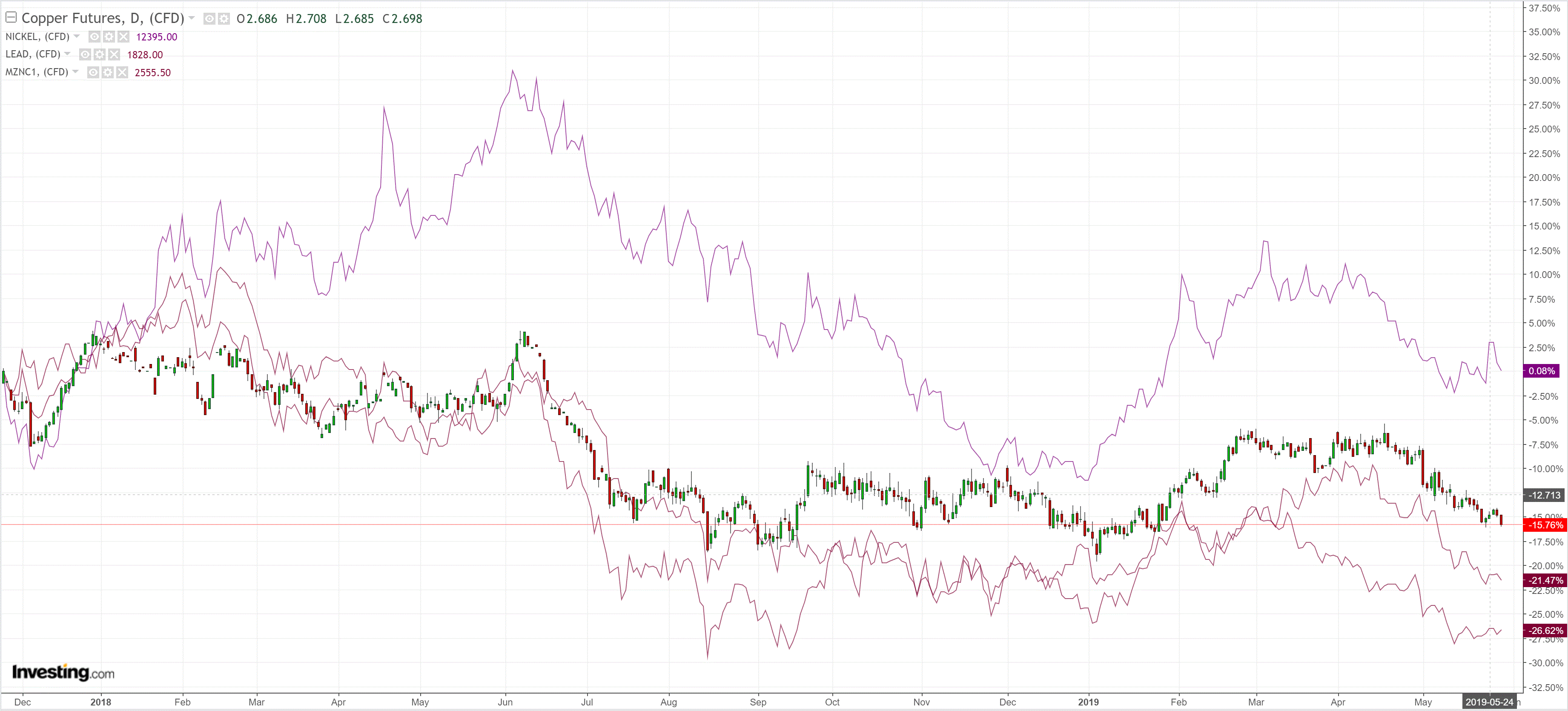 Big miners down ex-Vale: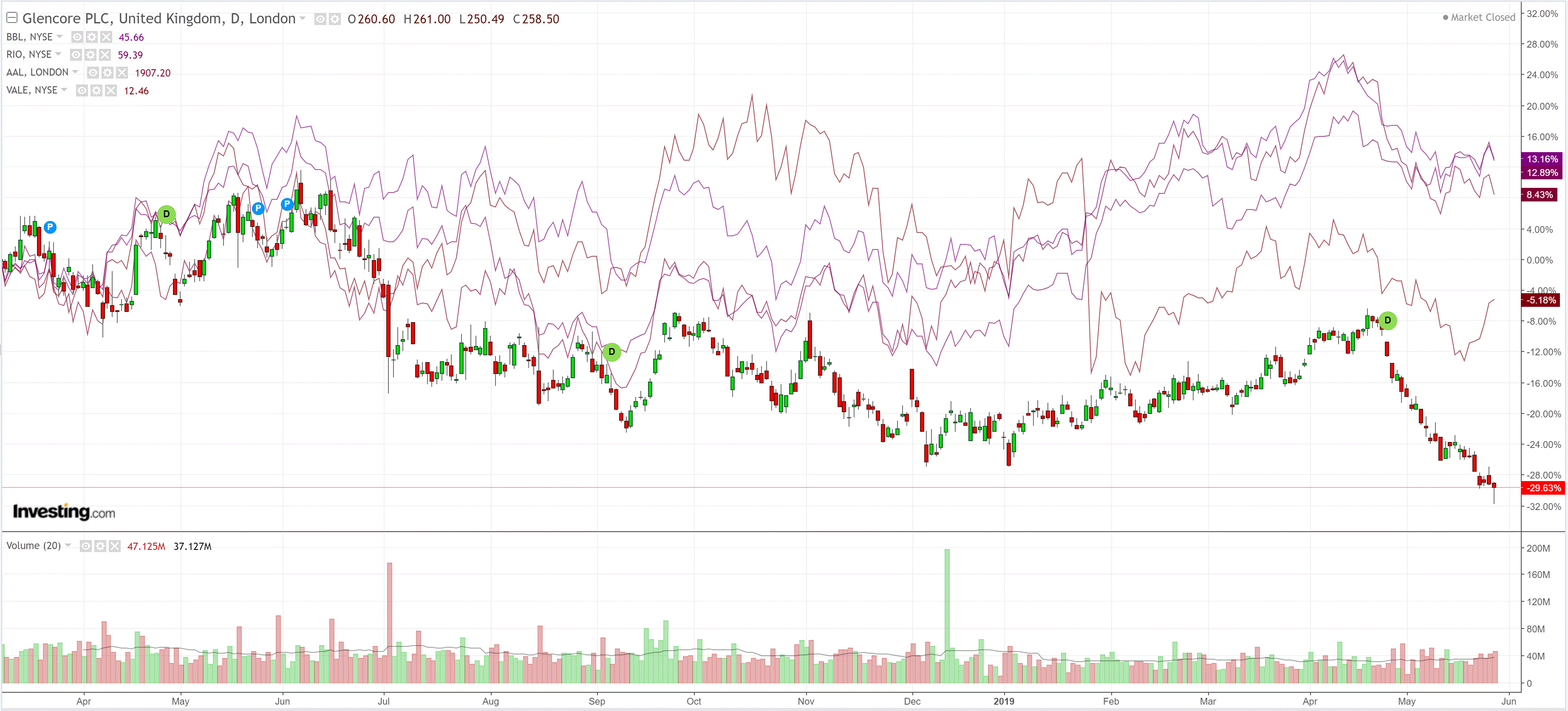 EM stocks held on again: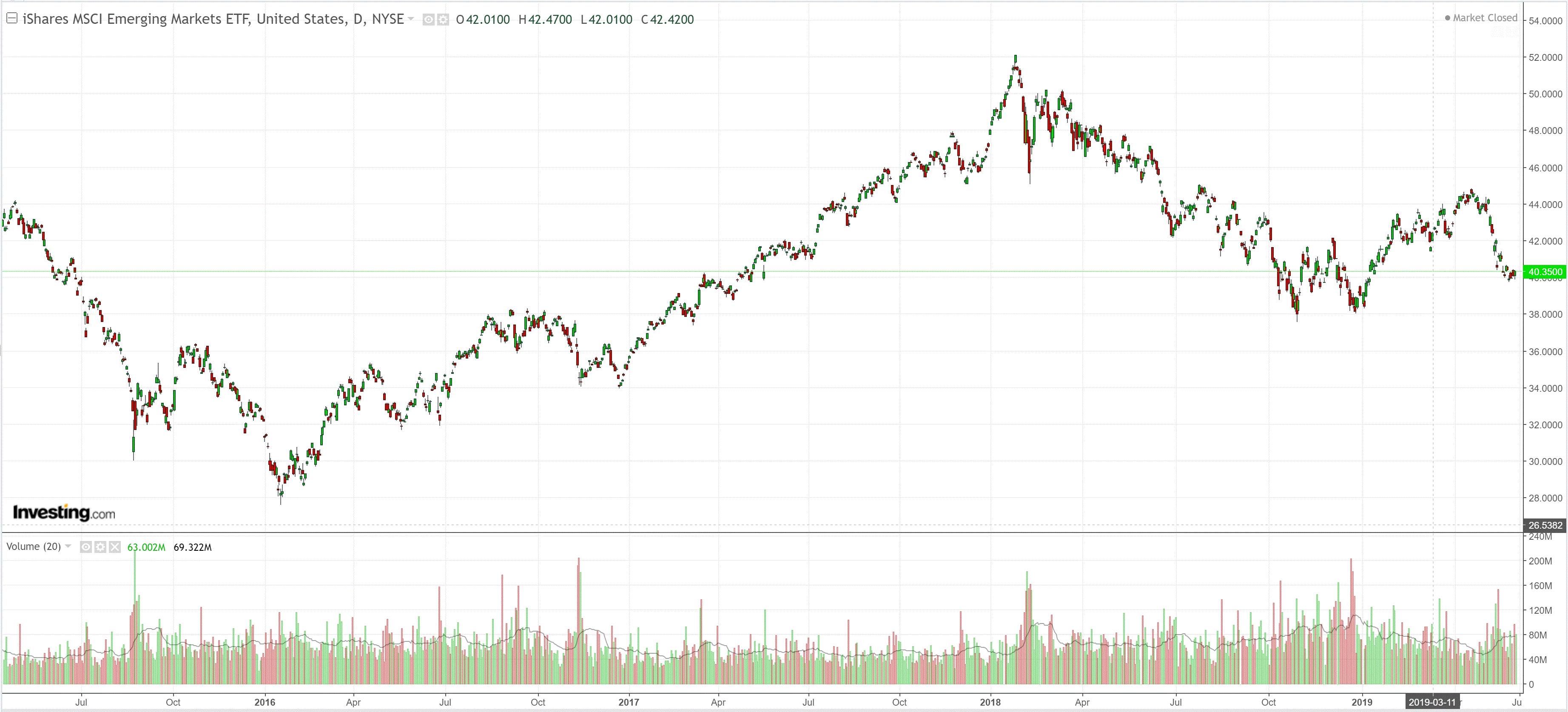 US junk is letting go. EM will follow: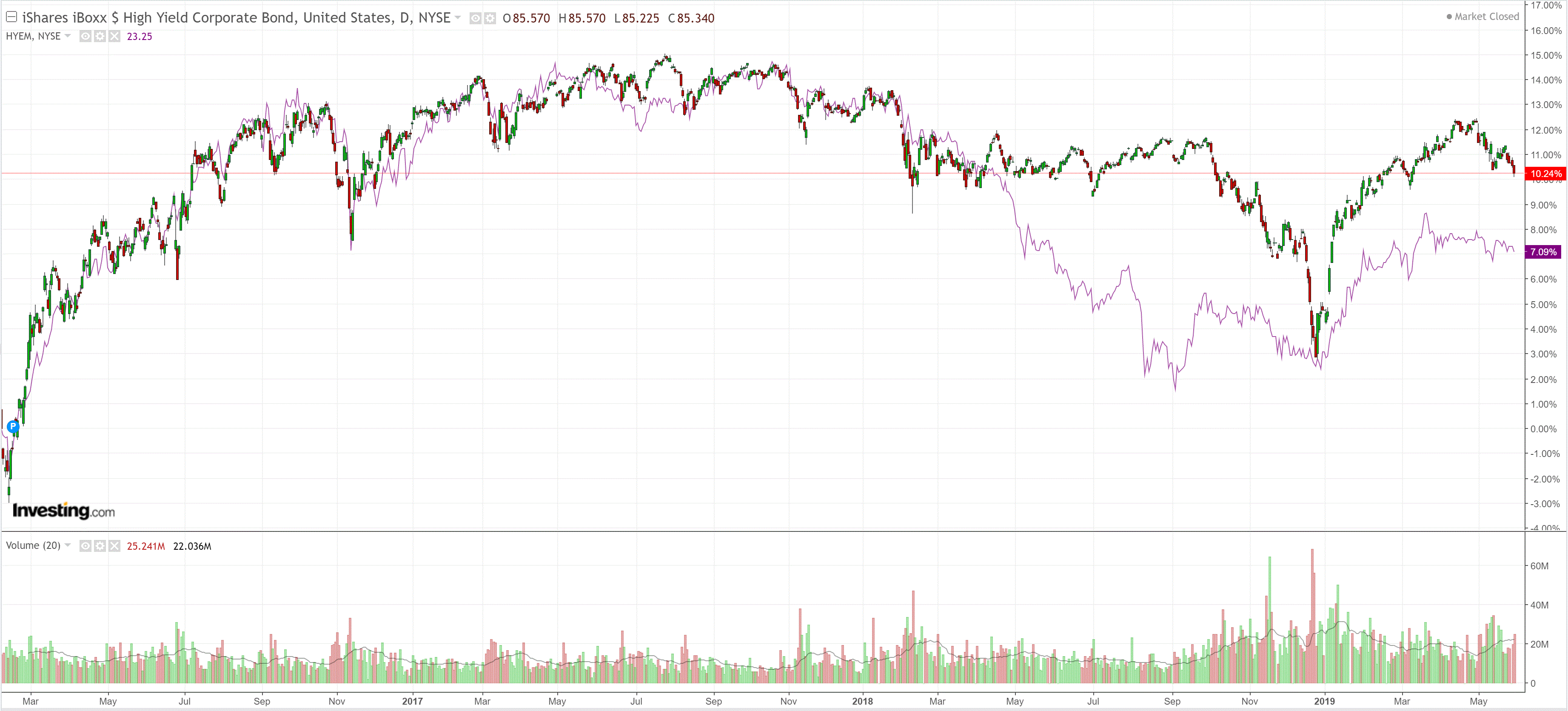 Treasuries were bid again: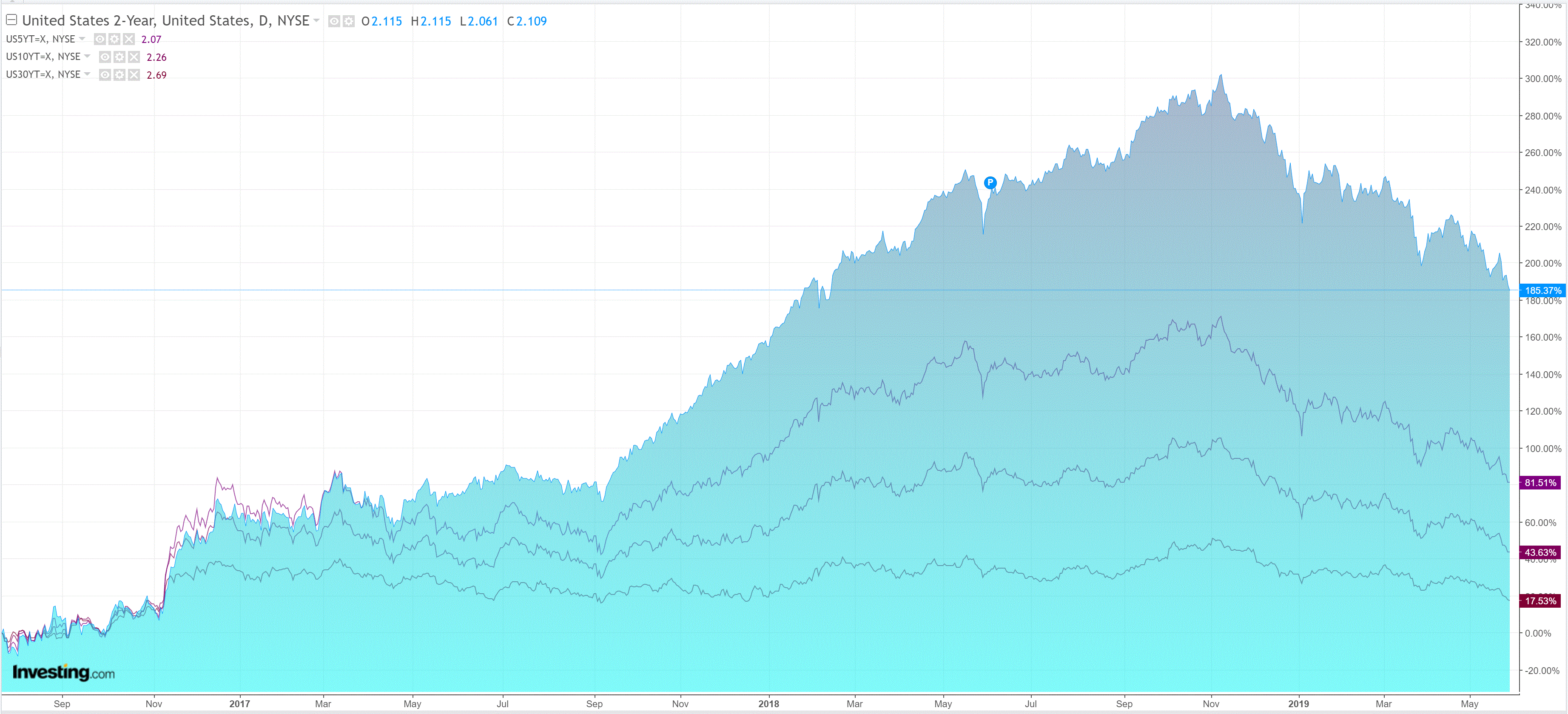 And bunds: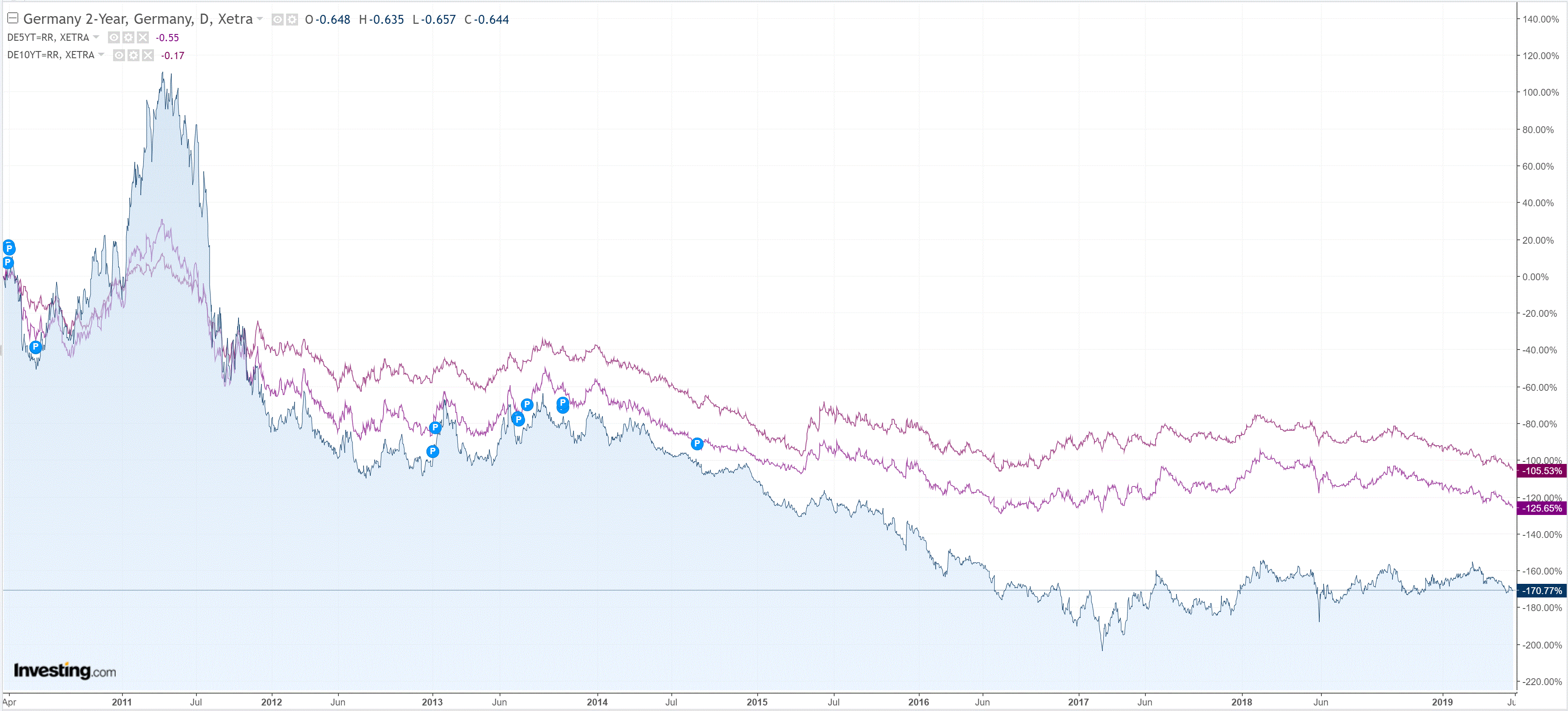 Stocks broke the neckline on the head and shoulders top and long term have a massive double top in place: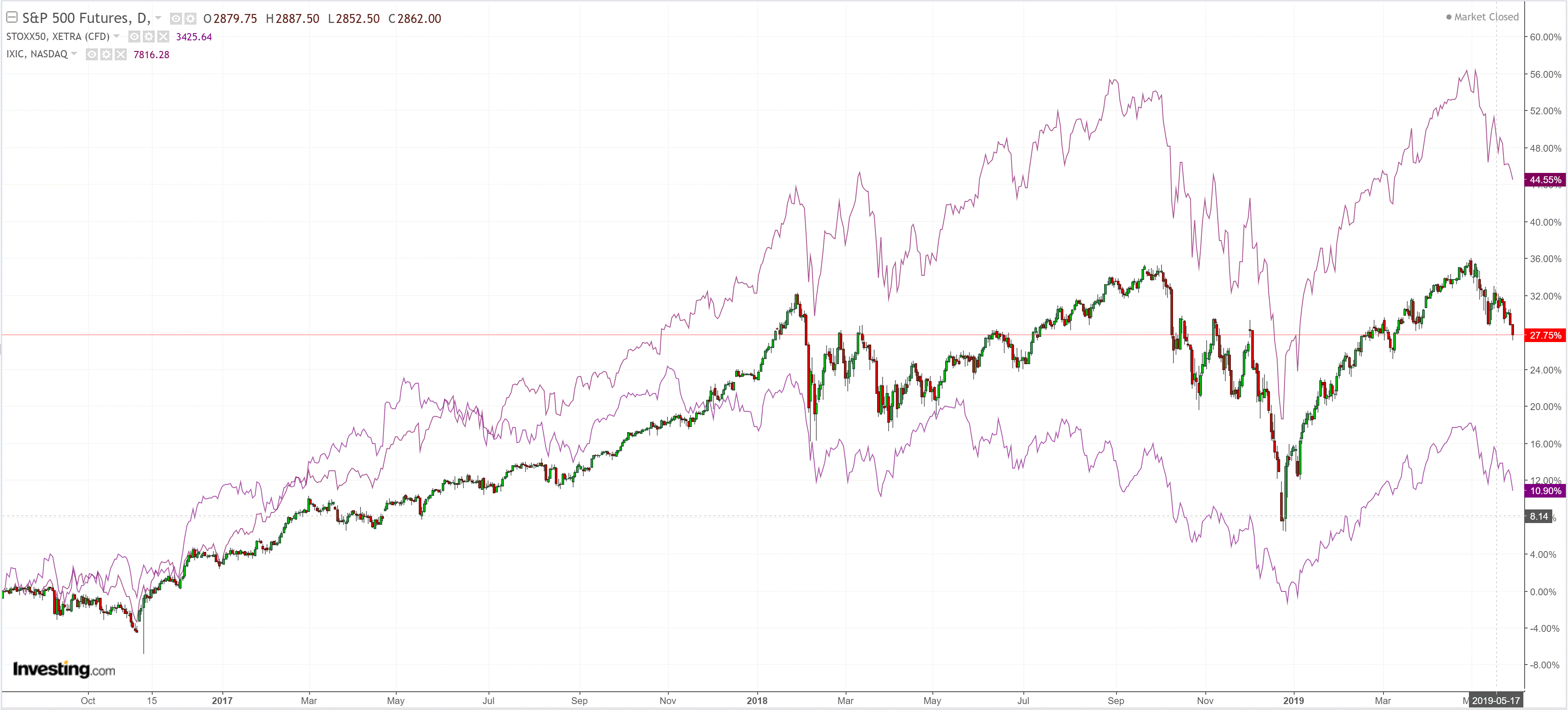 Westpac has the wrap:
Event Wrap

The Richmond Fed index edged up to +5 in May from +3 last month, short of expectations but a creditable outcome given renewed US-China trade frictions. New orders and shipments both firmed back into positive territory.

Chinese media reports yesterday discussed the prospect of China cutting exports of rare earth minerals that are important to the defence, energy, electronics and automobile sectors (e.g. smartphones, electric vehicles, wind turbines). China is the world's largest producer of these commodities, supplying around 80% of US imports.

Event Outlook

NZ: The annual Budget is released at 2pm. Noteworthy for being NZ's first "well-being" Budget, markets will focus on any changes to the net debt outlook.

Australia: Q1 private capex is anticipated to increase 0.5%. Westpac sees a more subdued 0.2% rise with softness in building and structures while equipment posts a modest gain. 2019/20 capex plans estimate 2 expectations centre on $96bn (Westpac fcs $97bn) but note the first two estimates can be unreliable. Apr dwelling approvals are expected to be flat (Westpac fcs -1%).

US: Q1 GDP 3rd estimate is anticipated to be revised marginally lower to 3.0% annualised for the quarter from 3.2%. Apr merchandise trade (advanced), wholesale inventories and  pending home sales data are released. Fedspeak involves Clarida on "Sustaining Maximum Employment and Price Stability".
They forgot the big jump in German unemployment.
Let me offer you a glimpse of how out of control the US/China trade war now is. Via Sinocism:
1. Rare earths threats intensify

China Gears Up to Weaponize Rare Earths Dominance in Trade War – Bloomberg

The U.S. shouldn't underestimate China's ability to fight the trade war, the People's Daily said in an editorial Wednesday that used some historically significant language on the weight of China's intent.

The newspaper's commentary included a rare Chinese phrase that means "don't say I didn't warn you." [勿谓言之不预也 wu4 wei4 yan2 zhi1 bu4 yu4 ye3] The specific wording was used by the paper in 1962 before China went to war with India, and "those familiar with Chinese diplomatic language know the weight of this phrase," the Global Times, a newspaper affiliated with the Communist Party, said in an article last April. It was also used before conflict broke out between China and Vietnam in 1979. [And before the Zhenbao Island Incident with the USSR in 1969]

The commentary, on page 3 of the Wednesday People's Daily – 美方不要低估中方反制能力(国际论坛–人民网:

毫无疑问,美方想利用中国出口的稀土所制造的产品,反用于遏制打压中国的发展,中国人民决不会答应。当前美方完全高估了自己操纵全球供应链的能力,在自我沉醉的空欢喜中无力自知,但其清醒后注定要自打嘴巴。中国有关部门已经多次发表严正声明,中美两国产业链高度融合,互补性极强,正所谓合则两利、斗则俱伤,贸易战没有赢家。奉劝美方不要低估中方维护自身发展权益的能力,勿谓言之不预!

知者不惑,仁者不忧,勇者不惧。在同世界各国扩大共同利益基础上携手发展,才可能拥抱持久繁荣,共赢的未来才值得拥有。

Wikipedia on the phrase 勿谓言之不预也 – 勿謂言之不預也 – 维基百科,自由的百科全书:

勿謂言之不預也,是中华人民共和国的外交术语,是中华人民共和国最严重的外交警告,被广泛視為其動用武力,或者更广泛意义上準備开战的信號。

近現代以来,中华人民共和国外交部通过新华社或人民日报纸版社论形式多次在關鍵時刻运用该术语,使其被賦予了獨特政治敏感性。该语句在历史上曾被运用四次。前三次在作出宣示后分别爆发了中印边境战争、珍宝岛事件、中越战争三次武装冲突。

US will rue forcing China's hand on rare earths – Global Times

An export ban on rare earths is a powerful weapon if used in the China-US trade war. Nevertheless, China will mainly use it for defense. It is not the first choice of China's offensive weaponries. This indicates that China will resolutely defend its core interests and will never bow to pressures exerted by the US. It is sincerely hoped that the US will remain restrained on trade issues and stop upping its stakes ignorantly. Otherwise, the US will see that China has a lot more countermeasures to put to use, and China has the resolution and will to fight to the end.

Commentary: U.S. risks losing rare earth supply in trade war – Xinhua

By making unilateral moves to contain technological development of other countries, the United States seems to have overlooked one fact: the international supply chain is so intertwined that no economy could thrive on its own…

China has reiterated its stand in promoting multilateralism and tried to avoid a trade war that hurts public interests.

But if necessary, China has plenty of cards to play.

Commentary: U.S. risks losing rare earth supply in trade war – Xinhua

China has reiterated its stand in promoting multilateralism and tried to avoid a trade war that hurts public interests. But if necessary, China has plenty of cards to play.

---

2. US-China

In lecture to visiting US scholars, Chinese official picks up 'clash of civilisations' theme | South China Morning Post

Scholars with the Peterson Institute for International Economics think tank in Washington, just back from China, said on Tuesday that their official reception at China's Zhongnanhai leadership compound was markedly less hospitable than in years past.

"We got a 50-minute non-stop lecture, pausing only for translation, about this being a clash of civilisations," said Adam Posen, the group's president, who declined to say which member of the Politburo they met with. "And some of it was a bit extreme."

Peterson Institute scholars said this lecture by their Chinese host focused on how the US was a "Mediterranean culture" based around belligerence and internal division, which explains why it has such an oppressive foreign policy

Comment: No racism from these PRC officials, move along…

Treasury Releases Report on Macroeconomic and Foreign Exchange Policies of Major Trading Partners of the United States | U.S. Department of the Treasury

While China does not disclose its foreign exchange intervention, Treasury estimates that direct intervention by the People's Bank of China in the last year has been limited.  Treasury continues to urge China to take the necessary steps to avoid a persistently weak currency.  China needs to aggressively address market-distorting forces, including subsidies and state-owned enterprises, enhance social safety nets to support greater household consumption growth, and rebalance the economy away from investment.  Improved economic fundamentals and structural policy settings would underpin a stronger RMB over time and help to reduce China's trade surplus with the United States.

Kevin Rudd Opinion | Trump Hands China an Easy Win in the Trade War – The New York Times

Together with recent moves against the Chinese telecom company Huawei presumably intended to pressure Beijing further, the possibility of negotiating a revised agreement that is more accommodating to American interests is now very slim.

Instead, what I have seen in Beijing over the last few weeks is a country moving in exactly the opposite direction…

Even if a trade deal with the United States is still possible, some in the Chinese leadership are now starting to ask, why bother? They argue that in technology, investment, foreign policy, national security and human rights, the Trump administration has made it clear that it has embarked on a more adversarial position toward China. So why should Beijing expend any more political capital on a trade deal? Perhaps it's better, in China's view, to cut its losses now and get ready for the next Cold War.

Comment: I would add that the events of the last year have only confirmed what Xi and some others in the leadership, and especially the PLA, believed, but were trying to delay as long as possible to build up China's "comprehensive national power"–that the US always intended to keep China down and that some form of conflict was always inevitable

China Cannot Weaponize Its U.S. Treasury Bonds – Carnegie Endowment for International Peace – Michael Pettis

A number of recent articles suggest that Chinese officials may reduce their purchases of U.S. government bonds. It is very unlikely that China can do so in any meaningful way because doing so would almost certainly be costly for Beijing. And even if China took this step, it would have either no impact or a positive impact on the U.S. economy.

---

3. Official propaganda

Some of these excerpts are wrong, but there is value in reading what they are saying.

China asks state media to pick battles carefully with long US trade war looming, sources say | South China Morning Post

Internal briefings held this week reflected the Chinese leadership's line of thinking that China has to make serious preparations for the worst-case scenario of an intense, broad-based and extended confrontation with the US on the trade, technology and geopolitical fronts, while also keeping open the option that tensions with Washington could ease.

"We have been told not to use 'the US side' generally in our copy because there are many different voices within the US," said one state media executive, who declined to be identified because the instructions are confidential. "The idea is that there are people in the US who are against the trade war or the confrontational approach towards China."

A second source, who works as an executive in a state-owned enterprise, said that the response by Beijing to the recent US escalation of trade tensions remains "restrained" despite an outpouring of nationalistic commentaries in China's state media.

Comment: So what does "restrained" look like?:

"At least there are no people shouting slogans in front of the US embassy or trying to smash American shops in China," said the state-owned enterprise executive.

US stock market threats self-defeating – Global Times

China will explore more choices to replace the US stock market. We believe there will be lots of markets worldwide that welcome promising Chinese enterprises. The US shuts a door against China's opening-up, but meanwhile it cuts the financing relations with the world's biggest developing market as well. Will this bring more losses to China or the US? This is an interesting question.

Some American people's arrogance toward China is abnormal. They are indulging in wishful thinking. They seem to believe the US is the lifeline of China's prosperity. They believe that if they cut off this so-called lifeline, China's modernization would collapse.

China demonstrates courage with grace under pressure – People's Daily Online

The experiences and capability of the Chinese nation to overcome difficulties are as strong as their willingness to seek peace and cooperation. The trade war will serve as a coming-of-age ceremony that further builds the country's courage to pursue development, promote social progress and realize rejuvenation.

Commentary: CPC leadership is China's source of confidence amid challenges – Xinhua

With the strong leadership of the CPC, the significant advantage of socialism with Chinese characteristics, and the great efforts of the Chinese people pulling together, there is no hardship that China cannot overcome.

China Youth Daily has a page 1 article thanking America for making China's youth more united – 感谢美国让中国青年更团结!:

这一代喝可乐长大的年轻人,平常可能追美剧,热爱自由和个性,有时也会愤世嫉俗,对现实有各种不满和吐槽,可当有人想在贸易上霸凌自己的国家,损害国家的利益,这些年轻人绝不含糊,那种团结精神会凝聚成一种强大的力量。

This generation of young people who grew up drinking Coke, watching American TV shows, and love freedom and individuality can sometimes be cynical, but when someone tries to bully their country with trade or harm national interests, these young people are absolutely unambiguous, and that kind of solidarity will form into a powerful force.

Hu Xijin of Global Times took to Weibo to warn against radical nationalism and leftism, and "low-level red" and "high-level black" – 在反击美国全面打压的时候,保持稳健,坚持… 来自胡锡进 – 微博

近来我注意到,个别地方有一些"左"的苗头表现,起到了"低级红""高级黑"的坏效果,引起公众的反感,非常不利维护社会的信心。这种"宁左勿右"根本不是为了国家,而是出于私利算计的机会主义表现,必须坚决予以反对。

"宁左勿右"的机会主义危害与"右"的危害都须受到高度警惕,这一总结是历史赋予我们的政治清

Background from May 11, 2019 China Media Project: "Low-level Red" and Other Concerns

The "Central Committee Opinions on Strengthening the Party's Political Construction" released on February 28 reads, actually includes this pair of phrases, marking their debut in central-level Party documents (as opposed to news media alone). The document said: "[We] must with correct understanding and correct actions resolutely enact the 'Two Protections,' firmly preventing and correcting all erroneous statements that diverge from the 'Two Protections,' and [we] must not allow any form of 'low-level red' (低级红) or 'high-level black' (高级黑'), permitting no form of two-faced outer devotion and internal opposition (阳奉阴违做两面人) toward the Party's Central Committee, any double-dealing or 'false reverence' (伪忠诚)."

Did a script come in a cable from Beijing? – Ambassador to Sweden Gui Congyou Holds a Press Briefing on the Trade War Started by the US Against China

Ambassador Gui said, first, I wish to state that whether it is a hot war, a cold war, a trade war, a technology war or whatever kind of war, the Chinese side firmly opposes them all. An observation of the over 5000 years of history of the Chinese nation tells us that it is not in our tradition or DNA to wage war against other countries. "Peace and harmony" is the essence of Confucianism of the Chinese nation. A culture that advocates harmony is in the core values of the Chinese nation, and it is also the philosophy for development followed by the Chinese nation. When it comes to trade, the idea that harmony and peace brings wealth is the way we approach business. It means one can make a fortune through treating others kindly and peacefully…

Ambassador Gui said, facing foreign invasions and wars imposed by foreign powers, the Chinese nation never feared, retreated or caved. Instead, we rose up and fought back. There is no shortage of such examples in China's history. Our resistance against the barbaric aggressions, occupation, division and enslavement of Western powers since modern times, especially the 14 years of the War of Resistance against Japan, is ample proof of that. The US side bears full responsibility on the China-US trade war, as it is unilaterally started by the US. Since the US started the trade war with China at the beginning of last year, the Chinese side has been sincerely negotiating with the US out of our commitment to peace and harmony…

We will continue to be committed to reform and opening up. We will continue to deepen reform and open up wider. We are ready to open up further to all other countries including Sweden. We welcome more trade with Sweden and greater investment from Sweden. Let us expand our cooperation for mutual benefits, and shared development and prosperity.

US moves like a witch hunt for China – Global Times

Although Beijing has clashed with Washington to safeguard its interests in the arena of trade, China has been maintaining social exchanges and encouraging communication at all levels between the two societies, including promoting youth, think tanks and other exchanges. China is aware that to avoid strategic confrontation, benign interactions at the national level in the future need solid support of society. However, some politicians in Washington shake the public foundation in the interest of their own political ends.

Trump described Russiagate as "a total political witch hunt" of which he is a victim. Currently, his administration's bigoted moves toward China in economy and trade, technology and people-to-people exchanges are exactly a "witch hunt" against China. The US government is the perpetrator, while China is the victim.

The author, Song Guoyou, is deputy director of the Center for American Studies, Fudan University

Wednesday Zhong Sheng-"The bankruptcy of credibility is the greatest bankruptcy: "those who go back on one's word will inevitably fail" – 信用破产是最大的破产-——言而无信必将失败(钟声–人民网 

Economist Magazine correspondent Simon Rabinovitch has created a nice list of the 16 straight days of People's Daily "Zhong Sheng" commentaries about the trade war:

Today marks the 16th straight day of People's Daily 钟声 (loosely, "Voice of China") commentaries on the trade war. We're into the US-failure-is-inevitable phase, on the heels of the your-China-theory-is-wrong phase. Here's my breakdown of the flow:

---

4. Fox-CGTN debate hits a snag

Chinese viewers count down to US trade war debate they can't watch | South China Morning Post

"Since Liu Xin is only a guest on the show, the copyright for the show belongs to Fox," CGTN said on its Chinese social media account.

"While CGTN originally wanted to broadcast [the debate] live, despite going through Fox Business Network's official channels, we were unable to secure the rights. CGTN cannot broadcast the show live without authorisation from the other party."

Question: Did CCTV insist on a delay in the "live" broadcast to allow the censors to do their work, as they do will all the "live" foreign broadcasts currently? The official responsible for ensuring nothing objectionable goes on air, especially days before the June 4 anniversary, must be relieved…

各位网友,很遗憾地通知大家,由于版权原因,CGTN无法对刘欣与FOX商业频道主播翠西·里根(Trish Regan)关于中美贸易的对话进行直播。此次对话在FOX商业频道播出,刘欣仅以嘉宾身份参与节目,节目版权归属于FOX电视台。CGTN原本打算直播,经过与FOX商业频道沟通,最终未获得节目授权。CGTN不能在没有得到对方授权的情况下擅自进行直播。不过,为了满足各位网友的信息需求,我们会对其进行实时报道。敬请期待!

---

5. Huawei

Huawei challenges legality of U.S. defense bill as sanctions fight ramps up – Reuters

The motion, filed late on Tuesday in the U.S. District Court for the Eastern District of Texas, asks to declare the 2019 National Defense Authorization Act (NDAA) unconstitutional in an update to a lawsuit brought by Huawei in March.

Huawei's US chief security officer makes the case for its lawsuit – CNBC

Andy Purdy, chief security officer of Huawei Technologies U.S., and Glen Nager, partner at Jones Day and lead outside counsel for Huawei, join "Squawk Box" to discuss.

Comment: Tough interview, unconvincing answers from Purdy and Nager..Purdy, who does most of the talking, says with IBM's help Huawei started continuity planning a year ago. Can IBM, a US company, keep working with Huawei?

U.S.'s Pompeo says Huawei is an 'instrument of Chinese government' – Reuters

"Huawei is an instrument of the Chinese government," Pompeo said in an interview with Fox Business Network. "They're deeply connected. It's something that's hard for Americans to understand."

China hits out at US over Huawei blacklisting at WTO meeting | Financial Times $$

According to a trade official based in Geneva, China introduced a discussion of the Huawei ban at a meeting of the WTO's market access committee under "other business" — then proceeded to attack the Trump administration's move.

The representative from Beijing then accused the US of violating WTO rules by proceeding with the action against Huawei, and said Washington should "immediately lift all unilateral sanction measures against Chinese companies".

China widened its argument to say that the US was unfairly claiming national security exceptions across the board, saying it had caused "great concern in the membership" of the WTO.

Undersea cables — Huawei's ace in the hole – Nikkei Asian Review

The reality is, even if the U.S. succeeds in shutting out Huawei from 5G networks in major countries, the Chinese company could still thwart American efforts to maintain leadership in handling global data traffic.

Security policymakers in the U.S., Japan and Australia have started working together to address this potential threat.

Comment: Part of the digital silk road, undersea

Memory Card Industry Group Denies Suspending Huawei's Membership – Caixin

The SD Association, the Japan-based organization that sets global memory card standards, denied suspending Huawei's membership in a statement to Caixin on Wednesday.

The group did, however, admit to limiting the embattled Chinese telecom company's power within the association, in response to the U.S. ban earlier this month.

Huawei warns ban will hit 1,200 US suppliers | Financial Times $$

Washington's move to blacklist Huawei is set to hit about 1,200 US suppliers to the Chinese telecoms group, including companies that provide most of the backbone of the company's cyber security system.

Senior executives told the Financial Times that the Trump administration's decision to add the Chinese group and 68 affiliates to its prohibitive "entity list", which effectively bars US companies from selling to them, would have ramifications beyond Huawei.

Comment: Lobbyists, rev your engines and go get some of the cash Huawei and its suppliers are and will be throwing around DC to get the Trump Administration to back off

U.S. pushes hard for a ban on Huawei in Europe, but the firm's 5G prices are nearly irresistible – The Washington Post

Last month, the Netherlands' leading wireless carrier chose Huawei to provide equipment for its next-generation 5G wireless network. The carrier, KPN, insisted the choice was based on quality. But Huawei had another advantage: price.

Huawei underbid the existing vendor, Swedish firm Ericsson, by 60 percent, according to two industry officials who spoke on the condition of anonymity to discuss a sensitive matter — offering a price that wouldn't even cover the cost of parts.

Building China's own chip industry will be a costly 10-year marathon, former Intel China MD says | South China Morning Post

"This is an extremely challenging and brutal industry, heavily reliant on long term industrial accumulation," said Jay Huang Jie, founding partner of Jadestone Capital and former Intel Managing Director in China, speaking at a public event on Monday hosted by local think tank Our Hong Kong Foundation.

"China should be prepared for a marathon of at least a decade, which will also be loss-making [along the way]," said Huang, who left Intel in 2015 to establish his own investment firm focused on the semiconductor industry.

---

6. Reform committee meeting

China's Xi says reform faces new problems, external uncertainty rising – Reuters

China on Wednesday adopted a series of guidance measures, from improving macro-economic policies and ensuring food security to lowering medical costs, as President Xi Jinping warned that reform faces new problems with external uncertainties rising…

The meeting concluded that macro-economic policies would better address the relationship between the government and the market, without giving specifics.

Readout of the reform committee meeting – 习近平:因势利导统筹谋划精准施策 推动改革更好服务经济社会发展大局-新华网

他强调,当前,我国改革发展形势正处于深刻变化之中,外部不确定不稳定因素增多,改革发展面临许多新情况新问题。我们要保持战略定力,坚持问题导向,因势利导、统筹谋划、精准施策,在防范化解重大矛盾和突出问题上出实招硬招,推动改革更好服务经济社会发展大局。

Xi presides over meeting of central committee for deepening overall reform – Xinhua:

Xi…called for further reform to better serve the overall economic and social development.
How long can the AUD hold its chin up into this oncoming gale?
Latest posts by David Llewellyn-Smith (see all)