DXY eased last night: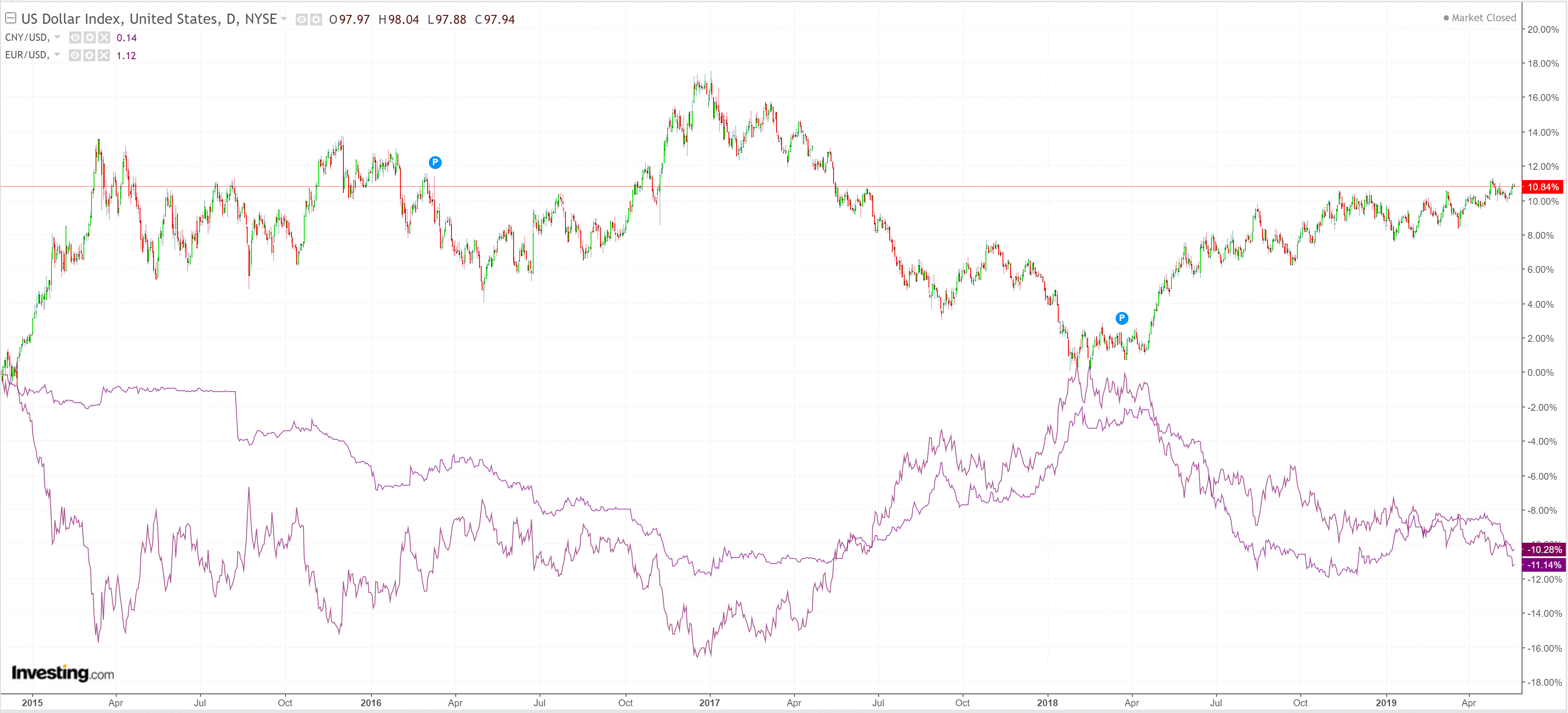 The Australian dollar was up across the board but faded the election gains: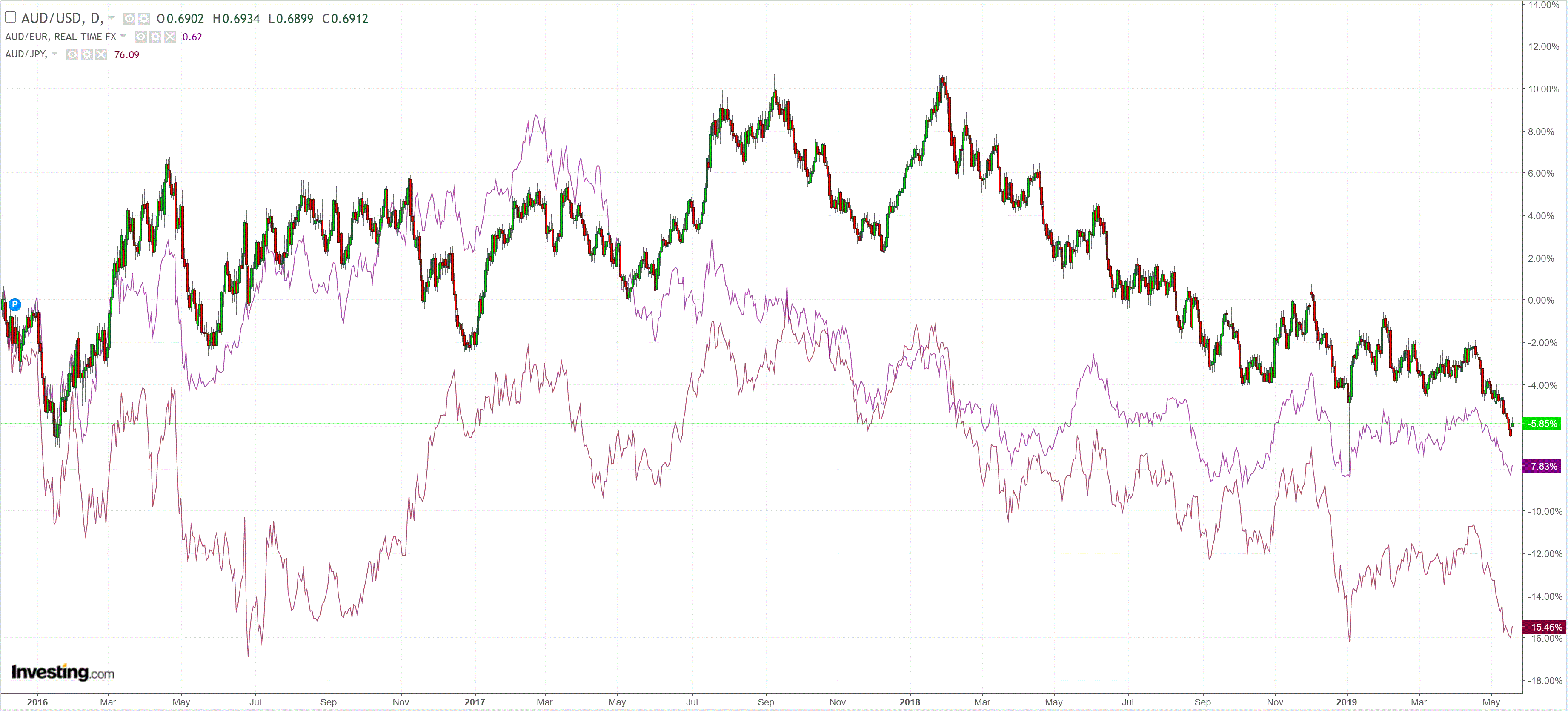 Gold was stable: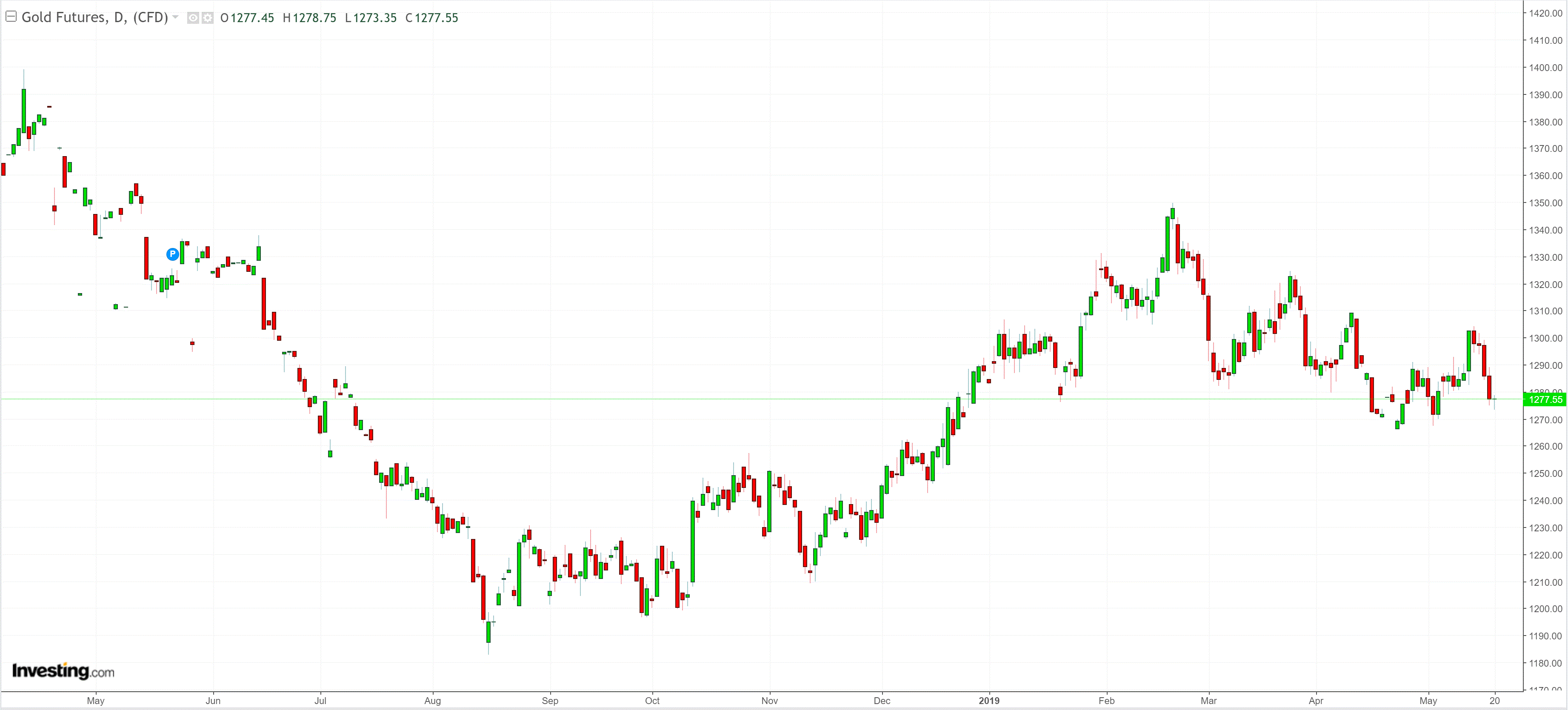 Oil mixed: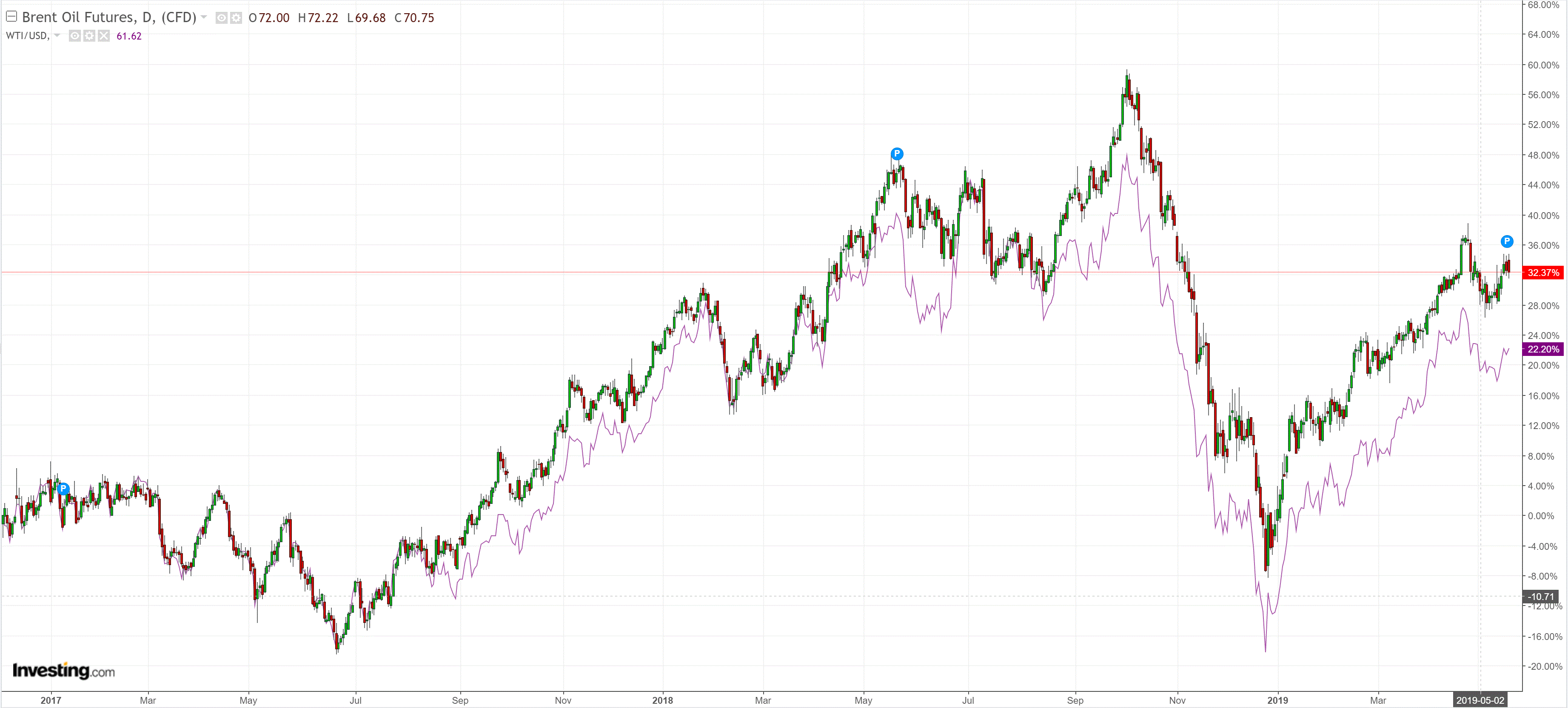 Metals fell: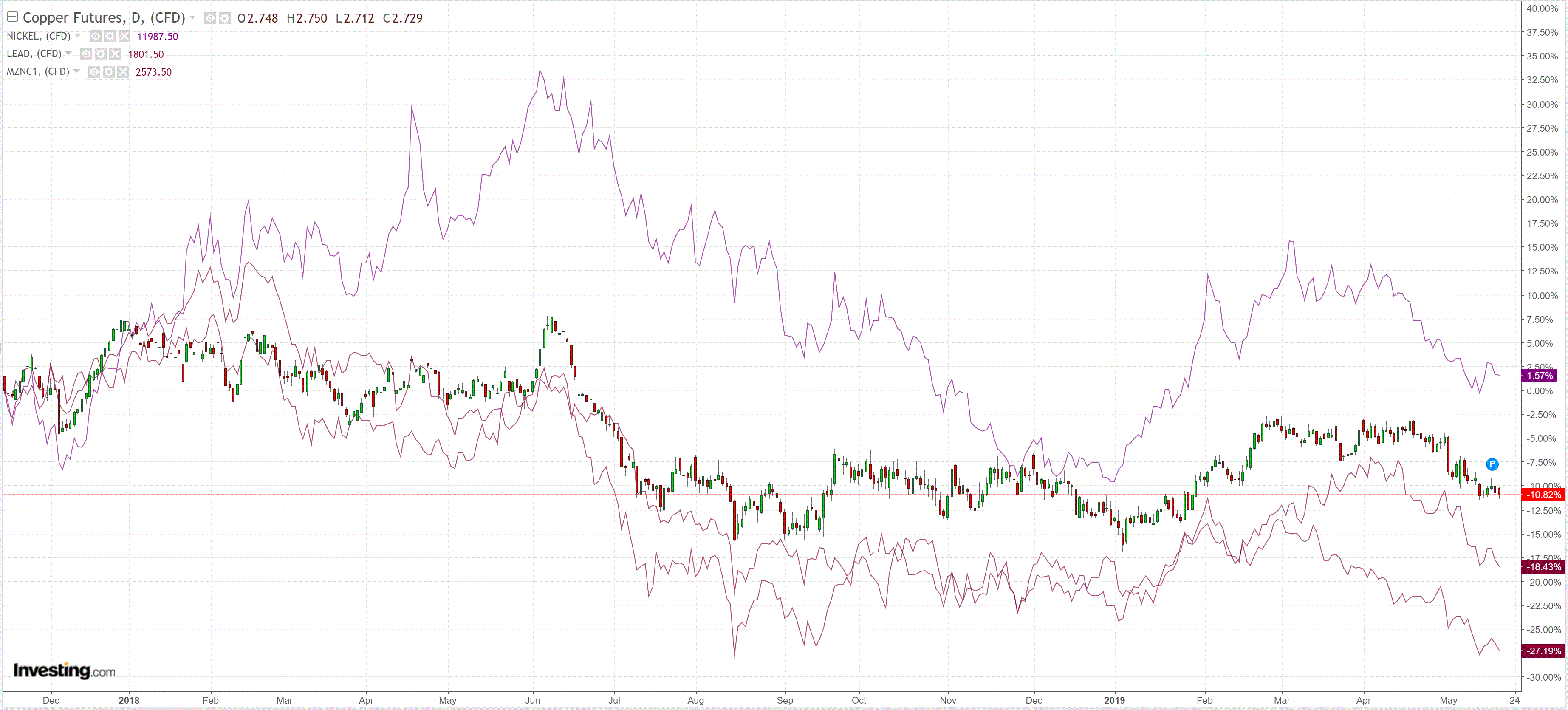 And miners: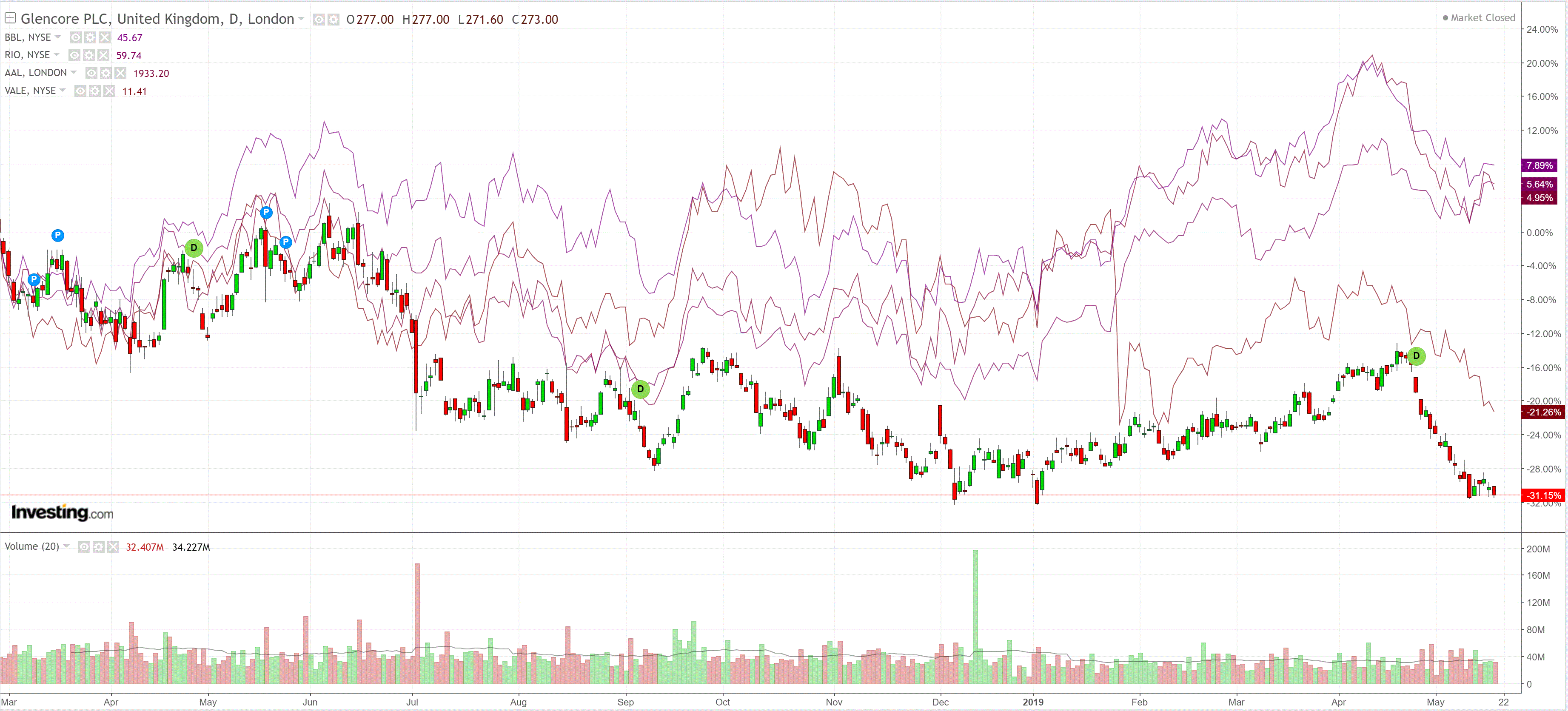 EM stocks look weak: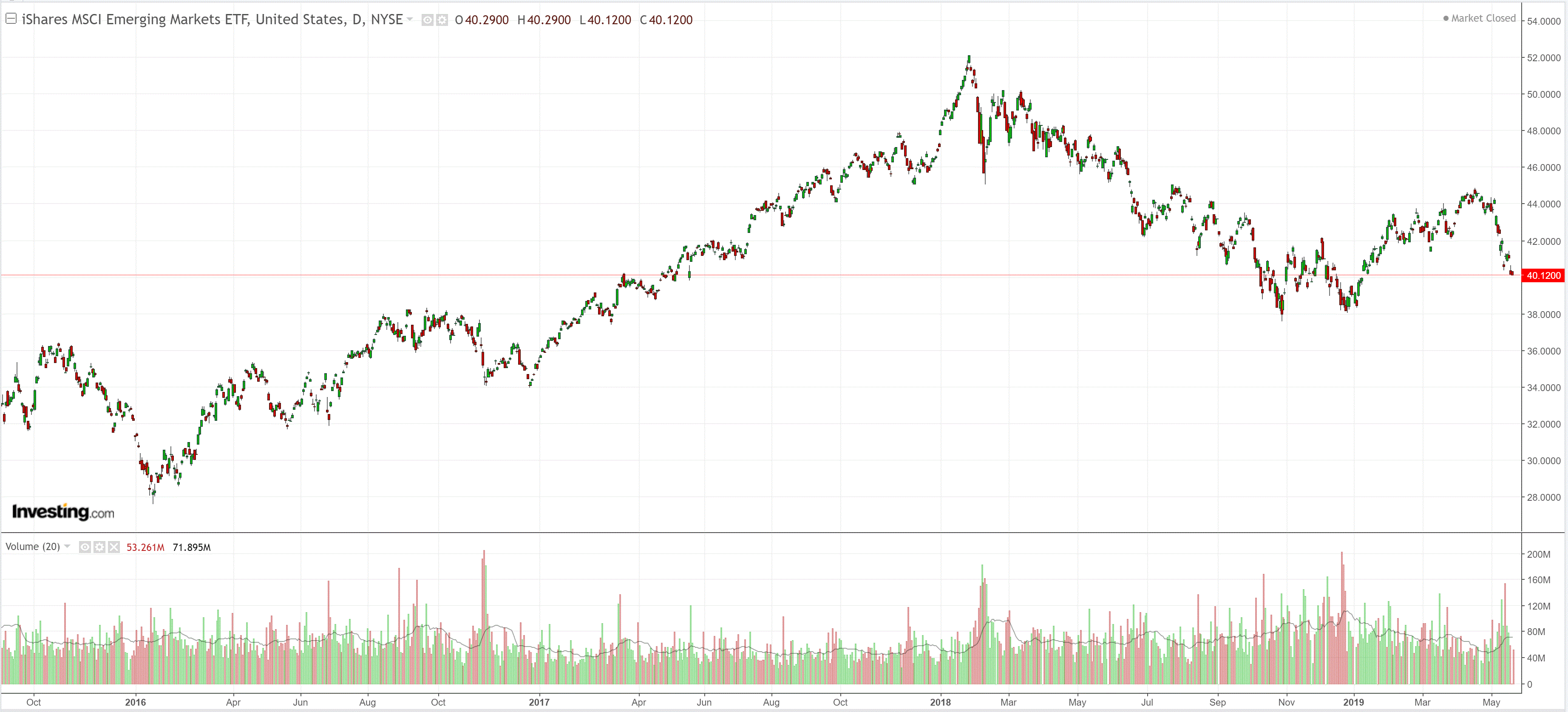 Junk faded: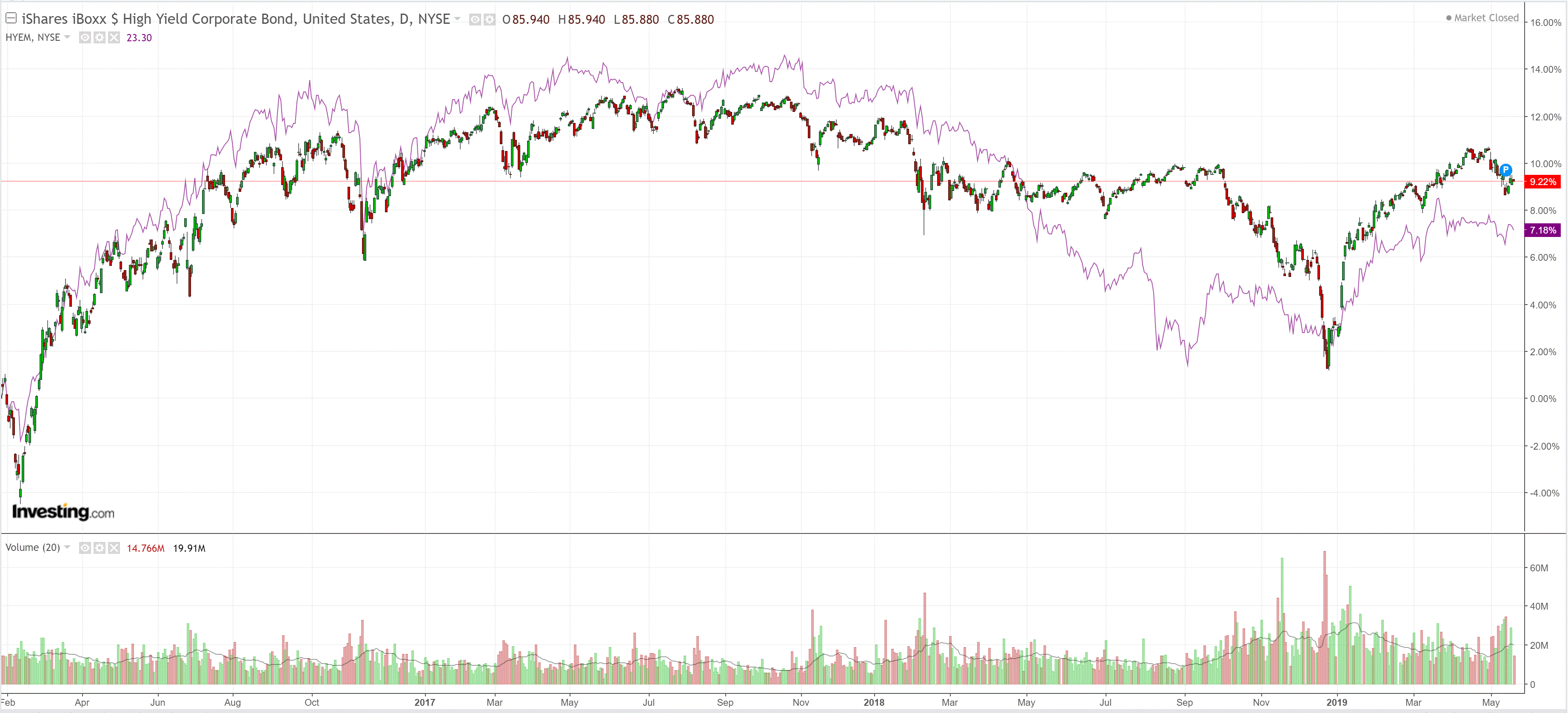 Treasury yields rose: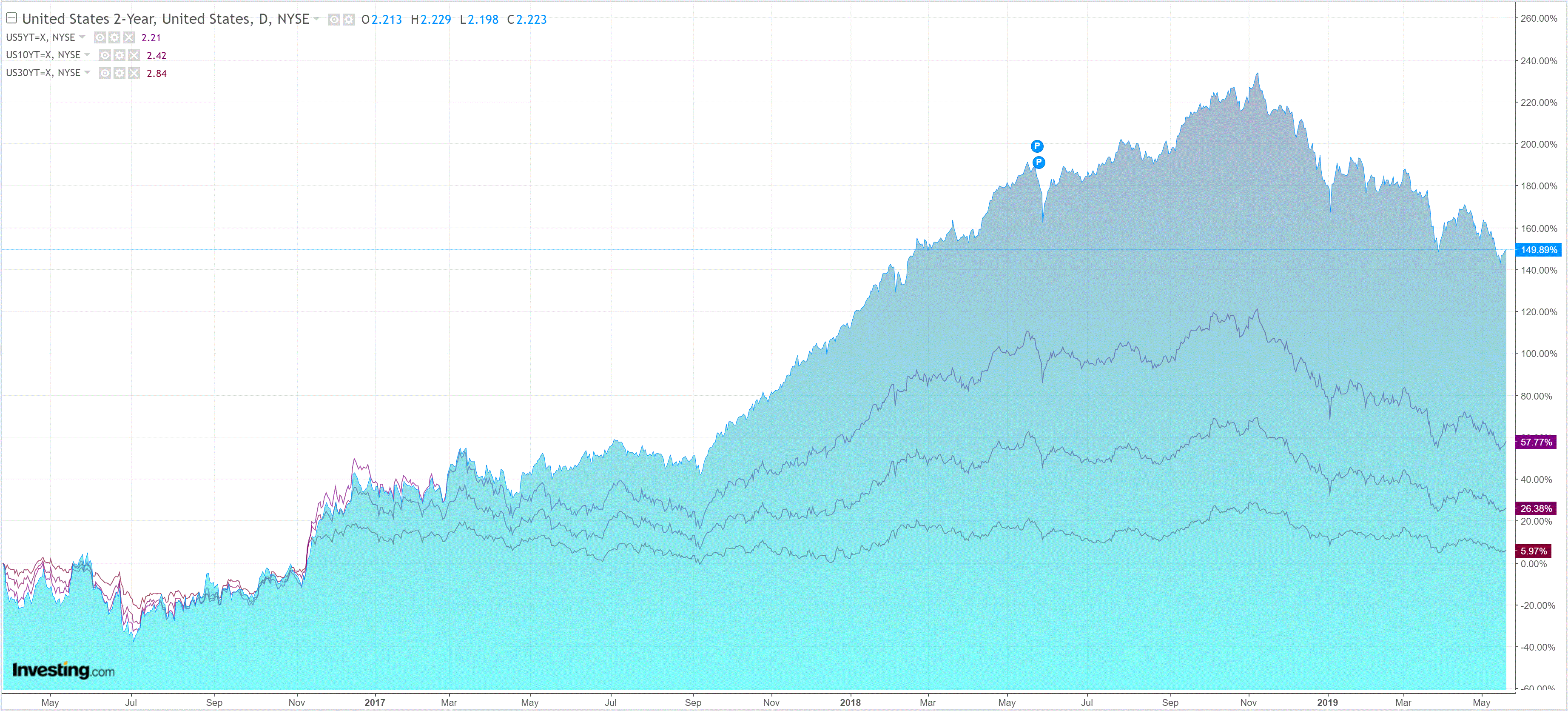 And bunds: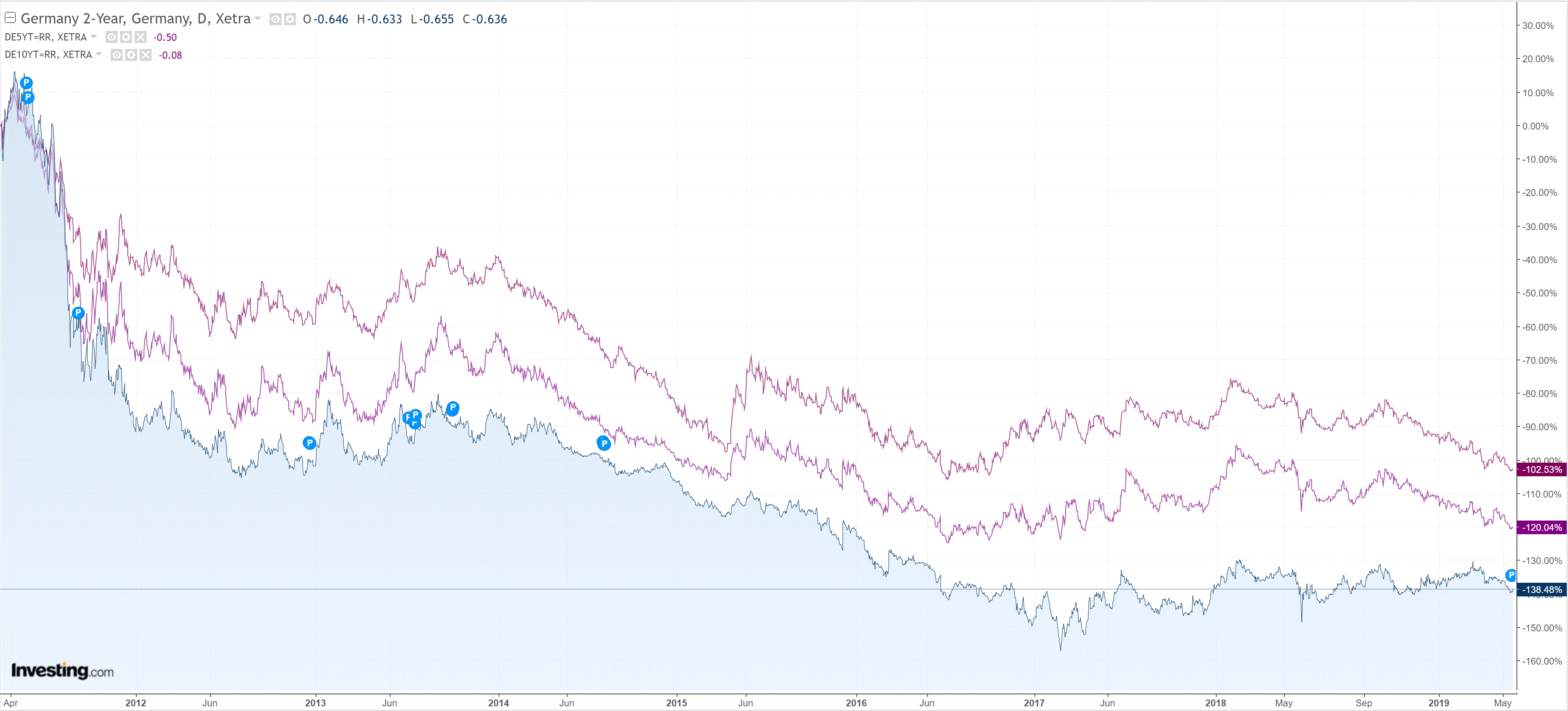 Plus Aussie bonds: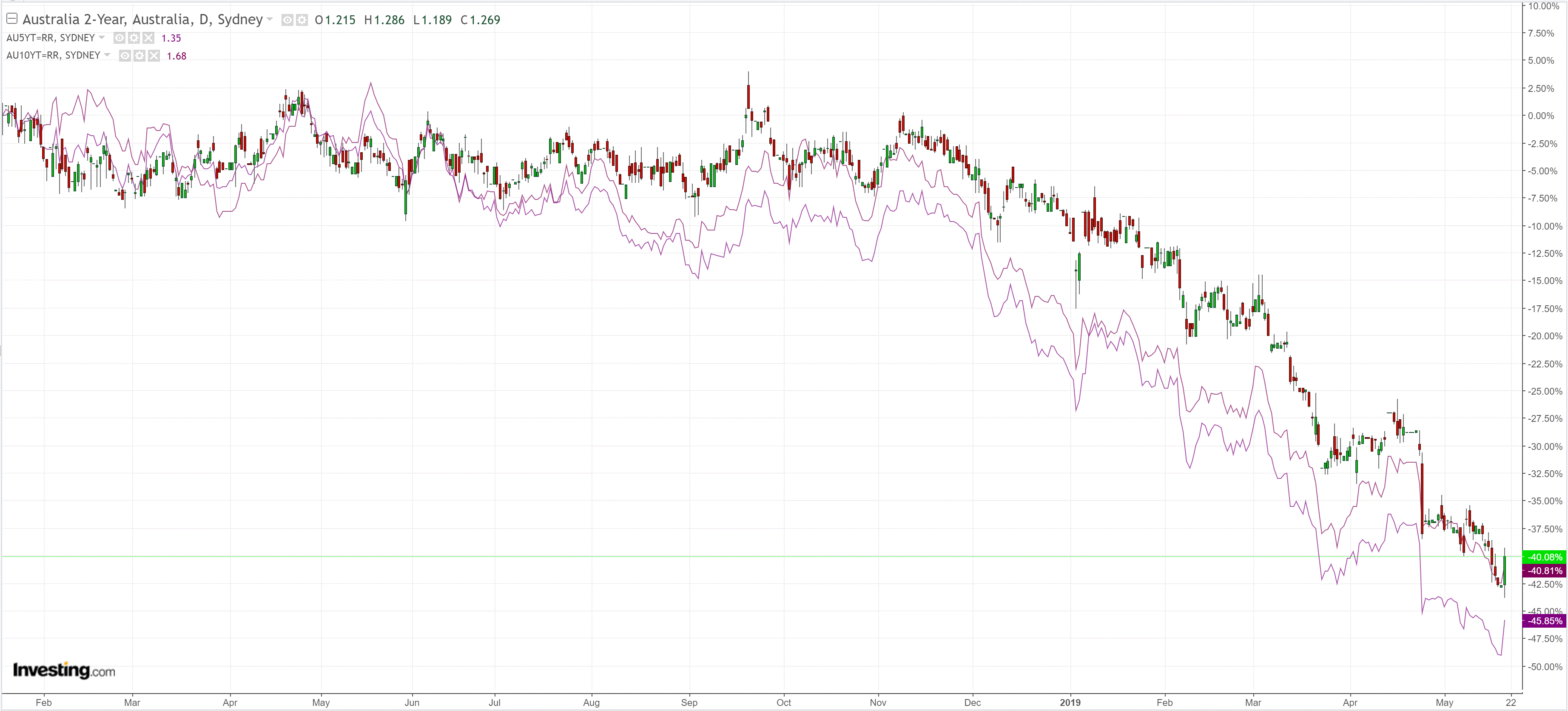 Stocks sold off moderately and look in jeopardy of more: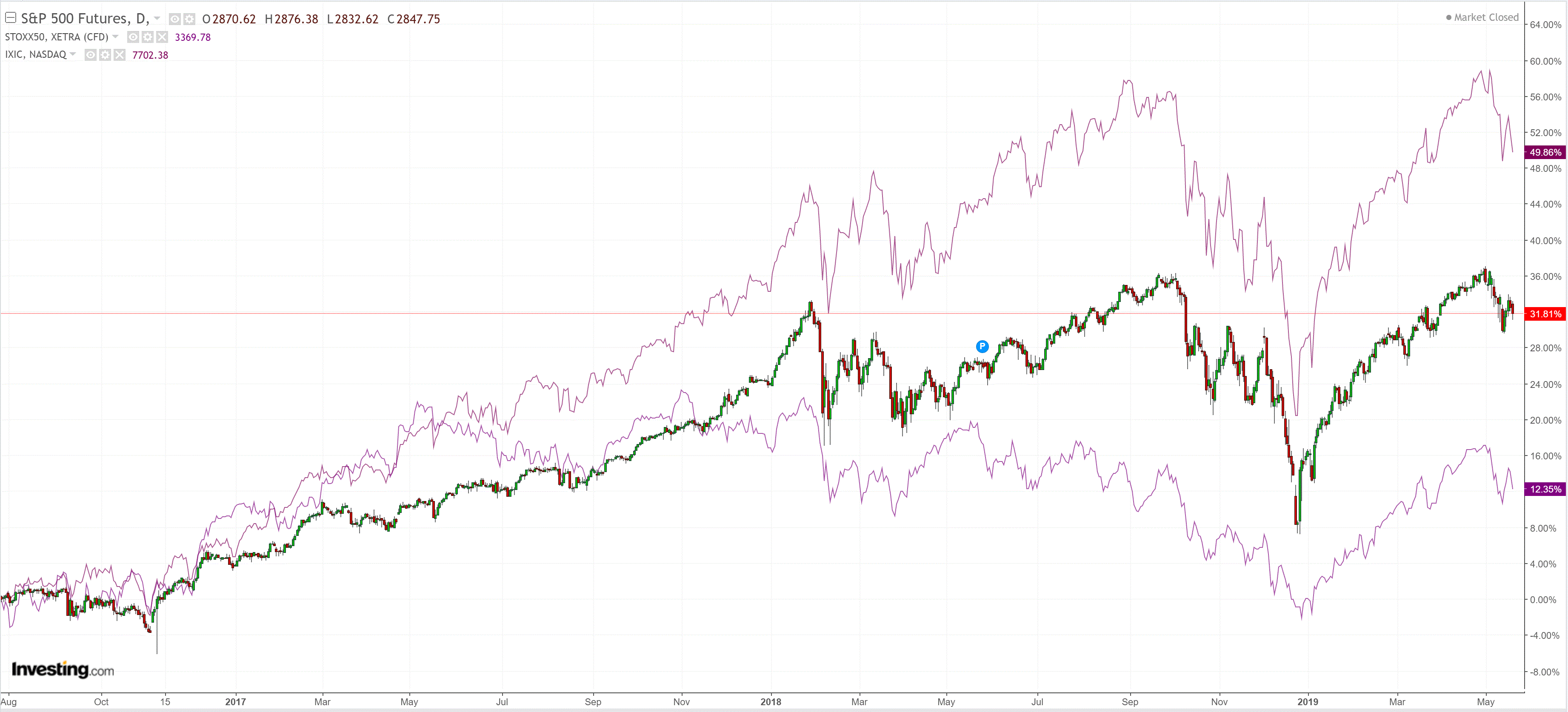 Westpac has the warp:
Event Wrap

The Chicago Fed National Activity index, a composite index of 85 economic indicators that track the national economy, fell to -0.45 in April, a weaker than expected reading; the three month average dipped to its lowest levels since mid-2016.

Dovish St Louis Fed President Bullard said that while the US economy was performing quite well he would push for a cut if core inflation remained persistently low. Atlanta Fed president Bostic was more balanced, noting that he can't tell whether the next Fed move will be a cut or a hike, though markets (pricing in Fed cuts) were ahead of his views. .

Event Outlook

Australia: May RBA minutes will provide further detail on the shift to an easing bias in the Decision Statement and Statement on Monetary Policy. RBA Governor Lowe speaks on "The Economic Outlook and Monetary Policy", Brisbane 12:15 pm AEST.

Euro Area: May consumer confidence is expected to be fairly stable at -7.6 from -7.9.

US: Fed Chair Powell speaks on "Assessing Risks to our Financial System" at the Atlanta Fed Financial Markets Conference (9 am Sydney time).
The big news is still all trade war with both the US and China girding for worse. El Trumpo declared his hand, at Bloomie:
President Donald Trump said he was "very happy" with the trade war and that China wouldn't become the world's top superpower under his watch.

Trump's comments signal he's in no rush to get back to negotiating with Beijing after talks to end the trade conflict fell apart earlier this month. He has since raised tariffs on Chinese goods and moved to restrict Huawei Technologies Co.'s access to the U.S. market, putting the Chinese telecom giant and scores of its affiliates on a blacklist that curtails access to key American suppliers.

China's economy is "not great" at the moment, Trump said. "Our economy has been fantastic. Because they were catching us, they were going to be bigger than us. If Hillary Clinton became president, China would have been a much bigger economy than us by the end of her term. And now it's not even going to be close."
China containment it is then. And this is what it looks like, at the FT:
Huawei has said it will be able to roll out its own mobile phone operating system "very quickly" if its smartphones are cut off from Google's Android software.

The world's second-largest smartphone maker is facing the prospect of being shut out of the world's most popular smartphone operating system after being placed on a "banned entity" list by the White House, which forbids US companies to supply it with technology.

Huawei, which last year sold 200m phones, promised its customers that their current phones would continue to work, and have access to Google's Play Store to buy apps. These phones are certified so that Google can provide them with updates and downloads without going through Huawei.
Also at the FT, China is battening down the hatches:
As the trade dispute escalates between China and the US, classic Chinese movies about the "War to Resist America and Aid Korea", as the Korean war of the 1950s is known in China, have made a reappearance on Chinese primetime state television.

This is one of the many signs in China hinting at what analysts believe will now be a protracted trade conflict with Washington.

…Chinese officials believe they have two distinct advantages vis-à-vis their US adversary in the next phase of the trade war. The first is the levers of control that Mr Trump can only dream — or tweet — about. US institutions such as the Fed or the House of Representatives have resisted the US leader's pressure, but Mr Xi need only snap his fingers and China's party-controlled government, legislature, media and banking system will do his bidding.

Mr Xi's second advantage is a long-simmering sense of historical grievance against foreign powers who have previously "bullied" and "humiliated" China — conveniently stoked, as it happens, by the party's media mouthpieces.
Chinese officials are deluding themselves. The US has the same advantages, they just move a little slower in response to market forces. And it has many more. It is the technology leader and hegemon. If it cuts China off then it happens throughout the liberal empire. China will be left trading with a ragtag band of emerging markets that sink together into the middle income trap. Not to mention that it is very dependent upon broader US exports and its acquiescence to falls in its own exports:
China's spectacular economic ascendence can be traced to a number of factors. Massive domestic savings and huge capital accumulation, coupled with rapid urbanization and fast rising exports, have all been key drivers of China´s growth. Policy makers in China have also been exceptionally adept at implementing multi decade plans and building infrastructure at a staggering speed. Why is the White House so focused on China? In part, America's current account balance has been the mirror of China's for the last 20 years (Chart 8). But even as America has improved its trade balances with the rest of the world helped by an energy renaissance, the annual US trade deficit with China has worsened from 84bn in 2000 to 420bn at present. As such, the drop in US energy imports was replaced with manufactured imports from China in the past decade (Chart 9.).
China's vulnerability in manufacturing and technology exports is obvious, from BoAML:

And domestic demand is also vulnerable owing to indebtedness and terrible demographics:

Chinese hubris will be the death of it. The Aussie dollar will follow it into the grave.