See the latest Australian dollar analysis here:
DXY was strong last night as CNY and EUR wilted: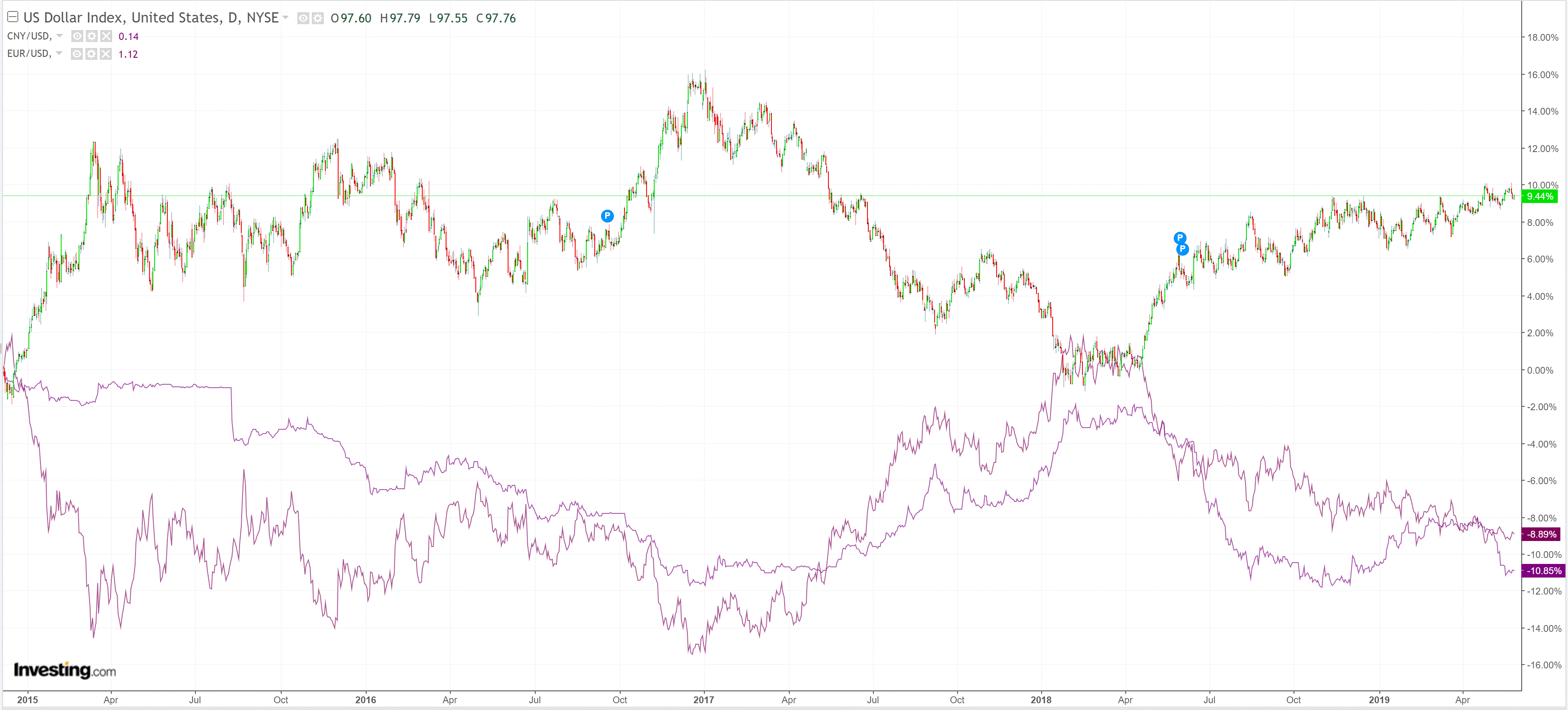 AUD resumed its decline: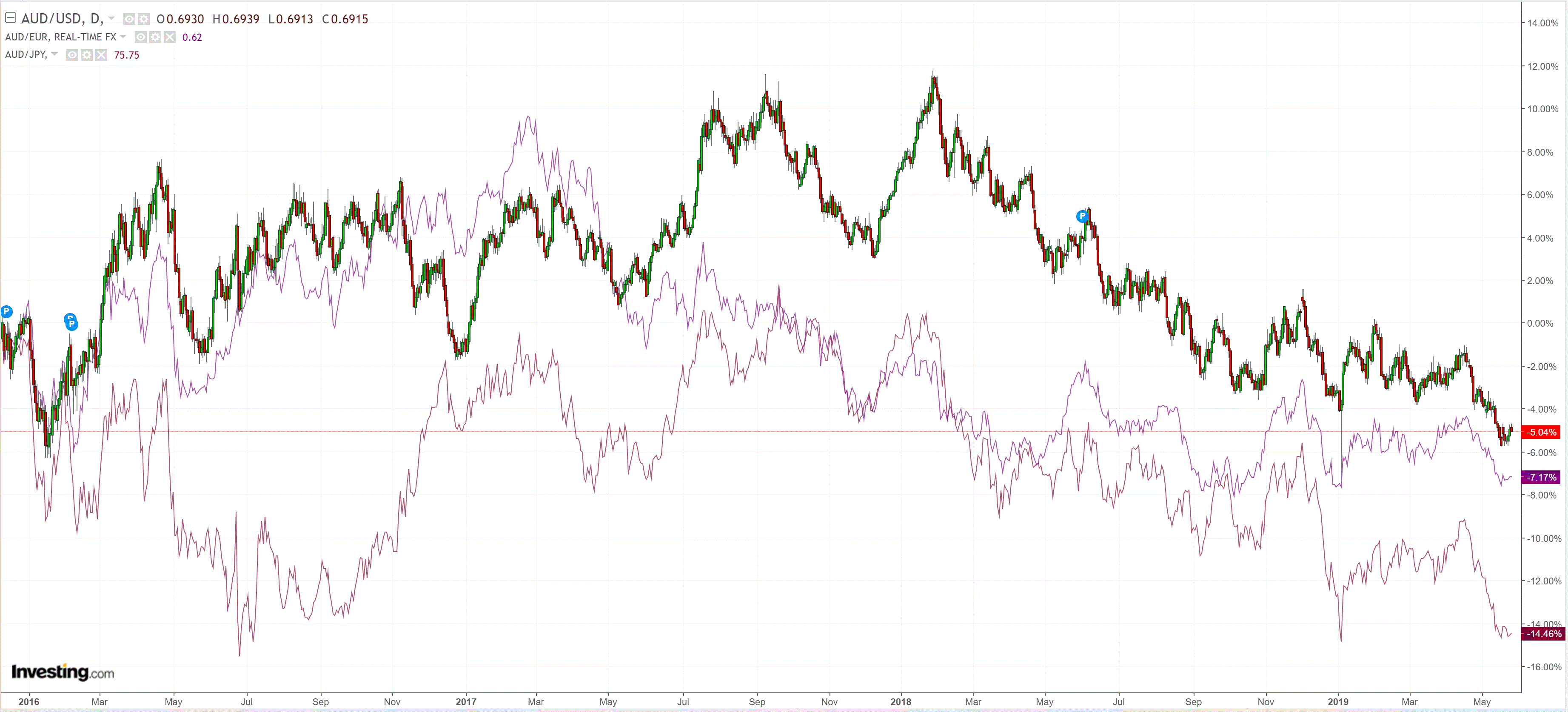 It is still weak versus EMs: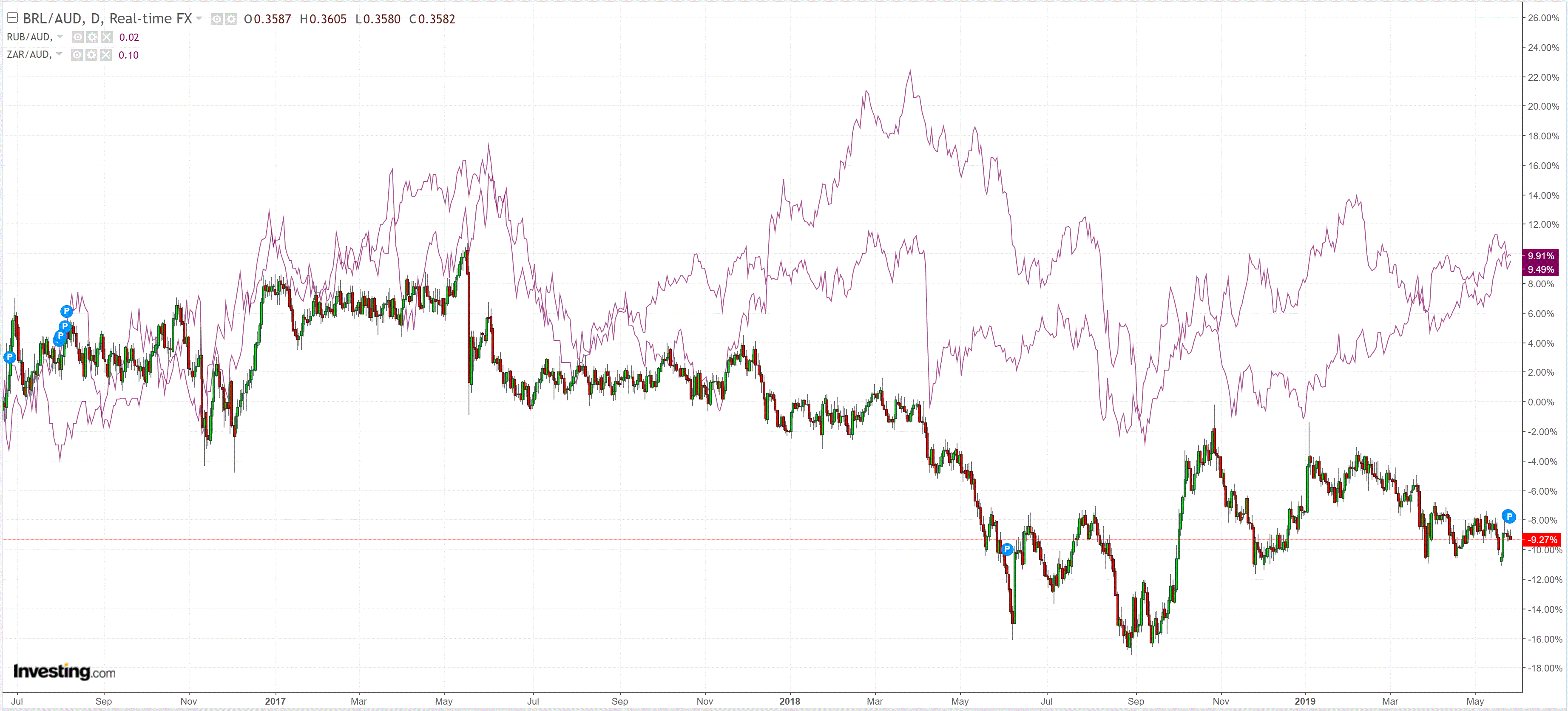 Gold was stable: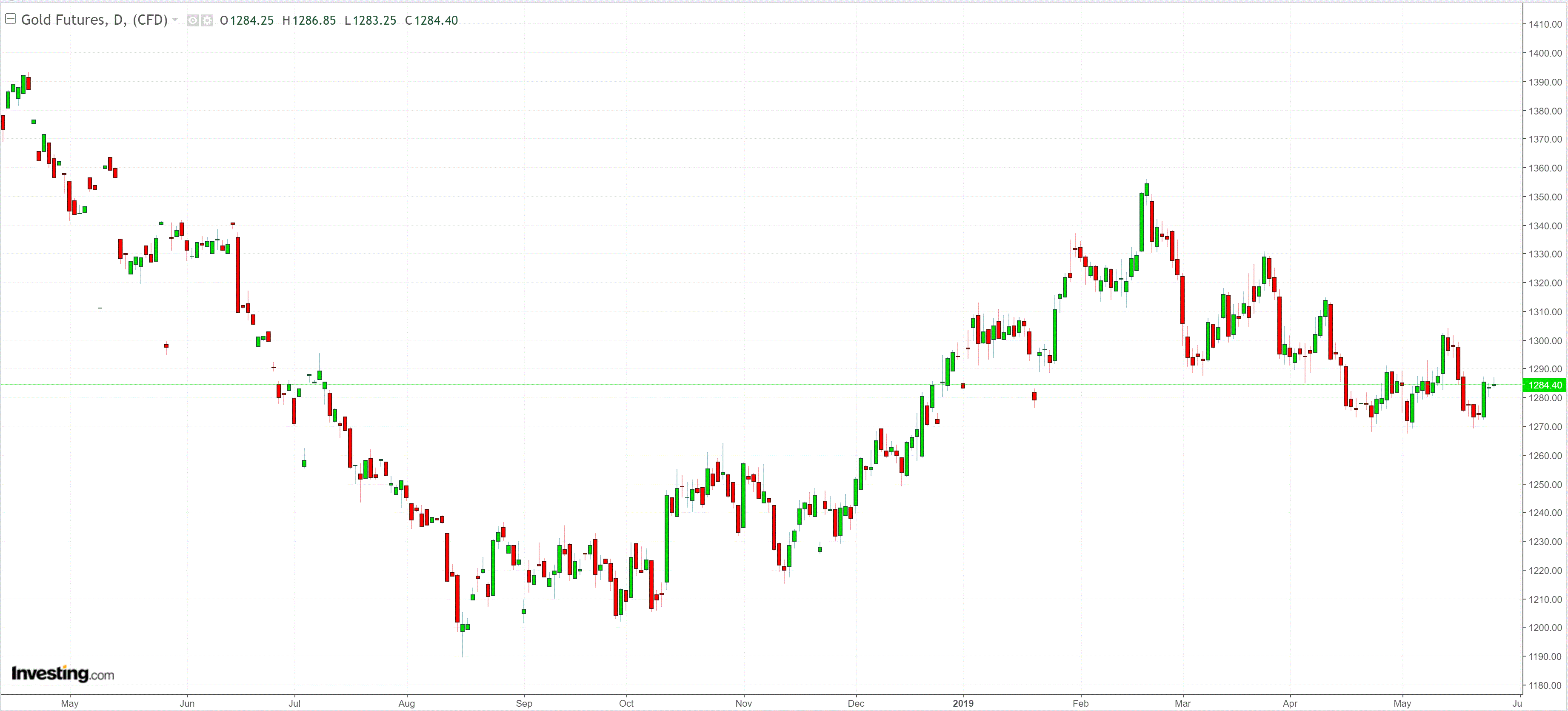 Oil firm: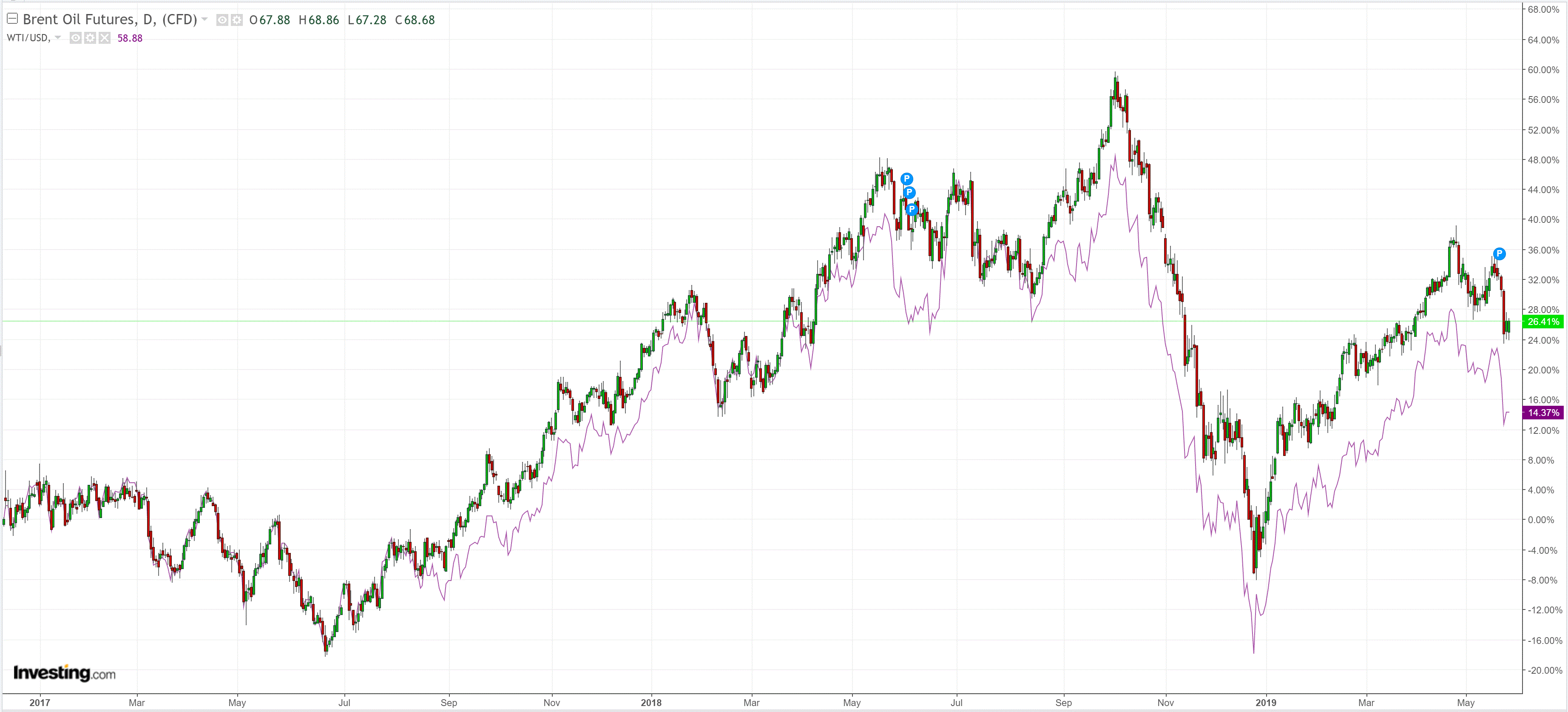 Metals too: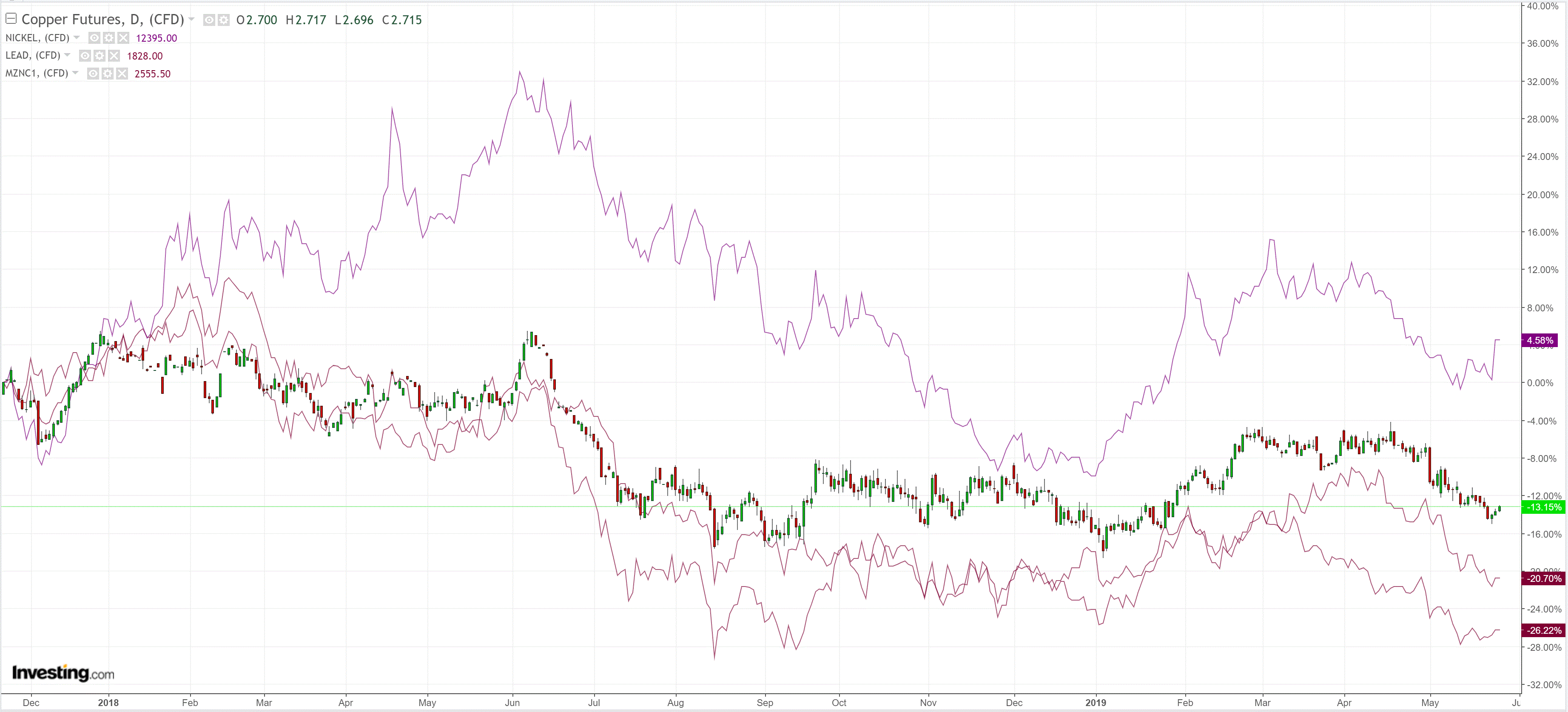 Miners up: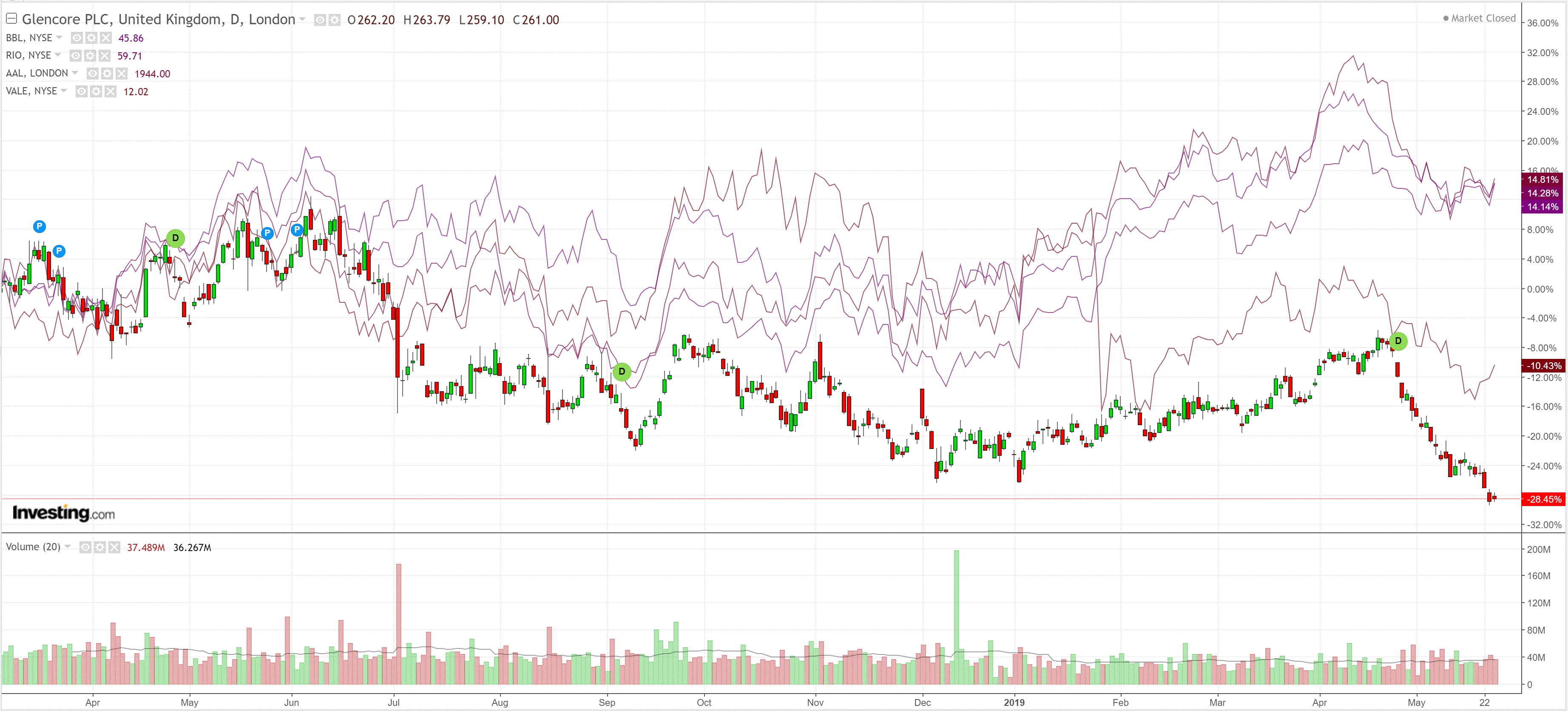 EM stocks do not look well: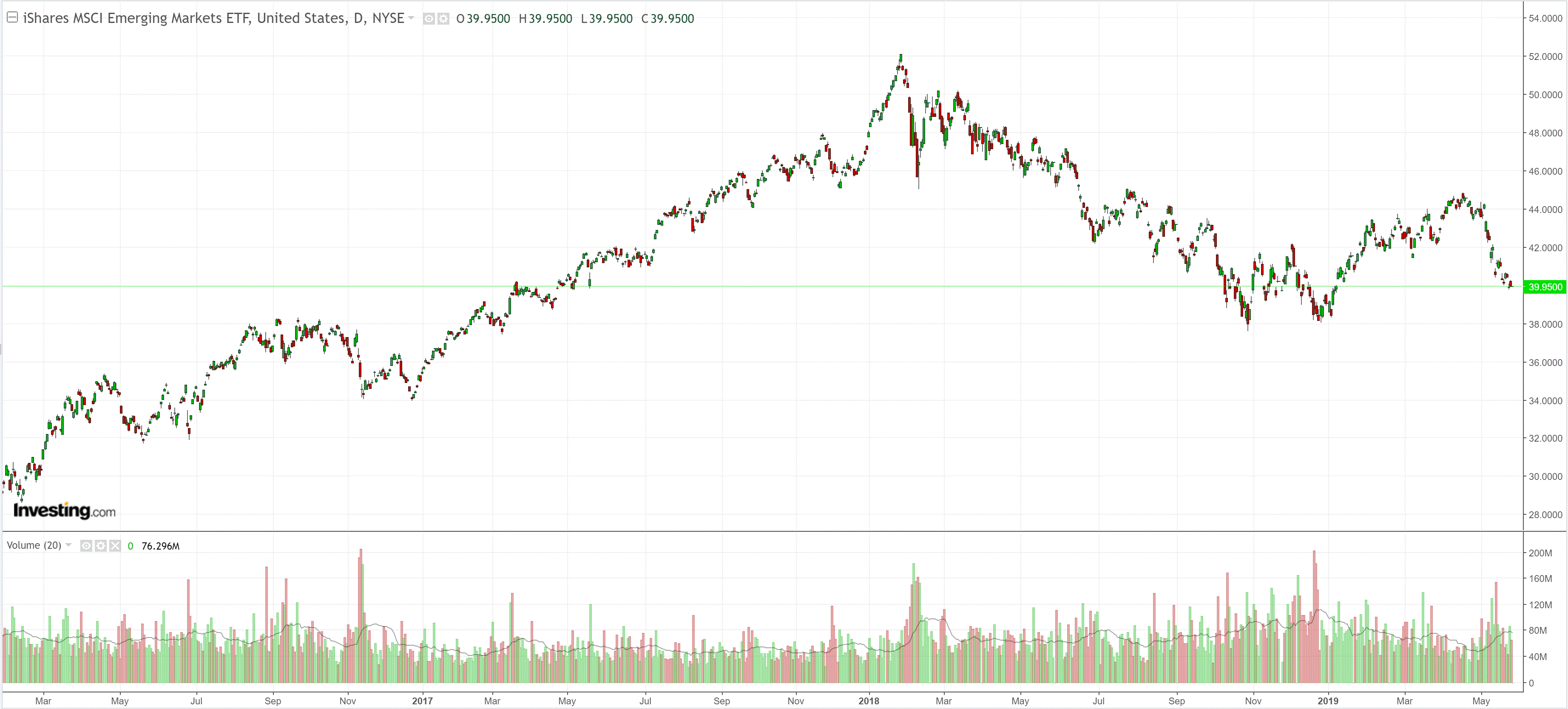 EM junk held on: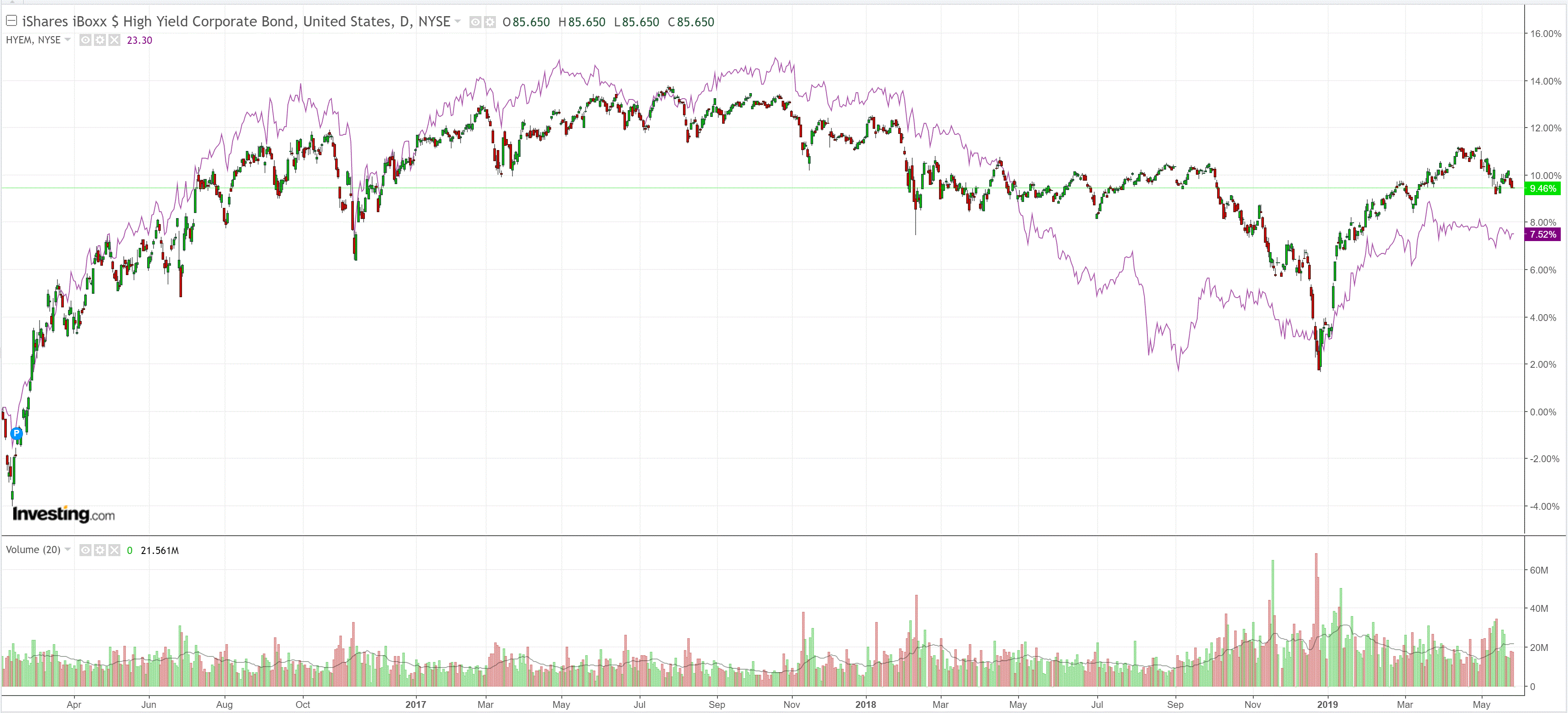 Treasuries sold: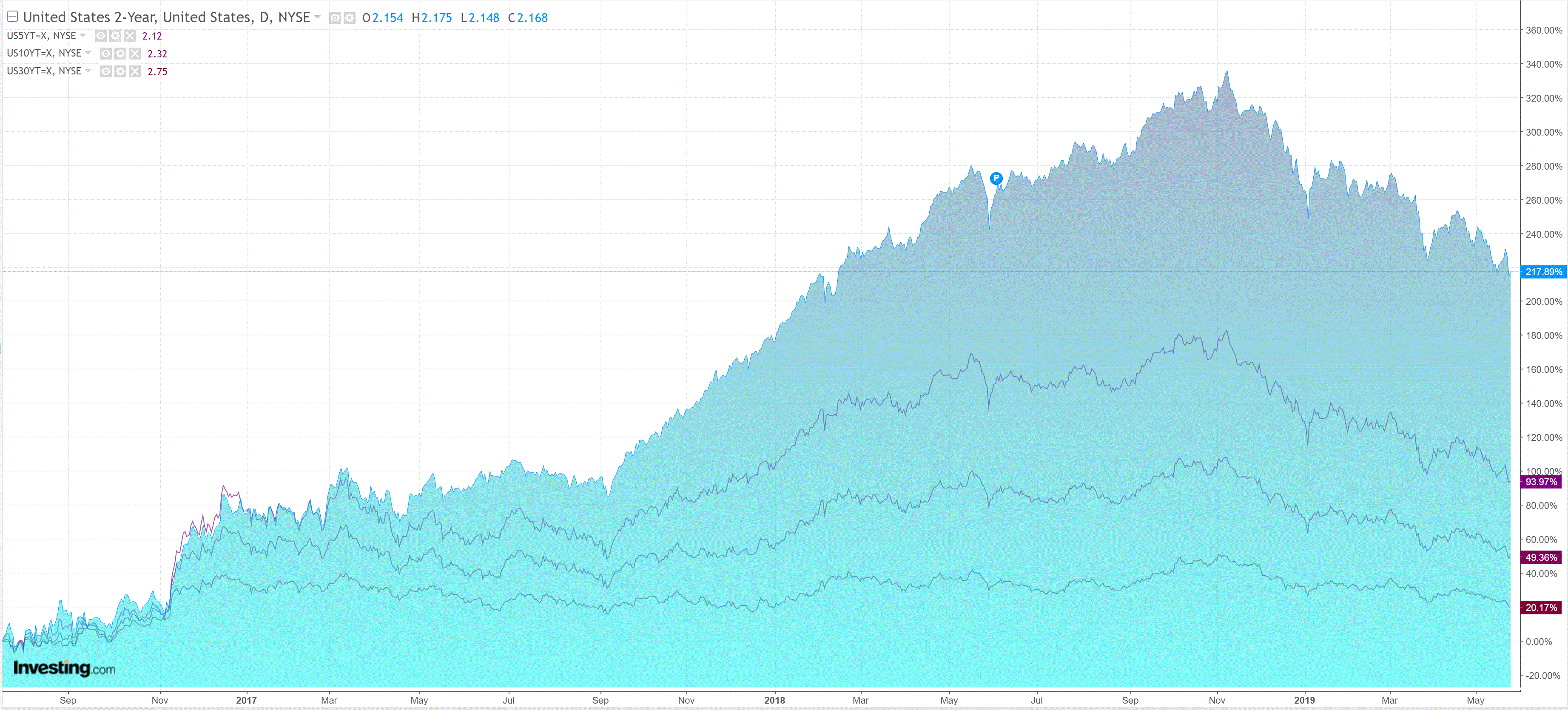 Bunds were bid: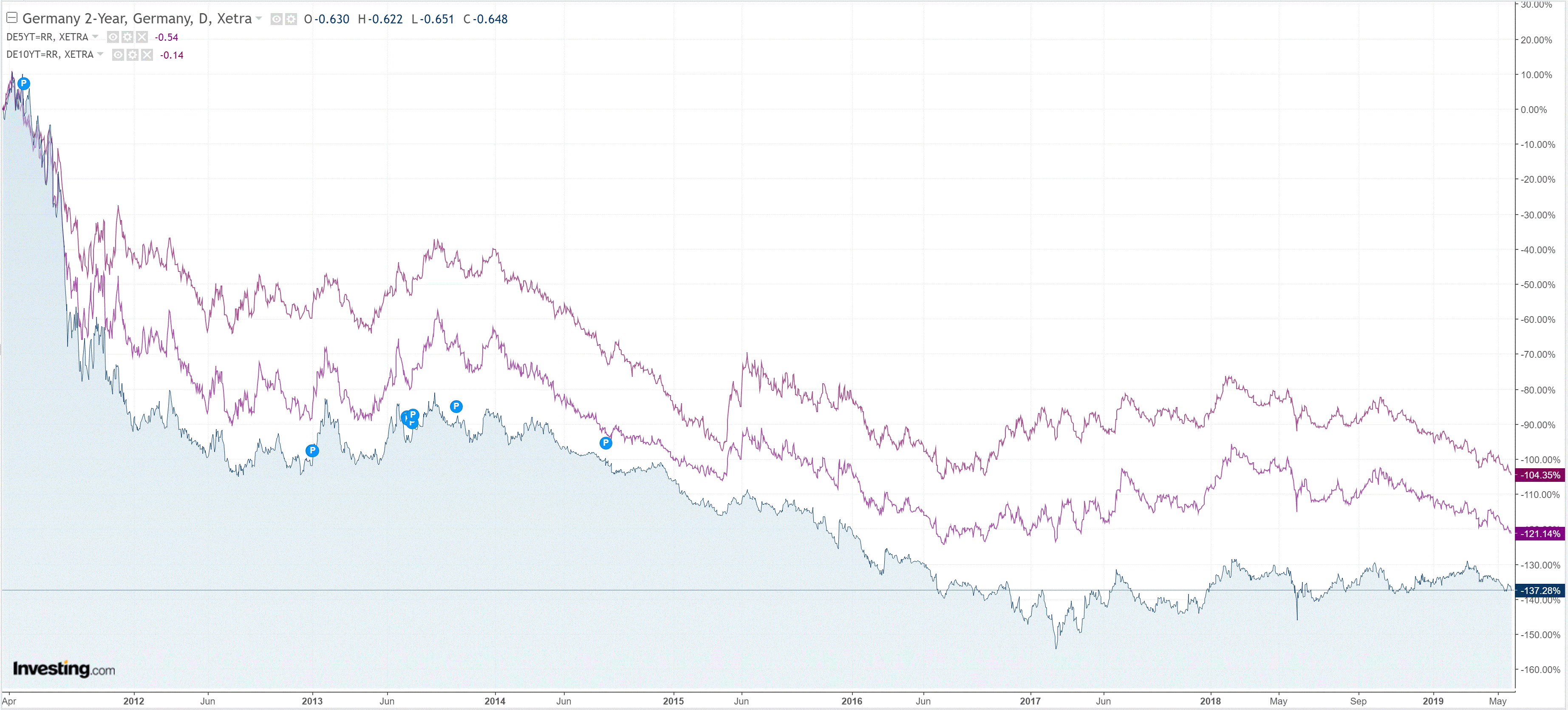 Aussie bonds followed the US: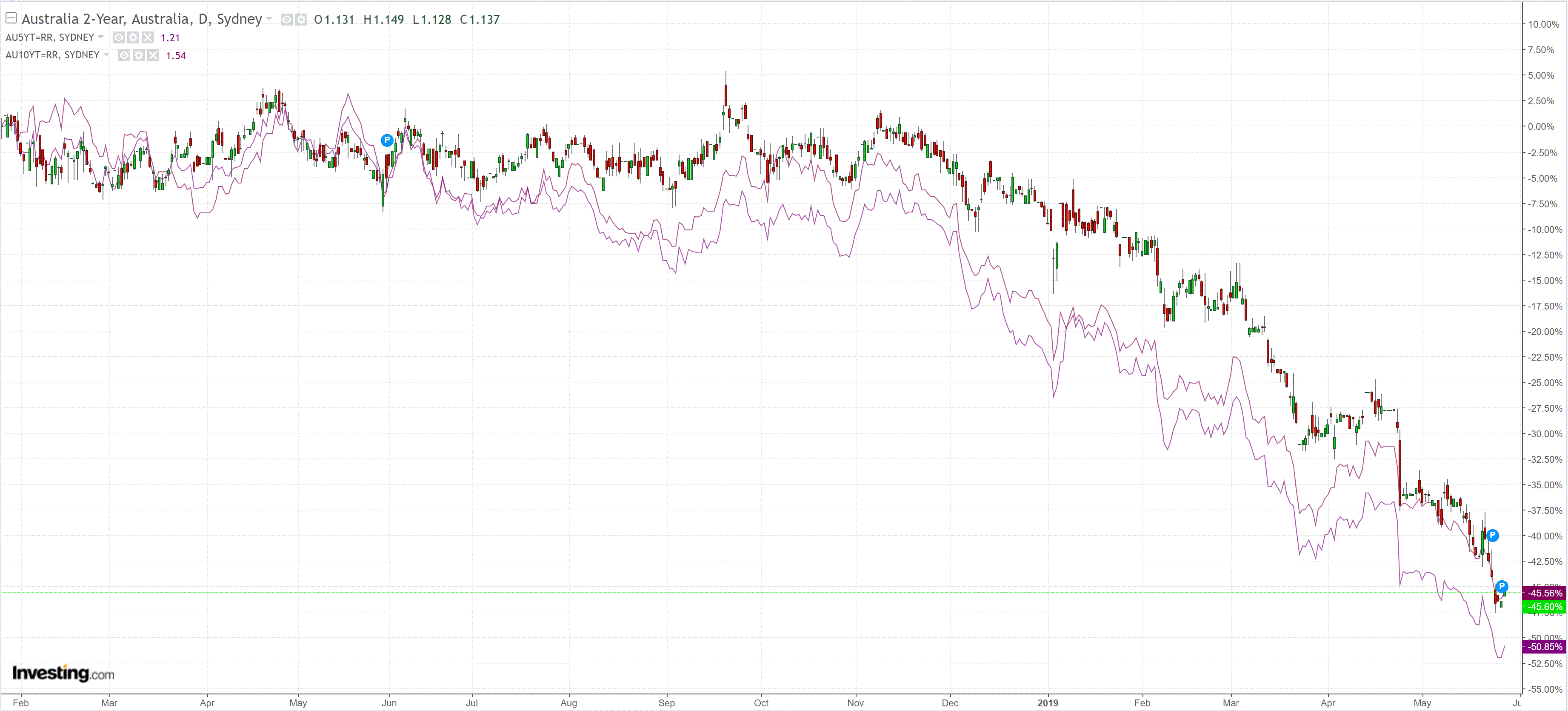 Stocks firmed a touch: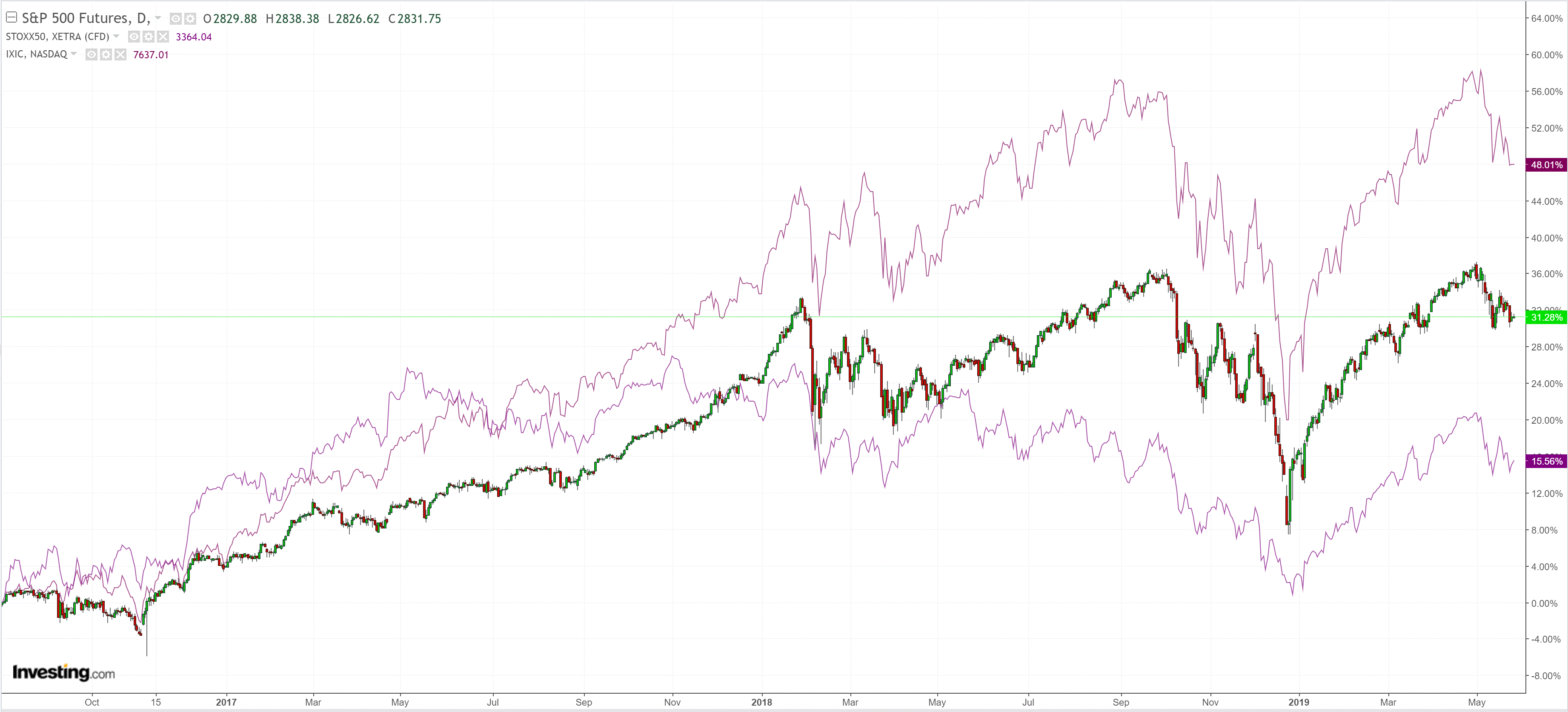 DXY caught a bid in part owing to a weak EUR as the European Parliamentary Elections swung strongly to anti-EU parties, Italian fascists immediately launched a new attack on fiscal constraints and the Franco/German axis bickered.
That said, there's no need to look past the obvious today for Aussie dollar weakness, via Bloomie:
The U.S. isn't ready to make a trade deal with China, President Donald Trump said while on a state visit to Japan.

"I think they probably wish they made the deal that they had on the table before they tried to renegotiate it," Trump said Monday at a joint press conference in Tokyo alongside Japanese leader Shinzo Abe. "They would like to make a deal. We're not ready to make a deal."

Trump said American tariffs on Chinese goods "could go up very, very substantially, very easily." His comments came after trade talks between the two countries stalled earlier this month. Each side has since blamed the other, and Trump has threatened billions more in tariffs.
The FT also profiles another rising US trade hawk:
Before joining Donald Trump's administration, one of Nazak Nikakhtar's main jobs was to represent US catfish farmers seeking punitive duties against Vietnamese importers.

…Ms Nikakhtar is the acting head of the commerce department's bureau of industry and security — and awaiting confirmation to be its permanent chief — at a time when the unit is in the spotlight because of Mr Trump's moves to expand export controls in the stand-off with Beijing.

…Although the decision was made by the US president, Ms Nikakhtar is overseeing the crackdown. People familiar with her views say she has not shied away from warning American businesses of the danger of extensive economic relationships with China. And they say she is more in favour of disentangling the two economies rather than fostering closer ties.
It's the rise of "patriotic capitalism", says Rana Fooroohar:
In the 1980s, and 1990s, being global was the goal for big American companies. Multinational firms saw themselves as exporters of American style capitalism to the world. Later, as understanding of local market differences grew, so did nuance. I did piece years ago for TIME magazine, called "Go Glocal," looking at how multinational firms like Caterpillar and IBM were treading an increasing fine line between globalism and localism, trying to stay on the right side of consumer trends, regulators and governments in all the countries where they operated, even as the politics of job and tax offshoring were becoming more contentious.

Now, of course, we've entered the era of "patriotic capitalism" in which companies are being forced to pick sides — are they with the US? Are they supranational? Or are they still trying to hedge their bets? I thought Google's acquiescence to the President's demands that they stop using Huawei chips was a watershed moment.
A gross over-simplification given Trump is aiming to push back unfair trade practices in China, not enforce no trade practices. If the US is deploying state power to enforce capitalist goals then it is because China has for so long injected its state into the same. To wit, also at the FT:
China increased its subsidies to domestically listed companies to a record level last year to help them weather a slowdown in the world's second-largest economy, in a move likely to further strain trade talks with Washington.

Payments by Beijing and local governments to listed companies rose 14 per cent year on year to Rmb153.8bn ($22.3bn) in 2018, according to corporate earnings data collected by financial database Wind.

"This data just reinforce the impression that Chinese companies start the race for business far ahead of their competitors," said Scott Kennedy, director of the project on Chinese business and political economy at the Center for Strategic and International Studies in Washington. He said the disclosed payments exclude "a range of implicit subsidies and other non-tariff barriers".
Anyway, for market action, what matters is that "patriotic capitalism", or whatever you want to call it, is still getting stronger not weaker. A new normal is taking shape in the US that a globalisation dominated by China is not a globalisation worth having. Any freedom-loving Australian patriot not already on the take from the Communist Party of China would be mad to disagree.
Gavkal examines the outcomes:
1) A higher oil price (as pressure on Iran rises), a lower US dollar (as the Fed eases), and a moderately steeper yield curve (because of the combination of Fed easing and a higher oil price). In this environment, it is likely that commodity-producing emerging markets and commodity currencies would outperform. Financials might also stop being such dogs. In short, the assets that have had a horrible 12 months would bounce back.

2) A lower oil price (as Chinese demand evaporates), a marginally easier Fed (responding to the deflationary impact of China's evaporating demand for oil and tech goods), a flat, down-shifted yield curve, and a US dollar that likely continues to range trade (as the market adjusts to a Fed on easy mode indefinitely, and realizes that with lower global energy prices, the US loses its biggest comparative advantage). In essence, this is Anatole's Goldilocks scenario. In this scenario, investors continue to pay up for the visibility offered by the new "Nifty Fifty", global brands with outsized growth and profitability.

3) A lower oil price (as Chinese demand evaporates), a much easier Fed (printing to fund the growing US budget deficit) and a lower US dollar (as the market wakes up to US fiscal unsustainability). In this scenario, commodity-consuming emerging markets (i.e. Asia) outperform, and perhaps even Japan or Europe joins the party. Gold outperforms.
We're already plodding into scenario 2. I don't think it can last. Scenario 3 is firming as the next development. But it doesn't and can't happen until trade war blow back hits US equities along with the oil price so I still see the Australian dollar lower before any new Fed cycle offers it a reprieve.
Latest posts by David Llewellyn-Smith (see all)