DXY was firm as CNY tanked last night: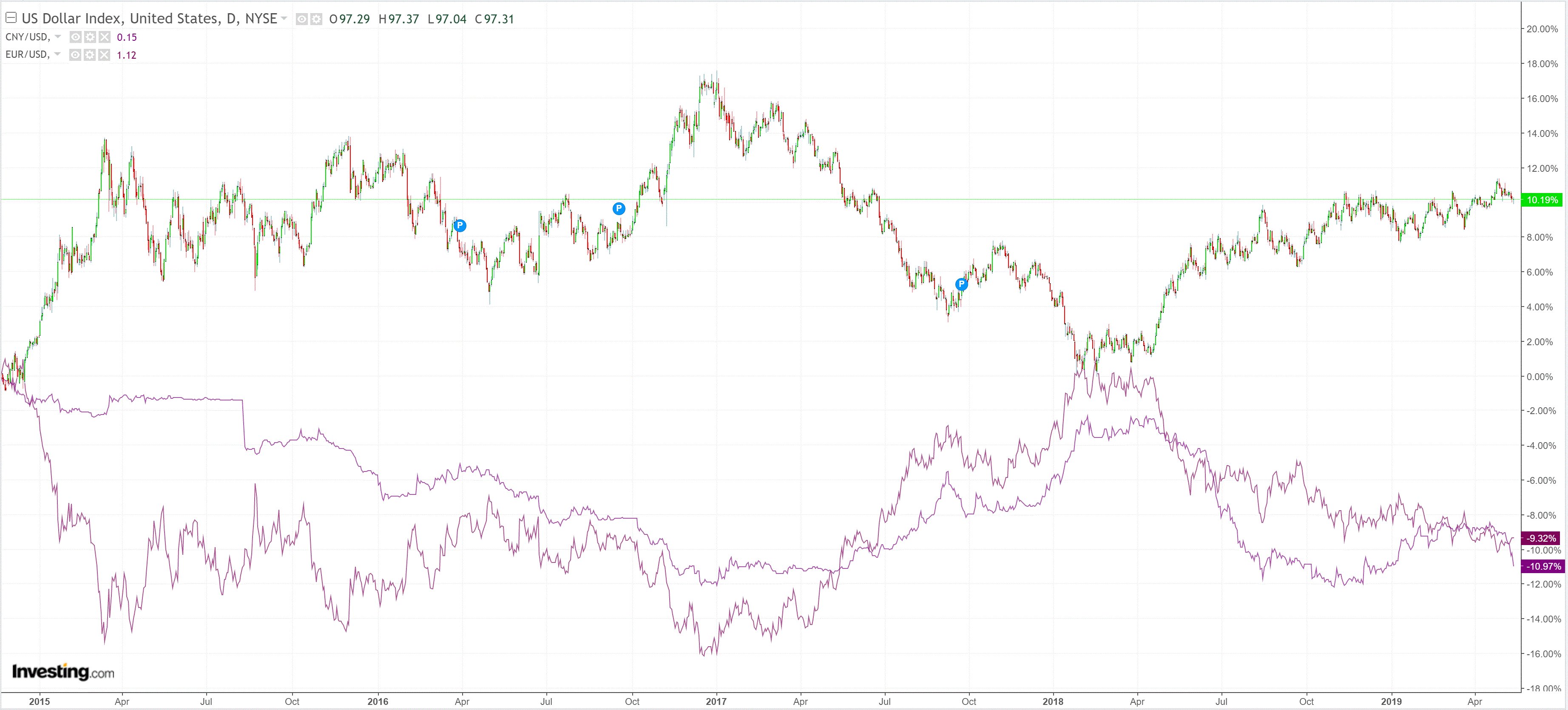 The Australian dollar was belted against DMs, to three year closing lows versus the USD: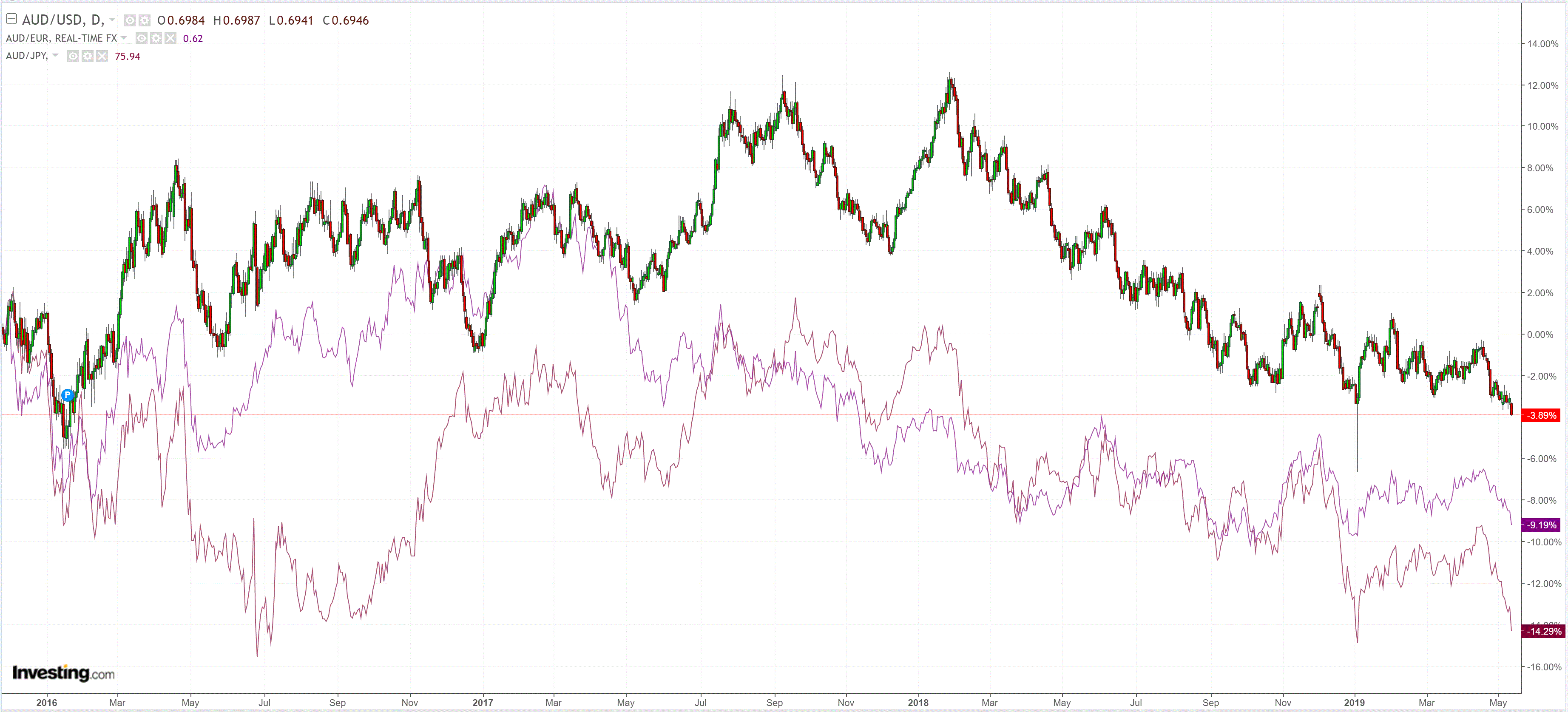 It was also weak versus EMs: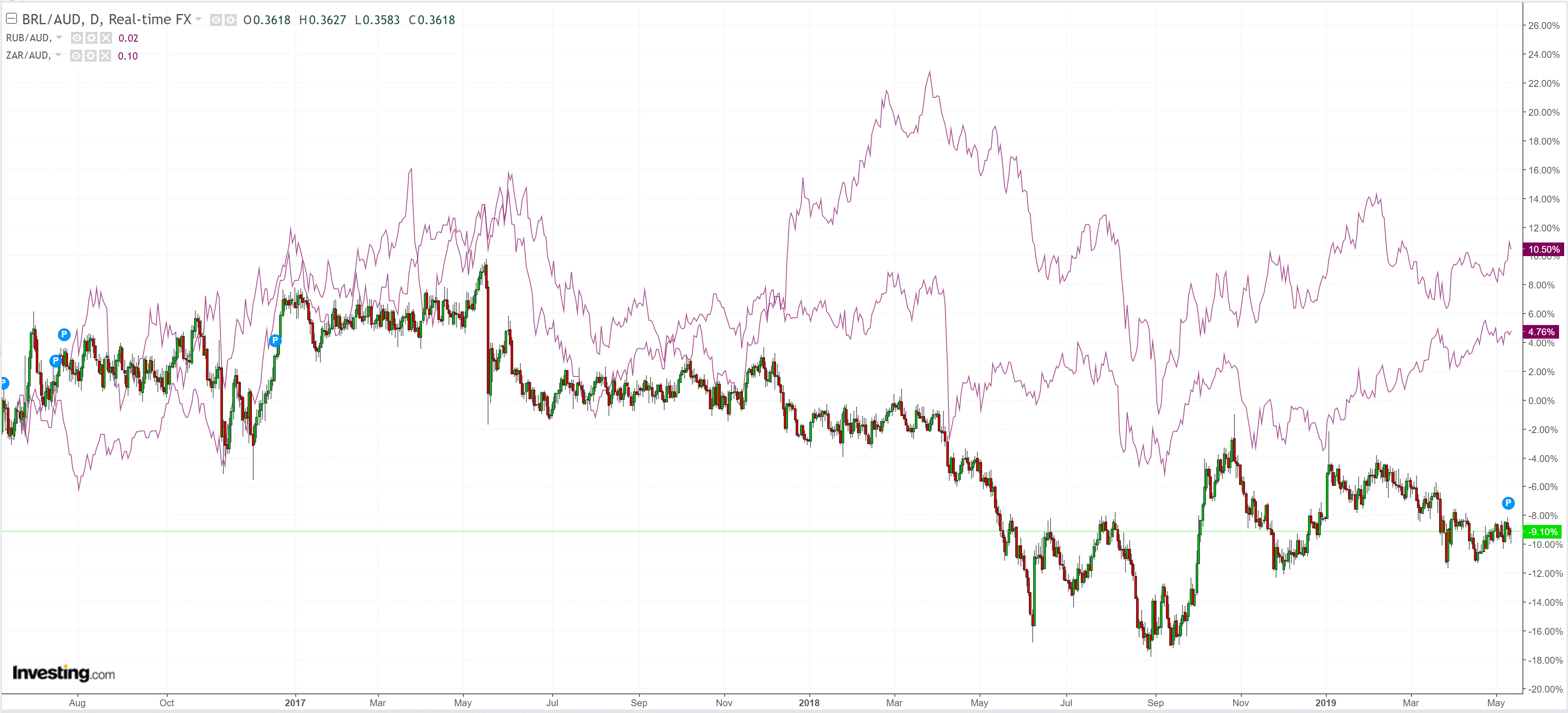 Gold jumped: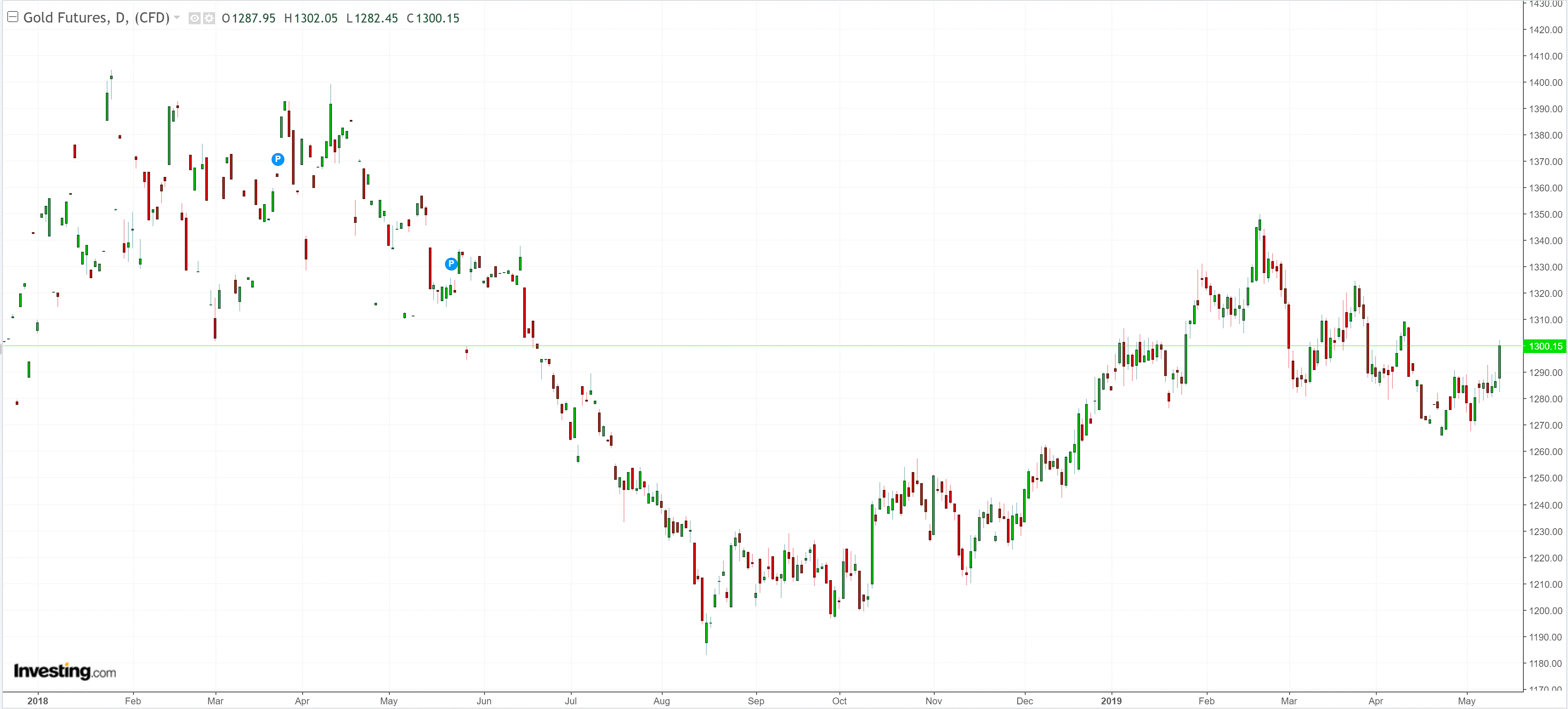 Oil sagged despite Iran tensions: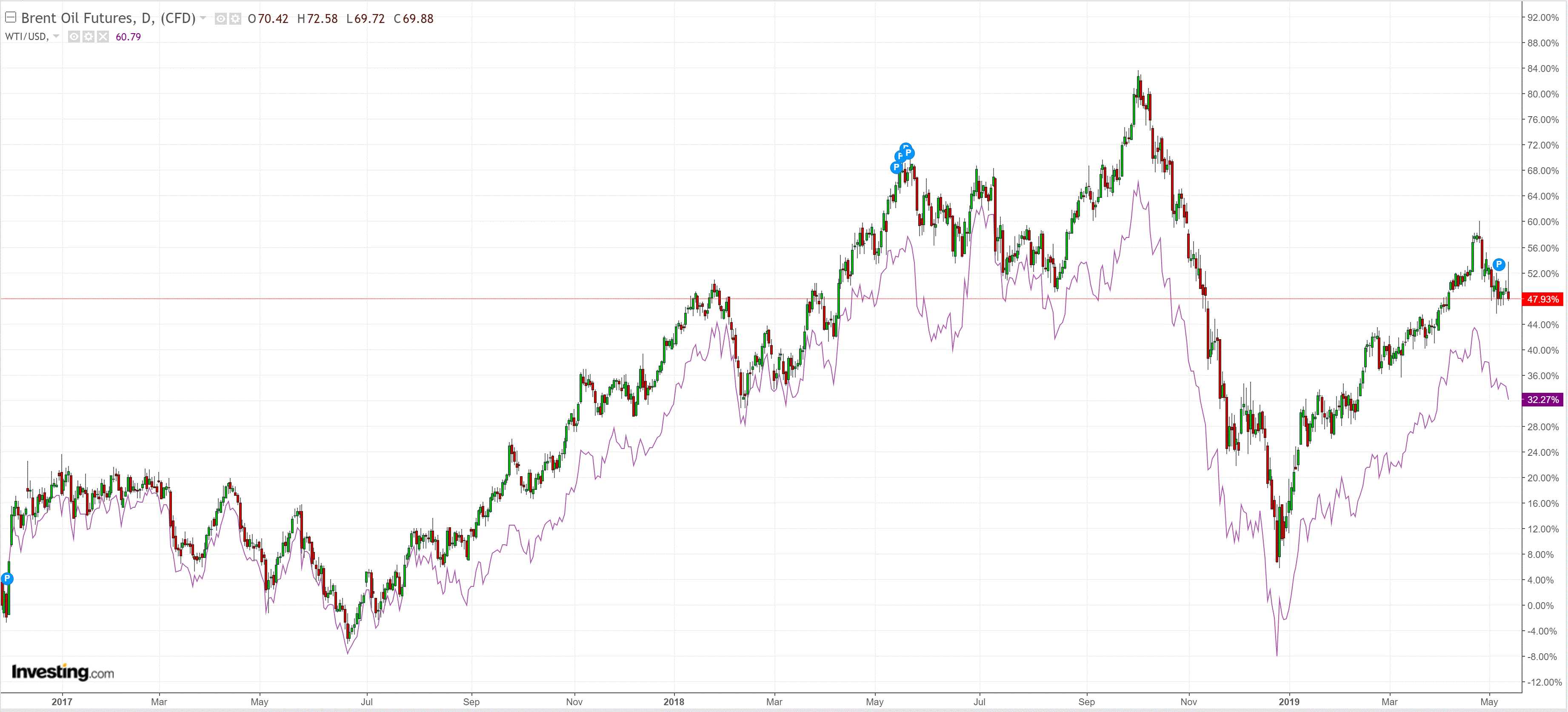 Metals were belted:
And big miners. GLEN is in trouble: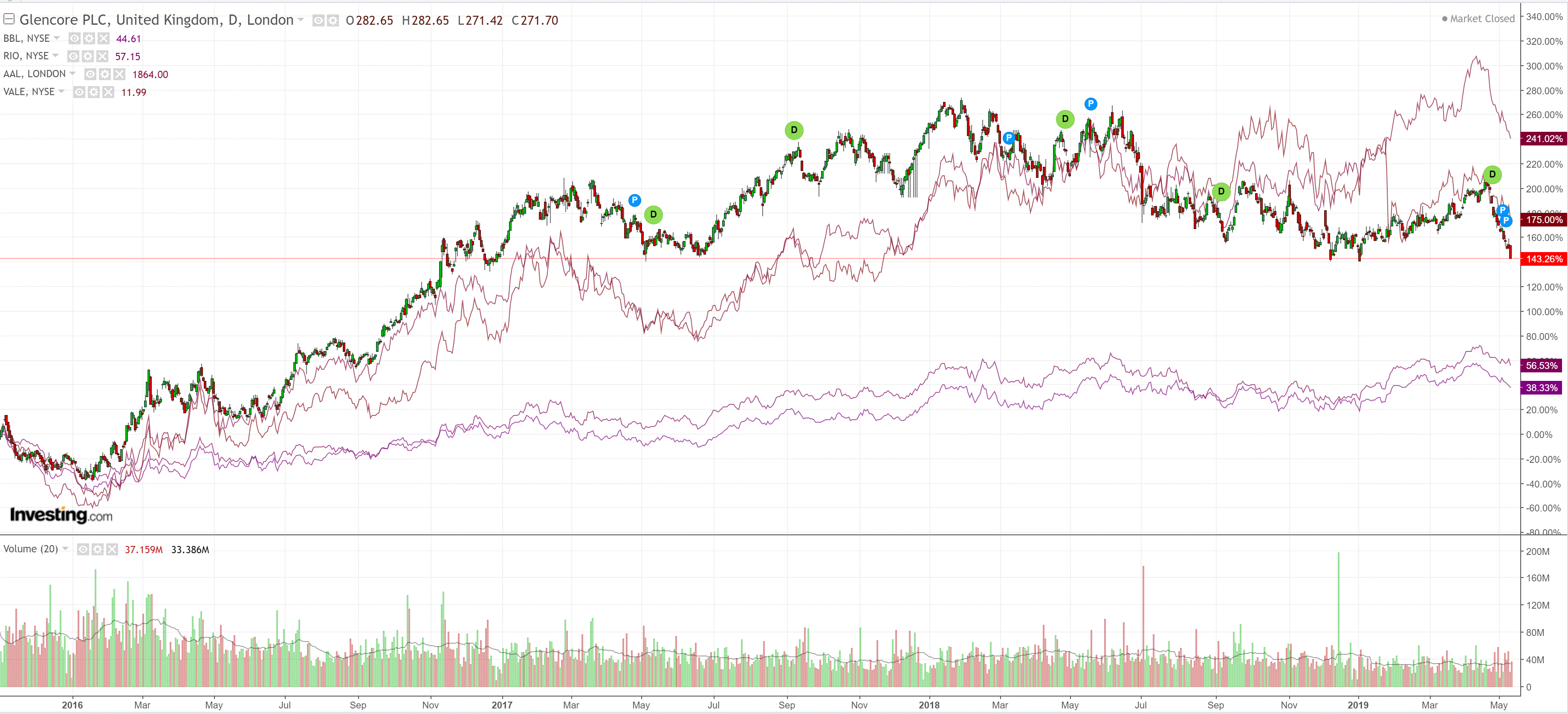 EM stocks were massacred: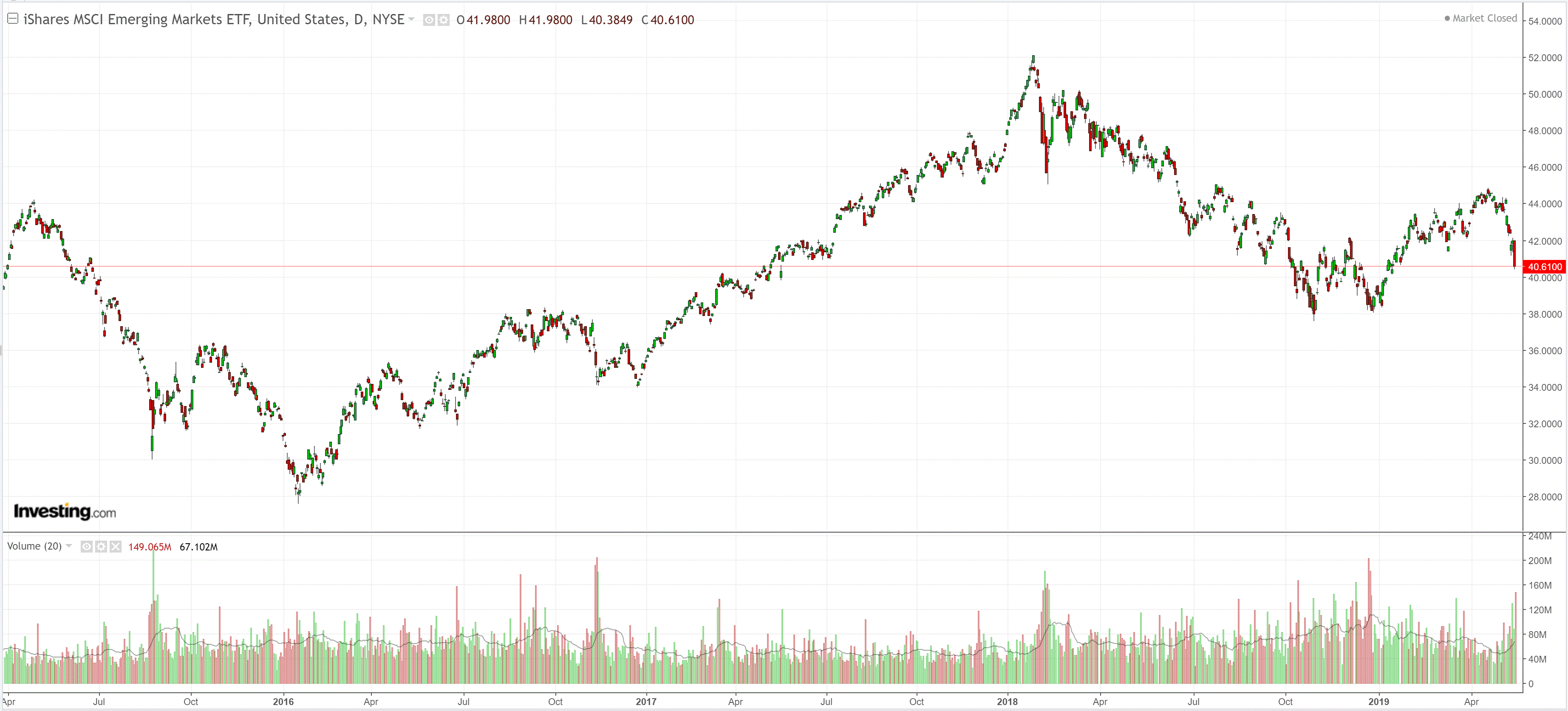 As junk gave in: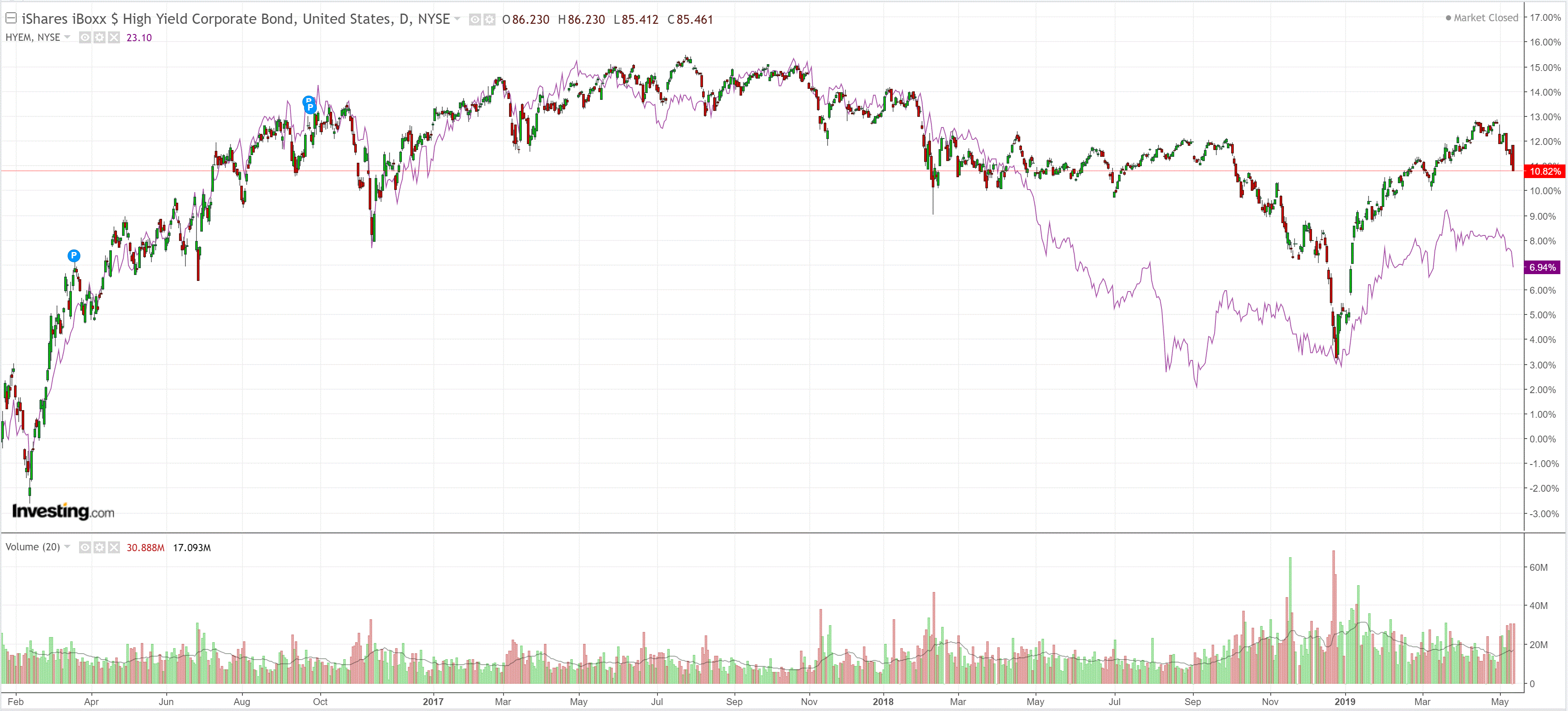 Treasuries ripped: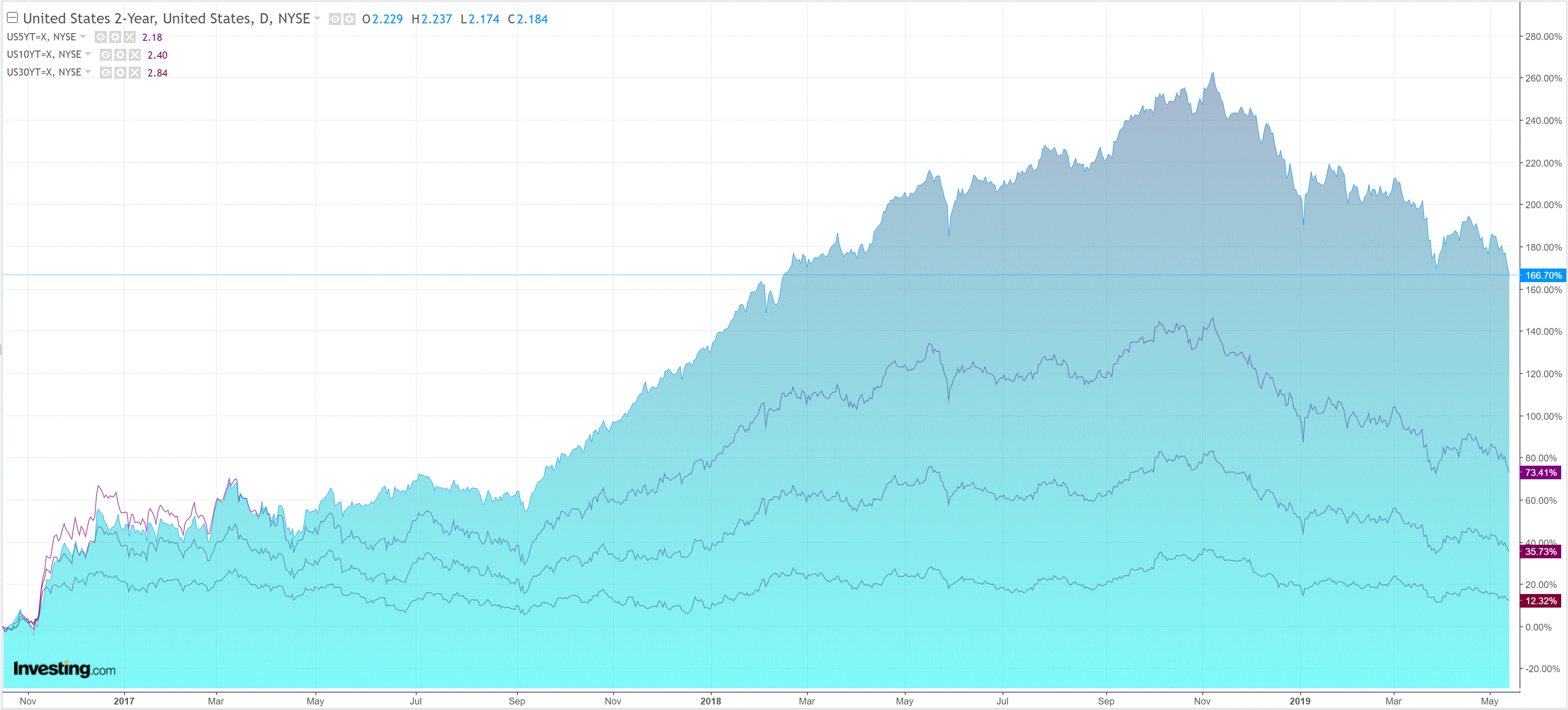 Bunds were bid: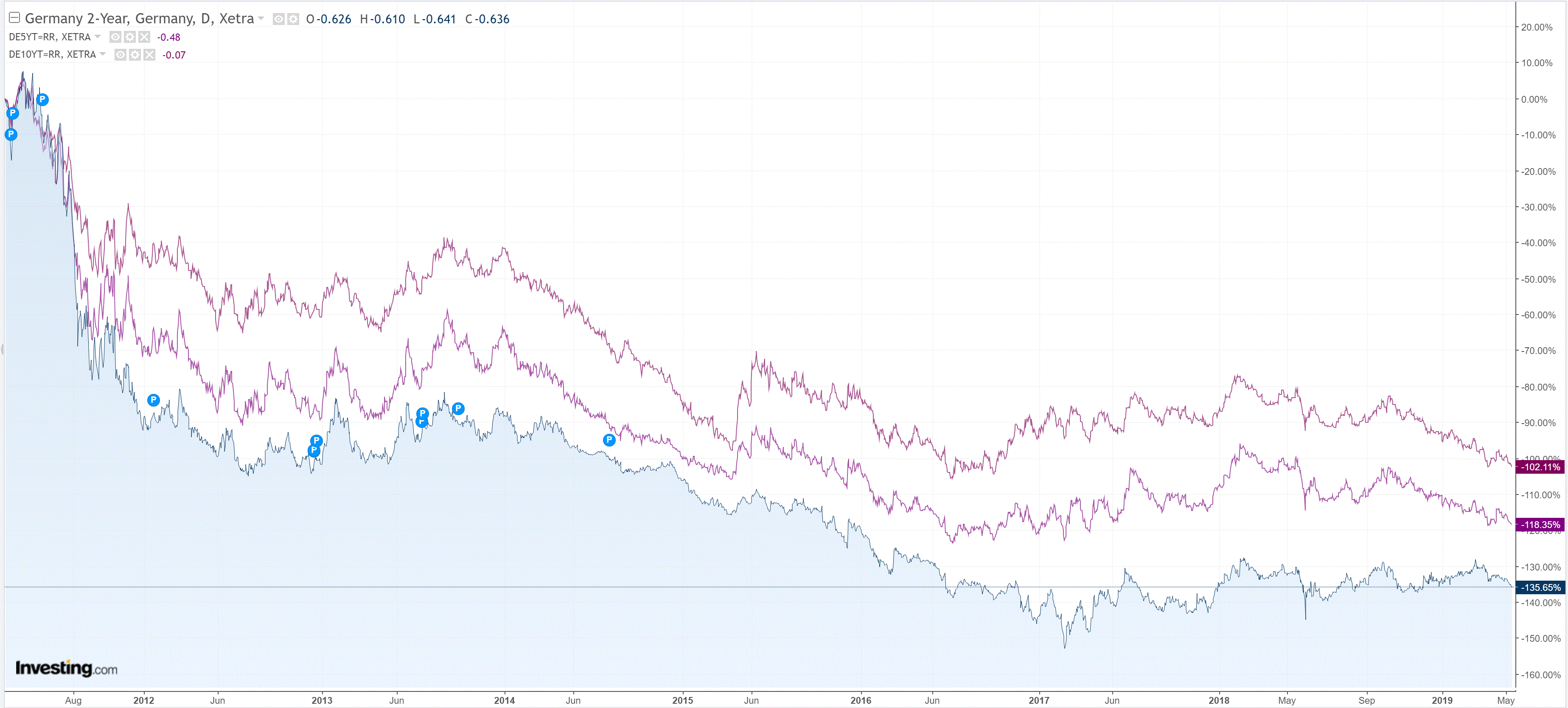 The Aussie long end hit all-time low yields: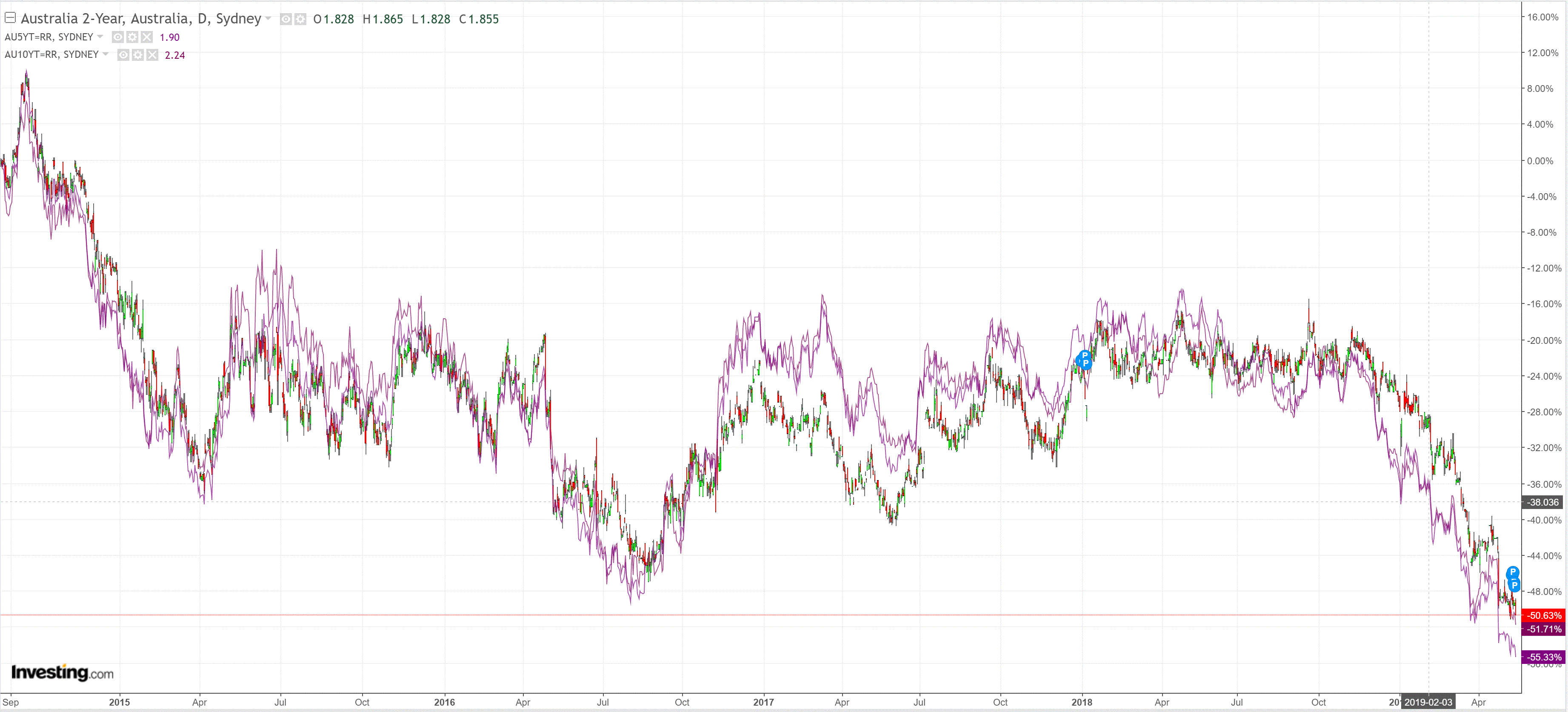 As stocks were slammed: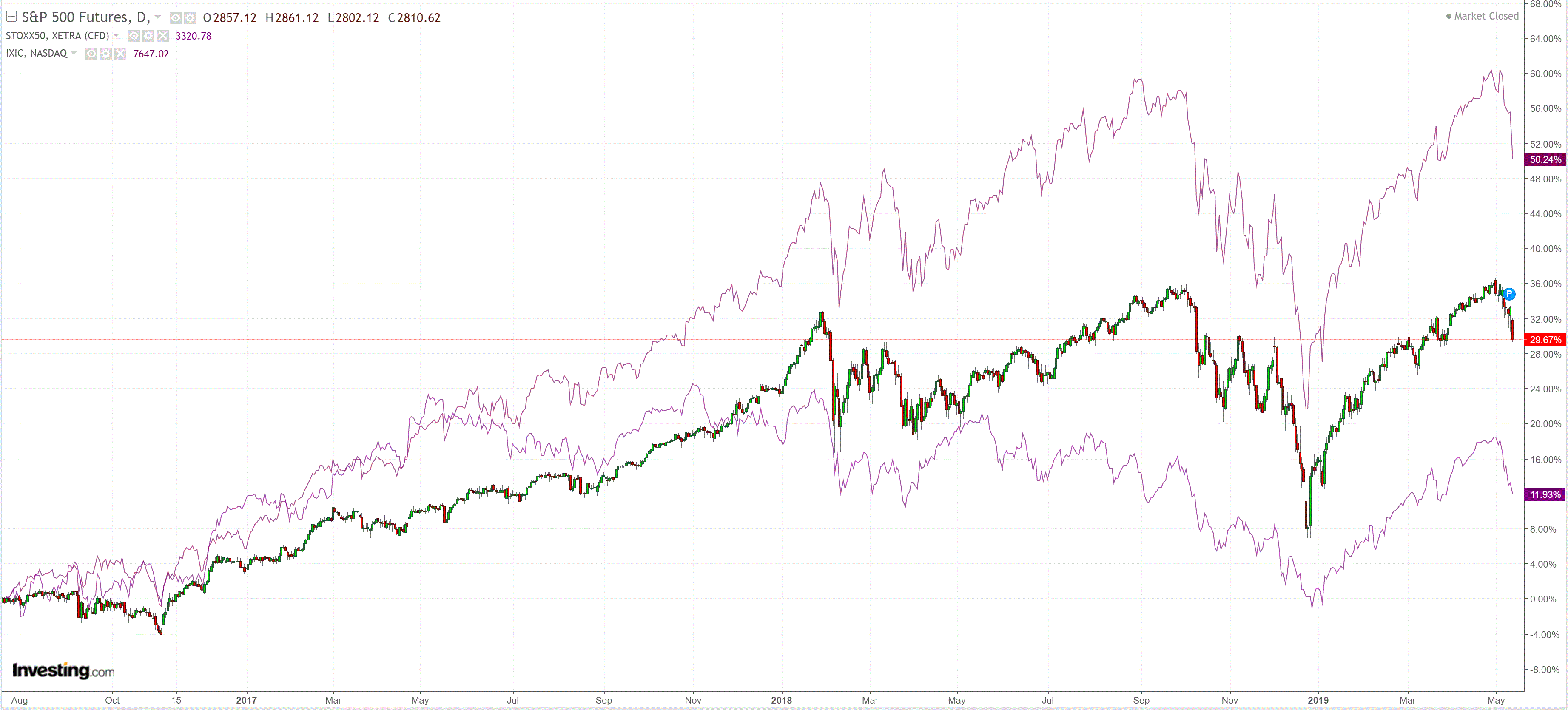 Westpac has the wrap:
Event Wrap

China will raise tariffs on U.S. goods to 25% starting 1 June, according to a Bloomberg report which added that Beijing warned it "will never surrender to external pressure."
Fed VC Clarida spoke about its review of monetary policy strategies, and noted the limited responsiveness of inflation response to capacity utilisation. Kashkari said the jobs market was quite healthy, although some slack was noted, and said the effect of tariff hikes would be monitored.

Event Outlook

NZ: REINZ house sales and prices may continue to reflect continuing subdued conditions, particularly in Auckland. Migration data for March is out but has attracted less attention since its methodology changes.

Australia: Apr NAB business survey last showed conditions at 7, having weakened since the latter part of 2018. A key focus in today's report will be the employment sub-index with the RBA closely monitoring developments in the labour market.

Euro Area: Mar industrial production is released after national estimates have tended to slightly disappoint. May ZEW survey expectations is seen to rise to 5.0 from 3.1.

US: Apr NFIB small business optimism is expected to remain at a positive level. Fedspeak involves Williams on a panel at a SNB/IMF event in Zurich and George in Minnesota.
It's not rocket surgery today. Via Bloomie:
U.S. stocks and commodities tumbled after China retaliated with higher tariffs on a range of American goods. Treasuries jumped with the Japanese yen on demand for haven assets.

…"China retaliating as fast as they did was a clear signal they're not going to be pushed around," said Samantha Azzarello, global market strategist for JPMorgan ETFs. "Markets would like a little bit more play nice and maybe even a bit of complacency from China. It was interesting it wasn't done on the weekend. It was done just in time, Monday morning for markets to open."
Not much hope in the jawbone, either, also at Bloomie:
President Donald Trump plans to meet his Chinese counterpart Xi Jinping at next month's G-20 summit, an encounter that could prove pivotal in a deepening divide over trade that is sending stocks tumbling and clouding the outlook for the global economy.

Trump said the U.S. was expecting China to retaliate against American tariffs, but argued that Beijing still wants to make a deal. But he warned Xi's government not to go too far in responding to U.S. trade actions.
Some fools are worried about inflation arising from the tariffs: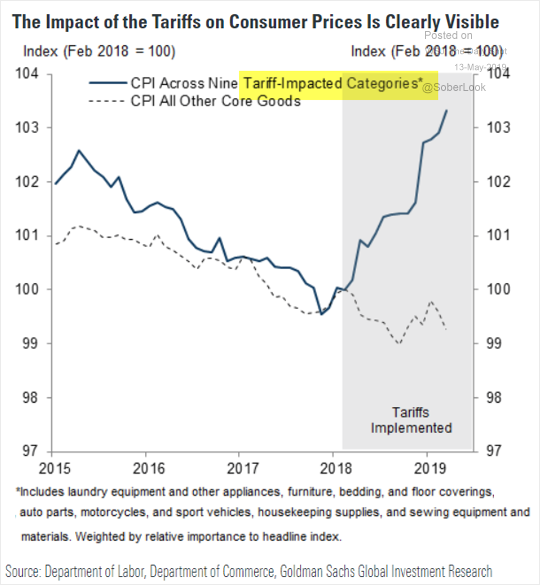 That is not the risk. This is: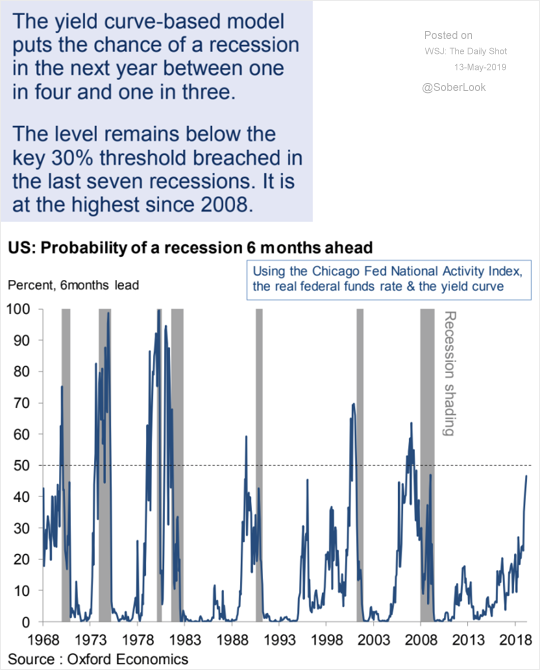 The market reaction to the collapse of negotiations will determine whether or not the US and world enters recession. I have not been concerned about a US recession to date but the "no deal" scenario opens the way to 20-30% downside in stocks.  And the US is vulnerable to another shock of goodly magnitude with high inventories:

If consumers pause with a big sell-off and wealth shock then we could see an inventory cycle drop the US into recession and the world with it (which anything around 2% or below growth). Exactly the same calculus applies in Europe where inventories are also very high.
Worrying about inflation at this point is stupid, as bond markets make clear.
We don't know if the "no deal" scenario is at hand. The market shock could be enough to drive the US and China back together swiftly for a decent deal. But at a certain point it makes more political sense to hang your enemy out to dry than buckle under him. China appears to have reached that point with stimulus already underway. The US is an open question. I'd put the following odds on it:
market correction and deal 20%
market correction and jawboning with lousy deal 40%
market correction with no deal and global recession 40%.
While this continues, CNY and AUD will fall.