It may be that the currency is sitting right at the bottom of a bearish descending triangle with critical support at 0.70 cents and 0.68 cents: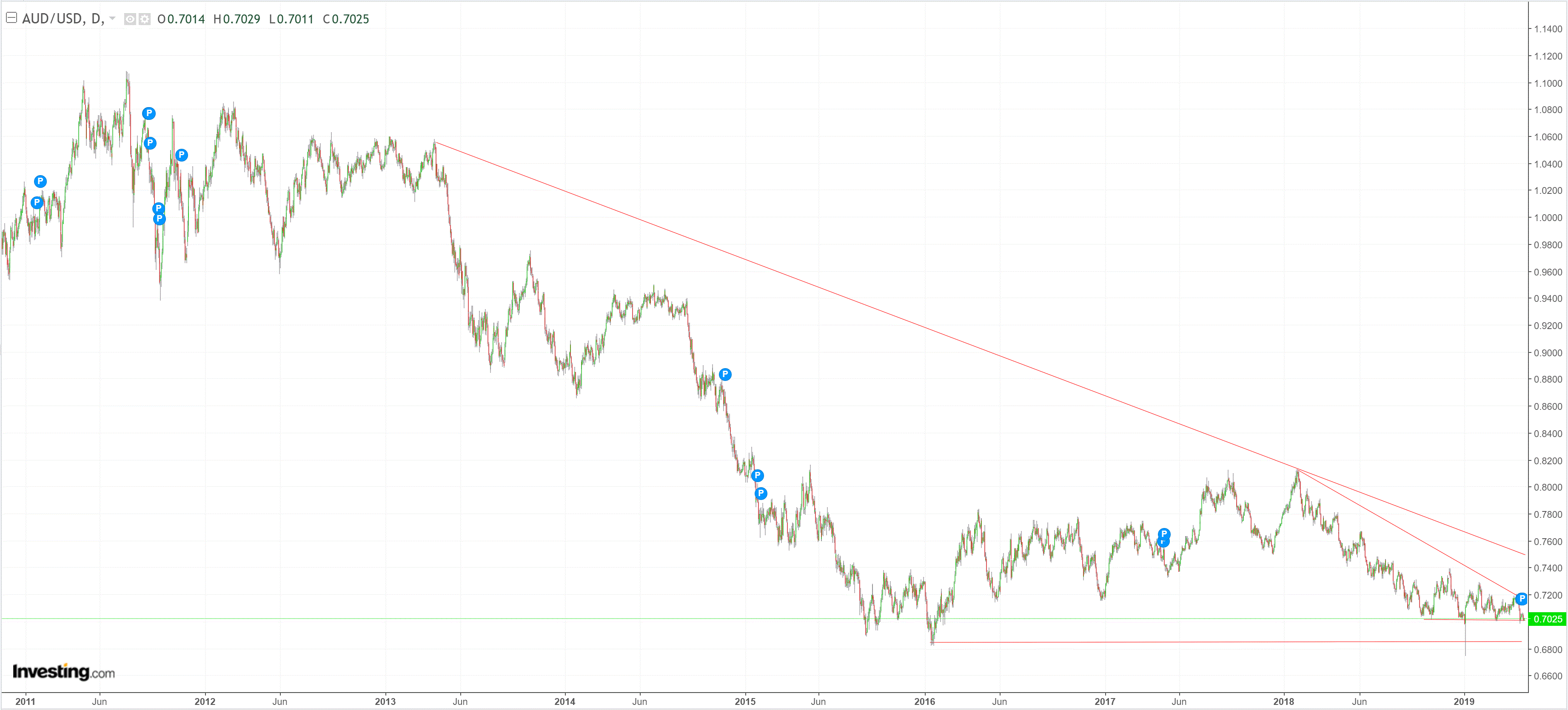 But the bulls won't go away, via Bloomie:
The Aussie's recent declines are overdone and it will strengthen about 5 per cent to 74 US cents by year-end, said Juan G. Perez, senior foreign-exchange trader and strategist at Tempus, part of the Monex Group that submitted the most accurate prediction for the currency in Bloomberg's first-quarter rankings.

"Developments in trade are what can turn the tide, and fast," Washington-based Perez said this week. "There is room for growth and as Oceania activity picks up with renewed infrastructure projects, the Aussie could surprise."

…Tempus isn't the only one predicting Aussie gains. Bank of America last month forecast the currency will rise to 78 cents by year-end as the trade war fizzles out, while Goldman Sachs recommended going long to capitalise on improving Chinese growth.
You can add NAB to that:
Repeated attempts to break the 0.7000 level have failed since October 2018
MT support below 0.7000 remains firm. Only upon a weekly close below 0.6985/95 would we rethink our view that AUDUSD remains in a 0.70/0.74 MT range. Depending upon the severity of the break this may give cause to lower the proposed multi-month range to 0.68/0.72.
LT momentum has maintained a positive bias in 2019 and confirms our positive multi-month outlook.
AUD/USD is yet to produce any tangible bullish MT triggers. As such the timing of a renewed upswing is unclear. One-month target at 0.7200. Three-month target at 0.7350.
I agree based upon the argument that Chinese credit stimulus will continue and lift European growth in H2 as US growth eases on the fiscal cliff, exciting markets about US easing (which isn't coming). That should be enough to give the EUR and AUD a lift for a bit.
But I only see this as a tradable rally. US growth should stay firm in 2020 and the USD remain strong in the trend. Plus, the RBA will be forced into two more rate cuts in 2020 (assuming the corrupt notion of APRA cuts does not take hold), even as bulk commodities correct on new supply and what will be only be a weak Chinese rebound.
In short, we're sifting Europe for bargains right now.