See the latest Australian dollar analysis here:
DXY is still strong and has a bullish ascending triangle pattern. CNY firmed and EUR fell: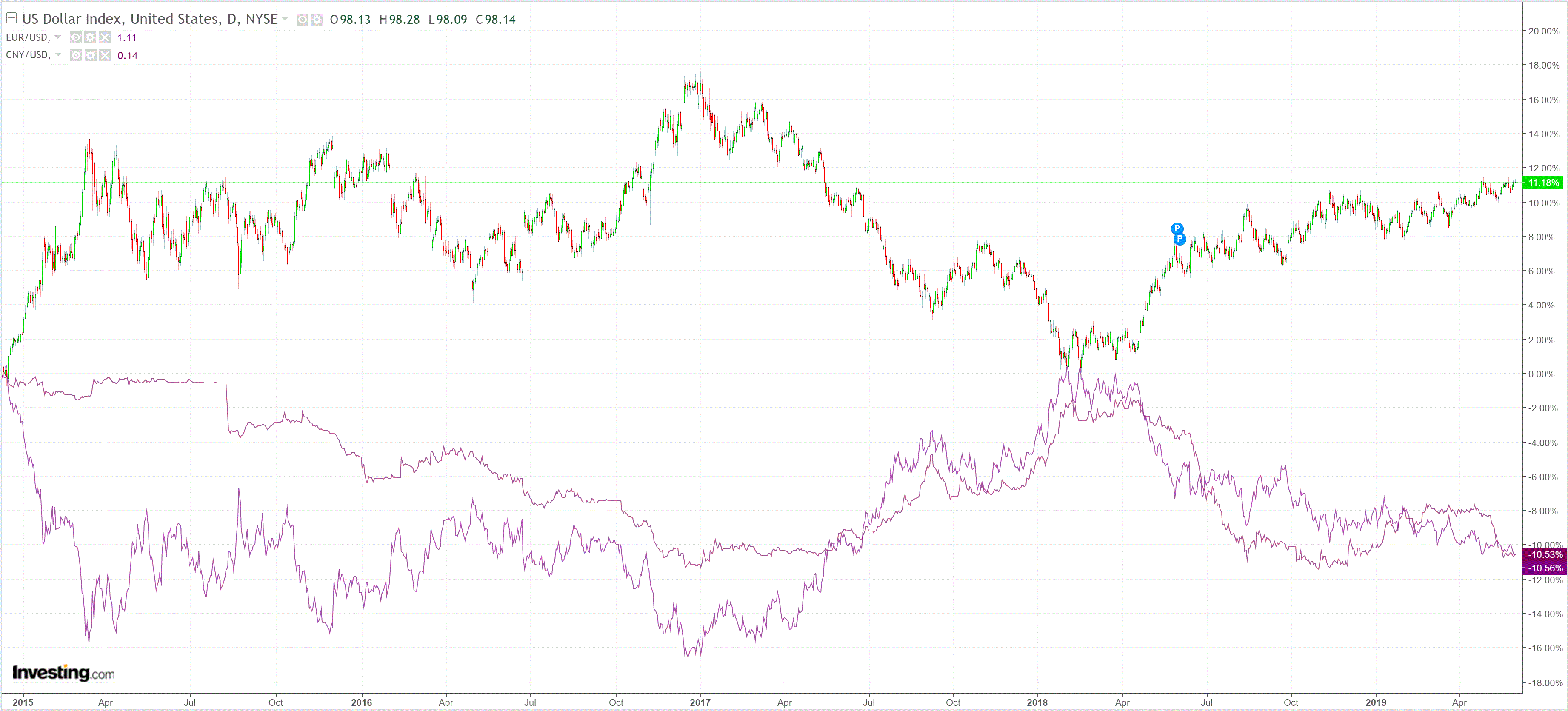 The Australian dollar was soft against DMs: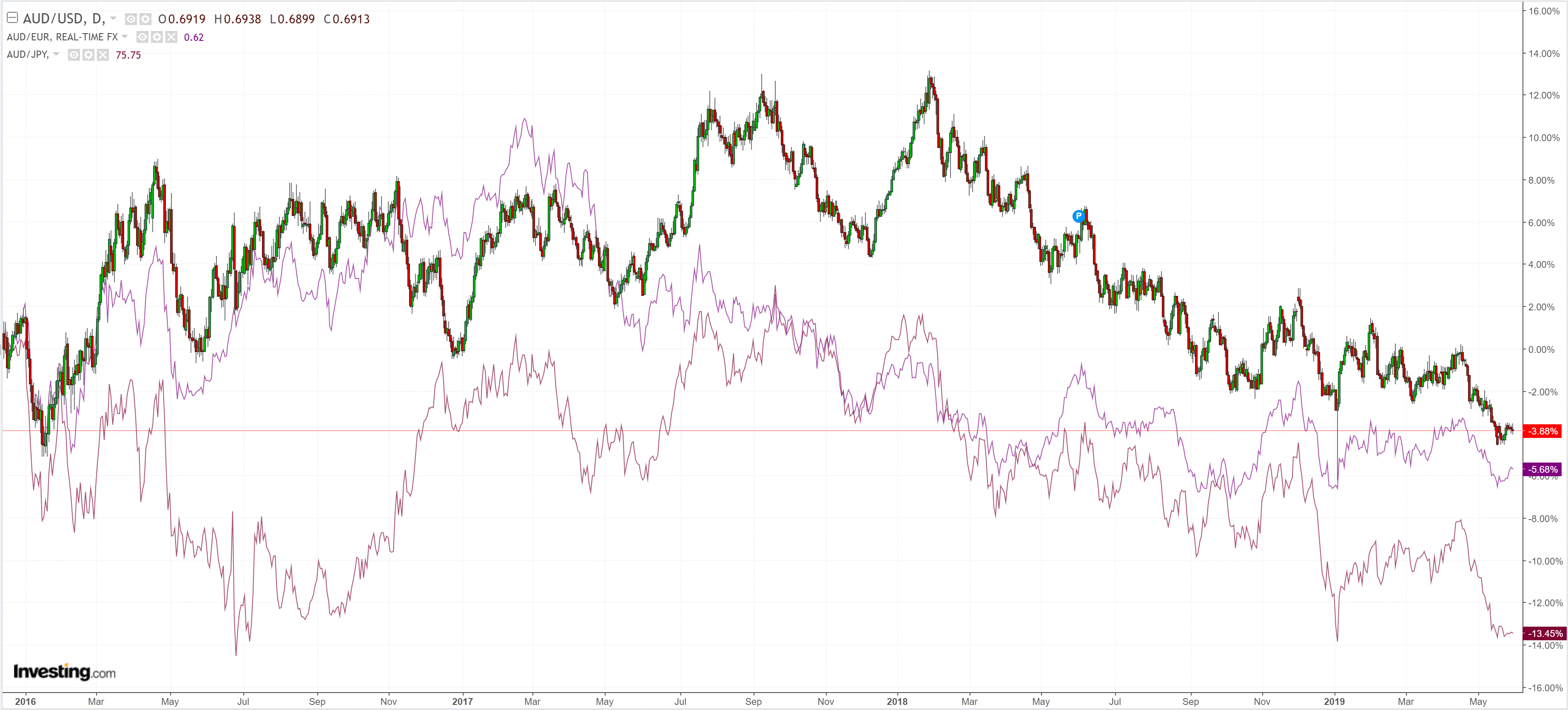 Mixed against EMs: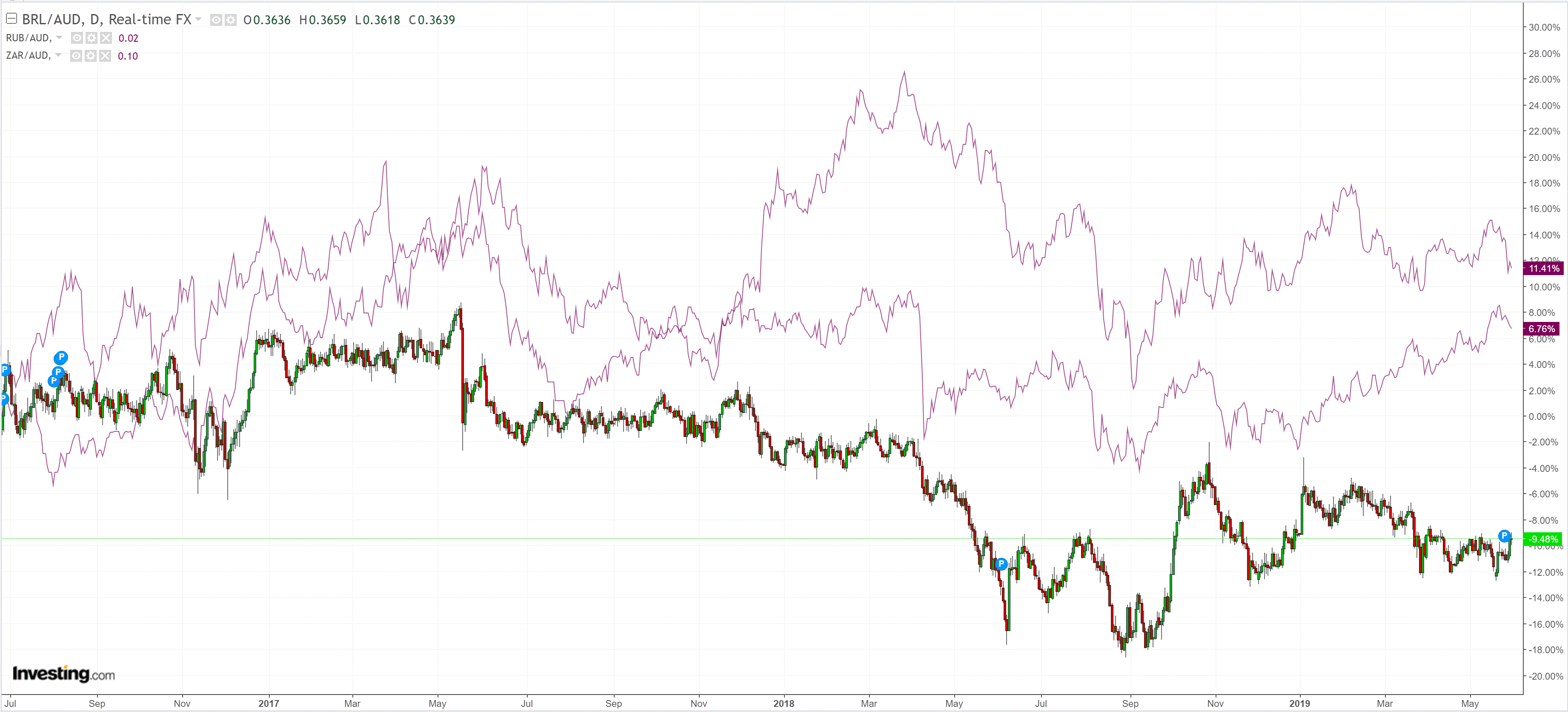 Gold firmed: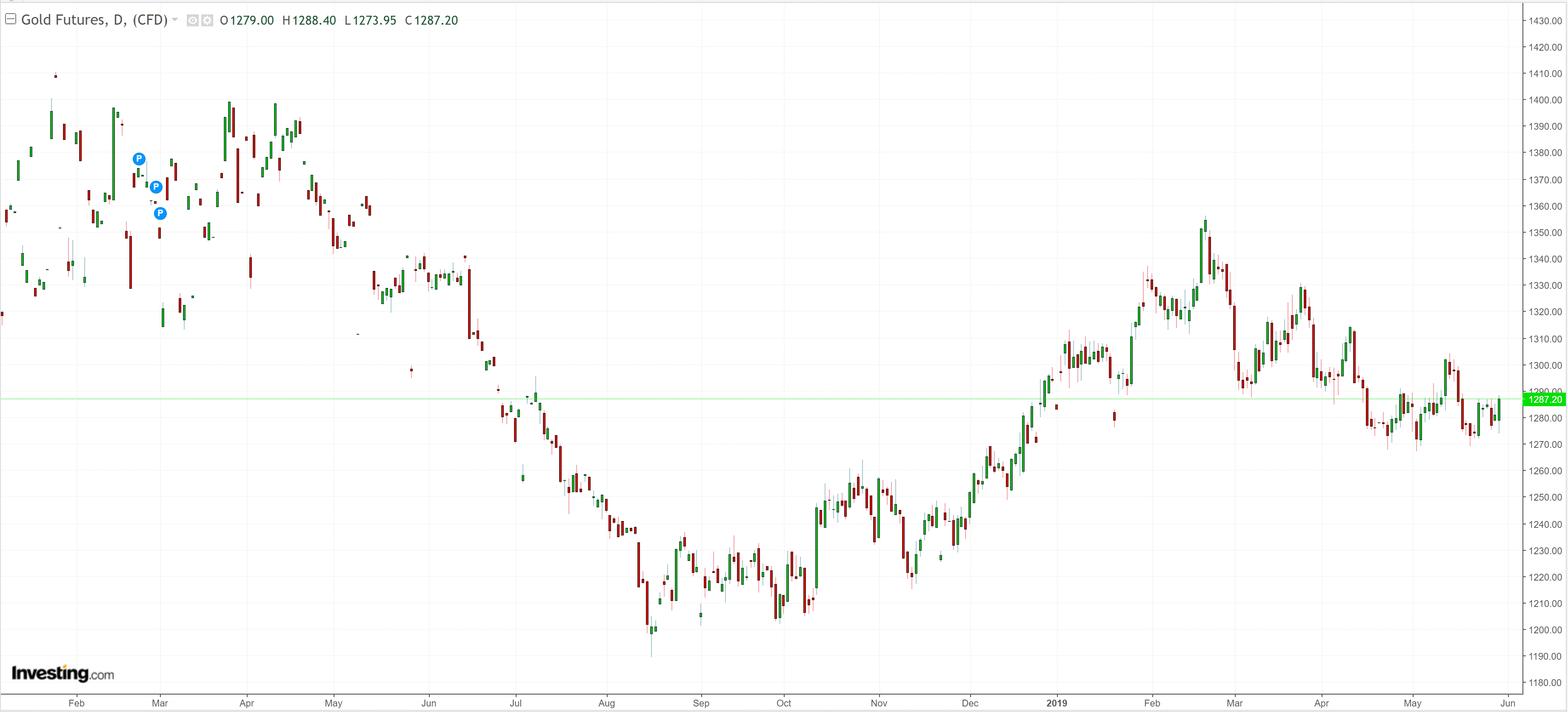 Oil crashed: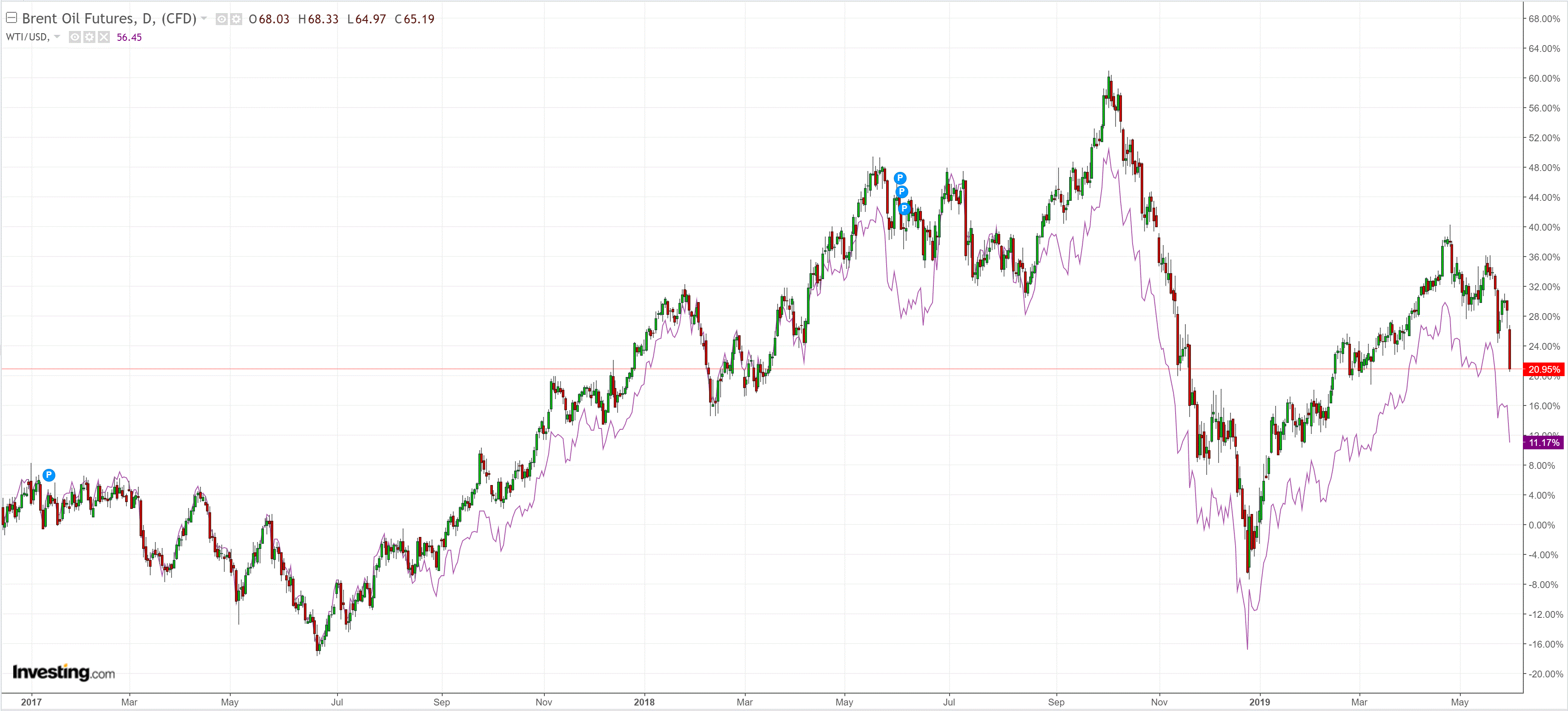 Metals were weak: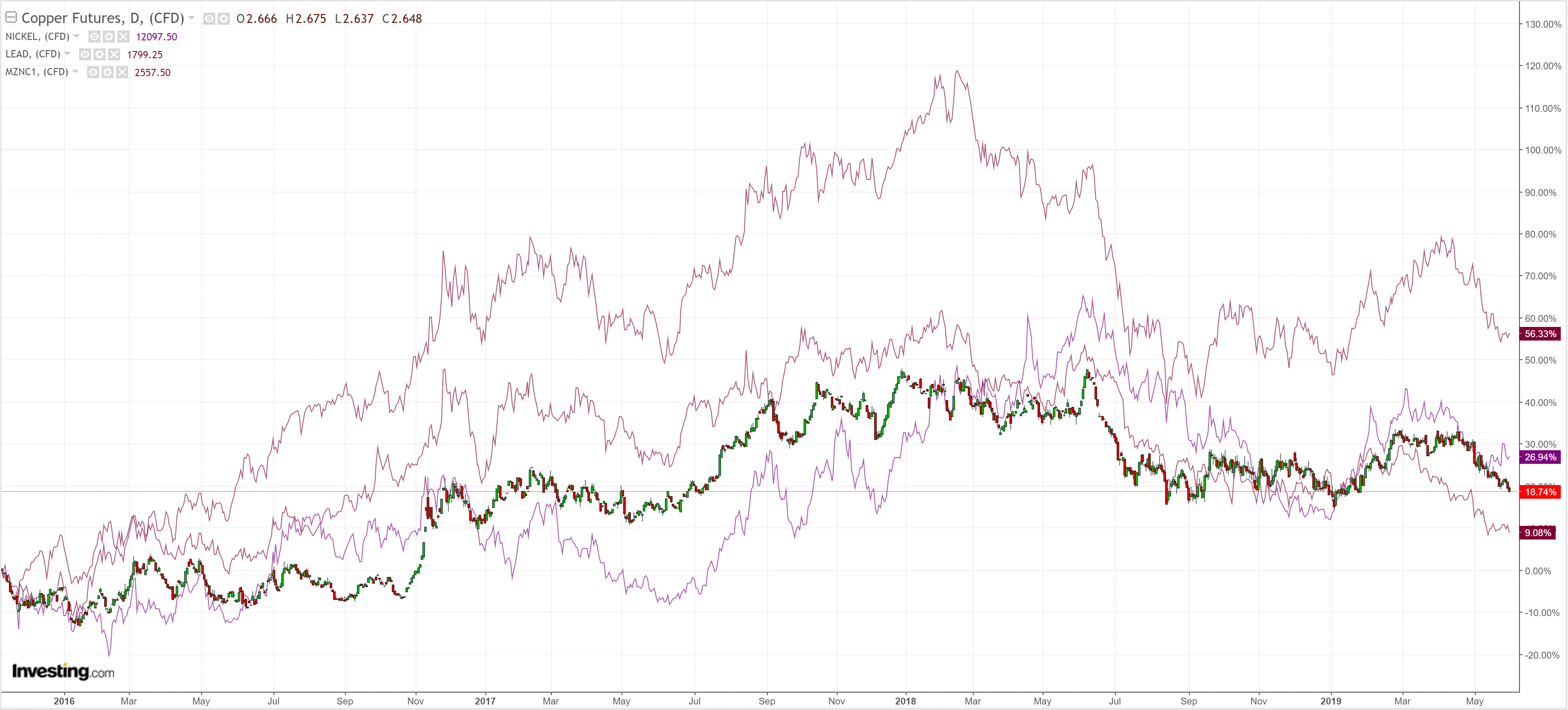 Big miners too: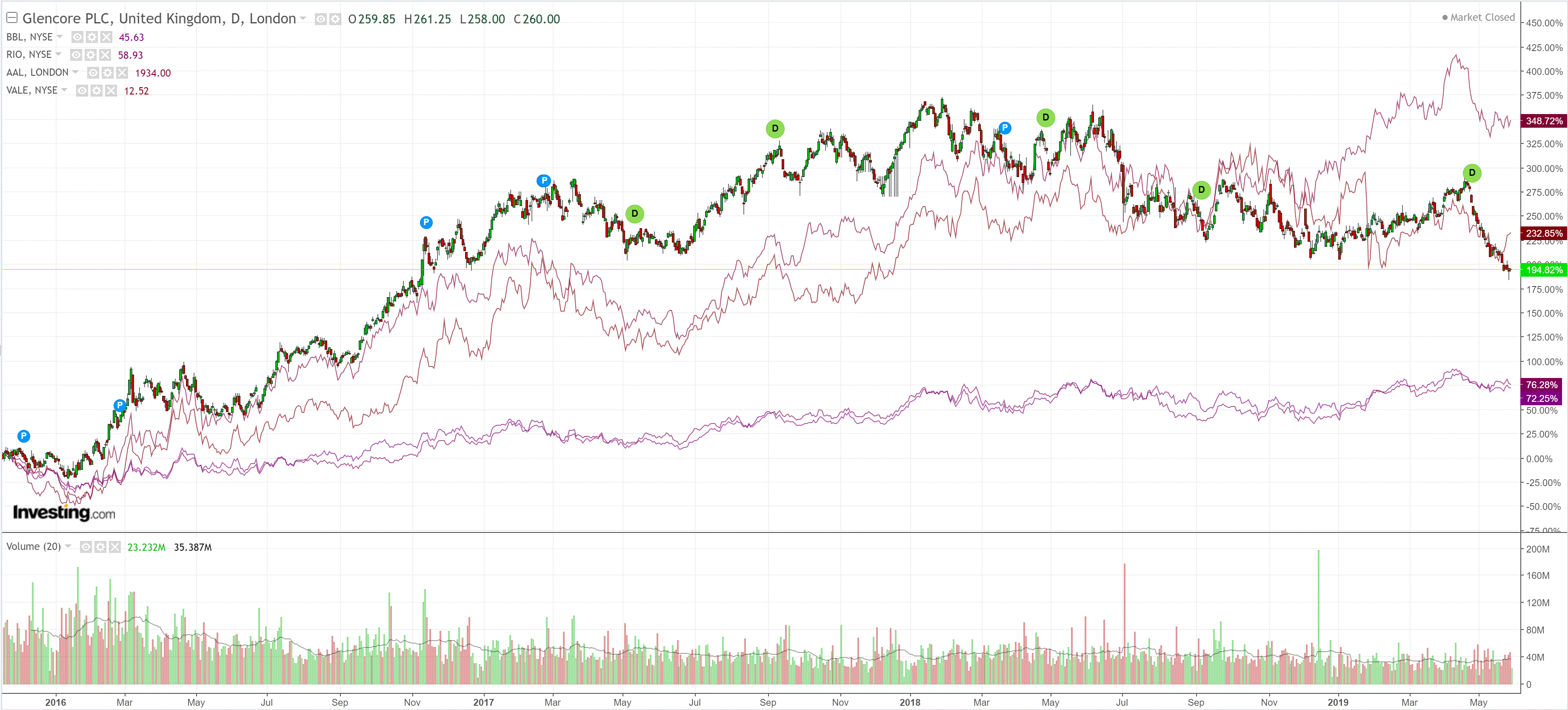 EM stocks did better: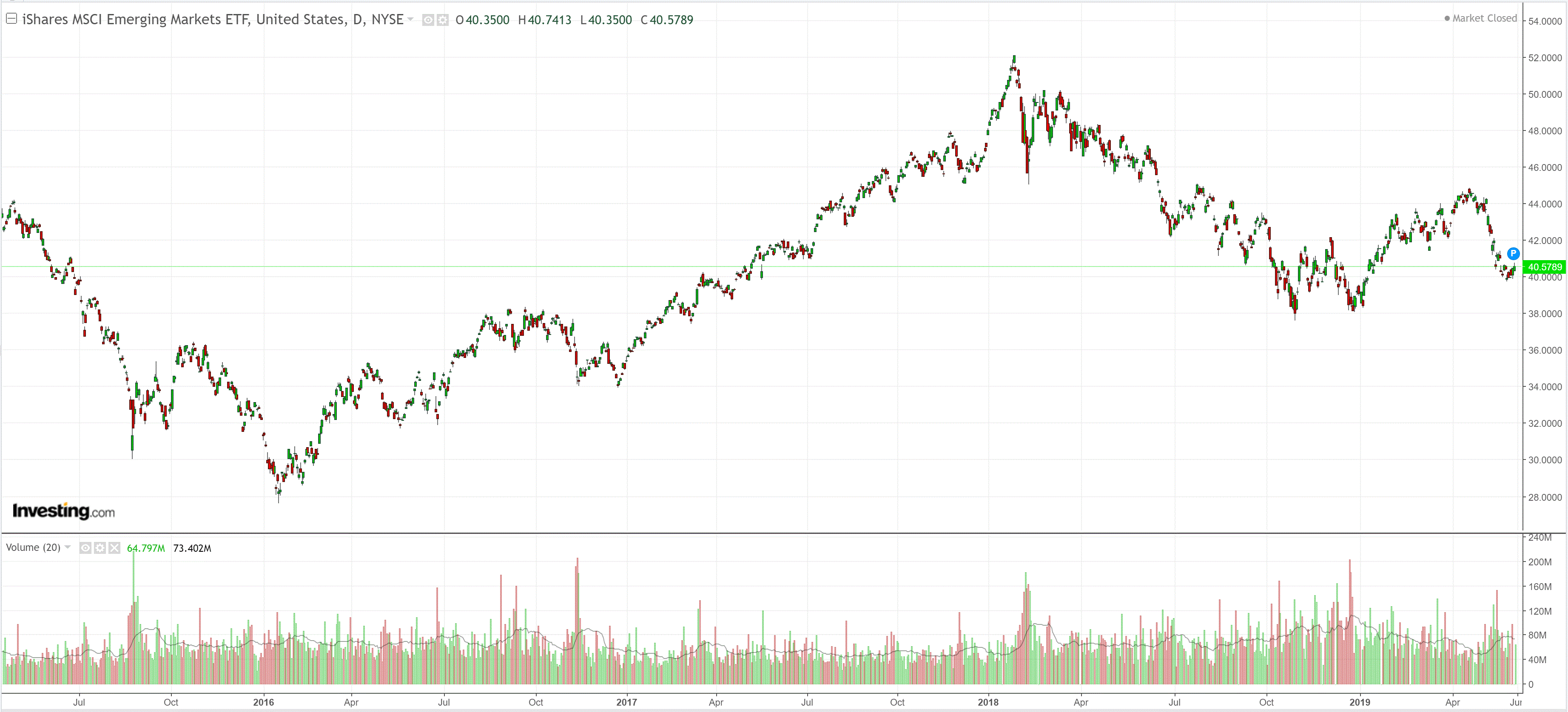 High yield is still soft: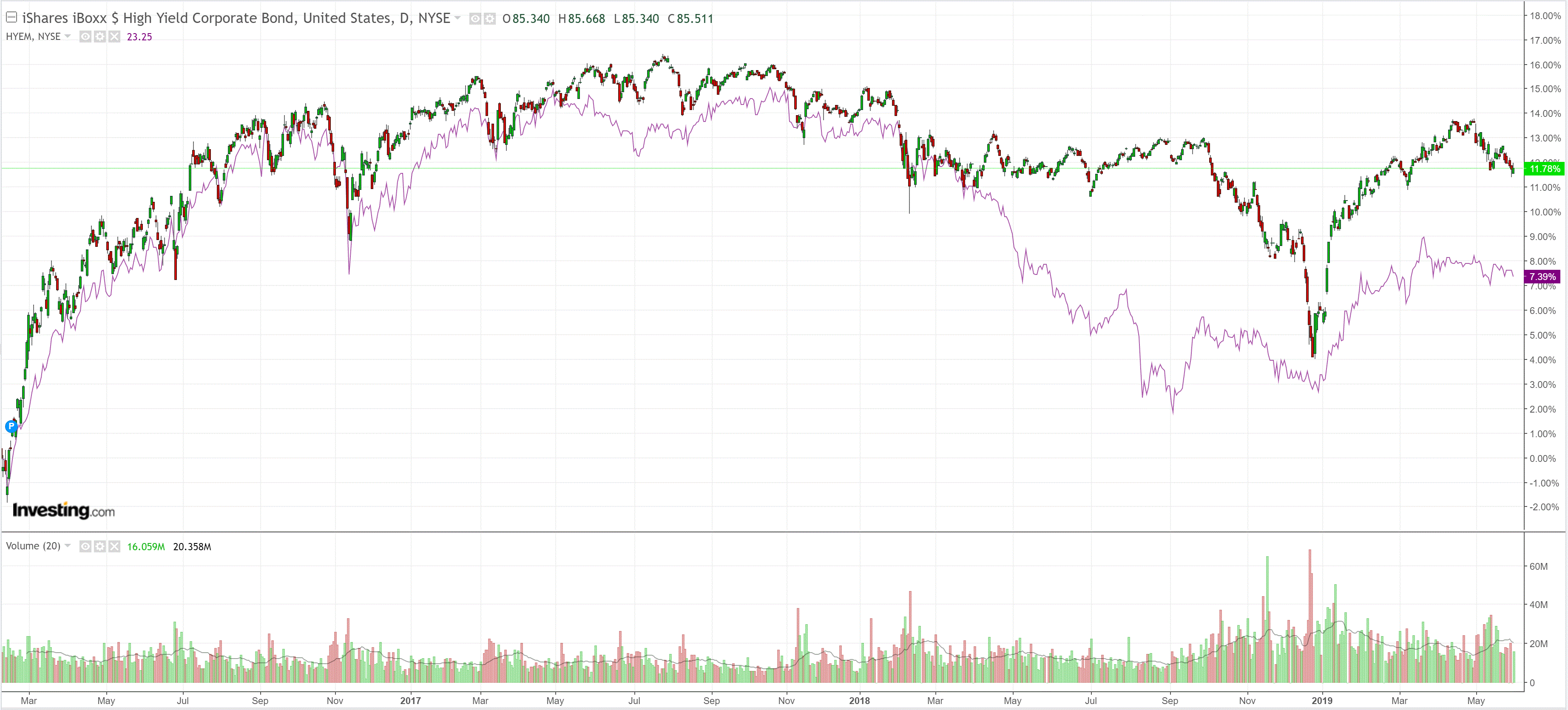 Treasuries are on a rampage: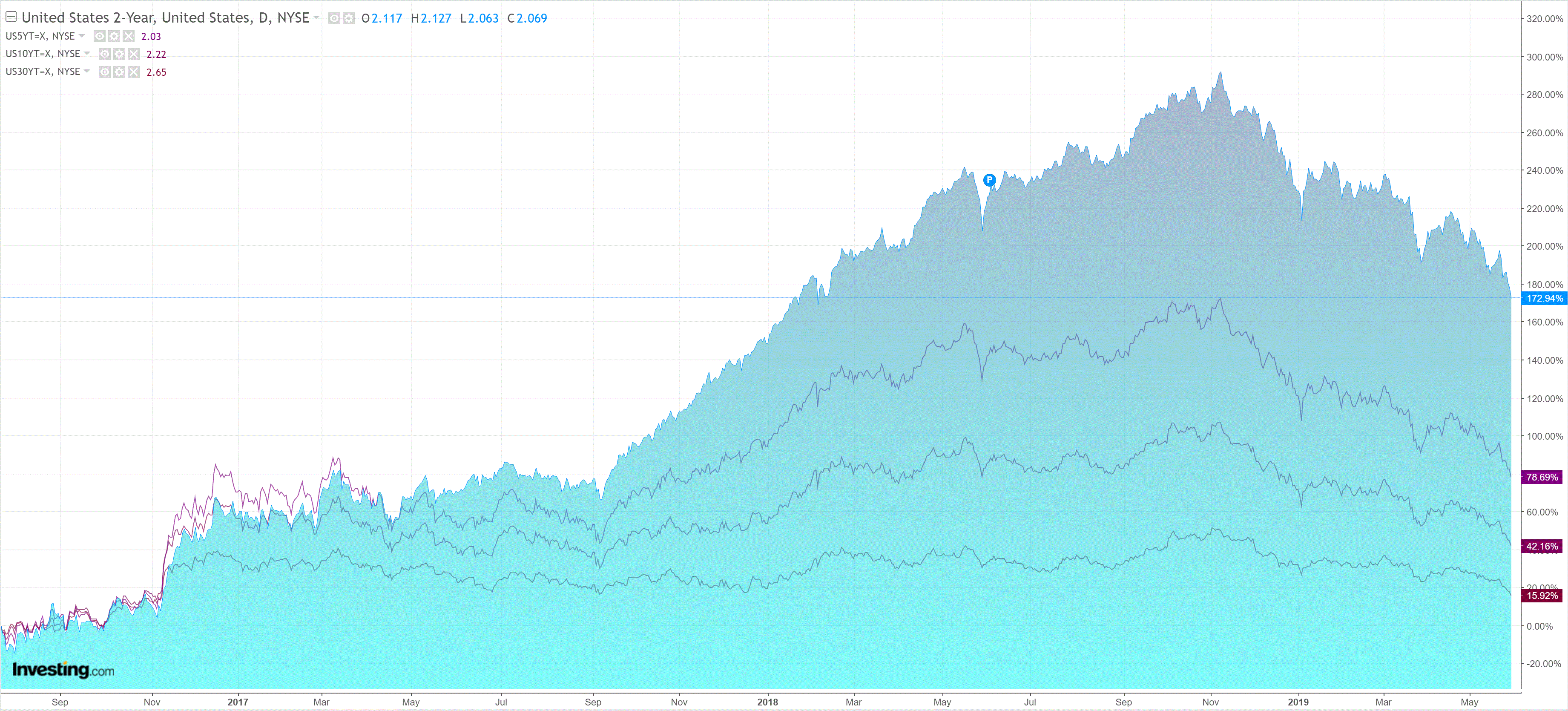 Bunds too: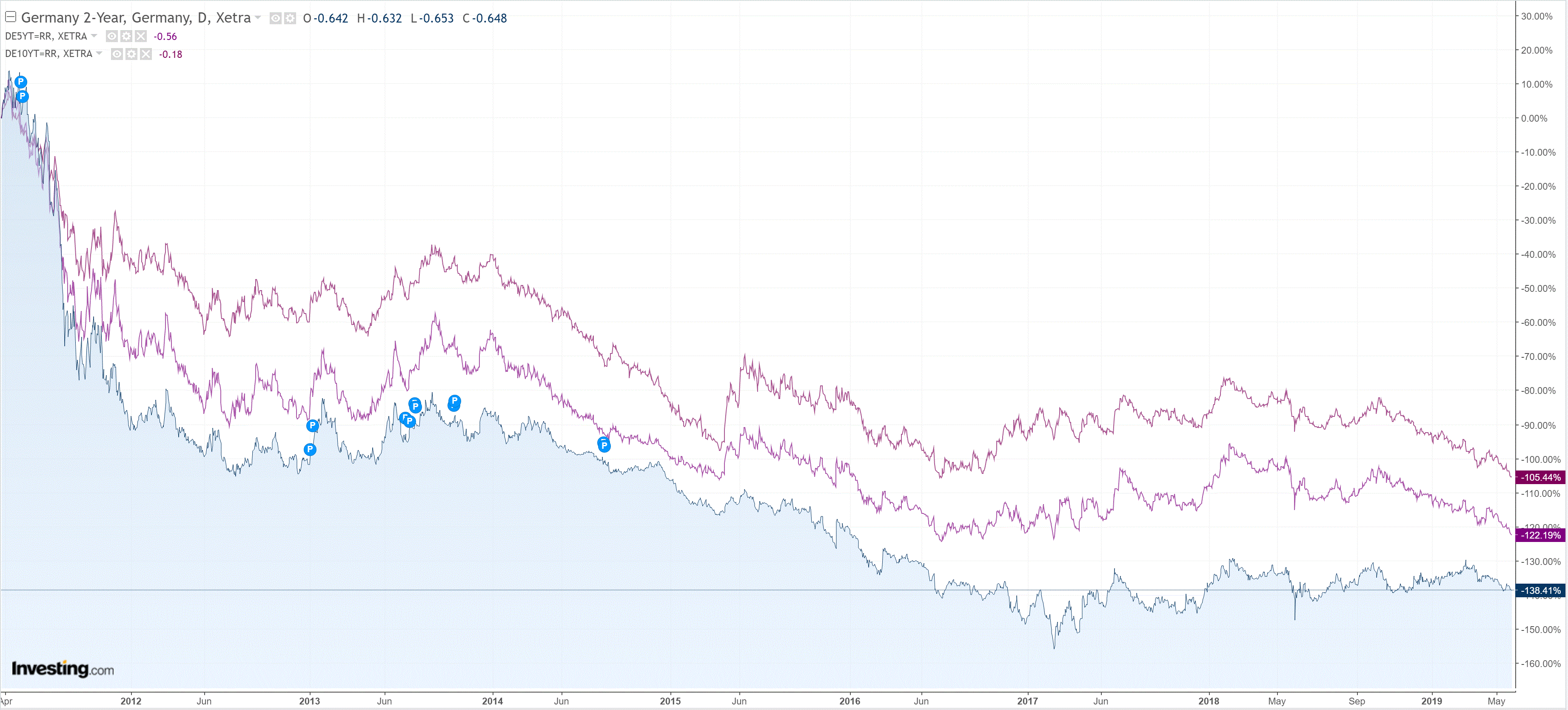 Stocks held on with yield support: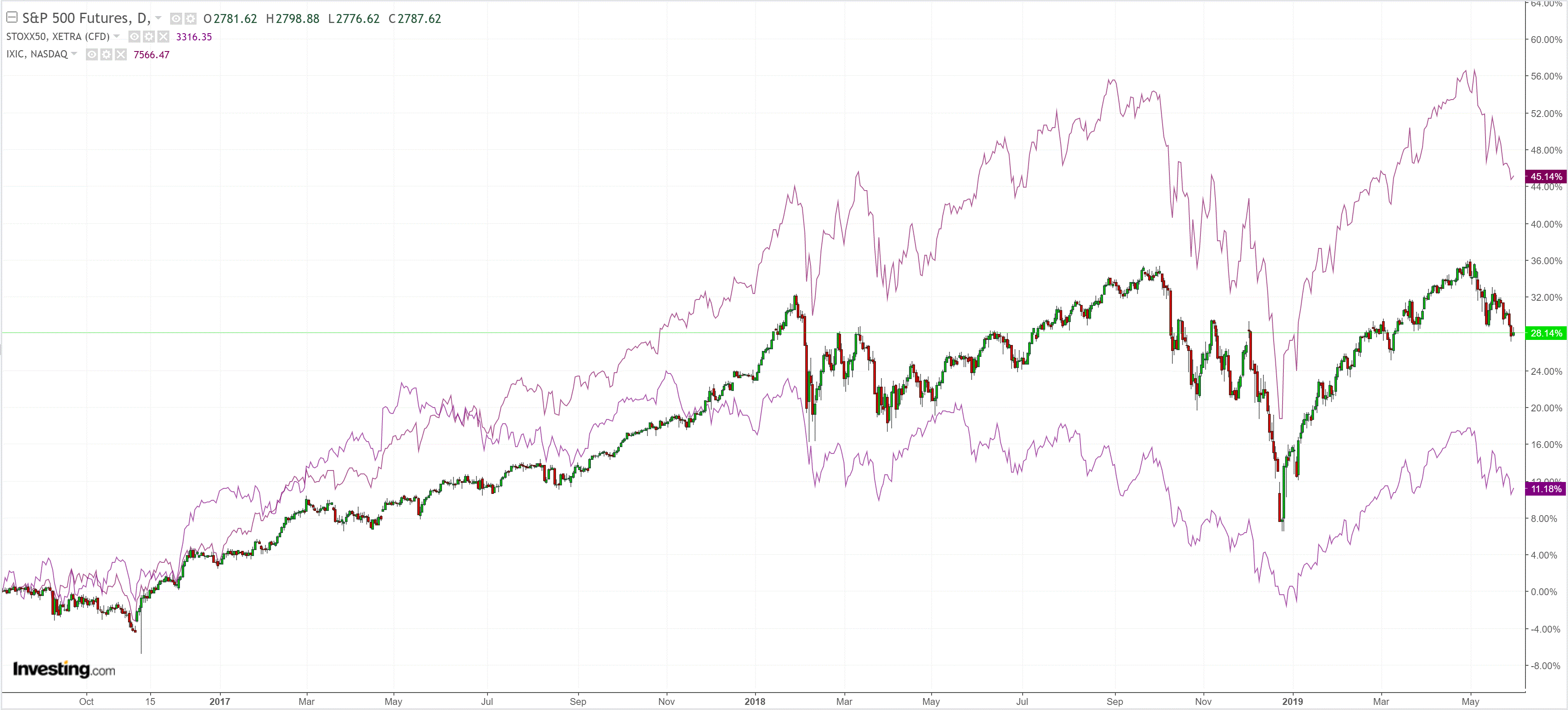 Westpac has the wrap:
Event Wrap

US Fed Vice-chair Clarida said that the Fed would consider interest rate cuts in a speech in NY, noting during the Q&A that, "Let me be very clear that we are attuned to potential risks to the outlook and if we saw a downside risk to the outlook then that would be a factor that could call for a more accommodative policy".

Q1 GDP was revised a touch lower to 3.1% from 3.2%, the price deflators notably trimmed, the core PCE deflator revised to a soft 1% annualised in Q1 from an initial estimate of 1.3%. Pending home sales fell 1.5% in April, weaker than expected.

Spanish CPI for May pulled back more than expected to 0.8%y/y headline, 0.9%y/y EU harmonised (est. 1.1%y/y from 1.5%y/y and 1.1%y/y from 1.6%y/y respectively). Given the similar miss in French CPI yesterday, this highlights the risk of a larger than mere base effect pullback in German May CPI which will be released tomorrow and Eurozone on Tuesday.

Italy's fragile coalition is becoming more precarious as Dep. PM Salvini, whose Lega Party has seen a steady increase in support, is pushing for 5-Star, the not so popular populist coalition partners, to back a controversial flat tax plan which will also increase tensions between Italy and EU over budgetary responsibility.

Event Outlook

NZ: Monthly consumer confidence rose to a 13-month high in April. May's reading could be supported by the abandonment of the government's capital gains tax proposal.

Australia: Apr private sector credit consensus expectation is for a 0.3% gain.

China: May NBS PMIs are anticipated to show the manufacturing index dipping back into contractionary territory at 49.9 from 50.1 while the non-manufacturing index holds steady at 54.3.
Euro Area: ECB Visco speaks at the Bank of Italy annual gathering.

US: Apr personal income is expected to rise 0.3% and personal spending 0.2% following respective gains of 0.1% and 0.9% in Mar. Annual core PCE inflation is seen to hold at 1.6%. Fedspeak involves Williams on monetary policy theory and practice, and Bostic on the global economy.
The trade war raged on, via Bloomberg:
"They are struggling to find sources of leverage that will hit that sweet spot of inflicting pain without rupturing ties," said Bonnie Glaser, a China specialist at the Center for Strategic and International Studies in Washington. "'Dou er bu po' is still the mantra," she said, citing a Chinese phrase which means "to fight without severing relations."
This sure ain't it:
U.S. consumers of rare earths including makers of magnets used in electric vehicles, drones and robots are likely to scramble for supply of the minerals should China curb exports as the trade war deepens. Here's a list of alternative exporters that American manufacturers may turn to for rare earth supply:
The Pentagon is on the move:
The U.S. Defense Department is seeking new federal funds to bolster domestic production of rare earth minerals and reduce dependence on China, the Pentagon said on Wednesday, amid mounting concern in Washington about Beijing's role as a supplier.

The Pentagon's request was outlined in a report that has been sent to the White House and briefed to Congress, said Air Force Lieutenant Colonel Mike Andrews, a Pentagon spokesman.

Rare earths are a group of 17 chemical elements used in both consumer products, from iPhones to electric car motors, and critical military applications including jet engines, satellites and lasers.
Allies will be forced to choose: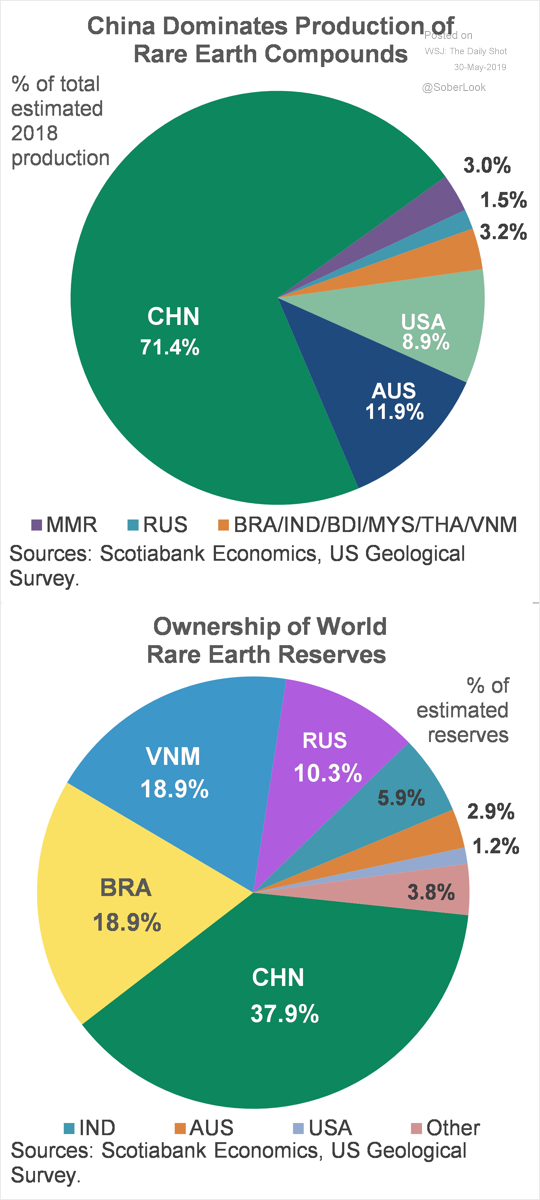 VP Mike Pence said the US could double tariffs and other hawkish stuff:
Vice President Mike Pence is planning a speech around the 30th anniversary of the Tiananmen Square massacre, according to two sources familiar with the matter.

The remarks are expected to be a censure of China's religious freedom and human rights record from one of the Trump administration's highest ranking China hawks. They are set to come amid rising trade tensions between the world's two largest economies.

The Pentagon has estimated China has detained up to three million members of its minority Muslim population, known as Uighurs, in camps in Xinjiang. The administration has raised concerns about certain companies' assisting the Chinese government in those efforts. The New York Times and Bloomberg report that the White House is mulling penalties for up to five companies – including camera maker Hikvision – involved in the surveillance of China's Uighur population.
China labeled the US an economic terrorist, dropped more soy bean purchases and on it goes.
Meanwhile, in markets, the signals are still worsening for growth, stocks, credit and the Australian dollar. The two best early warning sirens for increasing market stress are oil and junk debt. Both are cracking. US oil stocks are climbing steadily even as demand growth takes it on the chin: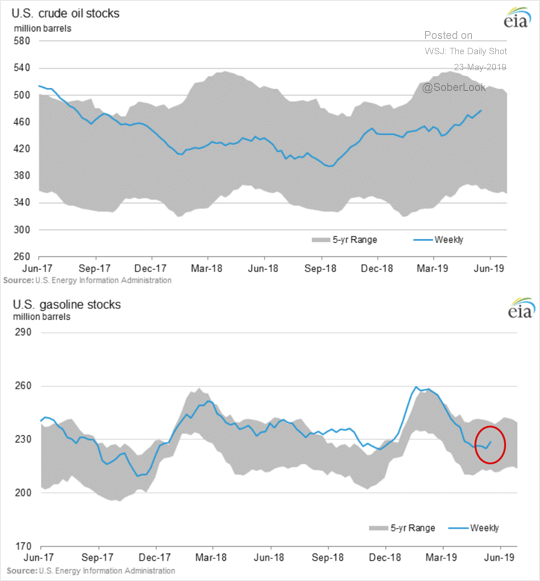 And junk debt spreads are blowing out as oil falls: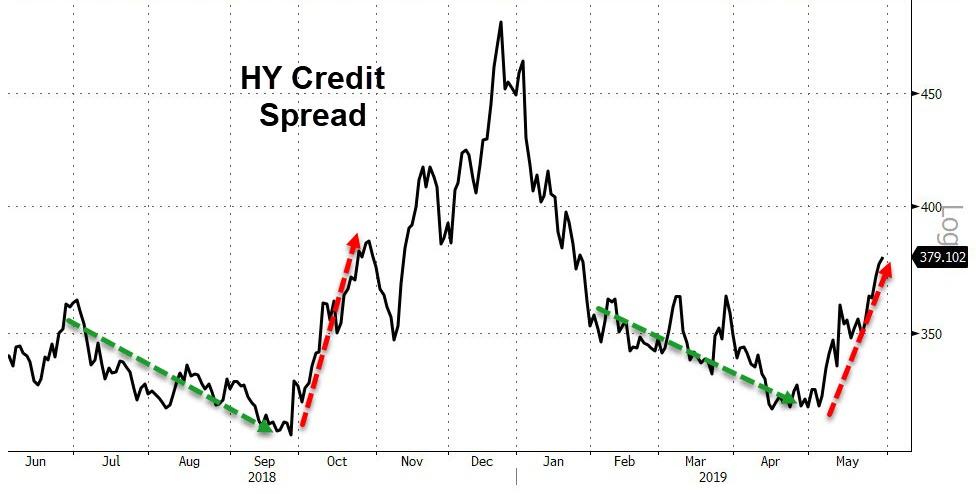 Sending the usual warning to stocks: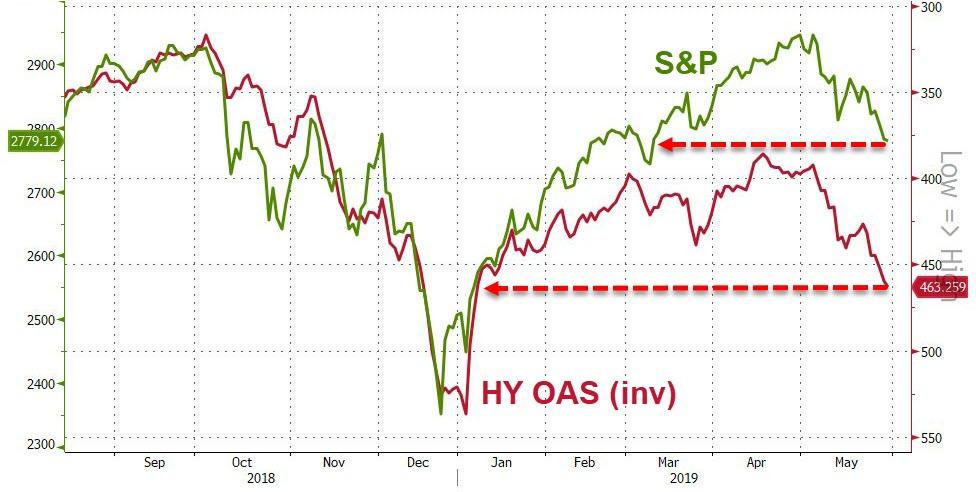 Oil and the wider commodity complex also move in lock-step.
In short, we are one Brazilian mine reopening away from iron ore joining the rout and the AUD giving up the ghost.
Latest posts by David Llewellyn-Smith (see all)