Yesterday, The Australian reported official data from the Department of Home Affairs showing that visa applications from Chinese students were flattening, forcing Australia's universities to shift their focus to lower quality students from India and Nepal.
The economic activity arising from these three source countries is nicely encapsulated by the ABC below: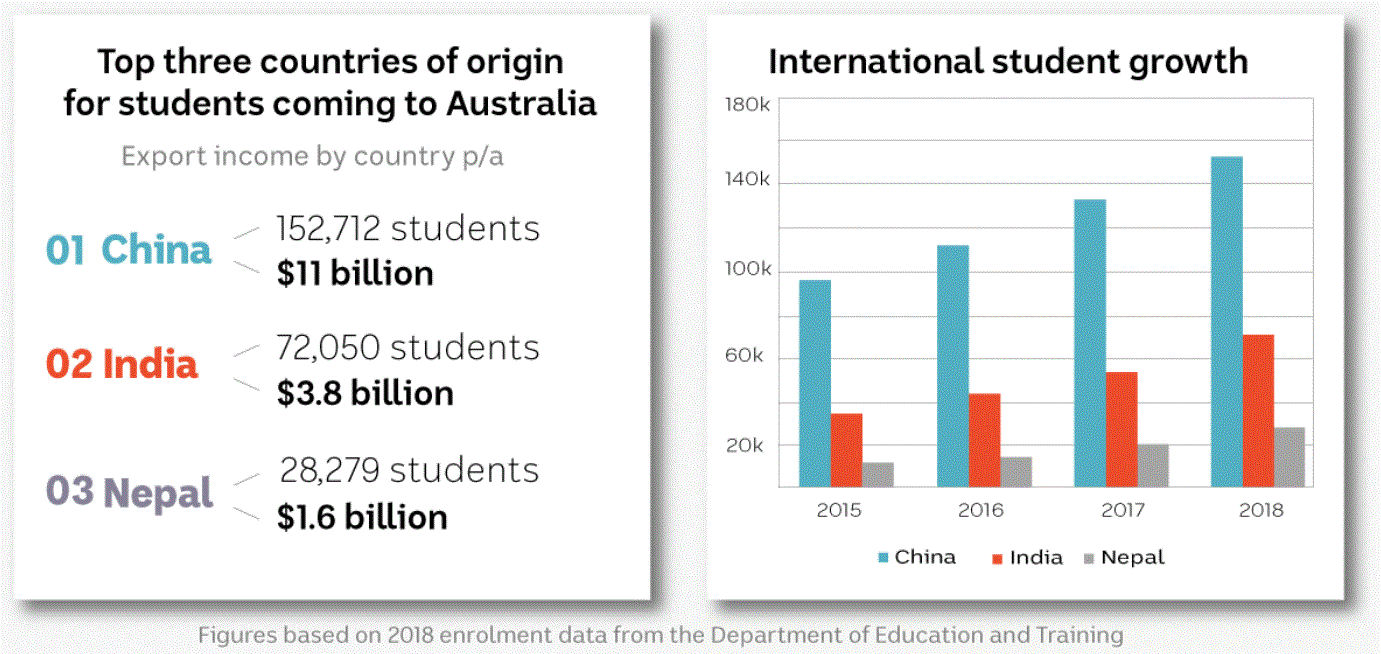 As shown above, international students from China, India and Nepal have each experienced explosive growth. However, there is a huge difference in the quality of these students.
Dr Bob Birrell from the Australian Population Research Institute (APRI) released a detailed study late last year showing that Chinese students tend to pay higher fees and study at higher quality Group of Eight (GoE) Universities, whereas Indian students typically study at cheaper institutions, often for the primary purpose of gaining access to employment and future permanent residency:
The first comprises universities charging very high fees – $40,000 or more a year by 2018. These are primarily the Group of 8 universities. Despite the princely cost, the number of overseas-student commencements at Go8 universities increased massively, by 56 per cent, between 2012 and 2016. Almost all of this increase came from Chinese students…

The second market covers universities other than those in the Go8, all of whom charge much lower (though still high) fees of around $25,000 per year. Overseas-student commencements in these universities increased by 41 per cent over the years 2012 to 2016. Most of this growth came from countries located in the Indian subcontinent, particularly India itself.

We show that the surge of enrolments in this second market has been largely due to the Australian government's opening up of these opportunities in 2012 (pages 16-17). A key initiative was to allow all overseas student graduates (including those completing two-year Masters-by-Coursework degrees) to gain access to a work-study visa. This provides a minimum of two years in the Australian labour market after completion of a university degree, regardless of field of study.
Yet, despite Chinese students tending to pay more and attending higher quality Go8 universities, those that do stay and work in Australia perform poorly in the jobs market when compared against their Australian-born counterparts:
Chinese students who do stay on in Australia after graduation and enter the job market find it difficult to obtain employment at the professional or managerial levels. Employers expect their appointees to have complex problem solving, collaboration and communication skills. Many Chinese graduates lack these skills and thus struggle to compete with local graduates and with graduates from English-Speaking-Background (ESB) countries.

Data from the 2016 Census documents this point. Table 4 shows employment outcomes for young China-born males (aged 25-34) in Australia as of 2016, who arrived here between 2006 to 2016 and who held qualifications at degree level or above in Management and Commerce. Only 34.1 per cent were employed as managers or professionals. The outcome was similar for those with Engineering degrees, though a bit better for IT graduates.

Table 4 also indicates that a high proportion (some 31.4 per cent of those with management and commerce qualifications) were unemployed or not in the workforce. This is why we chose to focus on males. The high share of those not in the workforce category is unlikely to be explained by child care responsibilities.

True, it is not just a problem for the Chinese. Most graduates from non-English-speaking background (NESB) countries in business and commerce, engineering, and IT fields struggle to find professional level appointments in these fields. This is because there is a serious oversupply of entry-level candidates, relative to the available job openings.
So, if Chinese students tend to have low standards, what does this mean for our universities' pivot towards students from India and Nepal?
Monday's Four Corners special on Australia's international student trade was especially damning of the quality of students coming from the Indian sub-continent, reporting widespread instances of plagiarism, academic misconduct, and students failing their courses.  The below email to colleagues from Murdoch University's Professor Benjamin Reilly encapsulates the problems:
"In semester one 2018 we experienced a surge in new international students into some postgraduate courses. This surge increased sharply in semester two 2018, with several hundred new students, mostly from the Punjab region of India, enrolling in a small number of postgraduate courses.

"While some were OK, many do not have the language skills to study at a postgraduate level and have thus been unable to participate in class or complete assessments for the units legitimately.

"Hence we now have a much larger number of academic misconduct issues, supplementary assessments and outright failures than we have previously experienced in the units in which this cohort has enrolled"…
As does correspondence from Dr Duncan Farrow, a maths lecturer and academic misconduct investigator:
"Perhaps the most telling statistic of them all: 48 of the 80 students admitted to the MIT in semester one this year had at least one academic misconduct finding against them," he wrote.

"Not only was there a huge increase in numbers of misconduct cases but additionally the investigations were more difficult due to the poor language capabilities of many of the students involved.

"I have just reviewed the results for students from the Punjab region in BSC100 Building Blocks for Science Students and it is depressing. Of the 52 students in this category, 12 have passed the unit outright — a pass rate of less than 25 per cent.
Inside Story's economics correspondent, Tim Colebatch, similarly raised the alarm on the torrent of low quality Nepalese students inundating Australia's universities:
…one source stands out: the little Himalayan country of Nepal, just thirty million people, living in one of Asia's poorest countries.

In 2017–18, one in every 1500 inhabitants of Nepal emigrated to Australia. In an era of strict immigration controls, that is an astonishing number for two countries so far apart, with no common language, heritage or ethnicity.

Over the five years to mid 2018, one in every 500 Nepalis emigrated to Australia — and that's in net terms, after deducting those who returned. In 2017–18, little Nepal became Australia's third largest source of migrants after India and China…

Deregulation has allowed universities to selectively lower their standards to bring in more fee-paying foreign students, even when they fail to meet the thresholds for English language skills or academic achievement…

This is not the first time immigration from Nepal has surged. A decade ago, we saw a scam with training visas, in which "students" from India and Nepal came for training courses in Australia, then quickly vanished into the workforce. The scam saw net immigration set record levels in 2008–09, before then immigration minister Chris Evans shut it down. But most of those who came stayed on here.

At the current pace of immigration, Australia will soon have more residents born in Nepal than in Greece.
The aggressive growth in international students has already unambiguously lowered university standards, flooded Australia's labour market with cheap exploitative labour, as well as helped crush-load Australia's cities.
The situation is likely to worsen as Australia's universities pivot to lower quality students from India and Nepal in a desperate attempt to keep the fees rolling in.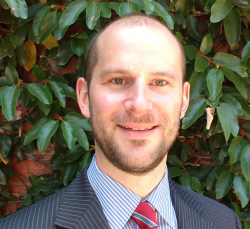 Latest posts by Leith van Onselen
(see all)