Last week's Four Corners special on Australia's international student trade featured Murdoch University, which was accused of badly lowering its standards in order to lift its international students numbers by 92% between 2017 and 2018, resulting in increased incidences of plagiarism, academic misconduct, and rising failure rates.
Following the report's airing, domestic students responded angrily, accusing Murdoch University's administrators of "dumbing down" courses and devaluing their degrees in the pursuit of profit:
Murdoch students and other staff said they had experienced their own "dumbing down" of course units to accommodate international students…

"How can you trust graduates who have come out of a uni that doesn't pay attention to English and admission requirements?" [one disgruntled student said]…

"Fee-paying international students should pass the requirements listed for all entrants to the university and not be the 'cash cow' it currently has become [one former scholar said].
Over the weekend, Murdoch University defended its actions, emailing students stating that it is "proud to be a global university", while also denying any wrongdoing:
"I want you to know that, as a university, we refute the claims made by the ABC. I understand the concerns some of you have raised and I want to assure you that an education from Murdoch is highly valued…

"We are committed to you and your education. We want you to succeed and be proud of being a Murdoch student and a member of our future alumni. I am proud that Murdoch is a global university. This is a principle embedded in our very foundations…

"I truly believe that a diversity of backgrounds and nations is a good thing. Having students from around the world at Murdoch plays a valuable role in campus life, enriching the learning and experience of university for all of us."
By contrast, the University of Tasmania (UTAS), which also featured in the Four Corners' report, is more contrite, announcing that it will tighten English-language requirements and launching a review into admissions practices for international students:
The report revealed that UTAS admissions staff were using medium of instruction letters as a way of determining a students' English skill.
Medium of instruction letters are used as part of a Visa application but admissions staff have used the letters as evidence of English skill levels and did not follow through with UTAS own standards, which includes English language tests and a written exam.
Since the report aired, UTAS vice chancellor Rufus Black announced the practice would cease immediately and launched a review into admissions practices for international students…

"In the past we have pursued growth in international students as we sought to lift numbers to something approaching the lower end of the national average," Professor Black said on Monday.
"However, since the release of our strategic directions paper, continuous growth in this area is no longer part of our future."
The scandals uncovered in Four Corners' latest report are nothing new. In 2015, Four Corners aired a similar investigation, entitled "Degrees of Deception", which also uncovered widespread academic misconduct and degraded education standards.
Since that 2015 Four Corners report aired, international student numbers have ballooned by 60% to around half-a-million: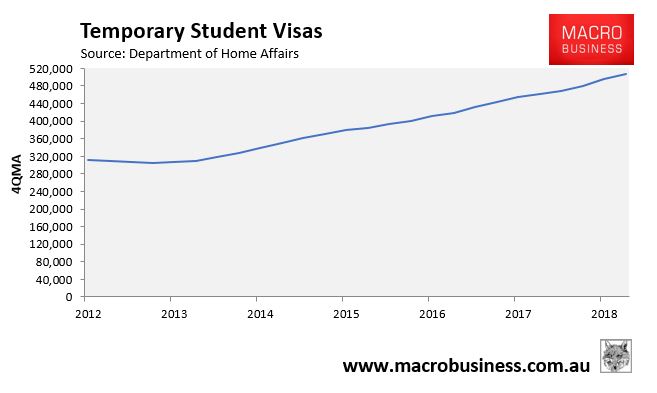 And during this time, a conga line of reports from other sources have similarly raised the alarm about the deleterious impacts from the explosion of international student numbers (e.g. here, here, here, here and here).
The major parties' deafly silence in the wake of last week's Four Corners expose suggests there is little political appetite to address the international student issue. Neither side has announced the common-sense solution of holding a warts-and-all review of the tertiary education sector by the Productivity Commission, in order to ascertain the true costs and benefits of the international student trade.
Our vice chancellors and senior university administrators are acting like bank executives, claiming there is nothing to see and that they are self-regulating their institutions in the best interests of their students and educational standards, while also delivering Australia $32 billion in purported education exports.
But as we've seen, many of their staff at the coal face and many students are telling a very different story. And the myriad of costs from lowering education standards, flooding Australia's labour market with cheap exploitative labour, and crush-loading Australia's cities, continues to be ignored entirely.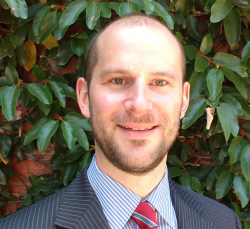 Latest posts by Leith van Onselen
(see all)