The fallout from Monday's Four Corners special on Australia's international student trade continued yesterday with domestic students at Murdoch University demanding answers and claiming that the value of their degrees has been badly eroded by "underprepared" and poorly performing international students. From WA Today:
Following the program, Murdoch students and other staff said they had experienced their own "dumbing down" of course units to accommodate international students…

Another current student… said she had witnessed firsthand the "academic misconduct" claims made in the 2017 emails, which found some international students were trying to circumvent the language gap by plagiarising their assignments or contracting outside sources for help…

She said she was especially concerned her degree would be "devalued" due to the revelations, and said the university had a case to answer from students.
"How can you trust graduates who have come out of a uni that doesn't pay attention to English and admission requirements?… Is my degree now worthless? Now, I'm scared I will have an even more difficult time finding a job than others, because of this."
Murdoch university featured heavily in Four Corners' expose. The university experienced a 92% increase in international student numbers between 2017 and 2018, which has led to widespread reports of plagiarism, academic misconduct, and students failing their courses.
The Grattan Institute's Higher Education Program Director, Andrew Norton, agrees that university entry and teaching standards have been badly degraded, and pins much of the blame on the 2012 deregulation of international student visas by the former Labor Government:
Since 2012, regulation of international student visas has generally become less strict. Much of the checking on international students is done by the universities.

Official English-language requirements for a student visa have never been high. For example, one of the main English language testing organisations recommends a score of 7 on its 1-9 scale for academic courses. Yet the minimum score needed for a student visa is only 5.5…

In a major student survey, in which international students made up 15% of the total sample, 33% of the students who confessed to cheating were international students…

In a parallel survey of academic staff, more than two-thirds had suspected submitted work was not written by the student. In most cases, it was their knowledge of the student's English abilities that led to this suspicion.

So, international student pass rates could be inflated by plagiarism if it is not detected or not proved. In the Four Corners program, one academic claimed his refusal to mark work he thought was plagiarised led to his contract with the university not being renewed.

Another reason why international pass rates could be inflated is the claim of "soft marking". A union survey in 2017 found 28% of academics agreed with the proposition: "I feel pressure to pass full-fee paying students whose work is not good enough".
The situation is even worse than presented above. Empirical research from economist Gigi Foster, based on the records of both local and international students at the University of South Australia and UTS, found that higher numbers of international students unambiguously lowers education standards by dumbing down courses.
Specifically, Foster found that international students performed consistently worse than local students, with non-English speaking background students preforming the worst.
However, because students are typically marked according to a bell curve, international students score better when there are fewer local students in a course, since there are fewer higher performing local students to occupy the top end of the distribution.
Foster also examined tutorial performance and found that local students perform worse in tutorials with more international students.
The Four Corners expose is merely the latest in a series of reports raising the alarm about Australian universities' unhealthy addiction to international students (e.g. here, here, here, here, here and here).
In fact, Four Corners aired a similar report in 2015, entitled "Degrees of Deception", which also uncovered widespread cheating and plagiarism by international students at Australia's universities, along with cases of academic misconduct and degraded education standards.
Nothing was done then, and instead international student visas were allowed to balloon by around 200,000 to half-a-million, cheered on by both the government and universities: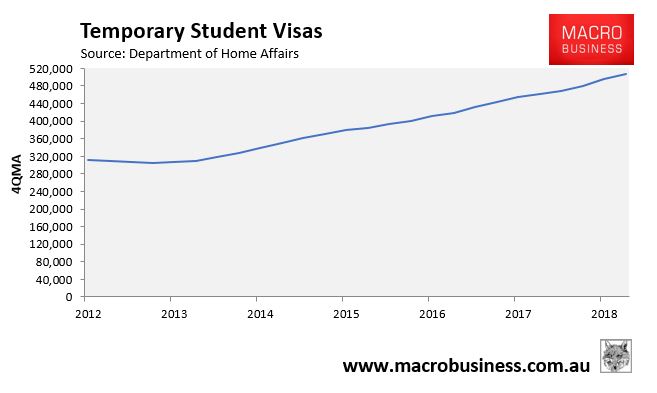 In the days since Four Corners report aired, the silence from both major parties has been deafening and suggests that neither side will undertake any meaningful review if elected. Instead, we will continue to hear about the mythical $32 billion of so-called education exports without any consideration of the broader costs.
Latest posts by Leith van Onselen (see all)