As Sydney's population continues to boom on the back of mass immigration: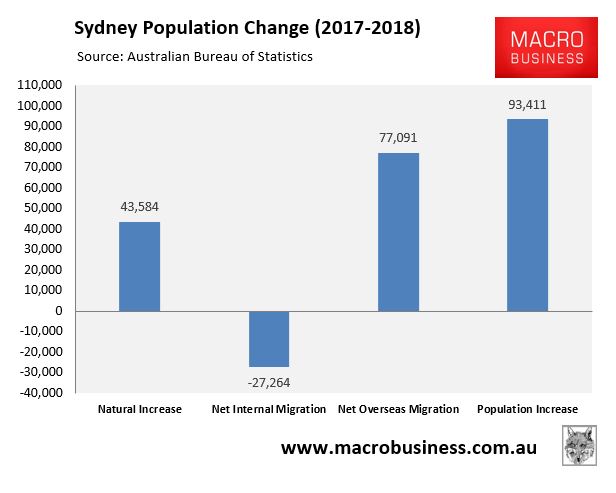 The city's water storages are "dropping faster than they have in decades", despite falling average water use:
Sydney's dams have dropped about a quarter of their volume in the past year to sit at 53.9 per cent full as of Wednesday, WaterNSW data show…

Dam levels were "dropping faster than they have in decades", a spokesman for Sydney Water said. "Over the last two years dam levels have dropped faster than the average rate during the Millennium Drought."

Average water use is now about 200 litres per person a day in Sydney, down from around 250 litres before the big drought set in.

Total water demand in the first four months of 2019 was about 8 per cent lower than the same period last year – 192 billion litres compared with 209 billion litres. That was one sign consumers were already "doing their bit" to curtail water use, especially during the past summer, the Sydney Water spokesman said.
So, what happens when Sydney's population balloons by a projected 4.5 million people (86%) over the next 48 years, driven solely by immigration, at the same time as droughts become more common because of climate change?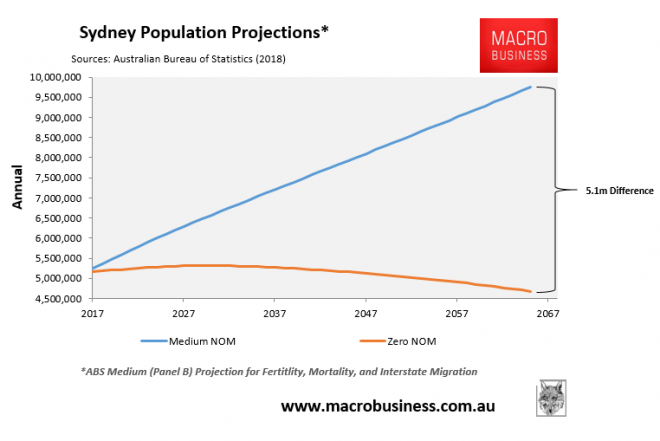 Heck, Sydney's West is projected to take an extra one million people alone in the next 20 years, posing major problems for water supply:
Documents obtained by The Daily Telegraph can reveal WaterNSW and Sydney Water have voiced concerns that Sydney's urban sprawl and booming population are putting increasing pressure on the water system, and steps need to be urgently taken to ensure Sydney is not hit by a water shortage.

WaterNSW has also revealed that housing developments built too close to pipelines and canals in Western Sydney have "already resulted in impacts to the water quality". "Increasing urbanisation, particularly in western and southwestern Sydney, have resulted in increased pressure on the integrity of critical water supply infrastructure, namely the Warragamba Pipeline and the Upper Canal," the documents state…

WaterNSW says that housing and land developments need to start considering the impact building is having on water supply. It is investigating "water augmentation strategies" to service the booming population…
Remember, Western Sydney is also located a long way from the coast and the cost of piping desalinated water uphill will necessarily be very expensive:
"Water being non-compressible and quite a heavy substance — it's quite expensive to transport," said Mr Lovell.

"Even if you're looking at Sydney on the coast through to Penrith or from Wonthaggi to the north of Melbourne — you're looking at 80 to 90 kilometres. That's really expensive, and it's a really inefficient way to transport water"…

Professor Khan said a whole new set of pipelines would need to be built to get desalinated water west of there, where the population growth will be.

"The further you (pump desalinated water) inland, the more you're working in a direction that is opposite to the way our water supply systems are designed and operate," he said.

"They pump water from the source — up in the reservoirs, up in the hills — to the coast. And it's very difficult to actually turn that around."
Water scarcity remains the elephant in the room of the population debate, and an issue Australia's mass immigration 'Big Australia' boosters continually ignore.
The first best policy response to alleviating Sydney's water woes is to not make the situation worse by force-feeding many tens-of-thousands of new migrants into Greater Sydney each year. It's bleedingly obvious.