Via The Guardian:
The gas company AGL asked the Victorian government to change a wastewater policy that could be used to block the proposed Crib Point gas import terminal.

AGL made the request in a public submission on a draft environmental regulation. The company wants to build a 290 metre-long floating storage and regasification unit at Crib Point in Western Port Bay, 80km south-east of Melbourne.

The unit would use seawater as part of a heat exchange to convert shipments of imported liquid natural gas back into gas, but the discharged water would be 0.3C cooler than the ambient seawater and contain chlorine rates of 0.0005mg/L.

There is no declared safe level for chlorine in Australian marine environments, but the maximum safe concentration for freshwater is 0.003mg/L.

Conservationists and commercial fishing operations have raised concerns about risks the chlorine and thermal pollution could have on marine life. The proposed pipeline, which would run though an area of Ramsar-listed wetland, also poses a potential risk to birdlife.
Not to mention poisoning the economy. Let's recall AGL's plans to renovate Liddell: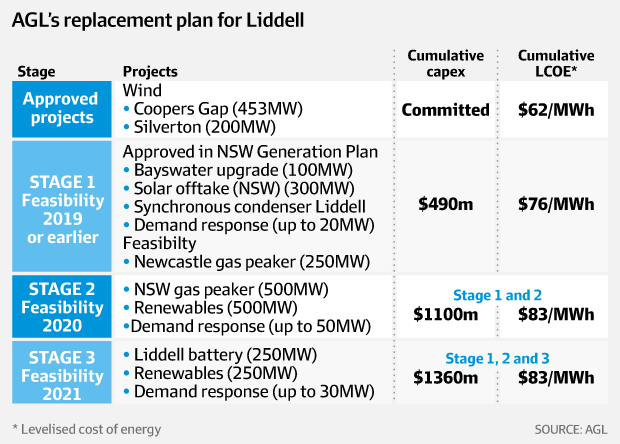 $83MWh levelised cost. The historical average for price for power in NSW is $30MWh, right up until 2015. The key is the price of gas which AGL is also planning to ship in from the US at today's price of $9Gj, 300% above its historical average price and combine that with much cheaper but intermittent renewables. Remember that gas sets the price in the wholesale electricity bid stack.
AGL's plan is not to drop local gas prices with LNG imports, it is to control the marginal cost of local via those imports and keep it high.