I have ridiculed the push by Coalition politicians towards decentralisation, noting that this is a pipe dream based on the settlement pattern of new migrants, which have overwhelmingly chosen to flood the major cities: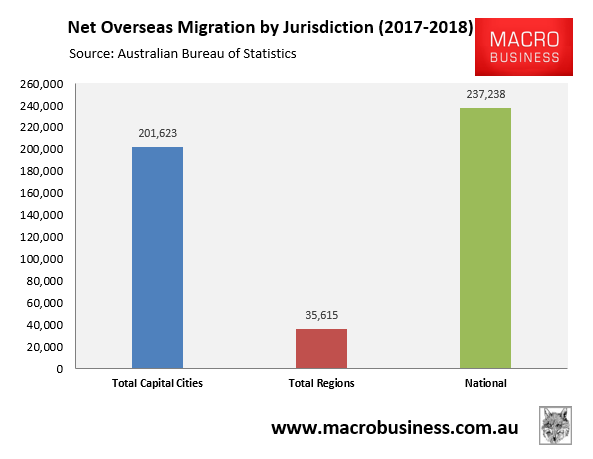 Well, the situation is even worse than presented above with new ANU research of settlement patterns showing that 60% of migrants that moved to Australia's regions subsequently move to the cities within five years. From SBS News:
An Australian National University study released Thursday found more than 60 per cent of migrants move to a capital city after about five years of living in a regional or remote location.

ANU material went as far as saying new migrants were "fleeing" regional Australia for better opportunities in the cities.

Australia has a number of visas that are designed to entice migrants to regional areas but the research suggests more needs to be done to keep them there.

ANU demographer Bernard Baffour told SBS News, "you can move migrants to areas, but you can't force them to stay there"…

The study found Chinese-born migrants are more likely to settle in Sydney.

Erin Chew of the Asian Australian Alliance said, "a lot of the Chinese people are city dwellers, so they want to live in [places] where there's a huge concentration of their community"…

Elsewhere, Melbourne is the city of choice for most Indian-born migrants.
Yet more evidence that the Coalition's "migrants-to-the-bush" policy is nothing but a smokescreen and that Sydney and Melbourne will continue to be crush-loaded under the bipartisan 'Big Australia' mass immigration policy.
And it's going to get much worse under Labor, as they flood the cities with potentially millions of additional elderly migrants.