Via BI:
Tesla is all-in on its plans to take over the ride-hailing industry.

On Monday, CEO Elon Musk revealed the company's plans to compete with incumbents like Uber and Lyft with the company's strategy for an autonomous ride-hailing fleet.

Robo-taxis are essentially any Tesla vehicle with autonomous-driving functionality. To turn a Tesla into a robo-taxi, a car's owner simply adds it to the Tesla Network platform by way of the company's app.

Musk said that by "next year for sure, we will have over 1 million robo-taxis on the road."

Riders will be able to summon a robo-taxi via the same Tesla app – similarly to how they call for an Uber or Lyft today. The key difference, of course, is that there won't be a driver in the car.

Musk acknowledged the regulatory limitations and that not all regions will openly approve the company's futuristic tech right away. Still, Tesla's chief exec said he's "very confident" in predicting the launch of the robo-taxi program by next year in certain parts of the US.

Musk also predicted rides via robo-taxis will cost significantly less. The average cost for a trip from a ride-hailing service today is about $US2 to $US3 per mile, he said, whereas Tesla's program will likely come out to be less than $US0.18 a mile.
This is the end of the family car and oil industry unfolding before our eyes. As we have written before:
Electric Car Economics

An electric car is more expensive than an oil powered car (due to the cost of the battery), but cheaper to run (oil is expensive per unit of energy, lower running costs due to fewer moving parts, less energy loss with batteries and more efficient power generation).

This means the economic calculation is about amortising the cost of the battery over the distance travelled.

By my numbers, the current cross-over is about 100,000km per year and falling with decreasing battery cost. This means that a private electric car is not economically better (because most drivers don't drive 100,000km per year), but an electric taxi is.

Driverless Taxi Economics

Self-driving cars will be very cheap as the most expensive component (the driver) is removed. The simplest way is to look at car hire companies:

Car hire companies are happy to rent a car to users for $60 a day with about a 75% utilisation rate = $45 a day to the car company. Let's call that the capital cost of a car.
Now let's add a third to the cost to cover the battery and the driverless technology – puts us back at $60 per day.
Given its driverless, it can operate for 24 hours a day – but call it 15 hours to take into account time to charge the battery, cleaning, slow periods, servicing and to make the math easier.
So, the car owner needs to make $4 per hour to make a return.
Assuming 1.5 trips per hour (roughly the average), add in electricity costs, 10% to the booking company and about $3.00 per trip is the end cost to the user.

It is pretty compelling. Basically, a driverless taxi would be cost competitive with (human driven) public transport.

The timeline

There are a range of tests currently being run. The ones I am looking at most closely include:

Waymo/Google have done the most testing and have progressed to testing without human backup drivers in Arizona. They are planning on rolling out 20,000 taxis in partnership with Jaguar Land Rover starting in late 2018.
GM/Cruise are possibly more technologically advanced than Waymo with an integrated (i.e. manufacturing + technology) solution in the US. They are targeting a 2019 rollout and have a petition to change laws for driverless cars in the US which will be ruled on in coming months.
nuTonomy is running pilot operations in Singapore, is looking to expand to 100 cars in 2018. Singapore conditions (a small heavily populated land mass, no snow and relatively autocratic government ) are one of the most likely to support driverless cars in initial stages.
Easymile has been running driverless bus trials (on mainly fixed routes) in a range of cities around the world.
Baidu (AKA China's Google) is investing heavily and has released a free software platform (Apollo) which allows other Chinese car companies to use Baidu's technology. Given government support and the Baidu platform, China will likely be a key player in driverless technology.
Once a certain level of regulatory acceptance is reached the take-up of this will not be gradual as most models present. It will be like mobile phones, parabolic, and the fallout for oil and car manufacturers be as massive as it is unstoppable.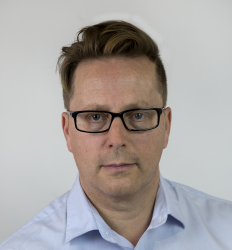 Latest posts by David Llewellyn-Smith
(see all)