Last month we noted how the impending stamp duty bust in Victoria was already crimping public spending, with the Andrews Government forced to tighten its belt ahead of pay negotiations with the public service.
The day after, State Political Editor for The Age, Noel Towell, reported that Victorian Treasurer, Tim "Ponzi" Pallas, was in a state of panic over Melbourne's collapsing property market, which has crushed stamp duty receipts.
Today, The Age reports that Tim Pallas is flagging an austere Budget and "hard choices" because of the stamp duty collapse:
Kindergarten teachers, police and thousands of other public sector workers will be offered wage increases barely above the cost of living, as the Victorian government seeks to constrain spending in the coming state budget…

Mr Pallas said Victorians should prepare for "a budget of hard choices" when the state government delivers its budget at the end of the month.

The government is facing higher than anticipated stamp duty writedowns, partly sparked by a 35 per cent downturn in the number of house and unit sales between December 2018, and the previous December. Since then, house prices have continued to fall.
Melbourne's transaction volumes had plunged 33% from peak as at December 2018 (latest available data), whereas Melbourne's dwelling values have fallen by around 10.5%: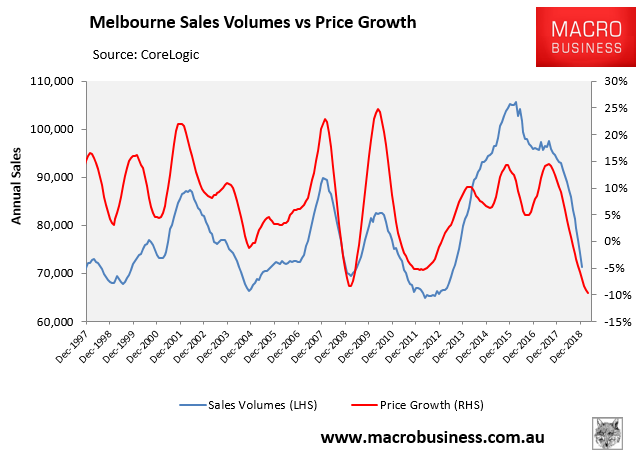 Against this, the mid-year Budget Review for Victoria contained the below hopelessly optimistic forecasts around stamp duty receipts, projecting only a one-year minor dip before accelerating to record highs: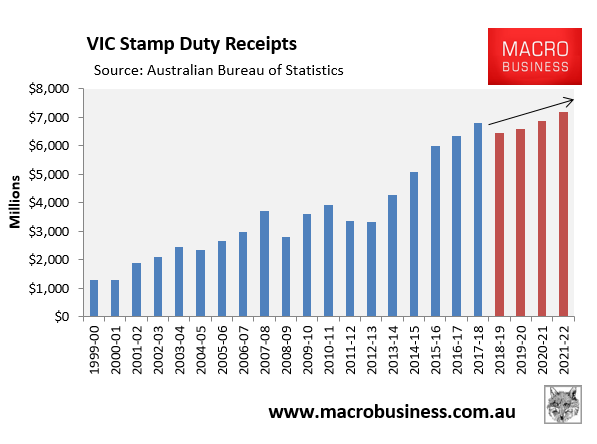 Note from the second chart above that the 5% projected stamp duty decline in 2018-19 pales against the 24% fall in 2008-09 and the 14% fall in 2011-12, both of which were off smaller housing corrections: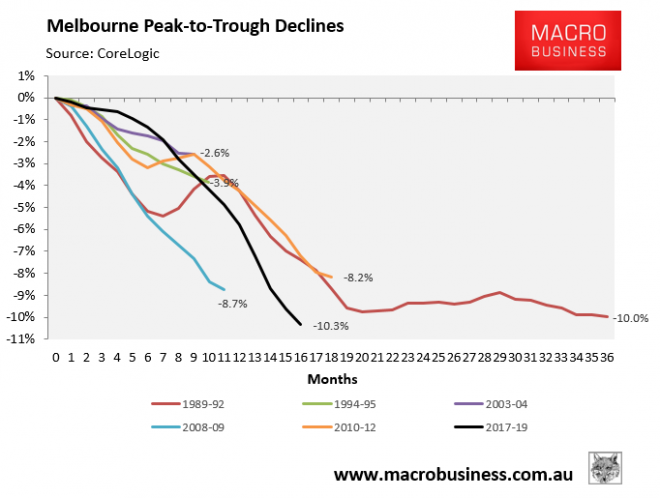 As the Victorian property market deteriorates even further, this inevitably means that stamp duty receipts will plummet, wiping multiple billions in revenue a year from the State Budget.
Thus, the Victorian Budget is facing a potentially catastrophic meltdown as crashing stamp duty receipts meet massive population-related spending commitments.
This is a veritable Minsky moment for Victoria as the population pyramid scheme and associated ponzi borrowers meet deep cuts to infrastructure and public spending just as households go bust.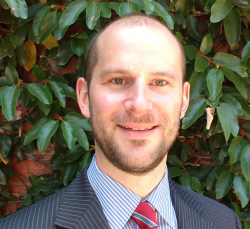 Latest posts by Leith van Onselen
(see all)