Here is the future as the LNG glut takes shape in Asia, via Reuters:
U.S. producers of liquefied natural gas (LNG) are wooing buyers with offers to sell gas priced against benchmarks other than U.S. domestic prices, ahead of an expected flood of supplies on global markets this year.

…The United States, the world's fastest growing gas exporter thanks to surging output from shale fields, is set to become the world's third-largest LNG exporter this year, taking on more established suppliers such as Qatar and Australia.

U.S. producers only began exporting LNG in early 2016 and typically price their sales against U.S. domestic benchmarks such as Henry Hub.

To stand out, at least two developers of new U.S. terminals have signed binding and non-binding deals using alternative pricing, executives said on the sidelines of the LNG2019 conference in Shanghai this week.

…The price was based on Platts Japan Korea Marker (JKM), which is a fast-developing Asian benchmark for LNG though mainly for spot cargoes. Most LNG contracts in Asia are still priced off Brent crude.
I expect this to continue. The oil-linkage has outlived its usefulness.
Further use of the JKM by producers will help keep prices lower over the long run as the prospective supply of LNG is ridiculous versus the supply of oil: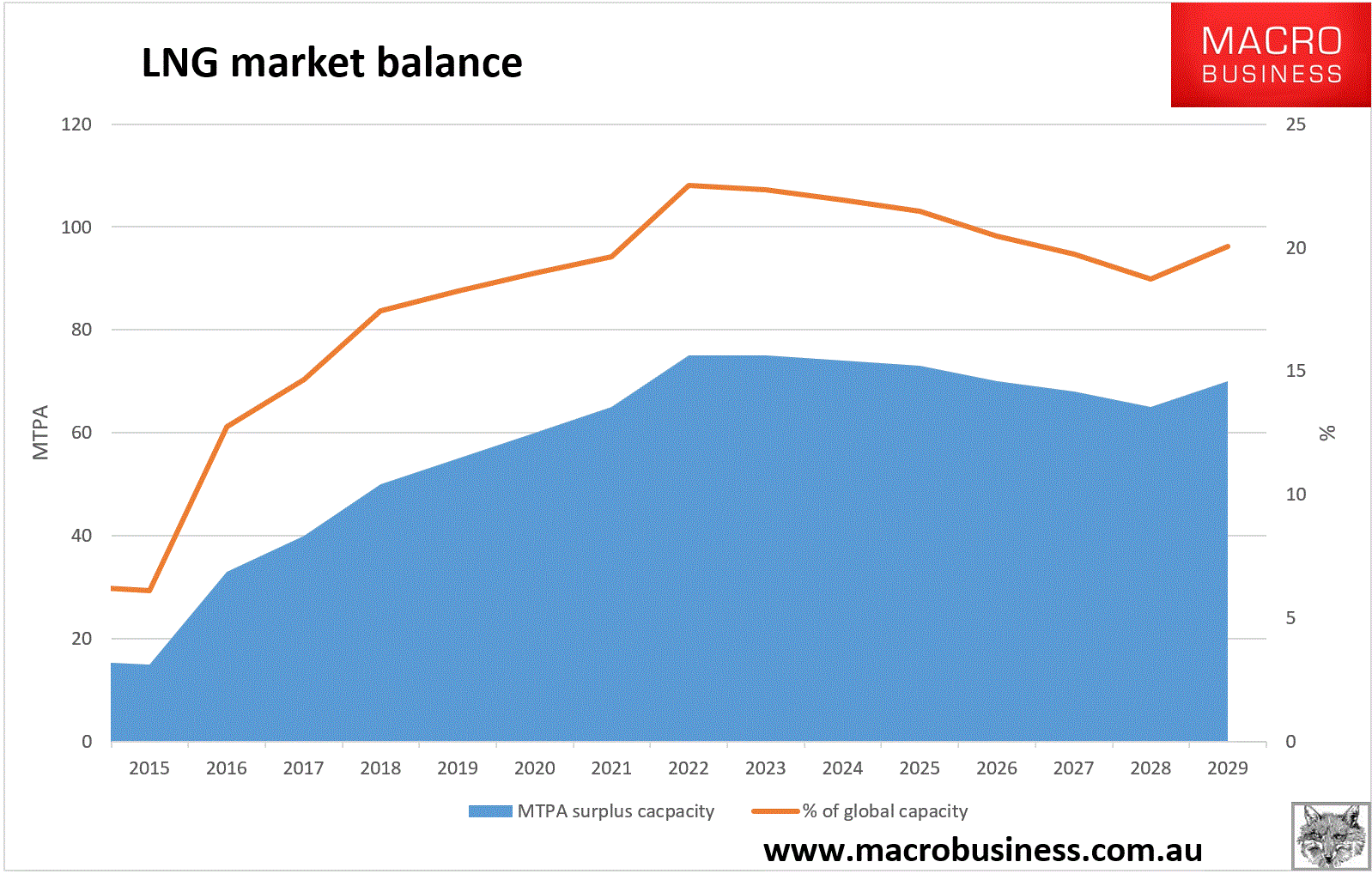 JKM is the basis upon which the useless ACCC calculates Australia's export net-back price which is supposed to benchmark the gas cartel's local price. JKM spot is hovering around USD4.50Gj and futures are priced at USD6.50 out to 2024. In local terms that's $6Gj today.
This is potentially another argument in favour of LNG imports for Australia. The problem is that once you add the middle man costs you still get to a local price of $8Gj. Worse, as external gas prices rise or the currency falls you lose control again.
You might think that the logic of these arguments would be enough for the Scummo Government to bash the gas cartel into dropping prices in line with its own domestic reservation policy which should already have local gas prices at $4.50Gj instead of $10Gj. But it hasn't done a thing. Health Minister Greg Hunt shows why:
Health Minister Greg Hunt has been accused of running a "Greens-style" re-election campaign, after publicly declaring his opposition to AGL's plan to build Australia's first liquefied natural gas import plant in his outer Melbourne electorate of Flinders.

The senior cabinet minister said he "clearly, unequivocally and absolutely" opposed the $250 million Crib Point gas plant and had called on locals to sign his online petition to stop it.

A Liberal source said they suspected Mr Hunt was running a "Greens-style" campaign to pick up votes from the Left in order to retain his seat, which he holds on a margin of 7 per cent. Every candidate in Flinders is running on a platform to stop the floating gas plant and connecting 55km pipeline, including Liberal MP turned independent Julia Banks.
No plan. No care. No responsibility. Just kiss whatever arse you need to get re-elected and damn the country.