The latest Roy Morgan Research (RMR) unemployment estimate for March jumped 1.3% to 10.6%, and surged 2.0% over the year: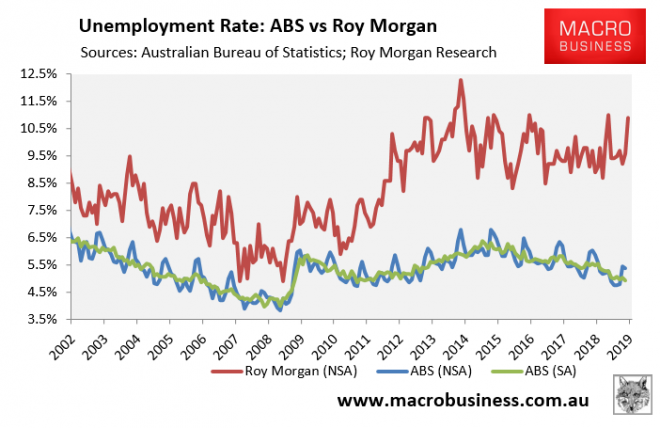 Labour underutilisation also surged to 20.6%.
Below are the key points from the release:
Australian unemployment increased to 1.49 million in March (10.9% of the workforce) with an additional 1.32 million now under-employed as overall employment is down on a year ago.
The workforce, which comprises employed Australians and those who are unemployed and looking for work, increased by 65,000 to 13,649,000 on a year ago. However, despite the increasing workforce, now 216,000 fewer Australians were employed in March than a year ago, down to 12,158,000.
The fall in employment was driven by a significant decrease in part-time employment of 203,000 to 4,228,000. Over the past year full-time employment was virtually unchanged down by 13,000 to 7,930,000.
The lack of jobs and increasing workforce drove a significant increase in unemployment. Now 1,491,000 Australians (10.9% of the workforce) were unemployed, up 281,000 on a year ago and the unemployment rate is up by 2%.
An additional 1,321,000 Australians (9.7% of the workforce) were under-employed, working part-time and looking for more work, a decrease of 41,000 in a year (down 0.3%).
In total a record high 2,812,000 Australians (20.6% of the workforce) were either unemployed or under-employed in March, an increase of 240,000 in a year (up 1.7%).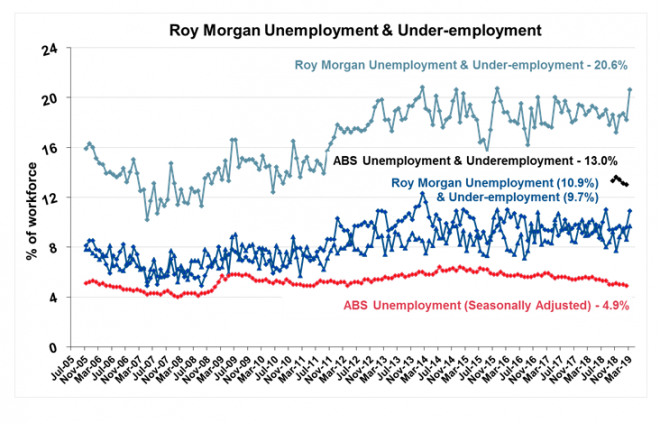 As explained each month, RMR measures employment differently from the ABS:
According to the ABS definition, a person who has worked for one hour or more for payment or someone who has worked without pay in a family business, is considered employed regardless of whether they consider themselves employed or not.

The ABS definition also details that if a respondent is not actively looking for work (ie: applying for work, answering job advertisements, being registered with Centre-link or tendering for work), they are not considered to be unemployed.

The Roy Morgan survey, in contrast, defines any respondent who is not employed full or part-time and who is looking for paid employment as being unemployed…

Since Roy Morgan uses a broader definition of unemployment than the ABS, it necessarily reports a higher unemployment figure. In addition, Roy Morgan's measure tends to be far more volatile, owing to the fact that it draws on a smaller sample than the ABS and is not seasonally adjusted.
The difference between the ABS unemployment rate (5.4% NSA as at February) and the unofficial RMR measure is now 5.5%: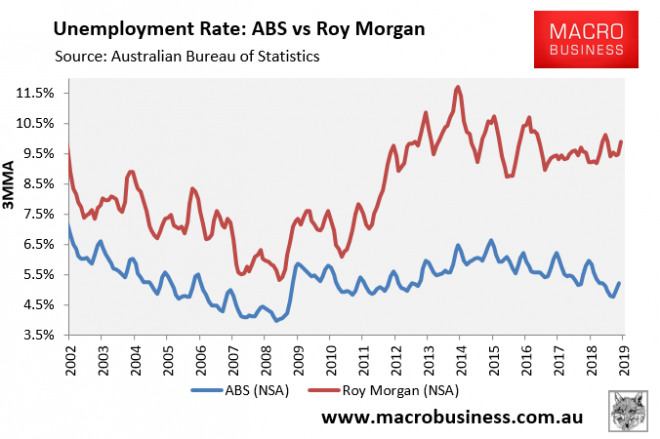 Back in February, Roy Morgan CEO Michelle Levine noted that jobs creation has been offset by high immigration:
Prime Minister Scott Morrison earlier this week pledged that a re-elected L-NP Government would create over 1.25 million jobs over the next five years. This sounds great however one needs to consider that in the context of high population growth driven by high immigration over the last five years since February 2014 the L-NP Government has created nearly 1.3 million jobs and unemployment and under-employment has barely changed.

"…whichever Government is elected at this year's Federal election needs to find a way to provide new jobs both for new immigrants to Australia as well as the over 2 million long-term unemployed and under-employed consistently revealed by Roy Morgan's employment estimates."
Today, Levine has sung a similar tune:
Alongside a decline in total employment there were also new entrants to the workforce who have been unable to find jobs which led to a significant increase in unemployment. Unemployment increased by 281,000 to 1,491,000 (10.9% of the workforce) and is now at its highest raw number since just over five years ago in February 2014 (1,561,000 or 12.3%).
Australia's rat-wheel economy in action.
Latest posts by Leith van Onselen (see all)