Last year, the chair of the Migration Council of Australia (MCA) and big business lobbyist for the Australian Industry Group (AIG), Innes Willox, penned an article in The Australian claiming that "now is not the time to cut migration" because of "skills shortages" [my emphasis]:
Australia does not have a population problem but we do have a skills problem and we do need to get much better at planning our cities, regions and our infrastructure…

Ai Group's feedback… suggests that skill shortages are re-emerging as a leading concern for businesses…

Ai Group members are increasingly telling us that they are having difficulty sourcing skilled labour, particularly in regard to science, technology, engineering and maths (STEM) skills and other trade-related and technician jobs…
Now, it has been revealed that STEM graduates actually have the highest rates of unemployment. From The SMH:
"Job opportunities for university science graduates have failed to match the push to get more students to study science, technology engineering and mathematics (STEM) subjects, warn policy experts.

University of Sydney head of business analytics John Buchanan said while STEM skills were important to society, there was not enough demand for graduate scientists and engineers in the labour market."

"I think having a world with more people who understand science, technology, engineering and maths is fantastic, but … employers aren't creating that many jobs in those spaces," Professor Buchanan said.
Quite a contrast, isn't it?
Let's also remember that the number of professional and managerial occupations experiencing skills shortages is running near recessionary levels, according to the Department of Jobs and Small Business: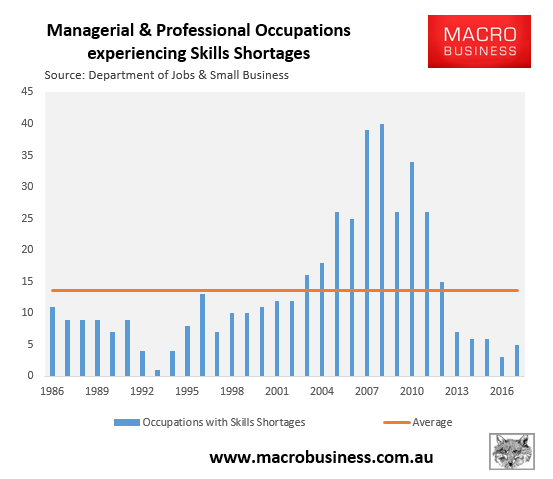 The sad reality is that Australia's open immigration system has discouraged employers from training and hiring young Australians in favour of grabbing ready-made and cheap workers from overseas.
Moreover, if skills shortages were so pervasive across the economy, as argued by Willox, Australia would be experiencing strong wages growth. After all, how is it possible to be experiencing a labour shortage at the same time as labour prices (real employee earnings) are falling? It isn't.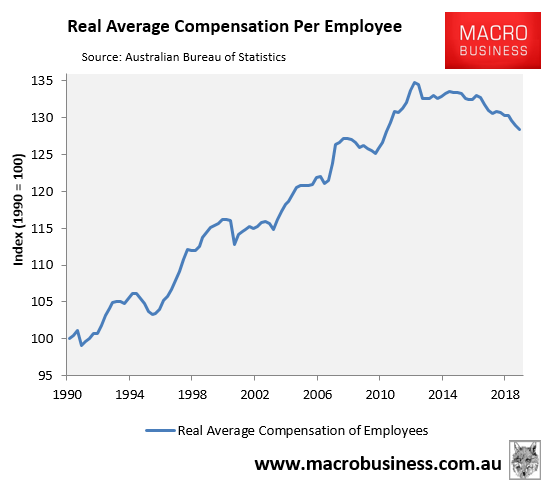 The lunacy of Willox's arguments have been exposed, once again.