See the latest Australian dollar analysis here:
Because what Australia needs is more deflation! DXY eased last night as EUR rose: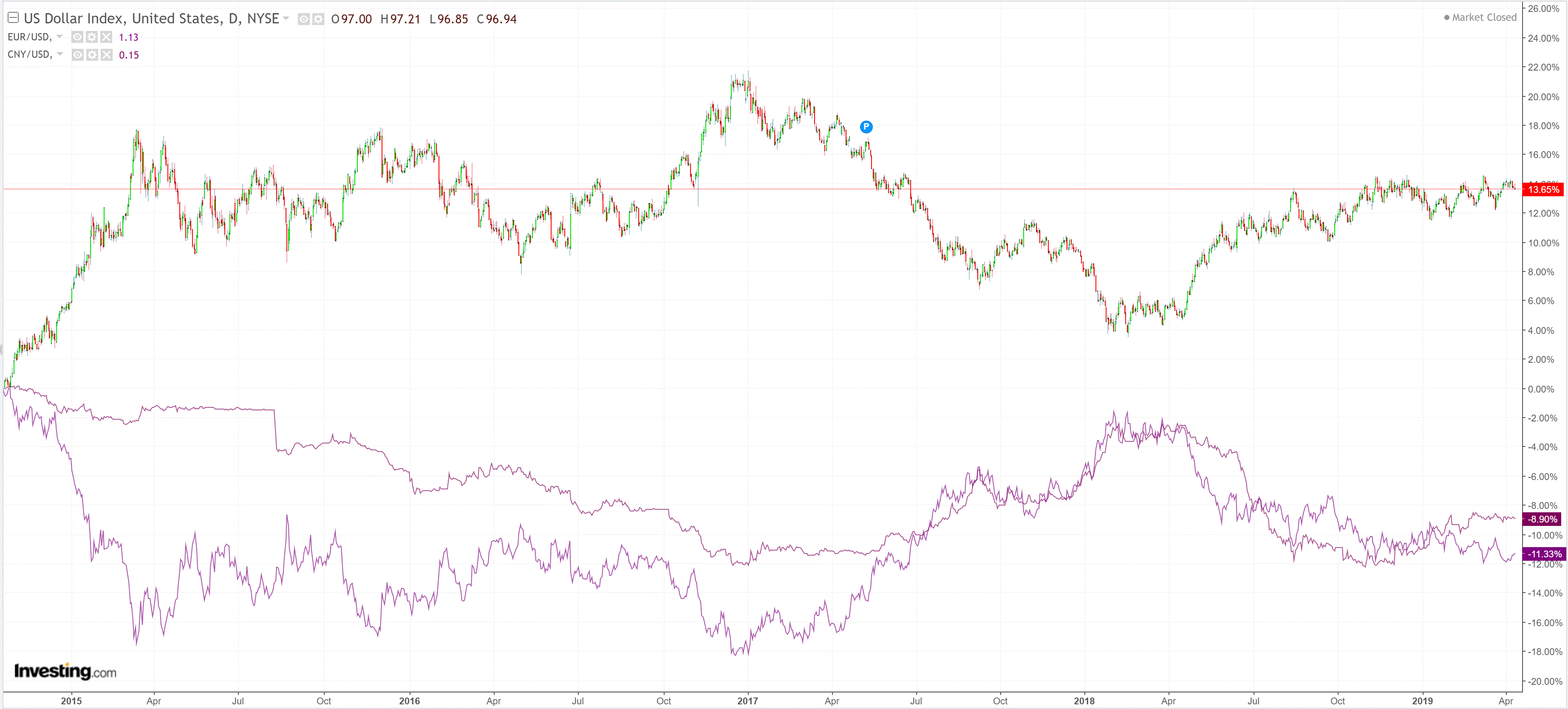 AUD launched against DMs: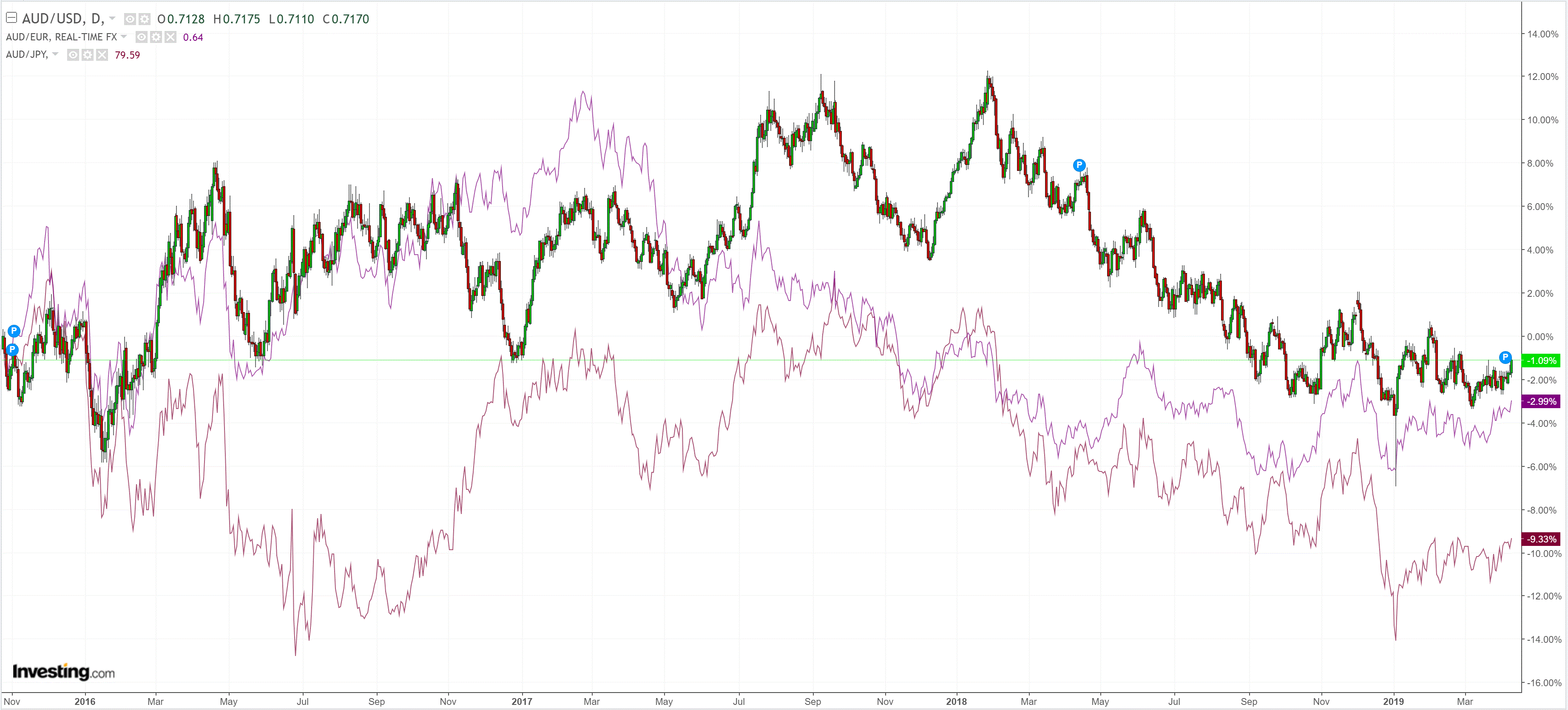 But was mercifully weaker than EMs: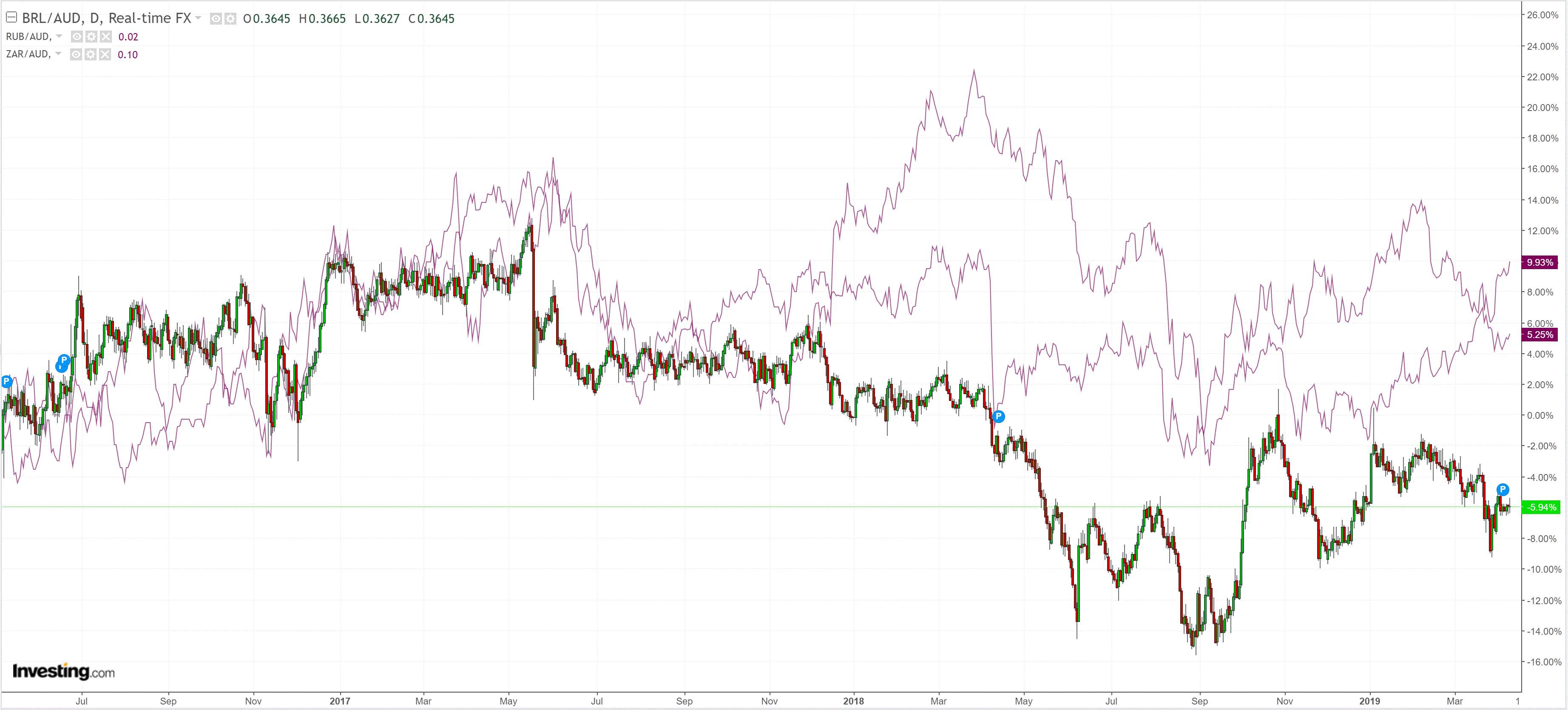 Gold tacked on gains: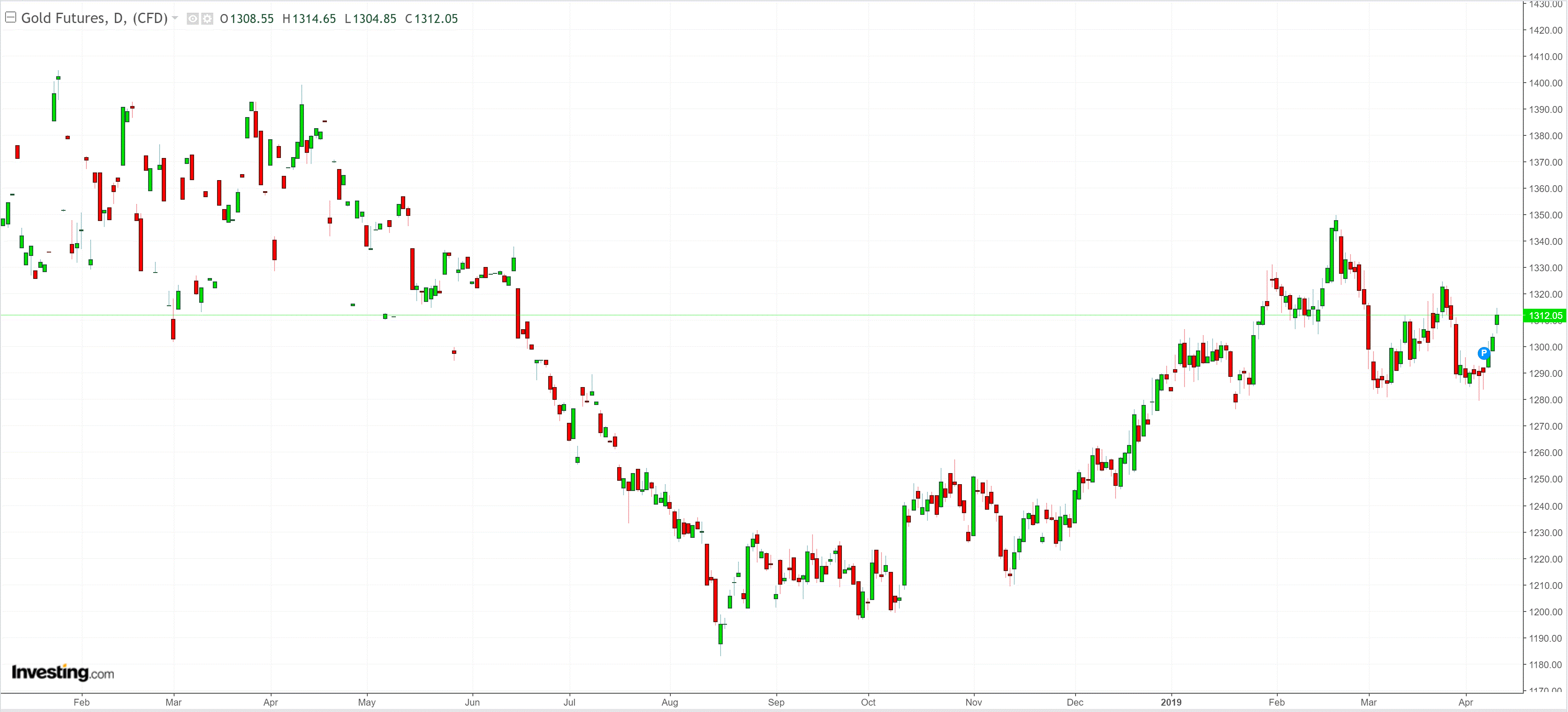 Oil is parabolic: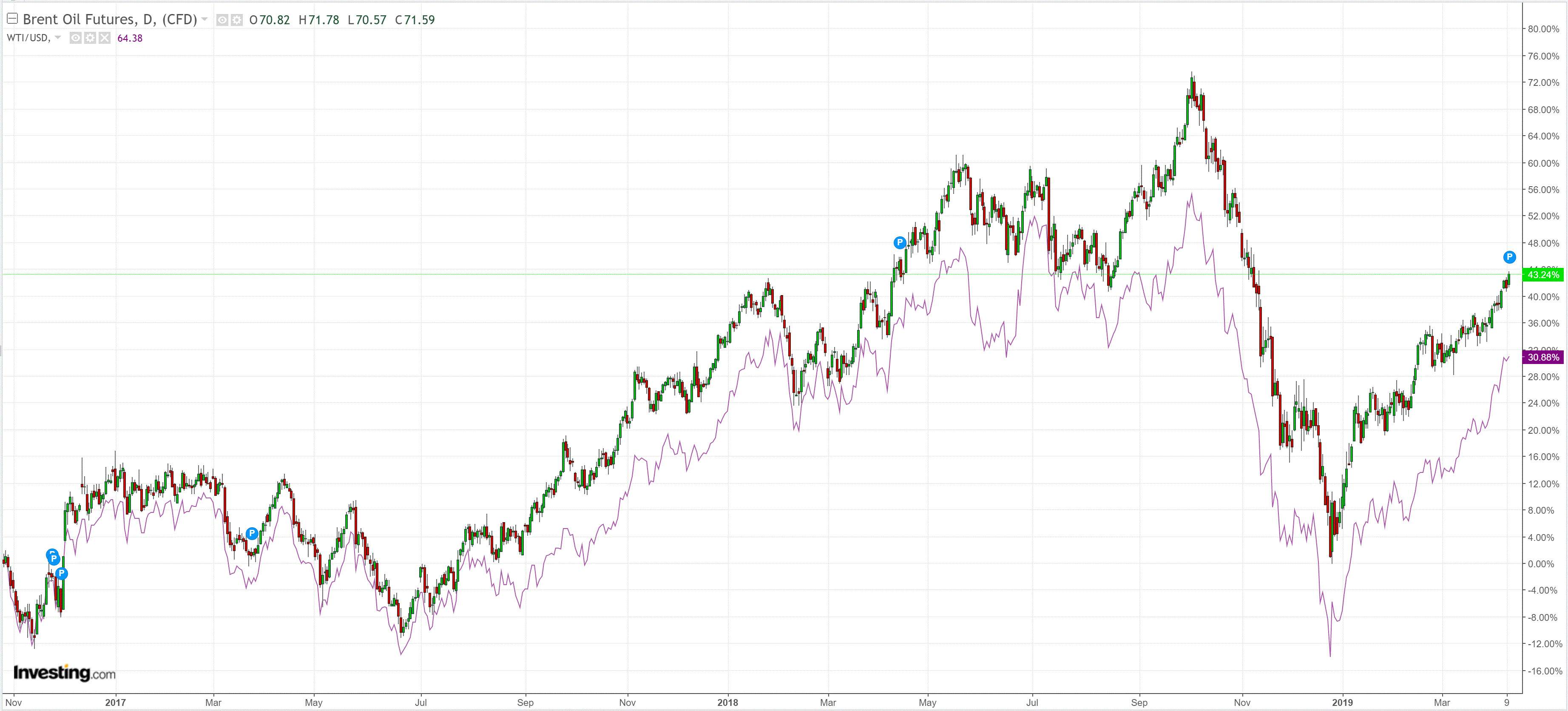 Metals are still soft: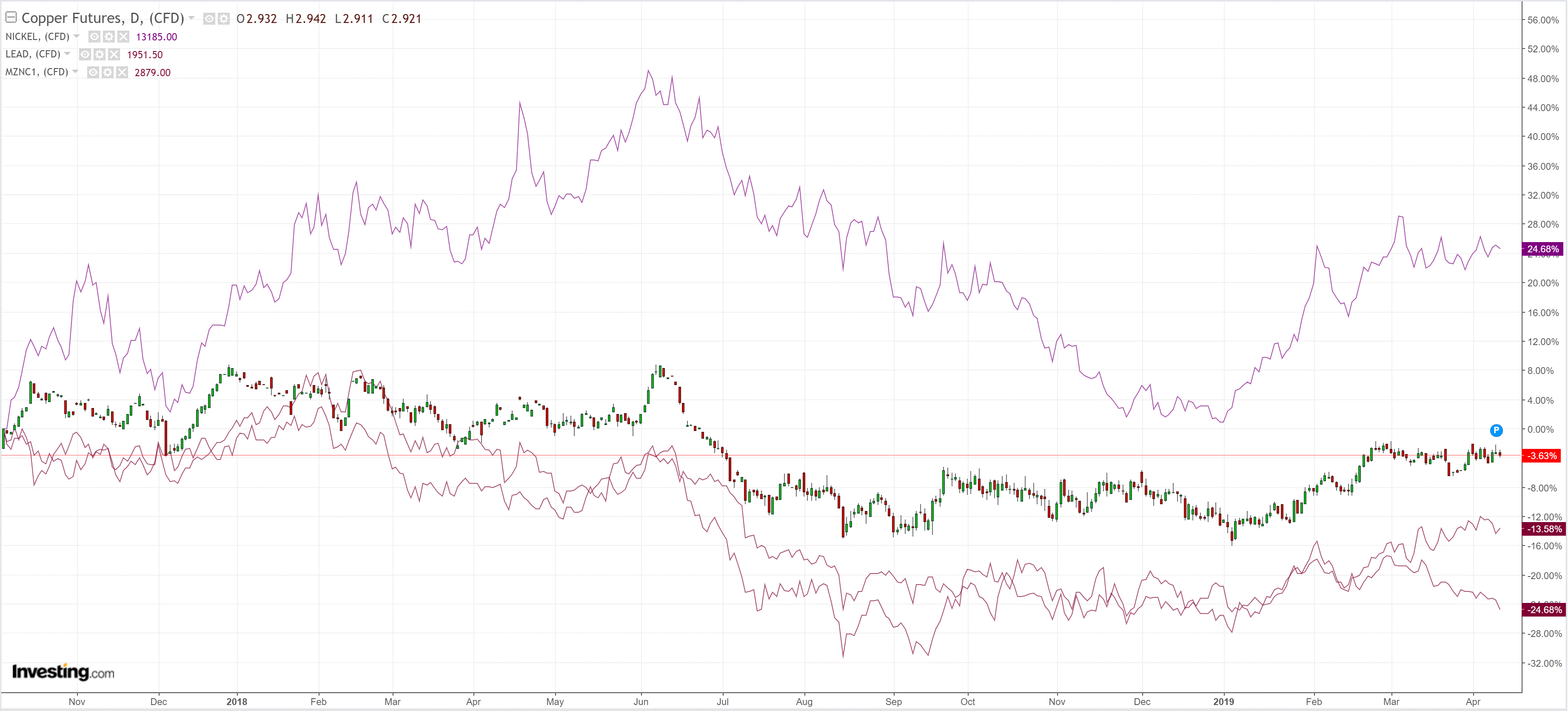 Miners too: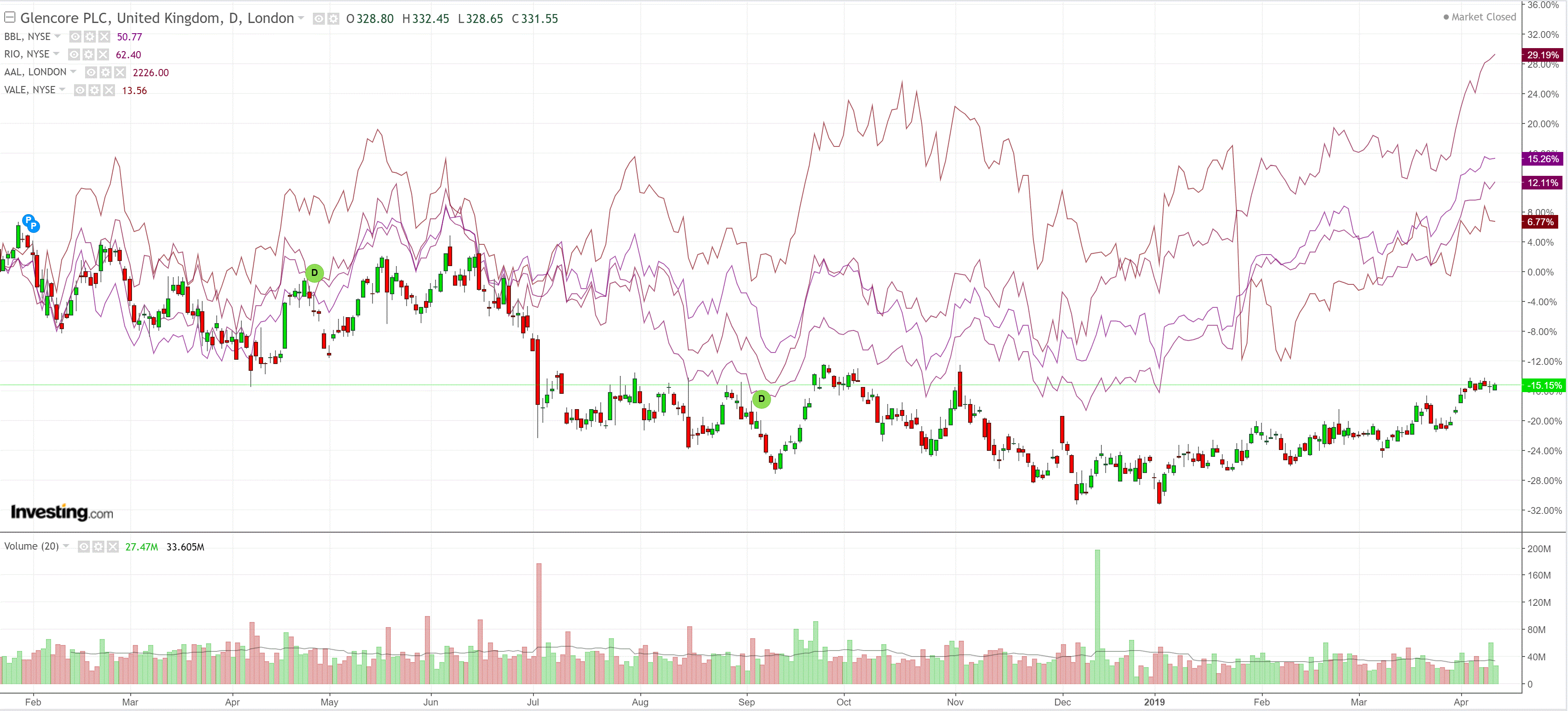 EM stocks ground higher: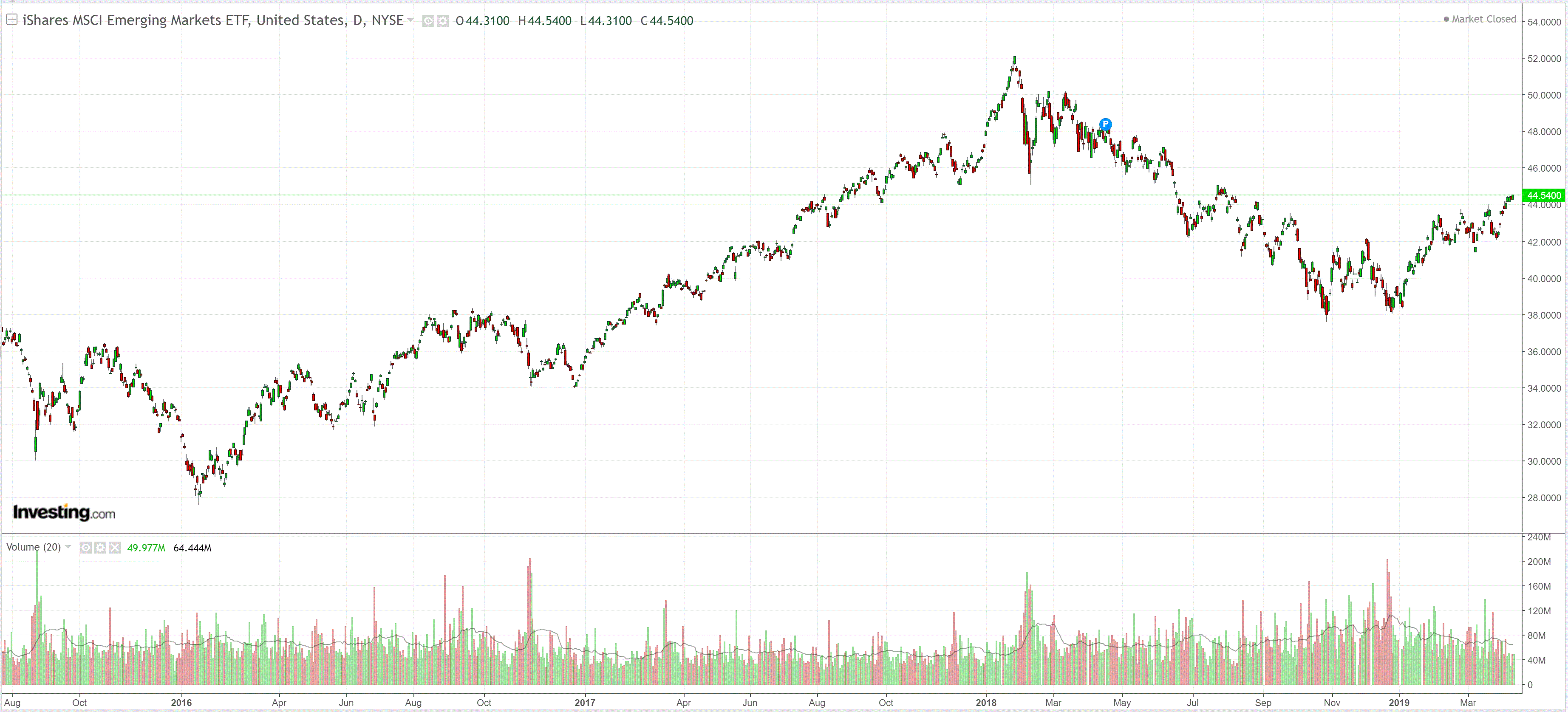 US junk jumped: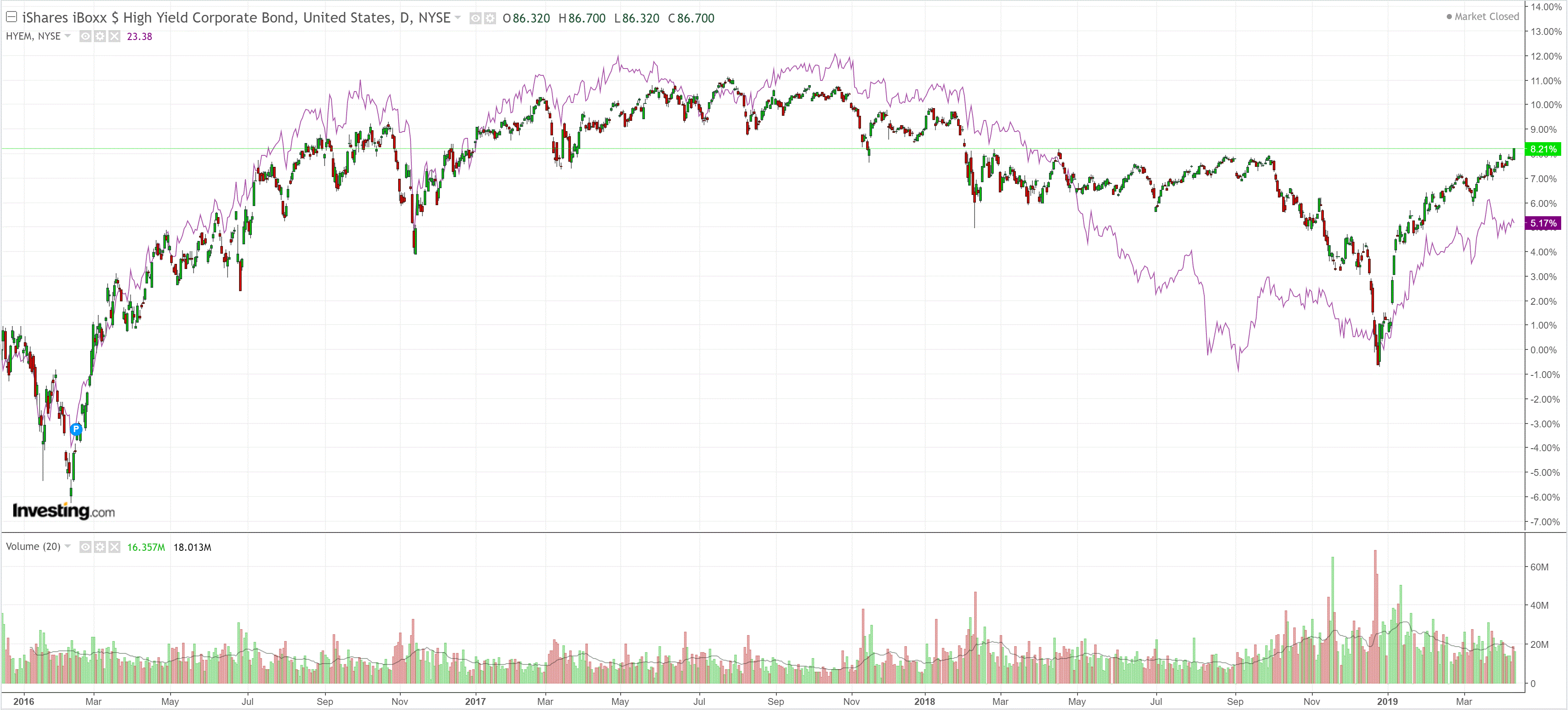 As Treasuries were bought: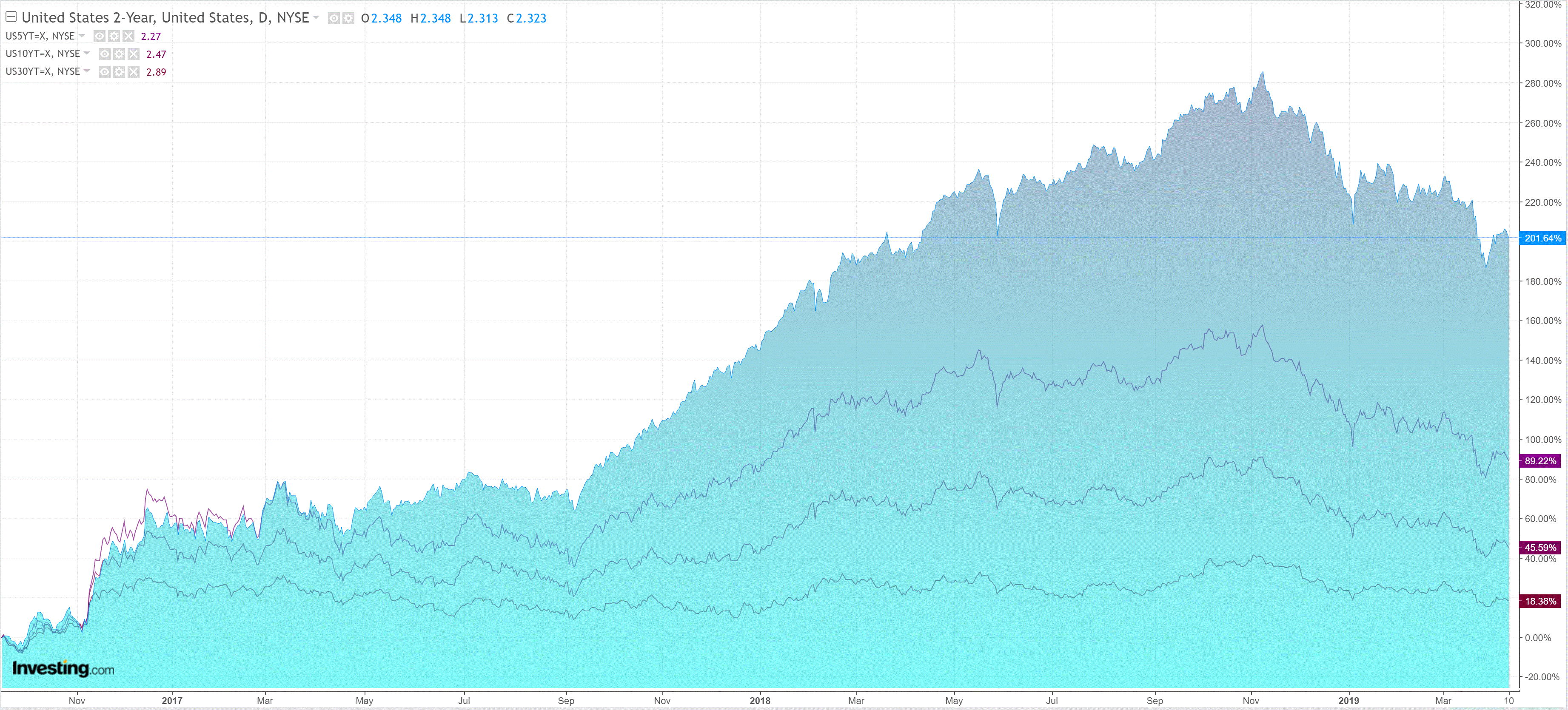 Bunds too: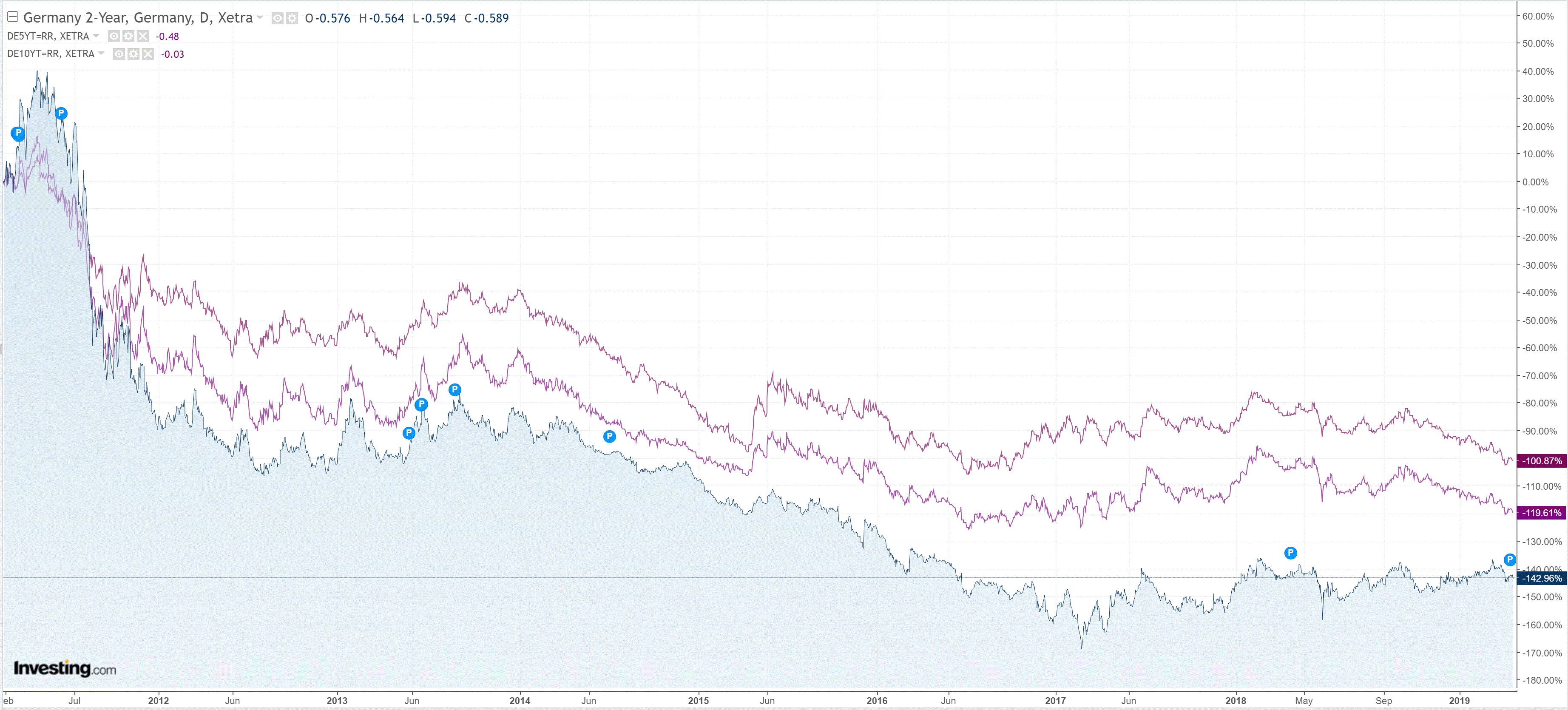 The lunatic RBA has killed the Aussie bond bid for now: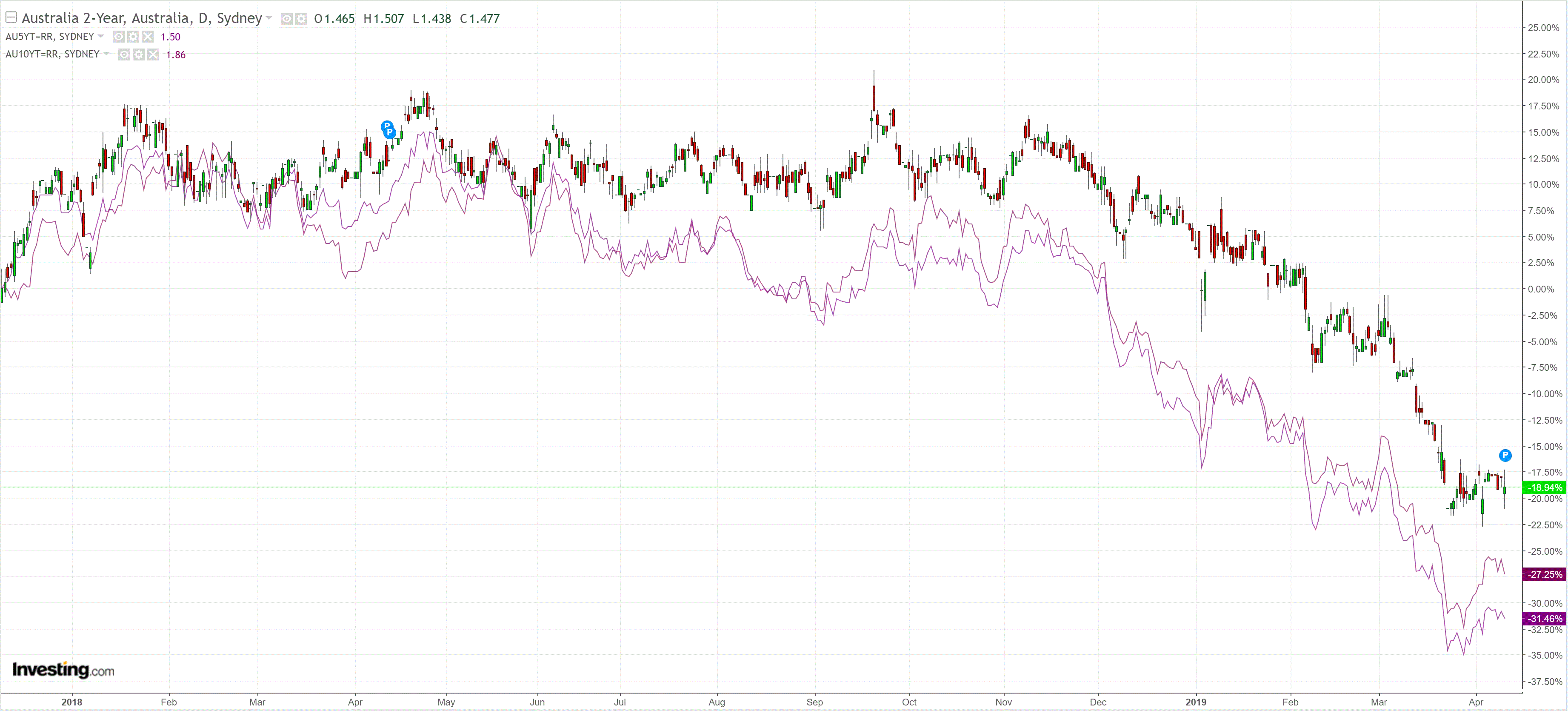 Stocks recovered yesterday's losses: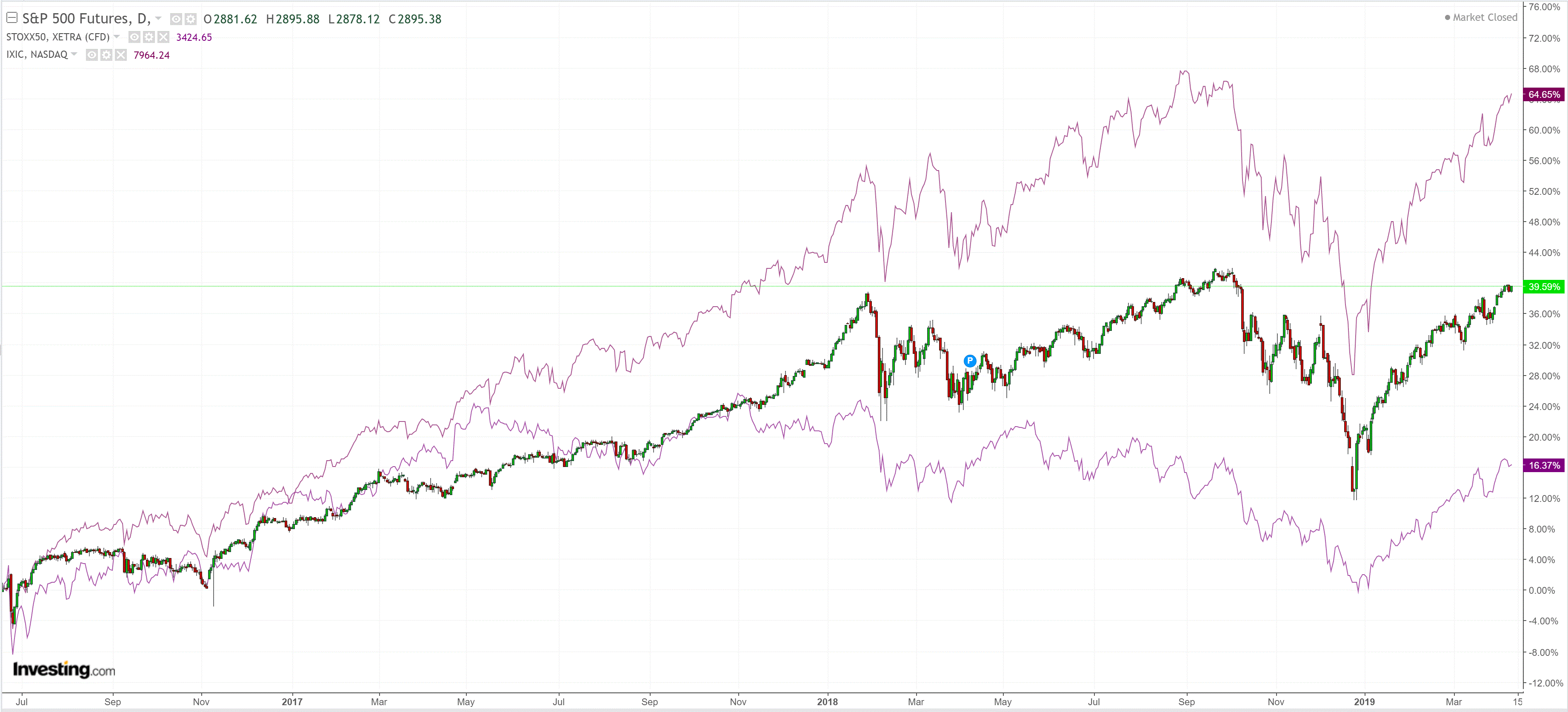 Westpac has the wrap:
Event Wrap

US consumer prices rose 0.4% in March – their biggest monthly increase in fourteen months – led mostly by stronger gasoline prices. Excluding food and energy prices the picture remains very benign, core consumer prices rose just 0.1%, taking the annual pace down from 2.1% to 2.0% (vs 2.1% expected).

The FOMC minutes noted that a majority of committee members said that risks warranted a steady stance through 2019, while "some" thought a rate hike might be needed if the economy performed as expected with growth above the long run trend. Participants did note "significant uncertainties" regarding the economy, and that, along with muted inflation, supported the patient approach.

Today's ECB meeting was uneventful; the Bank left interest rates steady, repeated that rates will remain unchanged at least through to end-2019 and gave few details about the terms of the recently announced TLRTO3 bank liquidity offering (due to start later this year). President Draghi stuck to a cautious tone on the economy, noting that the risks remain tilted to the downside and the persistence of uncertainties. The ECB confirmed that they were looking into "mitigating" the side effects of negative rates, though no details were provided; banks currently pay a flat 40bp penalty on excess reserves deposited at the ECB. They are exploring the possibility of applying a tiered negative rate that would only apply on reserves above a certain amount.

UK GDP grew 0.2% in February, stronger than expected.

Event Outlook

NZ: Food prices for March are out, on their own not market moving but of interest because analysts will then finalise Q1 CPI inflation estimates.

Australia: RBA Deputy Governor Debelle speaks view video link to the ISDA annual meeting, 12:30 pm.

China: Mar CPI and PPI data are released and are anticipated to show price pressures remaining contained.

US: Fedspeak involves Vice Chair Clarida on the 'U.S. Economic Outlook and Monetary Policy' in Washington, D.C., Williams at a housing development conference, Bowman in SF, Bullard in Missouri and Kashkari holds a Q&A via twitter.
So, the Fed remains very much on hold and ECB very much in denial. Any rebound for the latter remains highly questionable given Chinese car sales are still in the toilet: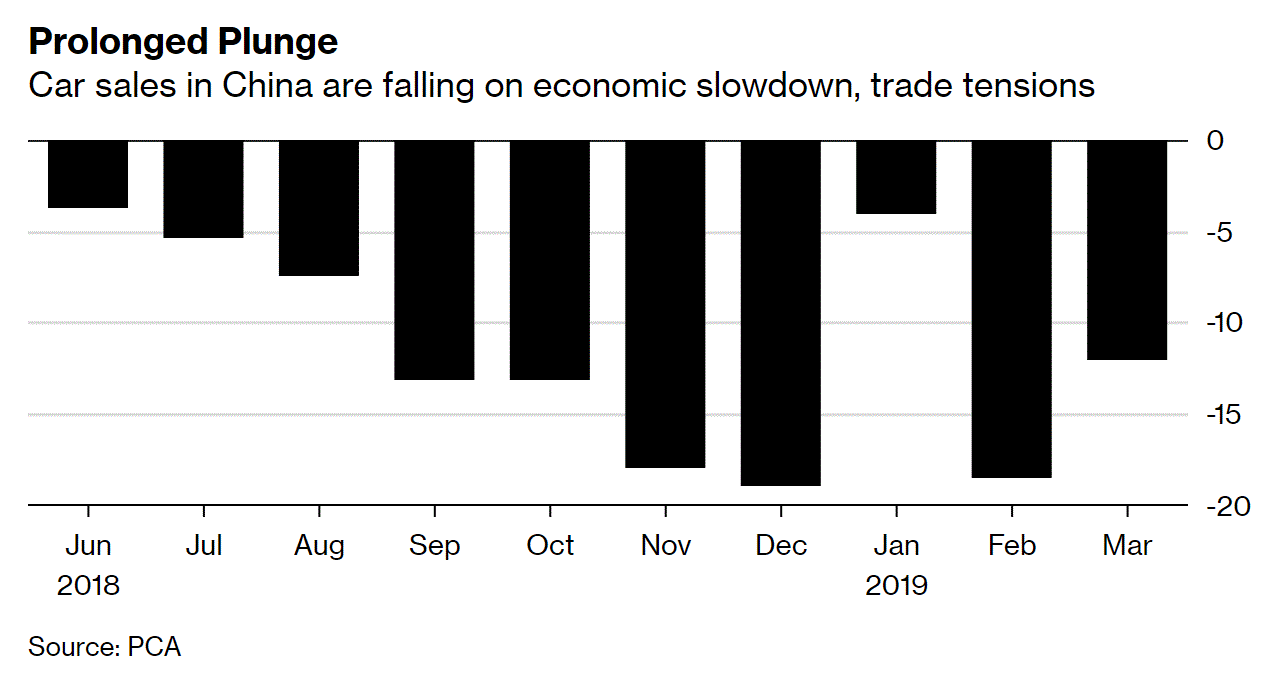 And that's your leading indicator for Germany: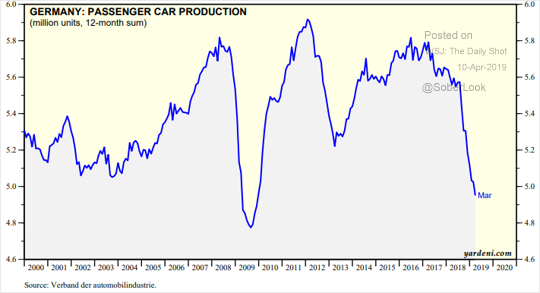 This mix would normally be driving down the Australian dollar but thanks to the lunatic RBA and its suicidal governors the currency has taken off again. I do not expect it to get very far given the Bank is wrong about the state of the economy and lowflation, as it has been for a year (or seven). But deputy loon Guy Debelle yesterday launched the currency:
At the same time as GDP has been surprisingly weak, the labour market has been surprisingly strong. The unemployment rate has declined faster than we had forecast and employment growth is stronger than we had earlier forecast.

Graph 9 shows the decline in the unemployment rate as well as the underemployment rate (which takes account of the fact that some people would like to work more hours than they currently do). The decline in the unemployment rate has been most evident in New South Wales and Victoria. In both states it is around multi-decade lows. The unemployment rate in South Australia is higher than that but lower than it is in some of the other states.

Graph 9

The strength of the labour market is at odds with the slow pace of GDP growth. As I said above, the labour market could be a lagging indicator. But at the same time, businesses continued to invest through the end of 2018 and have continued to hire into 2019. Why would they do this if growth in economic activity has slowed so much?
Because it is a lagging indicator in both data terms and what businesses do. Headcount is reduced last when cost cutting transpires because investment growth is planned well in advance and it is expensive to rehire.
The simple truth is the RBA has been focused on the wrong index for years. It's not unemployment that matters to wages and inflation any more. In the mass immigration economy it's underemployment: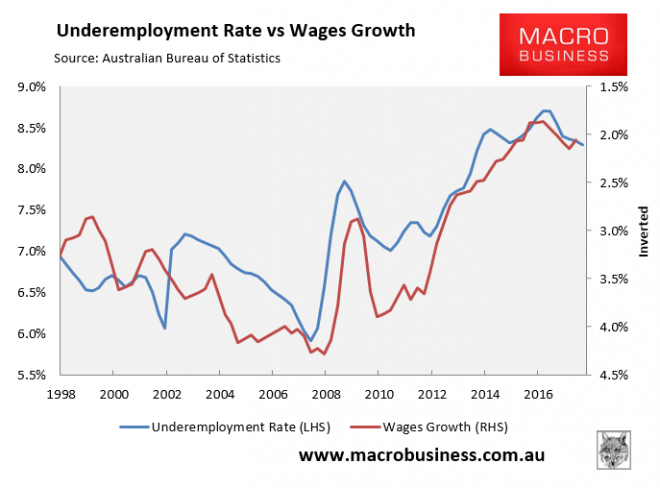 Yet the bank has not adjusted at all: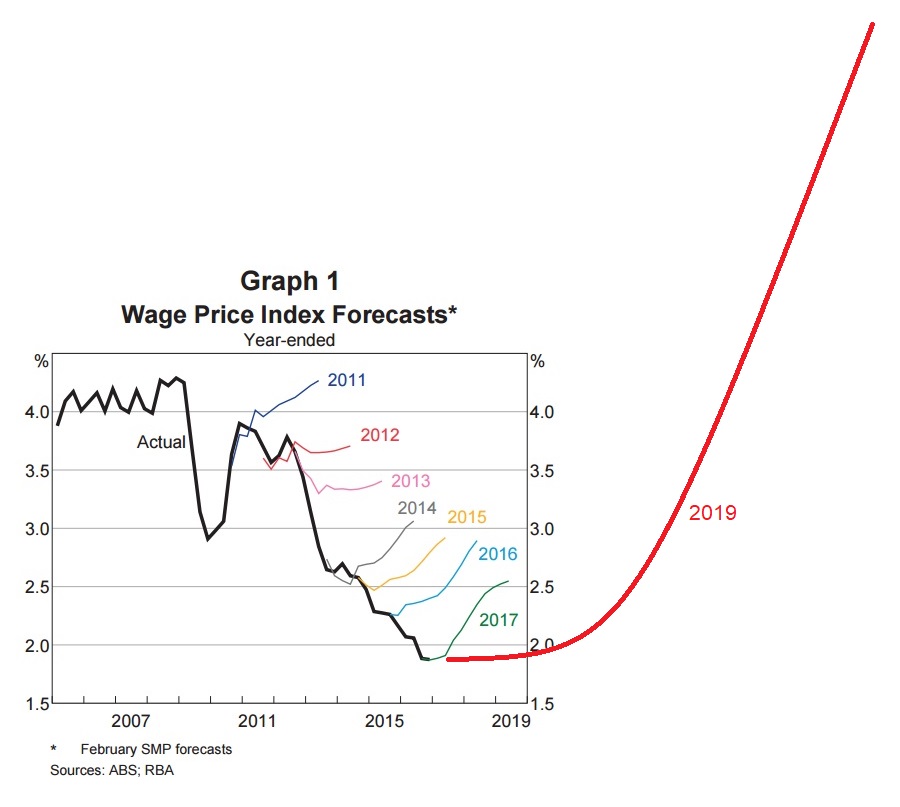 Leading to endless lowflation and the bank never meeting its mandate: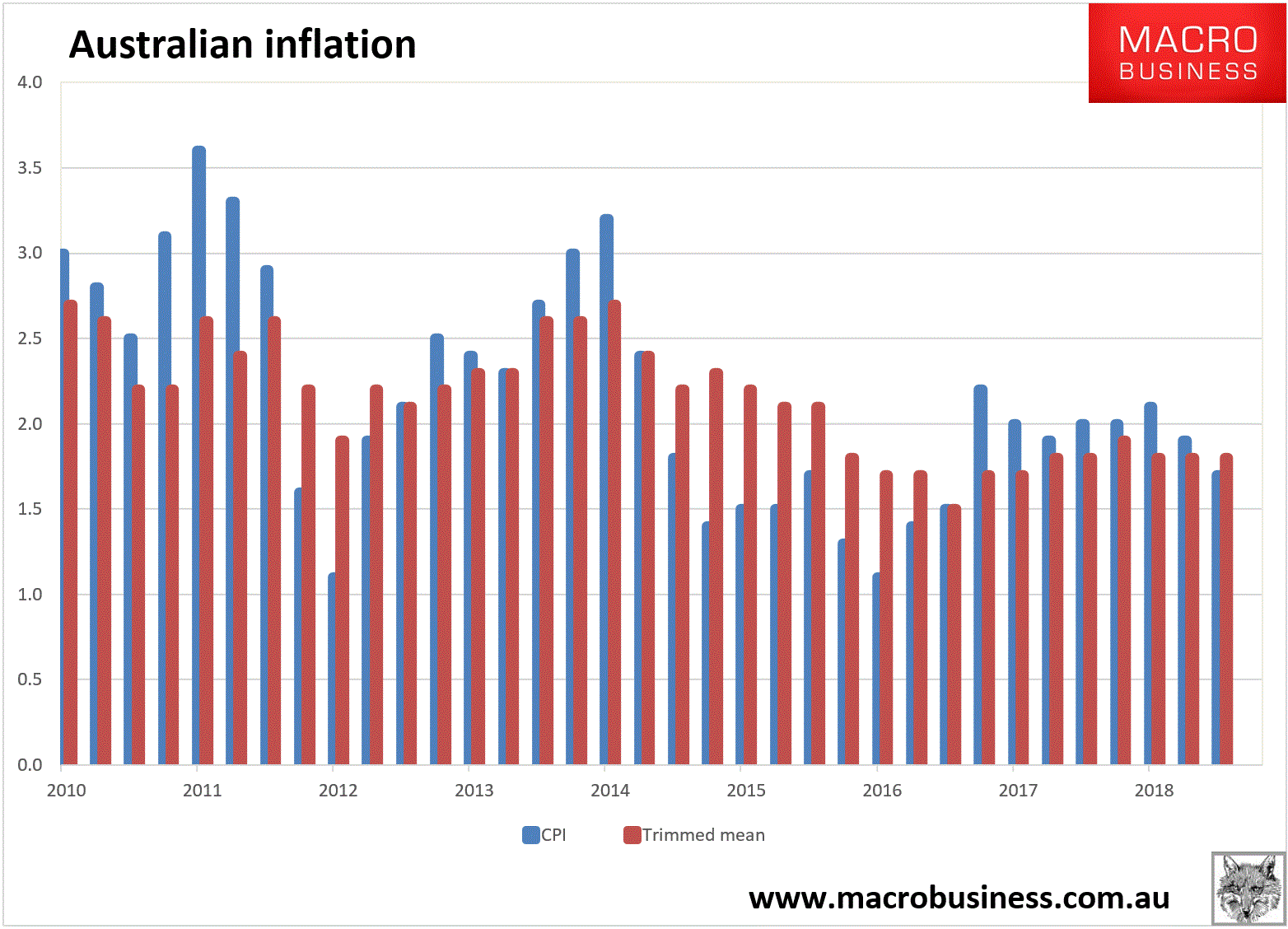 The RBA's reaction function must be formally altered to target underemployment before it deflates Australia into an abyss.
Latest posts by David Llewellyn-Smith (see all)