From The Housing Industry Association (HIA) comes another huge dose of hypocrisy (my emphasis):
"Home ownership remains one of the most important aspiration for all Australians. It is critical that an incoming federal government recognises that many Australians move into home ownership through the private rental market," said HIA Managing Director, Graham Wolfe at today's launch of HIA's Federal Election Policy Imperatives in Melbourne.

"Whether it's through home ownership or the provision of private rental accommodation, Australia needs to maintain housing supply at around 200,000 new dwellings per annum, year on year.

"HIA calls on all sides of politics to commit to more consistent policy settings that support the delivery of housing that can continue to meet the underlying demand of Australia's growing population.

"Research shows that 92 percent of all renters in Australia want to own their own home, but less than 50 percent think they will achieve this goal…

HIA's Election Imperatives highlight the need for a future federal government to:

Make housing a priority;
Improve access to housing finance for first home buyers;
Reduce the upfront and hidden taxes on housing;
Preserve genuine independent contracting as a way to do business;
Protect investment settings to support the private rental market;
Get serious about growing a skilled workforce for housing;
Maintain strong immigration to underpin economic growth;
Manage land supply and housing data;
Support the delivery of infrastructure for growing cities; and
Preserve affordability through housing codes.
Righto, so Australia is failing to build enough homes and needs to boost supply, and yet juicing demand by running immigration at triple the historical average plays no part in this supply shortage?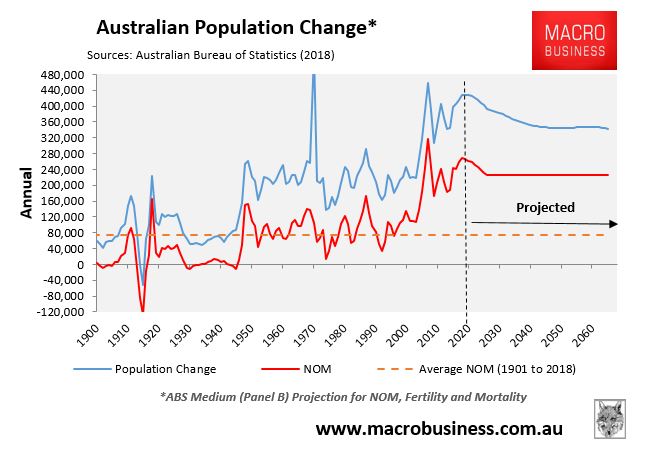 Australia has just gone through a period building more dwellings than ever, suggesting a lack of supply is not the primary problem. Rather, this supply is being overrun by extreme immigration-driven population growth, which the HIA continues to defend to the hilt and lobbies against any reduction: