Straight from the horse's mouth, via Chanticleer:
…up in Hong Kong, as least one of the Big Four was making it very clear that full pass-through was unlikely; the bank was keen that investors particularly understood that deposit rates at zero gave it very little room to move.

If we assume that somewhere between 10 basis points and 15 basis points would be passed through from an initial RBA rate cut, then perhaps the even bigger question is what might be passed on from a second rate cut?

One observer suggests that somewhere between 8 basis points and 10 basis points would be where the CFOs in the sector would hope to land. But that would certainly raise eyebrows and temperatures in Canberra.
One bank equals all four. The fact is the banks need to keep the spread. Funding costs are still too high. The recent BBSW correction stalled last week above 180bps and the spread to cash is still hitting net interest margins, via Credit Suisse: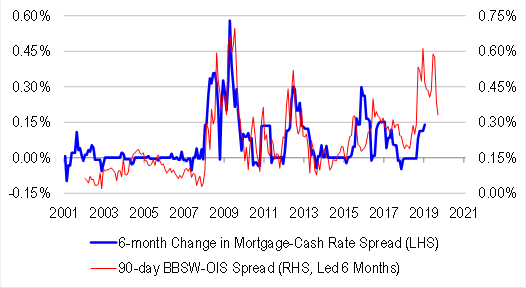 Of the 150bps available to the RBA it is my view that the real mortgage relief in hand is 60bps. The calculus is simple.  The Bank will only cut below 1% in extremis and will never go below 50bps without new management first. Banks will keep virtually half.
This is the end of Australian households great leveraging in plain view. Via UBS:
Credit growth is likely to slow to <2% y/y in 2020. Given this, coupled with a per-capita recession already, unemployment is likely to rise. We continue to expect the RBA to shift to an easing bias by May & cut 25bps in July & August – with risk of earlier and larger cuts. We are also 'calling the end' of the household super leverage cycle, after ~tripling since 1994.
The best we can hope for from here is a slow deleveraging in real terms versus nominal. But even that is a lost decade (or two) of returns.
As an investment prospect, Australia is toast.