From Roy Morgan Research:
In the December quarter 2018, the gross personal wealth (assets) of Australians including owner occupied homes, stood at $9,784 billion. This represents a drop of $512 billion or 5.0% from the September quarter when it was $10,296 billion and is now at the lowest level recorded throughout 2018. Net wealth (after debt) has also decreased by 4.3% from $8,993 billion to $8,608 billion.
These are some of the latest findings from Roy Morgan's 'Single Source Survey', which is based on in-depth interviews conducted face-to-face with over 50,000 consumers per annum in their homes. This large sample of consumers collected over more than two decades enables an accurate understanding of long term wealth trends, rather than being distracted by short term events and movements. The latest data in this release covers the three months to December 2018.
Average gross household wealth remains over $1 million
Despite the overall decline in household wealth of $512 billion over the December quarter, the average gross household wealth remains over one million dollars with $1,016,000. This is $58,000 or 5.4% below the average recorded in the September quarter and the lowest since December 2017.
The average gross wealth per capita was $502,000 in September and this has also fallen by 5.4% to $475,000 in December, the lowest for 12 months.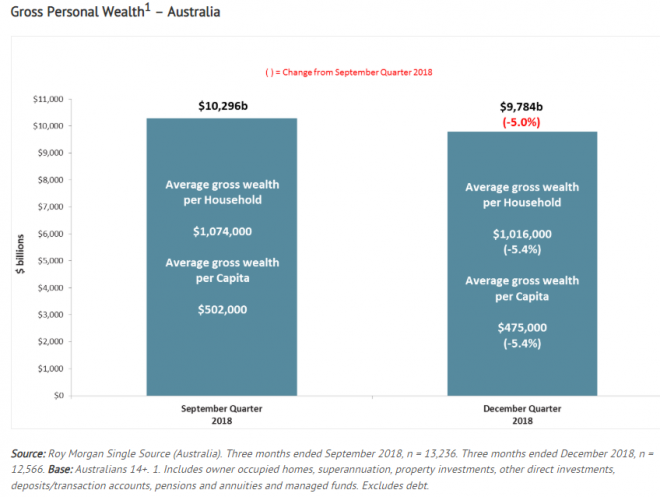 Owner occupied homes lose $270 billion in the December quarter
The decline in value of owner occupied homes of 5.2% or $270 billion, accounted for over half (52.7%) of the decline in gross personal wealth for the quarter. Other major losses were seen with superannuation and pensions/annuities down $93 billion (3.5%), property investments down $54 billion (5.4%) and other down $95 billion (6.7%). Included in others were managed funds, other direct investments and deposit/transaction accounts. The only investment category to show a gain over the year was deposit and transaction accounts which were up 5.4%.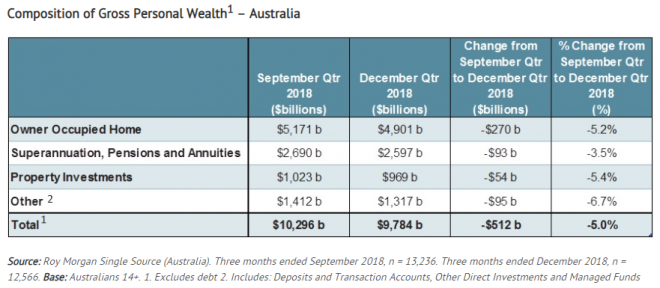 Key component of personal wealth still the home
Owner occupied homes remain the mainstay of personal wealth as they still account for half (50.1%) of gross personal wealth in Australia, despite a major drop in total value over the last quarter. Superannuation accounts for nearly a quarter (24.4%) of total wealth, followed by property investments (9.9%) and deposit and transaction accounts (7.5%).
Increases in their share of wealth in the December quarter were seen from deposits and transaction accounts (up 0.7% points), superannuation (up 0.3% points) and pensions and annuities (up 0.1% points). Losses in wealth share were other direct investments (down 0.7% points), managed funds (down 0.3% points) and owner occupied homes (down 0.1% points). Property investments remained unchanged at 9.9%.