While Australia may currently be a preferred destination for international students, as evidenced by nearly half a million student visas on issue at the end of 2018: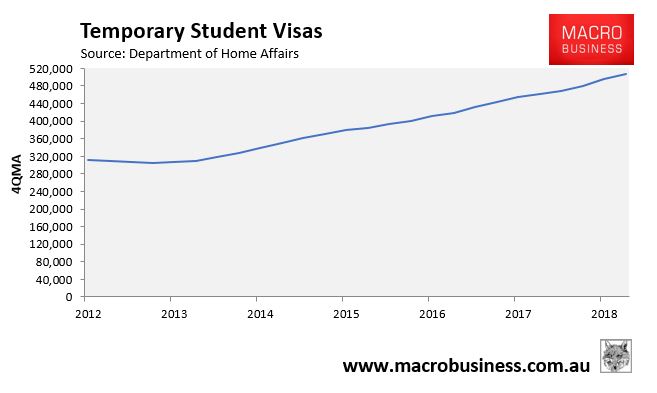 Competition for international students is heating-up, both from competitor countries and the source nations.
For example, the Canadian Government is planning to expand its presence overseas in a bid to significantly raise the number of international students studying in Canada from 572,415 in 2018:
The vast majority of foreign students have been coming from India and China, while recent years have seen surges from countries with fast-growing economies like Vietnam.

Officials from universities, colleges and the federal government are now in the early stages of developing an "aligned" strategy that will broaden campaigns in other parts of the world… in places with expanding economies and large populations of young people, like Colombia and parts of Africa…

In 2000, federal numbers show there were 122,665 valid study permits in Canada — a number that hit 572,415 last year for an increase of 467 per cent. Numbers compiled by Universities Canada say full-time international student enrolment at universities rose by about 15 per cent across Canada between 2017 and 2018…

Denise Amyot, president and CEO of Colleges and Institutes Canada, said… immigration policy changes in Canada have helped it compete with other countries in attracting the world's increasingly mobile post-secondary students. The policies, she added, have sped up visa processing times, permitted foreign students to work in Canada while they study and improved a graduate's chance of obtaining permanent residency.
Meanwhile, Australia's biggest source market – China – is increasing investment in its own universities and lifting its standards, according to University of NSW Professor, Ian Jacobs:
"They are getting more universities, and those are getting much better quality, very rapidly," said Professor Jacobs. "The Chinese government understands education is everything if they are going to be the high tech country they aspire to be."

"My assessment [is] over a 10-year period, [Chinese students] will gradually decrease. We are already starting to see a slight decrease in the number of undergraduate students from China as the opportunities increase.
As China's economy slows, and its interest rates fall, it may also be forced to protect its currency via capital controls, which may eventually tip into the trade account with limits on both students and tourists.
Regardless, the above factors alone should make it increasingly difficult for Australia to maintain current student inflows, let alone increase them.
Another headwind is that the prestige value of an Australian degree has arguably been tarnished.
That is, in order to attract, year in and year out, increasing numbers of international students, universities have dropped standards by going easy on English language skills, as well as passing low-performing students.
Indeed, at the start of the year, the Victorian Government called for a review of entry requirements into Australia's universities after evidence emerged that international students with poor English language proficiency were eroding education standards and placing undue strain on lecturers and staff.
Immediately afterwards, academics inundated Fairfax with stories about how they had been forced to lower teaching standards and pass struggling international students in order to maintain the foreign student trade, which mirrored previous reports (e.g. here, here and here).
To add insult to injury, the international student association also demanded greater regulation of overseas migration agents amid widespread cheating on English tests to gain access to Australian universities.
Ultimately, Australia has no natural competitive advantage in education. Instead, the key drawcard to studying in Australia is that it represents a reliable pathway to Australian residency, as well as employment.
The Australian's Judith Sloan encapsulated the issue with the following comment in 2017:
To sell overpriced degrees to overseas students, it is necessary to be able to offer the byproduct of permanent residence for graduates. Any reduction in the immigration numbers would make that sell quite a bit harder. No doubt, there was a bit of wink-and-nod between the government and the vice-chancellors on this topic.
Put another way, if the incentive of gaining permanent residency was removed, then Australia's attractiveness as a place to study would evaporate and the international student trade would collapse.
This was more or less confirmed recently by the lobby group representing foreign students in Australia – the Council for International Students in Australia (CISA) – which admitted that the primary objective of many international students isn't to gain a qualification, but to migrate permanently to Australia:
The Council for International Students in Australia said foreign potential students were attracted to Australia by the possibility of migrating here…

The national president of CISA, Bijay Sapkota, said… "For people coming from low socio-economic backgrounds there has to be a value proposition. If they go home they will not get value. So there has to be a possibility of immigration."
It's my firm view that Australia universities are primarily in the business of selling permanent residency, rather than education. And with it, Australia is importing a host of deleterious side effects, including the chronic population pressures being experienced in the major cities, lower wage growth, as well as the collapse in university standards.
Latest posts by Leith van Onselen (see all)