Digital Finance Analytics' principal analyst, Martin North, appeared on the 7.30 Report last night where he and Stephen Koukoulas ('The Kouk') debated the threat of negative equity as Aussie house prices fall:
New data from Digital Finance Analytics has revealed there are 3,900 households in this post code, where the owner has a mortgage higher than the property's current valuation.

It's a predicament being felt around the country.

Andrew Pennisi has been selling houses in the Carlton and Essendon areas of Melbourne since 1988.

In recent months he's seen neighbourhood prices take a dip and some of his clients are feeling the pinch.

ANDREW PENNISI, PENNISI REAL ESTATE: It's heartbreaking. I think people invest because they want to improve their life.

It doesn't really cross their mind that they're investing and losing money.

There's certainly some people that have stretched themselves a little too far, that are obviously — have concerns because they potentially, could end up in a situation where they have negative equity.

Certainly have sold properties in the last 12 months where we've had clients who have sold less for what they paid.

MARTIN NORTH: I think if you ask most households they'll say house prices can only go up. And of course for the last few years that's been true.

But unfortunately things are now looking rather different.

MICHAEL VINCENT: Analyst Martin North runs his own housing data firm and warned about the property downturn before the slide began.

He says if a home buyer loses their job or has another life shock, such as a death in the family or a divorce, that's when negative equity can really bite.

That becomes a massive debt burden?

MARTIN NORTH: Yes.

MICHAEL VINCENT: His own research found there are thousands of houses in Sydney, Melbourne and Perth that are worth less than what the buyer paid for them.

While the Reserve Bank's data doesn't match Martin North's pessimistic findings, it does show a stark national divide.

15 per cent of loans to owner occupiers and investors in WA and the Northern Territory, are in negative equity.

In Queensland, driven by drops in regional areas, it's almost 5 per cent.

But in New South Wales, Victoria and Tasmania, negative equity accounts for less than 2 per cent.

STEPHEN KOUKOULAS: The critical thing for any homeowner is whether they have a job. If you've got a reliable job, job security and even if you're getting a modest 2.5 per cent pay rise each year, you're going to be fine.

MICHAEL VINCENT: Economist Stephen Koukoulas has a much more optimistic view of the housing market.

STEPHEN KOUKOULAS: If you look at some of the bad debts or loaners – that is people falling behind in early payments – they're actually tracking near record lows.

MICHAEL VINCENT: Stephen argues that with 600,000 more migrants expected to arrive over the next two years, there will be plenty of demand for homes. He also believes that with the banks raising the bar on home loan applications, there will be fewer bad loans in the future.

STEPHEN KOUKOULAS: You've got to clear more hurdles in terms of proof of income and importantly proof of expenditure, to confirm that you're going to be a viable customer.

MICHAEL VINCENT: Both Martin North and Stephen Koukoulas believe any downturn in the economy will force house prices lower.

STEPHEN KOUKOULAS: There is a risk that we do see a hard landing and this fall in house prices feeds into concerns about the economy.

MARTIN NORTH: We are seeing negative equity now based on local conditions here. If in fact we got an international impact as well coming in for example the US, China or Brexit, that could actually drive prices further south and that would actually make negative equity worse in Australia.
On his blog, Martin North noted that The ABC omitted some crucial parts of his analysis:
They missed two important points I made in my interview, first my data is households not loans, and second the falls in value should require banks to mark to market their portfolios.
The maps can be seen here. This video walks through the mapping in detail.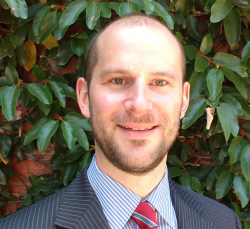 Latest posts by Leith van Onselen
(see all)