Via the AFR:
Macquarie Bank is axing popular "Bank of Mum and Dad" financing and borrowing for self-managed super fund investment property as it continues to overhaul its residential property operations.

The bank, which recently announced it was no longer underwriting new "home-branded" loans for several household-name lenders, stopped offering family loan guarantees on Monday and will end SMSF residential lending from April 30.

"We are streamlining our core Macquarie loan offering," the bank is telling mortgage brokers in a confidential memo
MQG has been on a wild lending binge to investors: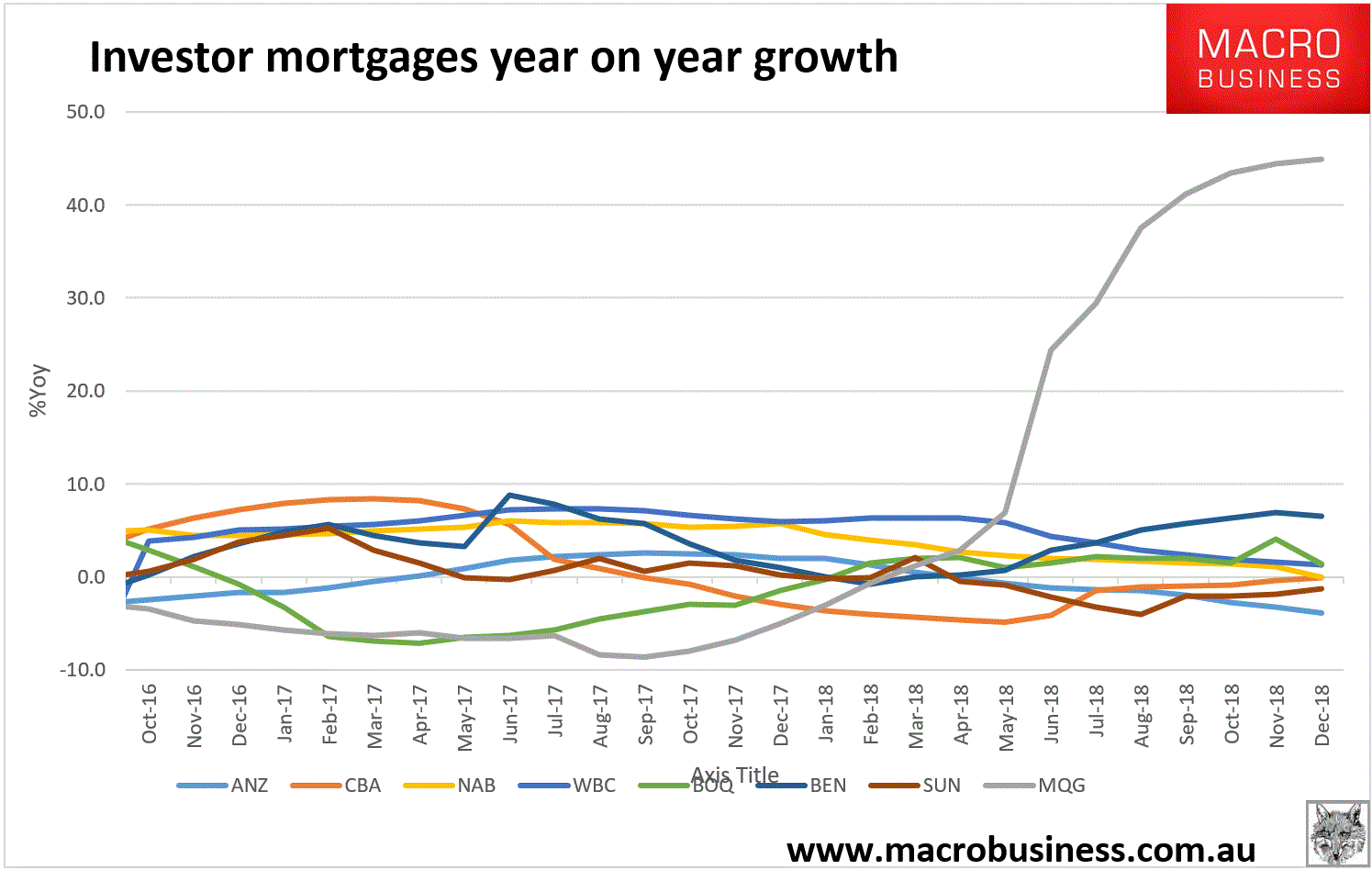 There goes the last SMSF lender in Australia. Pulling back on extreme rehypothecated mortgages probably qualifies as Mad Macquarie battening down the hatches. After all. Bank of Mum and Dad fools are twice as likely to experience mortgage stress, according o the RBA:
…a rising though still small share of FHBs are receiving financial assistance from family and friends (Figure 11).25 It is possible that FHBs who have received help to meet the deposit requirement have less financial discipline than FHBs who have saved the entire sum independently…

Looking at indicators for financial stress, we find that FHBs who received help with their loan are much more likely to have also received help from family and friends postpurchase. Around 23 per cent of these household received additional assistance in the years following their initial purchase, compared to 11 per cent of independent FHBs (Figure 12)… Parents willing and able to help their children are likely to continue to do so throughout their life. As such, it doesn't necessarily follow that these households are more likely to, say, default on their loans. However, FHB households who received help are also more likely to experience cash flow problems in the form of not being able to pay their utility bills or meet their mortgage repayments due to a shortage of money. This is more telling.
But that has not been tested during a bust that destroys wealth for the oldies as well.
Latest posts by David Llewellyn-Smith (see all)