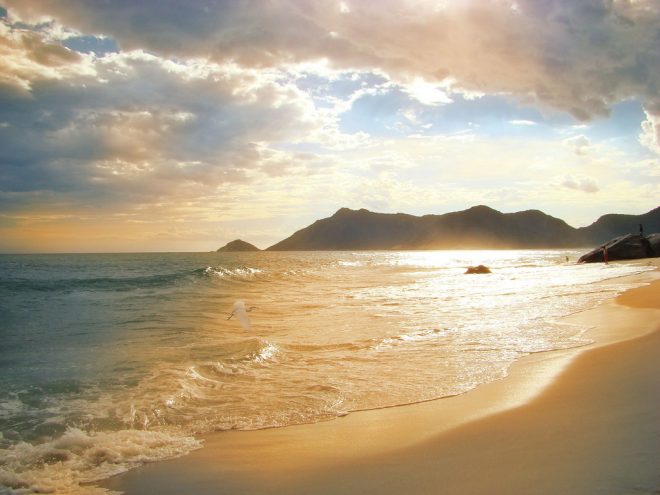 The confluence of a poor night on Wall Street, a stronger Yen, the Huawei story, plus a bunch of nasty local data has seen risk mainly taken off the table throughout Asia. Locally, traders are bidding a pup to the moon on the ASX200, while the Aussie dollar tears back on the record trade surplus, ignoring all the domestic signs of a recession.
The Shanghai Composite is treading water going into the close, up a few points to just pip above 3100 points. The Hong Kong Hang Seng Index conversely if off by more than 0.5%, currently at 28904 points, unable to make any headway above 29000 points as it fails again to pull itself out of a near week long malaise after rising too fast from its recent trend line: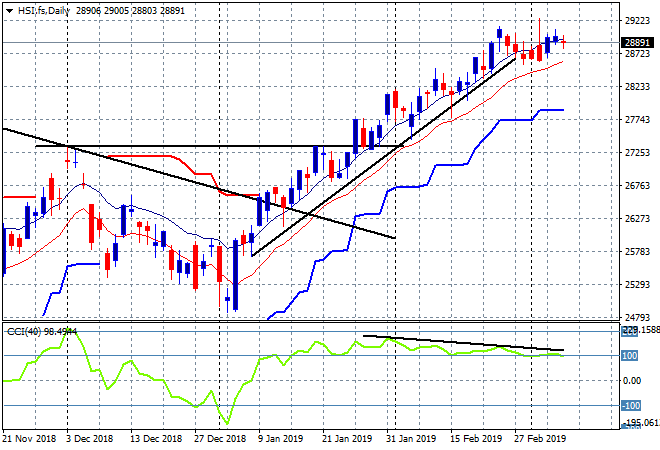 US and Eurostoxx futures are falling again as caution reigns with tonights ECB meeting the laser like focus for traders. The S&P 500 four hourly chart looks extremely ominous as it craters below the lower edge of the trend channel, setting up for a reversion back down to monthly support at 2630 points or so: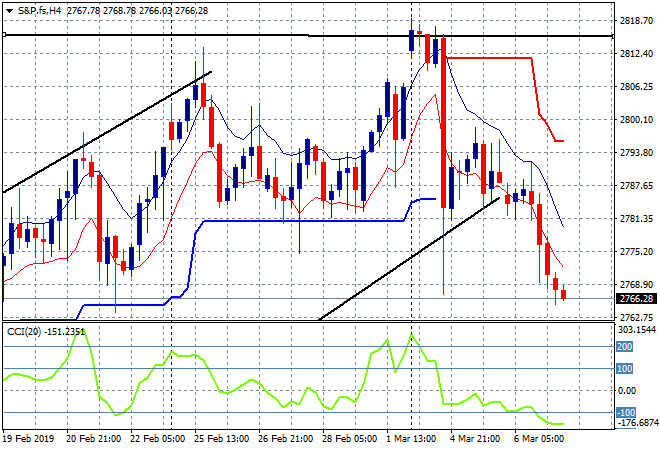 Japanese stock markets were the worst performers again as Yen strengthened with the Nikkei 225 currently down nearly 1% to around 21403 points, making a new weekly low and nearly taking it back to its previous breakout level at 21000 points in early February. The USDJPY pair continues to slip after failing to find strength overnight, rejecting overhead resistance at the 112 handle with price now firmly bunching around the low moving average, so watch ATR support at 111.50 carefully tonight: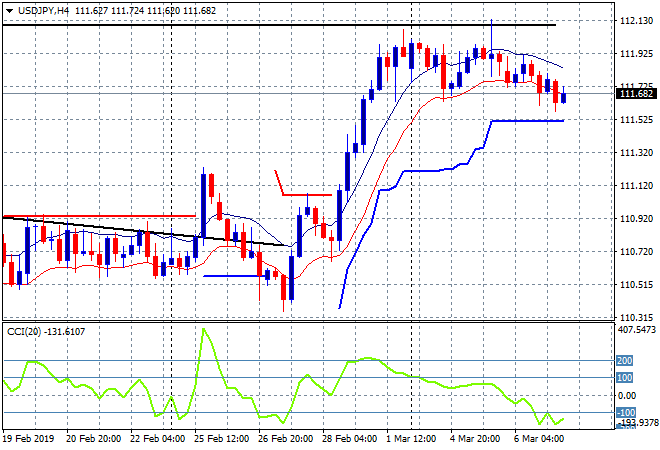 The ASX200 is the standout by actually generating a positive result, currently up nearly 0.3% despite the crashing retail sales, unsustainable trade surplus and a higher Australian dollar. It's continueing to launch higher above 6200 points, now at 6263 points! The Australian dollar has bounced back on the trade surplus, finding very firm resistance at the 70 handle and launching nearly half a cent higher but can it get back above the key weekly support level at 70.60 or is this just a swing play: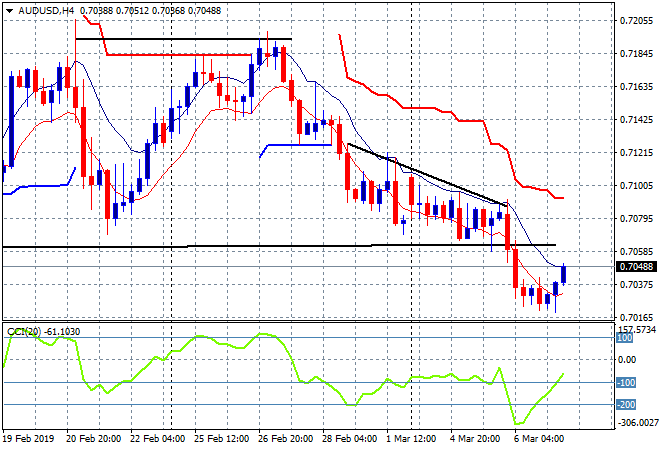 The economic calendar will be dominated tonight by the latest ECB meeting but theres also a few US releases to keep an eye on, including the initial jobless claims and consumer credit.