The Coalition is set to announce a small cut in Australia's permanent non-humanitarian migrant intake in April's pre-election Budget to a cap of 160,000 from 190,000. From 9 News:
Cabinet has authorised the changes, which would slash the targeted annual intake of permanent migrants by up to 30,000…

A regional settlement policy would require a certain number of skilled migrants to live for at least five years in cities other than Sydney and Melbourne…

The government will also provide incentives for foreign students to attend universities away from the two major cities, as part of its bid to reduce congestion in Sydney and Melbourne…

Mr Morrison said he would continue to expand migration schemes as workforce demands presented.
Cutting the non-humanitarian migrant intake to 160,000 would basically match the 2017-18 intake of 162,500: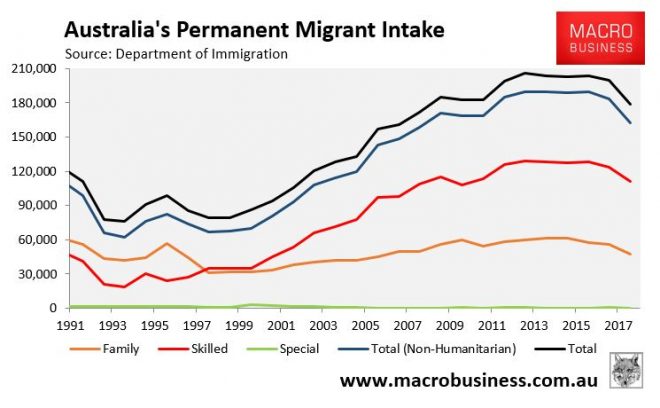 However, it comes as Bridging Visas handed out to migrants with 'substantive claims' for permanent residency have skyrocketed under the Coalition's watch: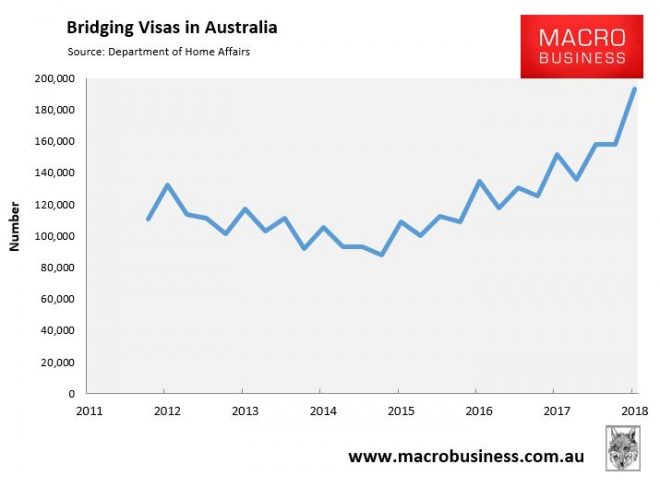 It also comes after the Coalition has recently opened multiple pathways for foreign workers to gain entry into Australia, including the following.
A brand new permanent migration pathway for low skilled, low paid, non-English speaking foreign workers:
The Government has opened a gateway for foreigners with basic farm or hospitality skills to move permanently to Australia on a work visa.

New regional migration agreements for the Northern Territory and south-west Victoria will lower the criteria for skills, language and income for migrant workers…

Typically, employment visas must be for workers with competent English and pay of at least $53,900 per year.

However… a visa may be approved for a baker, barista or hairdresser with language or income less than these thresholds.
The expansion of its Accredited Sponsor Scheme (ASS), which will provide access to work visas within five business days for an expected 2,500 eligible companies:
The government's Accredited Sponsor Scheme for work visas allows for rapid processing of skilled applicants seeking to work in more than 900 trusted businesses and government organisations, lasting for five years once approved…

Mr Coleman has instructed the Home Affairs Department to establish a new dedicated team to identify and invite employers to join the expanded scheme, with expectations it will almost triple to 2500 companies by the end of 2019…

"…where skills are unavailable in Australia, we must ensure businesses can access the global pool of skilled workers so they can continue to thrive and generate the best economic contribution for Australia"…
Two new visa schemes allowing aged care providers and religious institutions to employ migrant workers:
The Australian government has announced two new labour agreements that it claims will support the country's multicultural communities…

The new agreement for the aged care sector will allow aged care facilities to sponsor carers with the required skills to care for communities' elderly, even though the occupation of the aged care workers is not in the list of eligible occupations…

A new occupation of Religious Assistant is being made available for religious institutions broadening the scope for sponsoring overseas workers while expanding the scope of work for the existing occupation of Minister of Religion…

Mr Coleman said there are 23,000 ministers of religion in Australia and he expects strong growth in the numbers of both the ministers of religion and religious assistants in the next five years.
Expanding access for more migrant workers to work on Australia's farms:
Visa rule changes will allow skilled foreign workers hired for seasonal work on farms to stay in Australia for up to four years…

The changes to the Regional Occupation List, which build on the Working Holiday Maker visa program and the Seasonal Worker Program, are designed to target workforce shortages…

In January, the Morrison government loosened restrictions on two schemes that bring temporary farm workers into Australia, lifting the cap on the 462 visa for working backpackers from particular countries.

Under the latest changes, migrants hired for agriculture work will get four-year working visas but must remain in a specified region and work in some type of farming.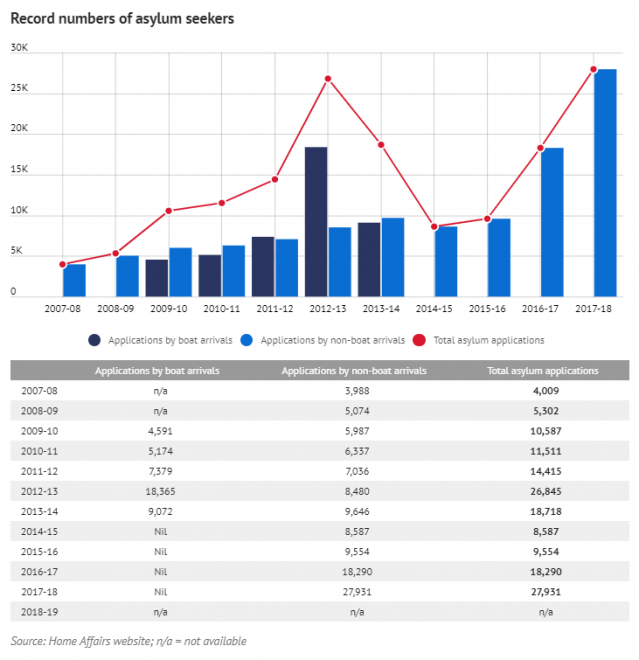 In short, the Morrison Government has made a small cut to one part of the migration program, while throwing the door wide open in other areas.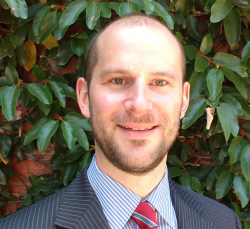 Latest posts by Unconventional Economist
(see all)