DXY was soft Friday night. EUR bounced. CNY fell: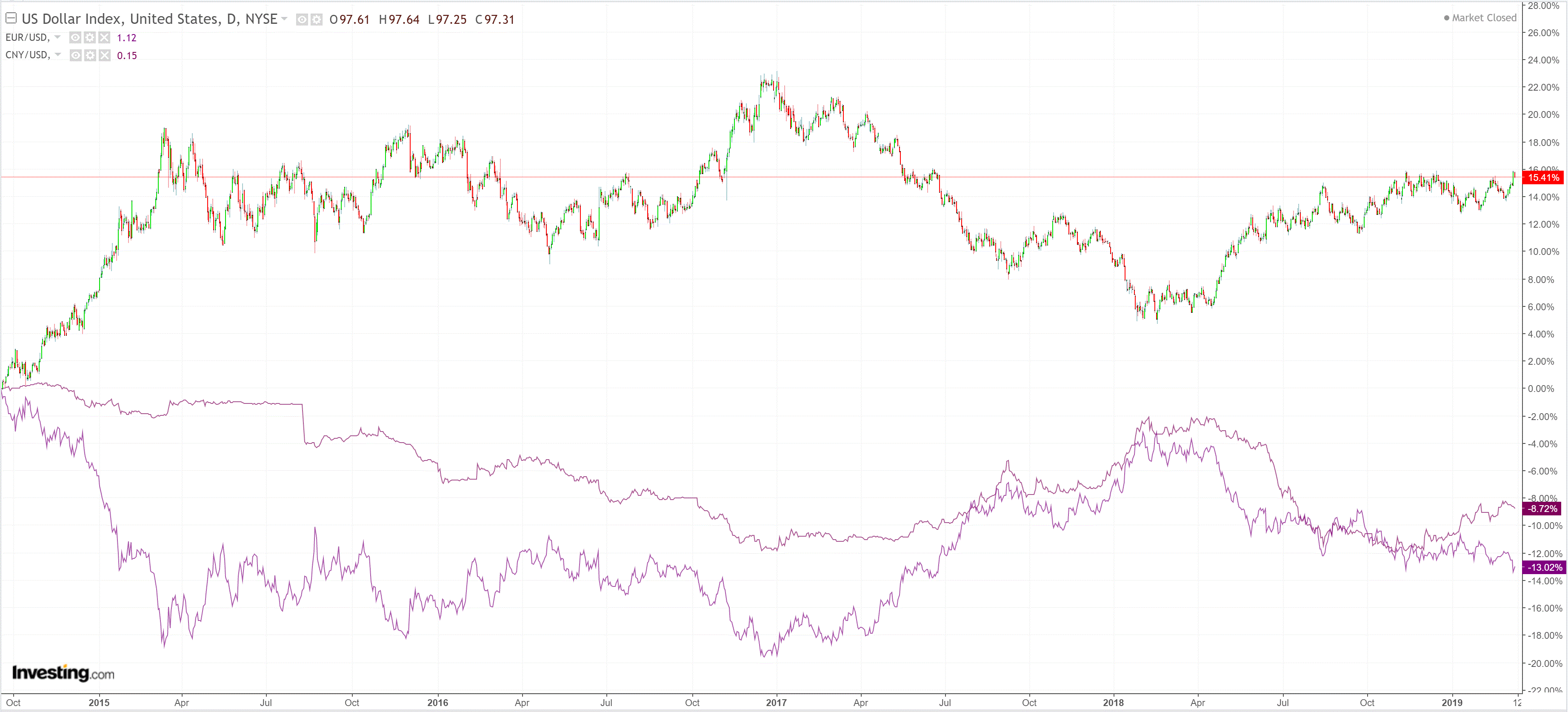 The AUD rose against USD but fell otherwise: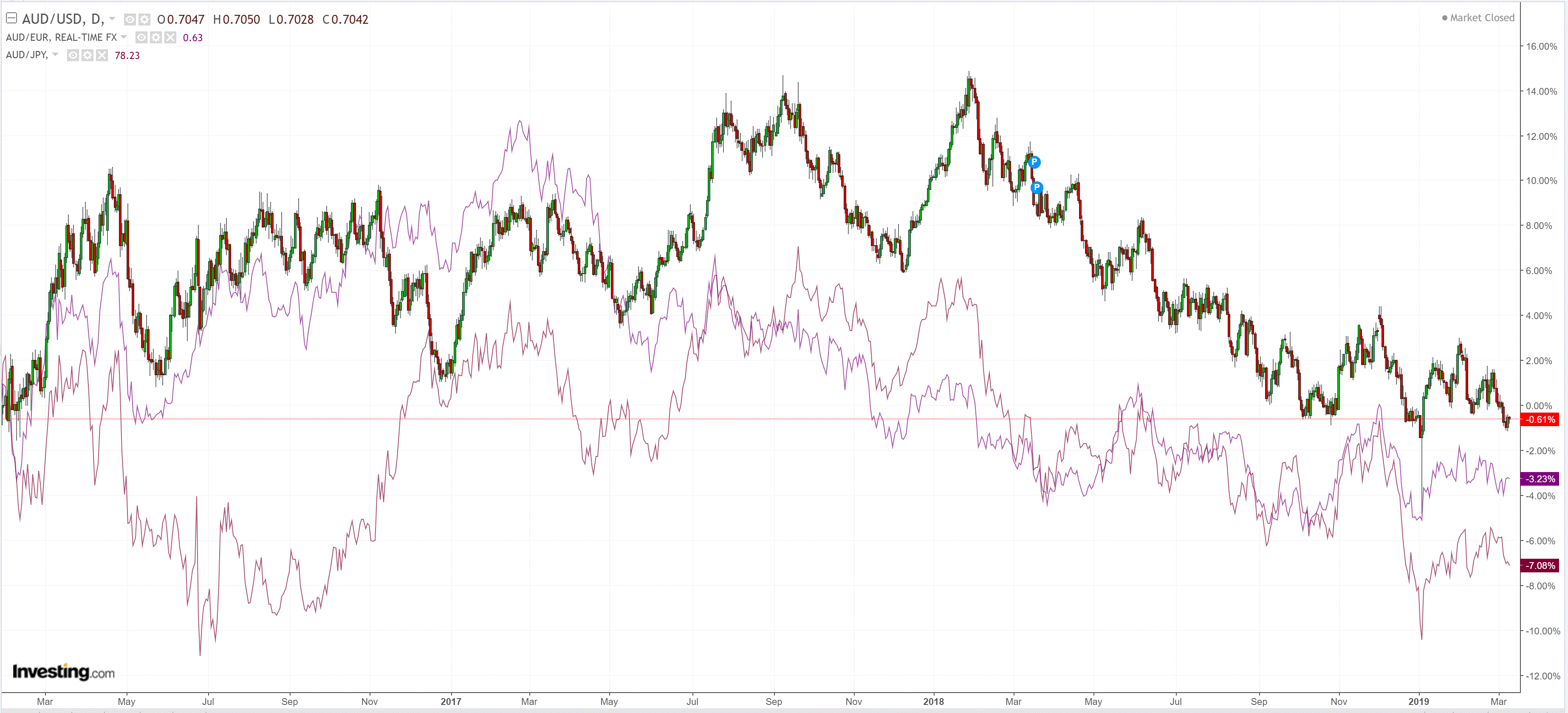 Gold jumped:
Oil didn't: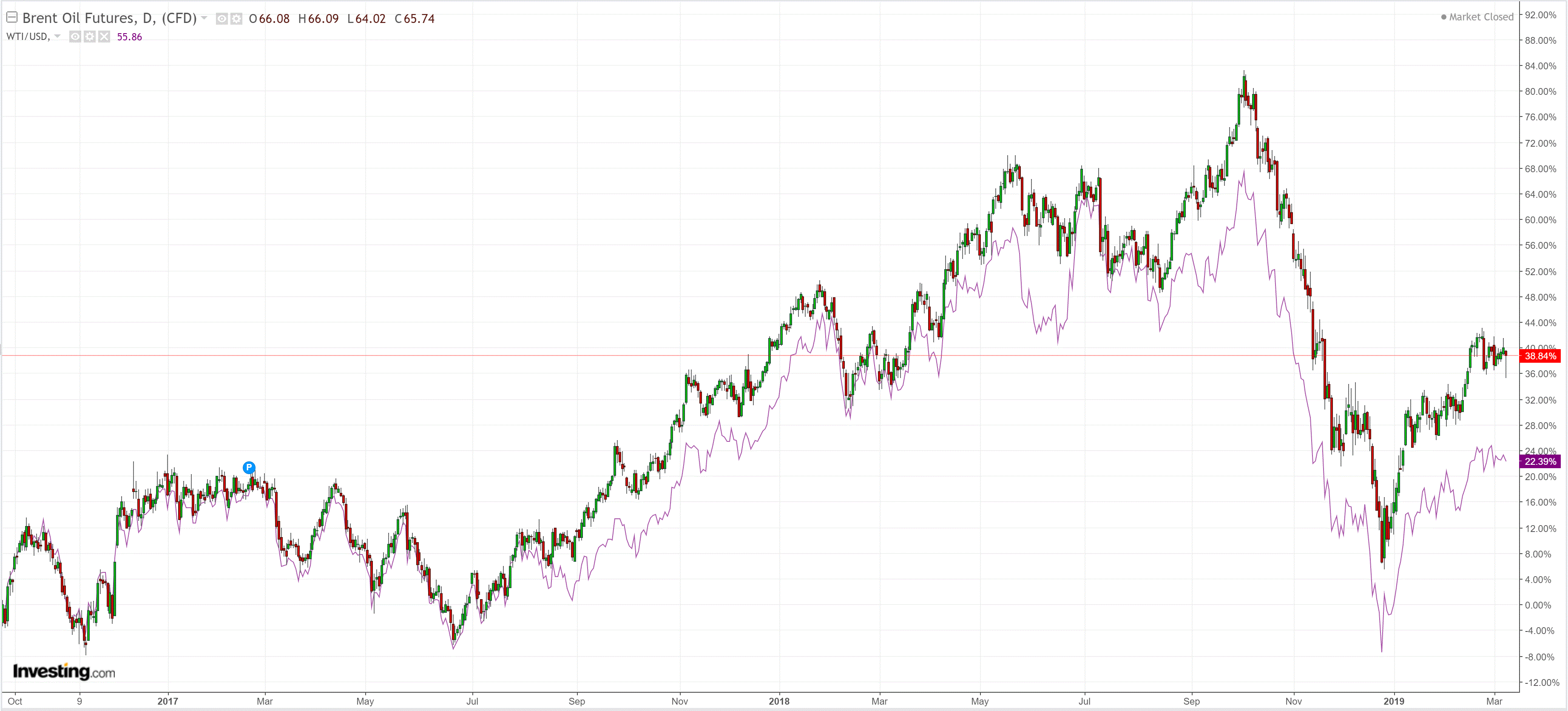 Nor base metals: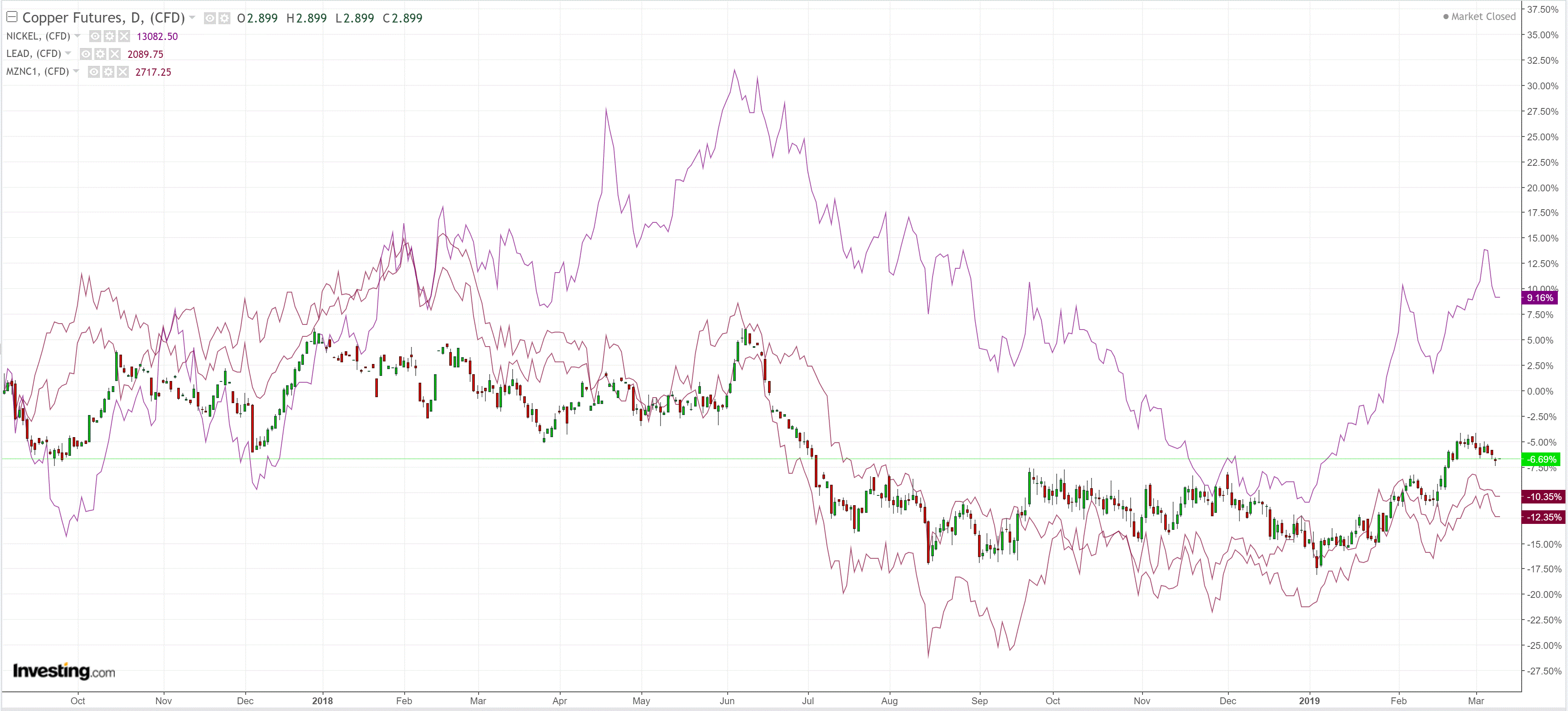 Miners fell: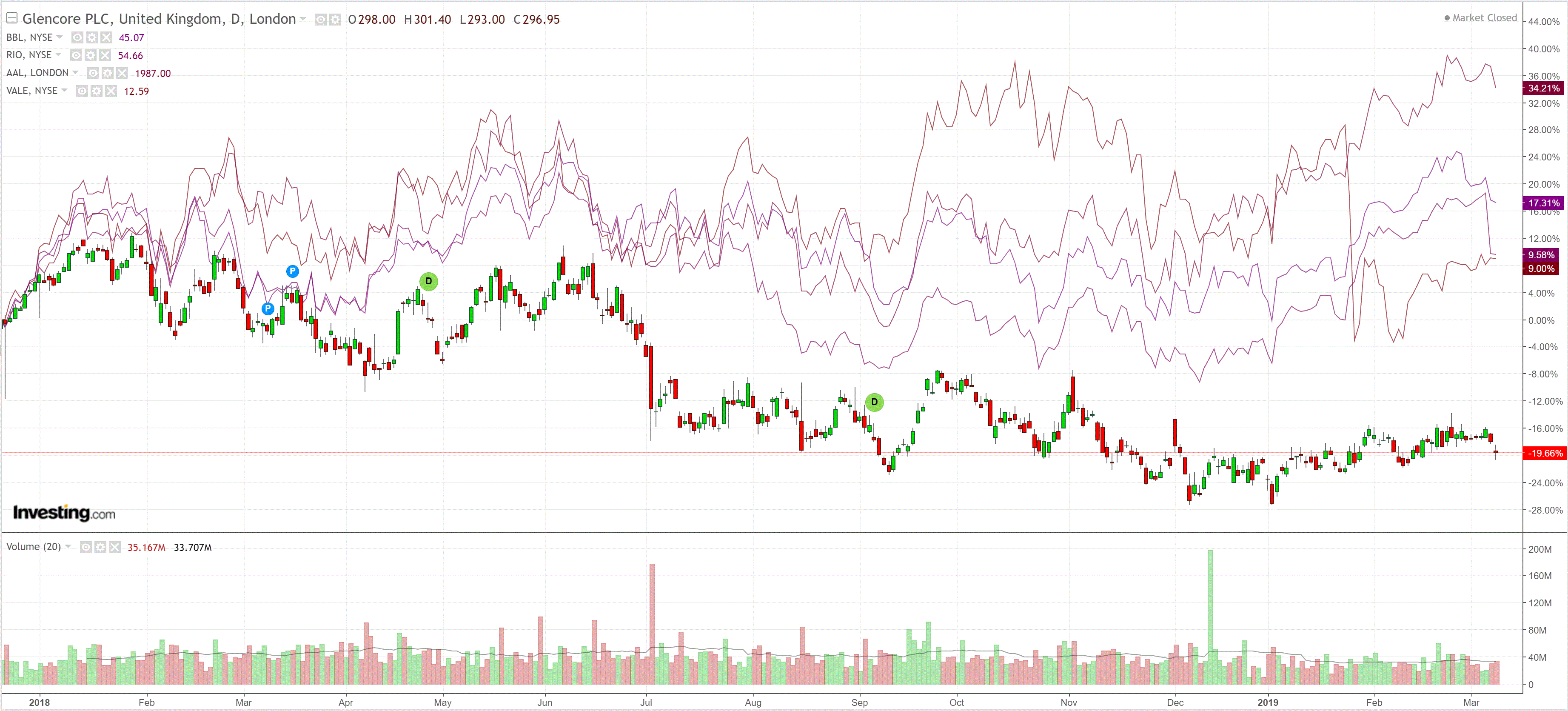 And EM stocks: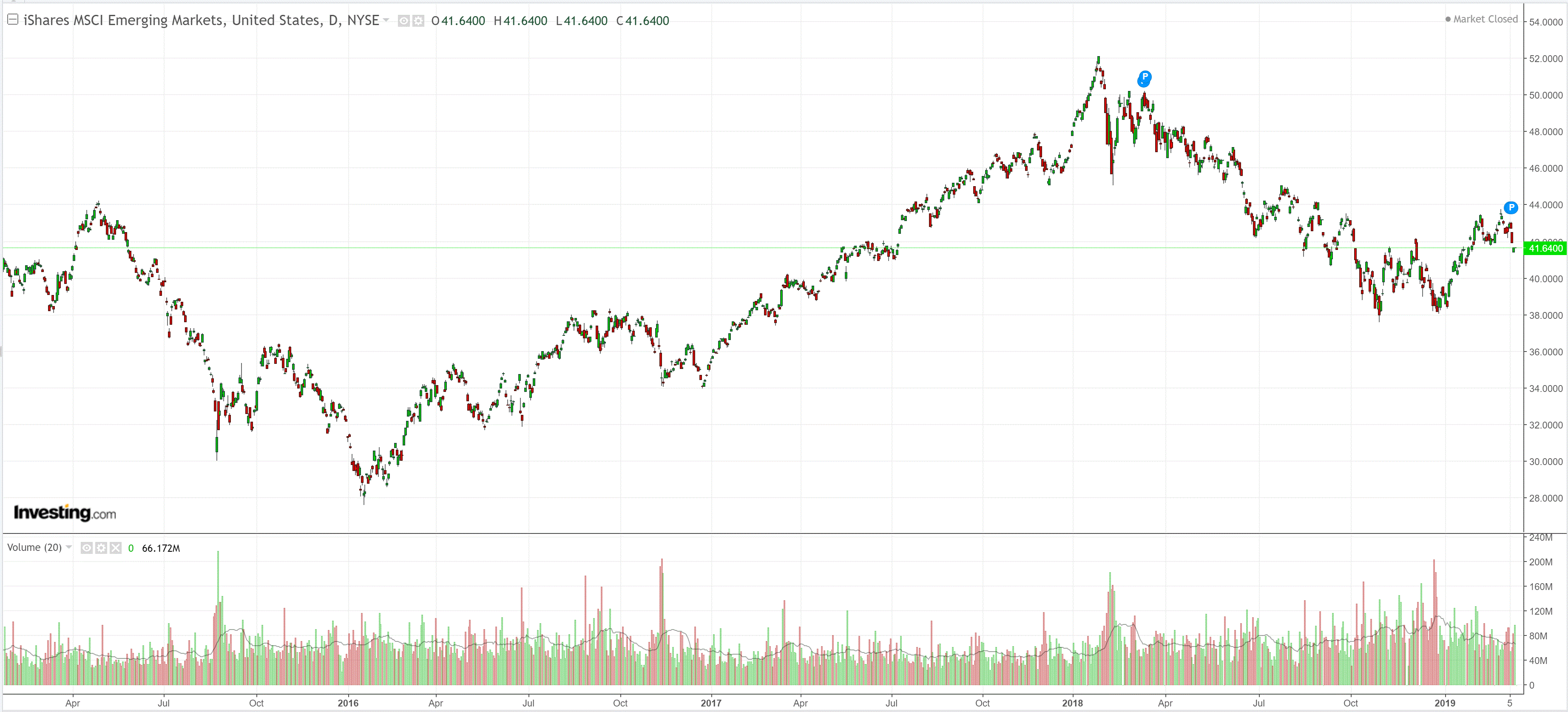 And junk: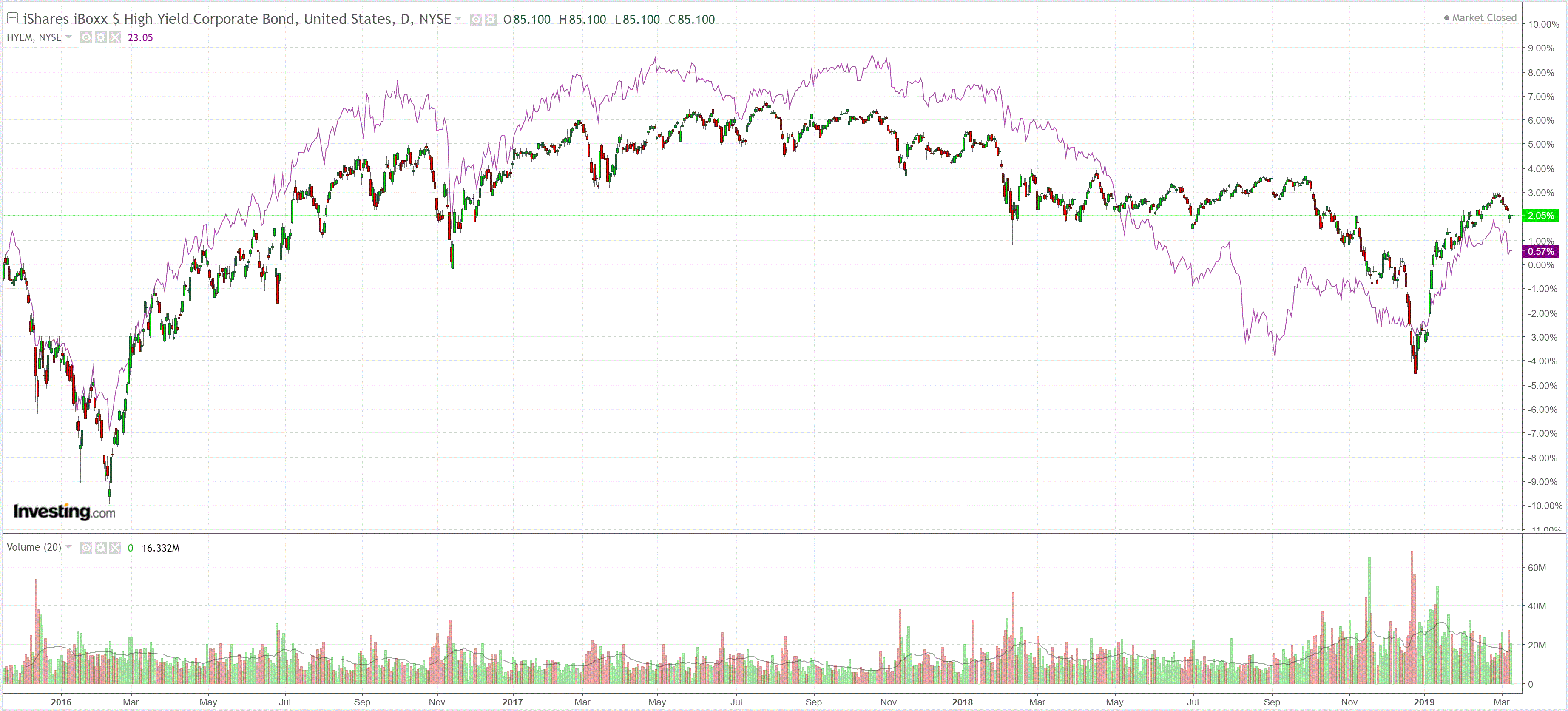 Treasuries were bid: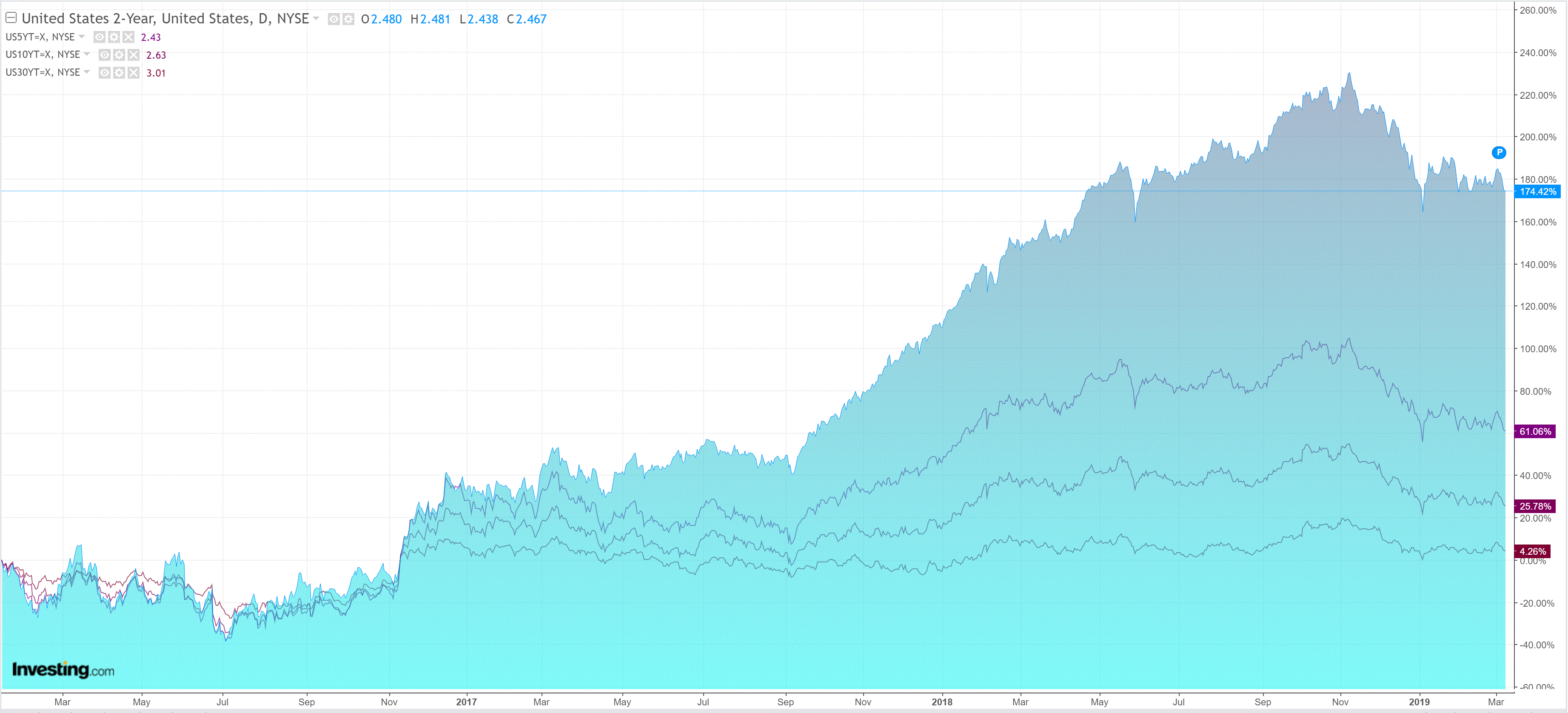 And bunds: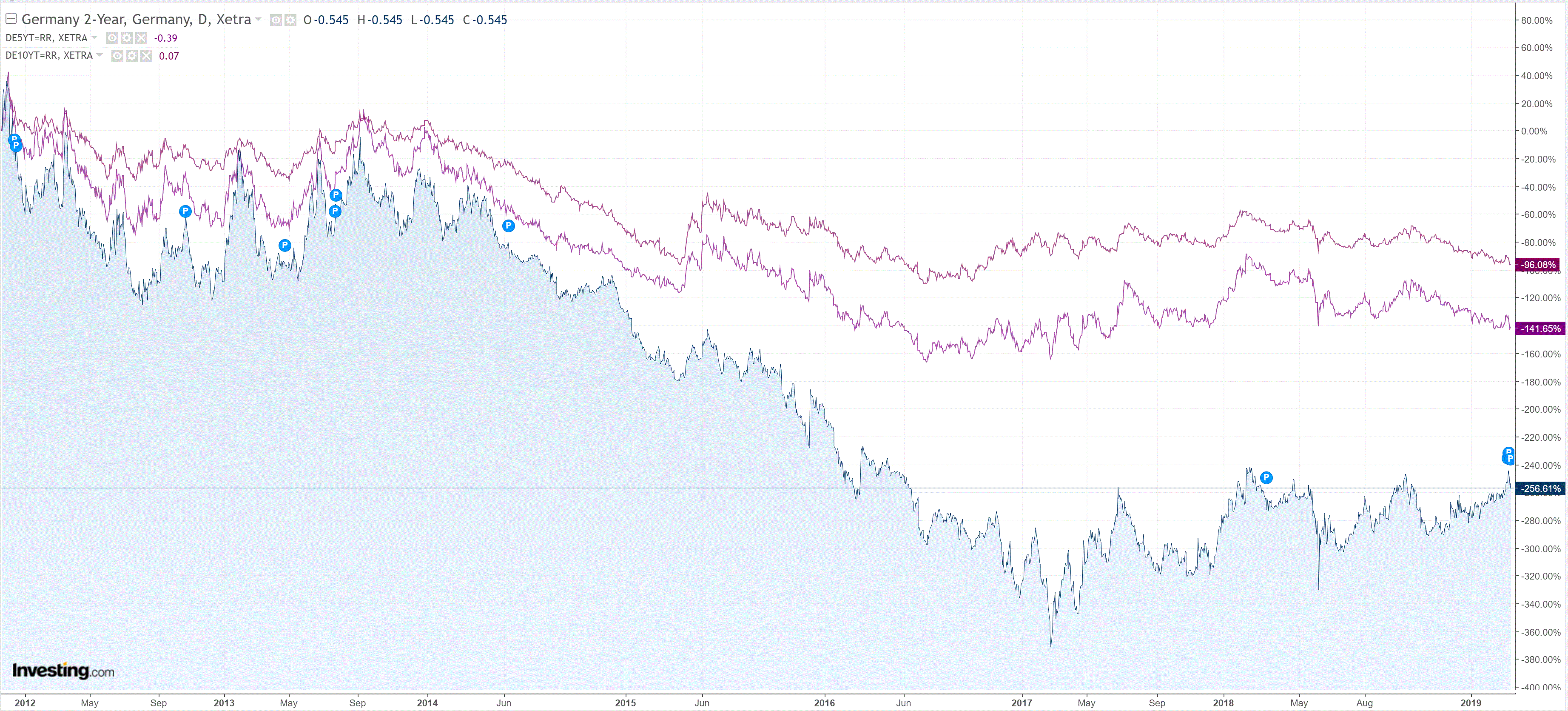 Stocks were flat: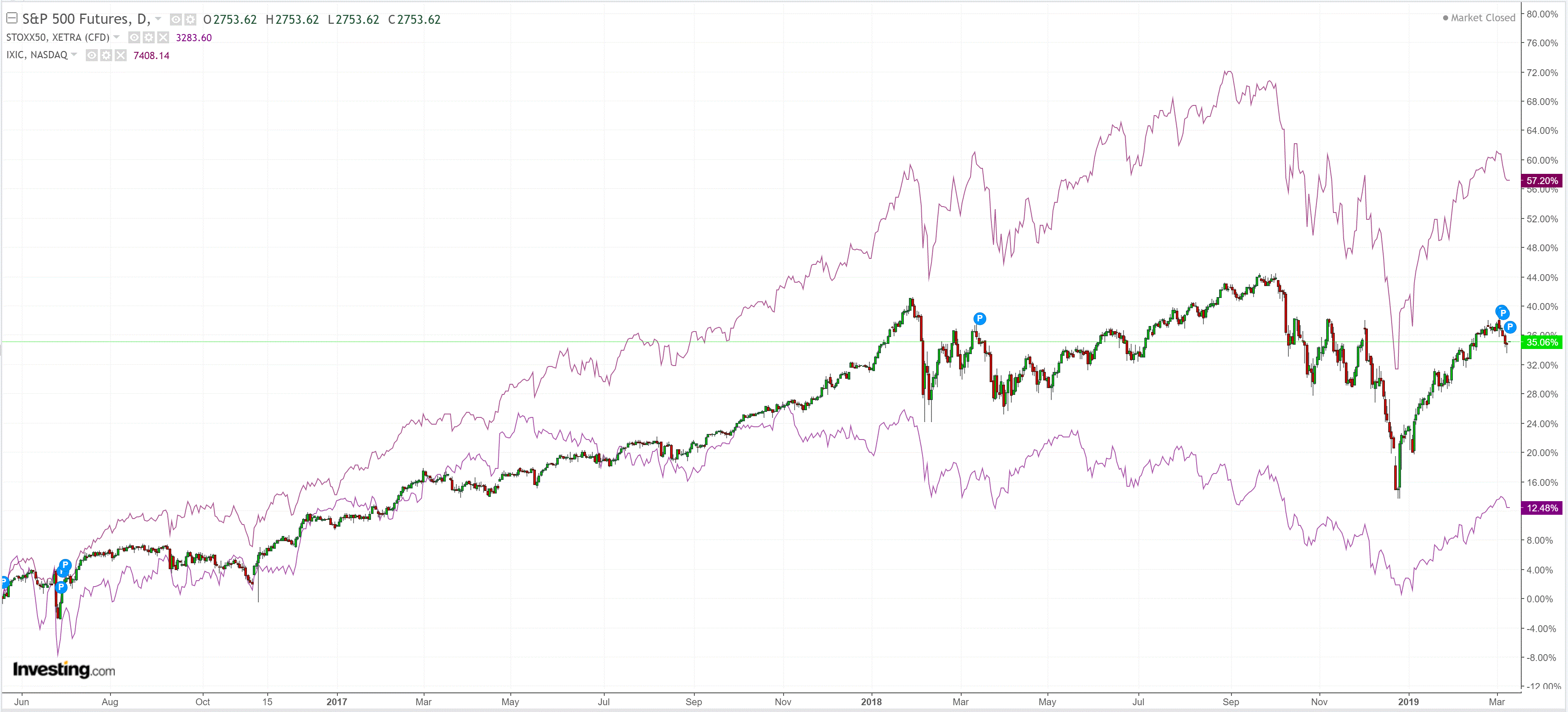 Westpac has the wrap:
Event Wrap

US jobs creation came to a grinding halt in February, payrolls growing a mere +20k – a significant miss versus expectations at 180k. The details are healthier though, including a fall in the unemployment rate to 3.8% from 4% and continued firming in average hourly earnings, up 0.4% in the month, taking the annual pace to a new cycle high 3.4%.  The weaker jobs print may include some noise from the earlier partial government shutdown, inclement weather, and payback for recent outsized gains (payrolls grew 311k in Jan and 227k in Dec).

Fed Chair Powell acknowledged downside risks to the economic outlook have increased, in a speech given after markets had closed. He cited global disinflationary pressures, but added there was nothing in the outlook requiring an immediate policy response. He suggested the dot-plot communications could be made clearer.

German factory orders declined 2.6%m/m in Jan, -3.9%y/y (est. +0.5%m/m, -3.2%y/y), reflecting the weak new order components of recent PMIs.

French, Spanish and Italian industrial production data for Jan beat pessimistic expectations: France +1.3%m/m, +1.7%y/y (est. +0.1%,m/m, +0.5%y/y); Spain +3.4%m/m, +2.4%y/y (est. +1.6%m/m, -1.6%y/y); Italy +1.7%m/m, -0.8%y/y (est. +0.2%m/m, -2.0%y/y). The surprising lift in production will increase attention on next week's German and Eurozone production releases.

Reports from EU's Barnier stressed the lack of progress on Brexit with UK negotiators and he and other EU sources suggested that UK had failed to provide new proposals. Barnier did state that EU was prepared to offer a unilateral customs exit option but that N. Ireland would not leave that union. That would appear to be little changed to their prior backstop proposal.

Event Outlook

NZ: Electronic retail spending is estimated to have grown 0.3% in Feb.

China: Feb foreign direct investment data is released.

Germany: Jan industrial production follows a 0.4% contraction in Dec. Jan trade balance had finished 2018 with a strong surplus albeit after trending lower through the year due to reduced external demand.

US: Jan retail sales are expected to be flat following Dec's 1.2% fall. The control group is anticipated to rebound 0.6% after Dec's more severe 1.7% drop.
The driver was weak US jobs (charts from Calculated Risk):
Total nonfarm payroll employment changed little in February (+20,000), and the unemployment rate declined to 3.8 percent, the U.S. Bureau of Labor Statistics reported today. Employment in professional and business services, health care, and wholesale trade continued to trend up, while construction employment decreased.

…The change in total nonfarm payroll employment for December was revised up from +222,000 to +227,000, and the change for January was revised up from +304,000 to +311,000. With these revisions, employment gains in December and January combined were 12,000 more than previously reported.

…In February, average hourly earnings for all employees on private nonfarm payrolls rose by 11 cents to $27.66, following a 2-cent gain in January. Over the year, average hourly earnings have increased by 3.4 percent.
Headline was poor but I would average over the first two months at this stage: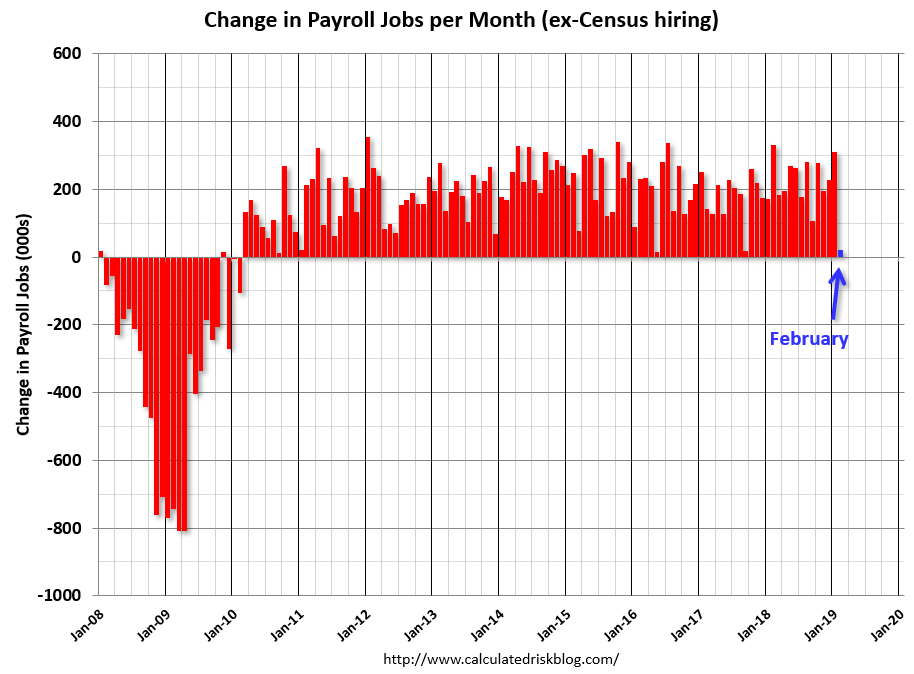 The UE rate fell to 3.8%: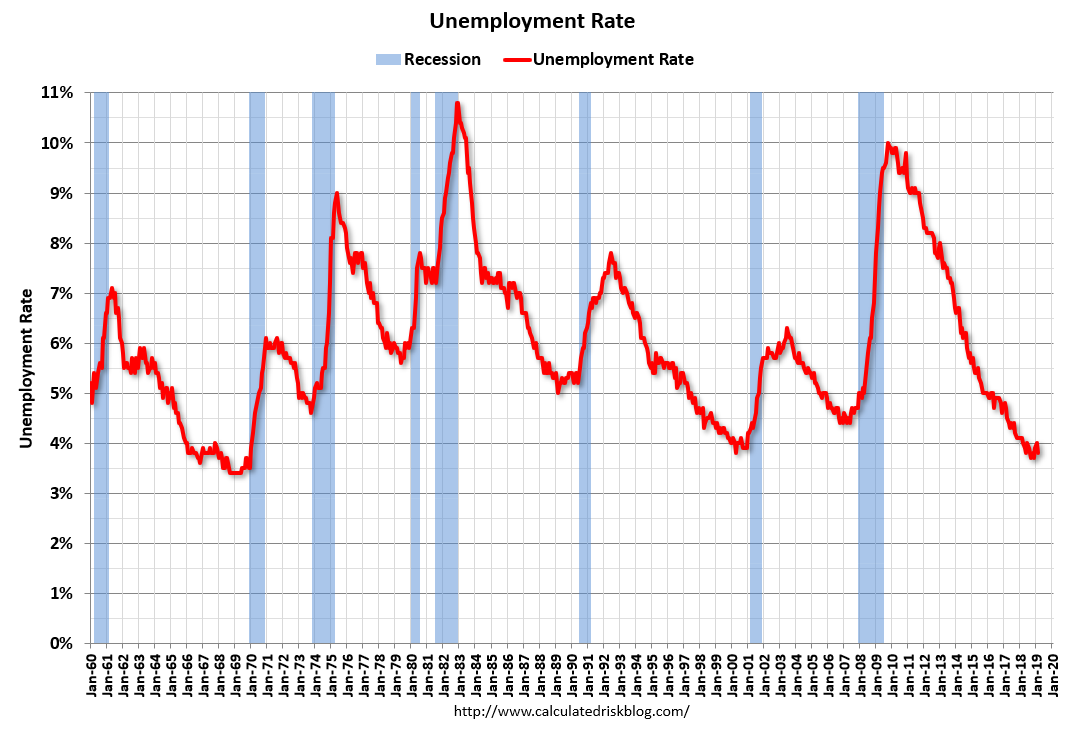 Shadow slack is diminishing: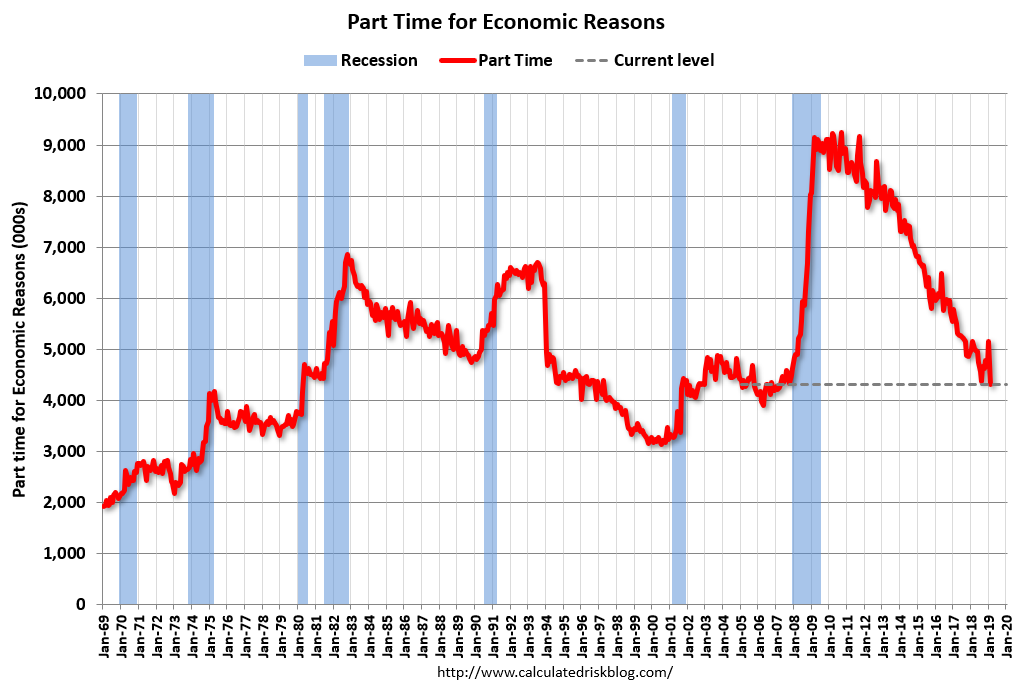 And wages jumped to 3.4% growth: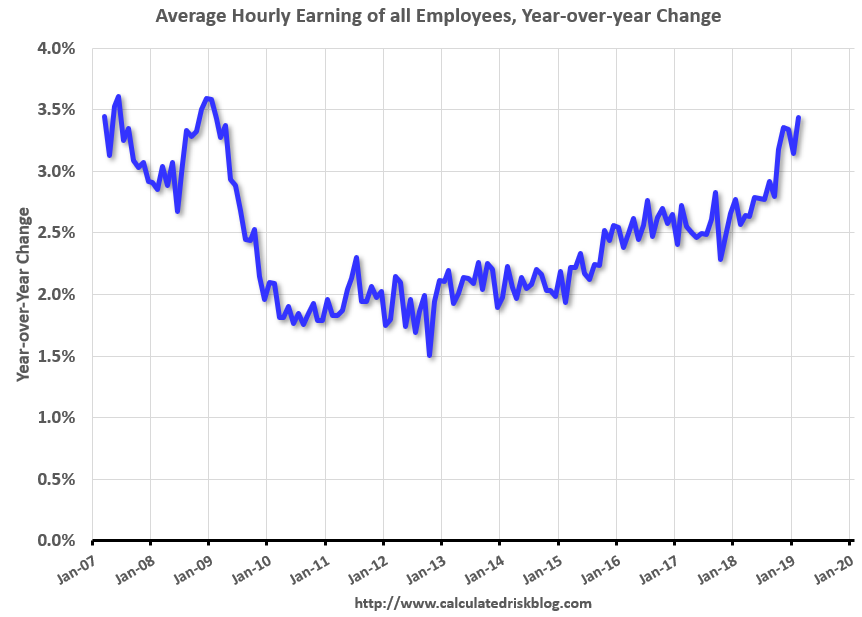 So, pretty good, really, which is why the USD did not fall completely out of bed though it was enough to lift the AUD to $70.55.
But that is history now! With China's weak credit data out over the weekend the AUD is already under pressure again this morning: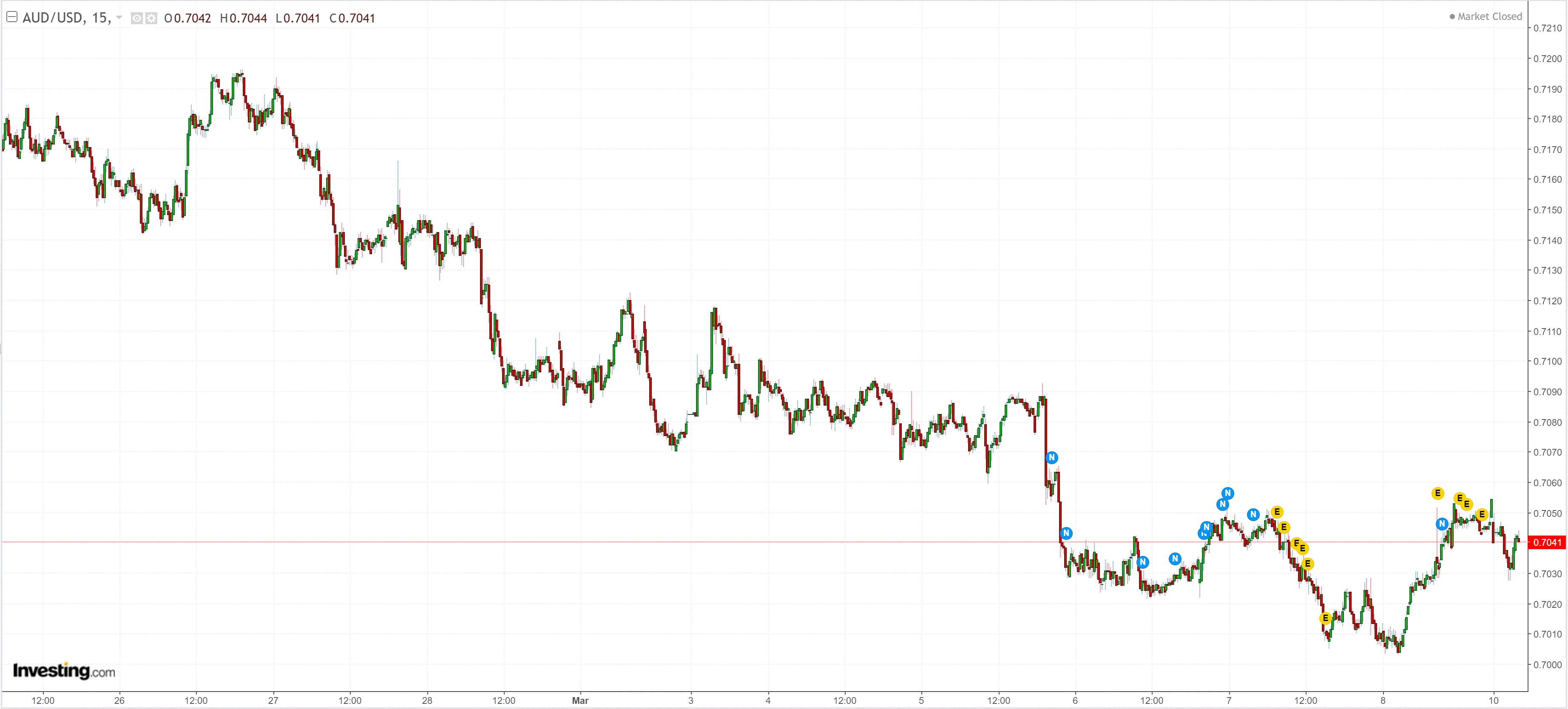 The trend remains down.