Boom! Aussie bonds broke out at the short end last night and are right at the launch pad for the long: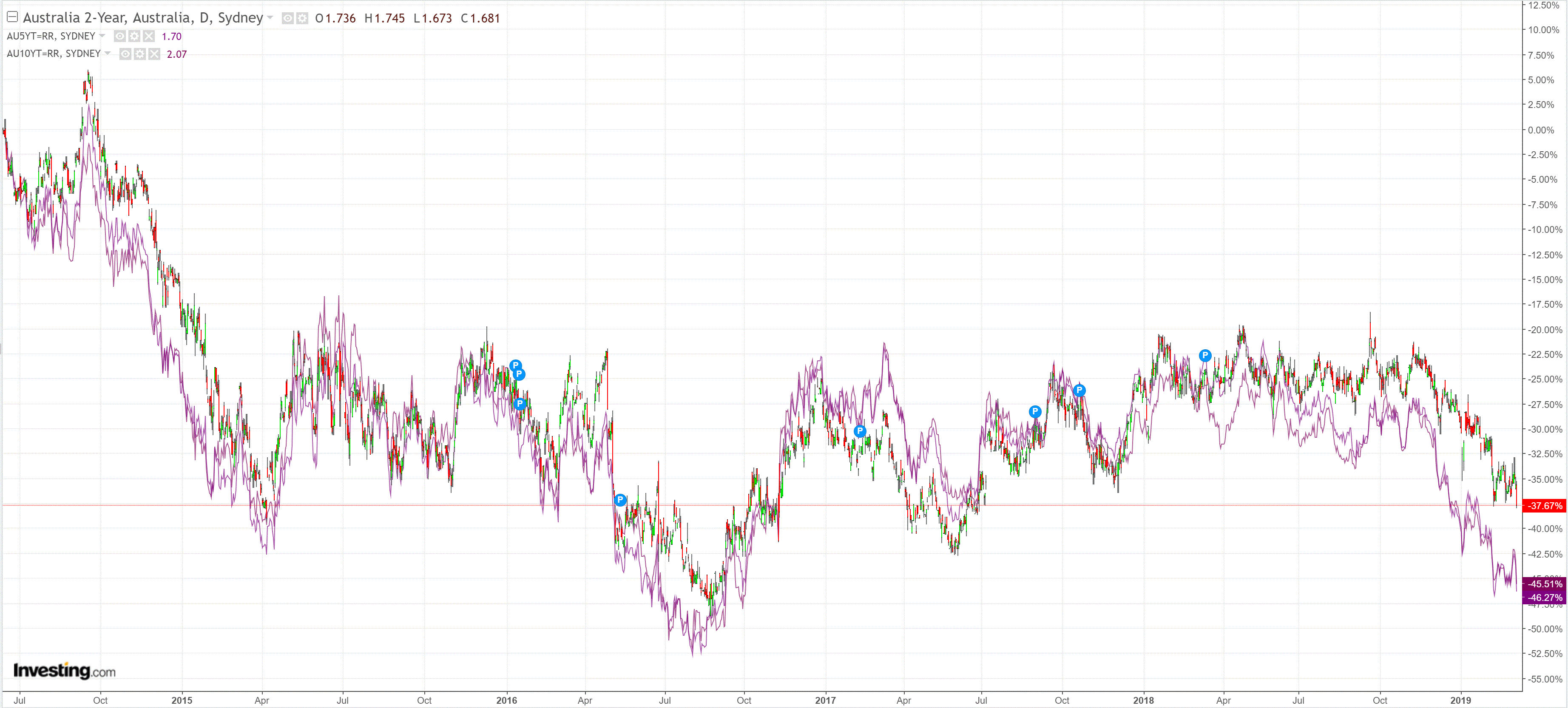 The driver is easy enough. The RBA is going to capitulate and cut twice this year, via Macquarie:
"Picking the timing of rate cuts is a little tricky. If the Bank sticks with Statement months to change policy then May or August is our best bet for the initial easing.

A May cut may be too soon if the Bank feels it wants more clarity on the data flow — particularly the labour market — and it would be just prior to the federal election, though we aren't sure that would be a relevant issue for the Bank.

The main catalyst for the change of view is that we cannot see what the downside risks are to easing policy further. Take the path of least regret.

Importantly, we are strongly not of the view that central banks should 'keep their powder dry' in case growth turns out to be weaker down the track.

If additional policy support is necessary then it should be provided — best to provide it early than have to take more drastic action if growth actually turns down sharply.

We also do not support the view that cutting the cash rate from here would provide little economic support.

Cash rate cuts would be substantially passed through to actual lending rates — including those on existing loans — in our view.

If they aren't, the Bank can cut by more. The Australian dollar would also be lower.

In the event of a sharper downturn, Australia retains ample fiscal ammunition to respond and unconventional policy tools — including QE — are also available."
It is my view that monetary transmission is impaired, by household debt and a blown BBSW spread, so banks will hold much of the first two cuts back and they will not have a great impact on domestic activity. Supporting this supposition, markets are yet to steepen the curve at all: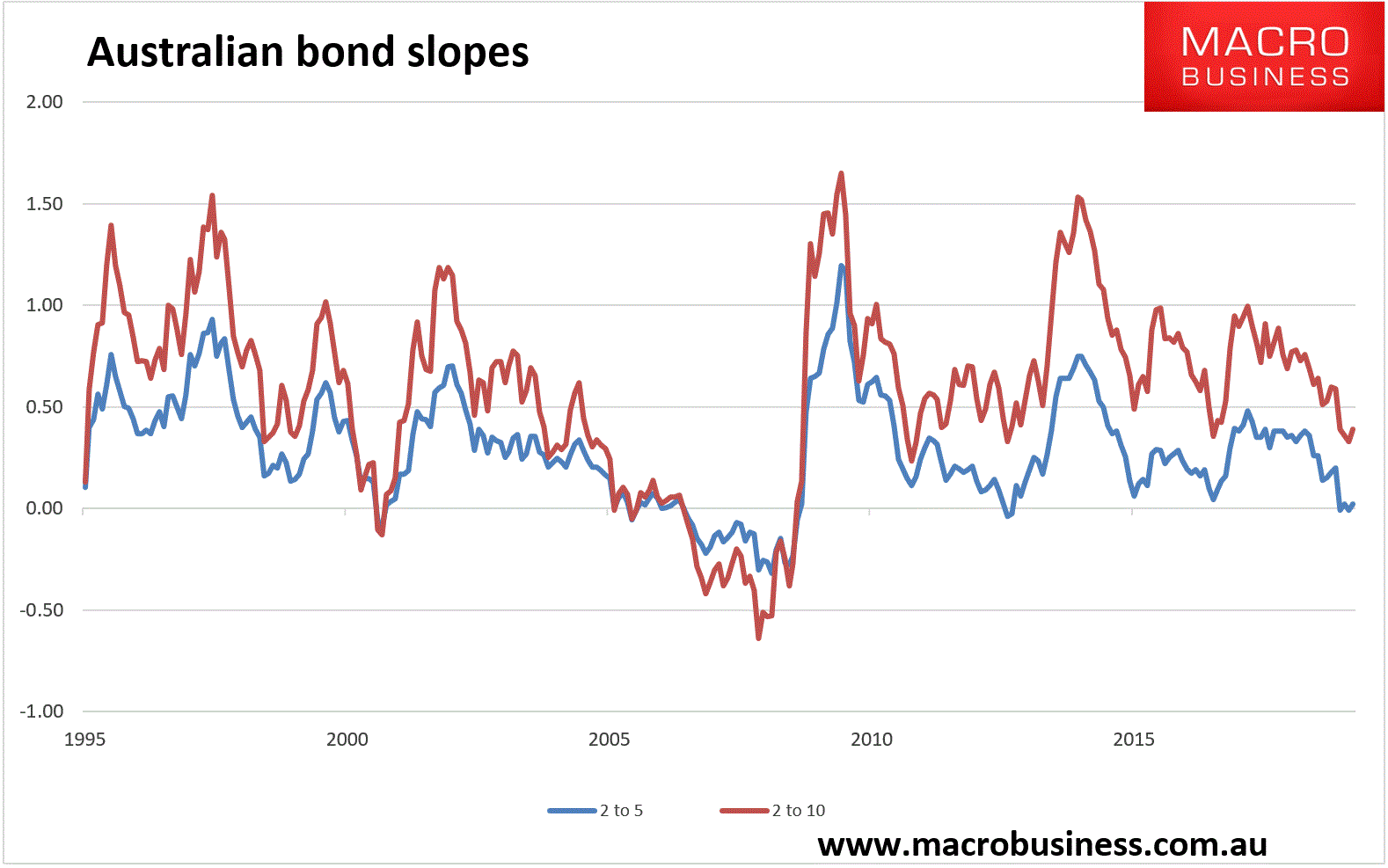 I see two more rate cuts to follow in 2020 and QE longer term as China keeps slowing and Australia's income woes worsen.
For me, therefore, the play remains long bonds with the 10 year headed for a record low yield near 1% as the cash rate sinks to 50bps. That will also, of course, put serious pressure on the Aussie dollar via spreads: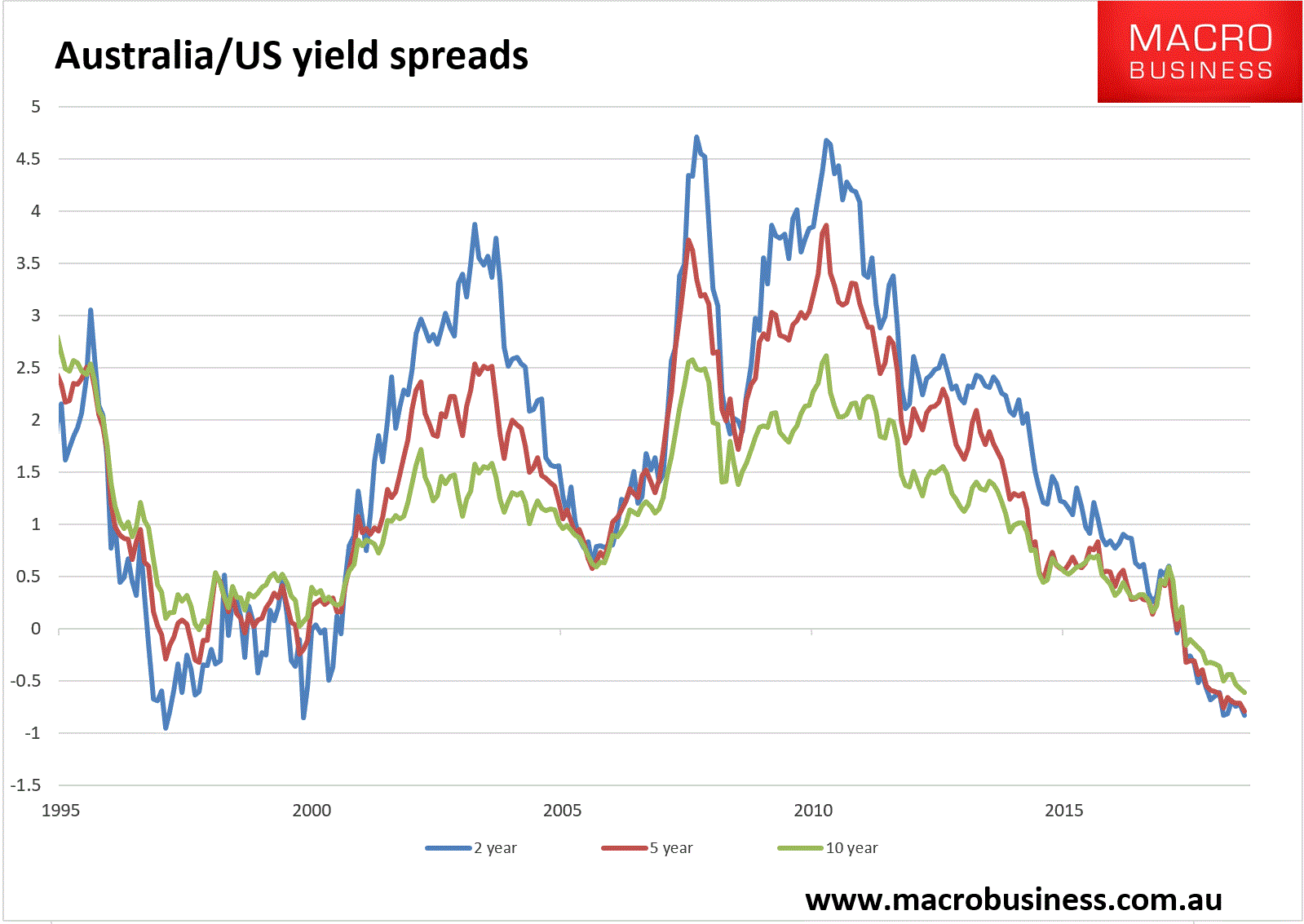 I still think this does not end until the battler returns to its millennial lows.
---
David Llewellyn-Smith is chief strategist at the MB Fund and MB Super which is long international equities and local bonds that will benefit from a weakening Australian economy and dollar so he is definitely talking his book.
If the ideas above interest you then contact us below.