While residents of Sydney and Melbourne are suffering from crush-loaded roads, trains, schools, hospitals, and prisons, as well as hideously expensive housing, toll road company Transurban yesterday reported a massive lift in toll road revenues as Australia's mass immigration 'Big Australia' policy continues to feed it customers.
The Australian's John Durie hailed CEO Scott Charlton's ability to extract "monopoly rent" from users:
When Scott Charlton started at Transurban six years ago the company had seven roads. It now has 17, with another nine projects under development…

In toll road terms this, combined with low interest rates for the foreseeable future, is about as close to heaven as you can get, and Transurban has average concessions on its roads totalling 30 years – up from 25 when Charlton started.

By contrast, Transurban's international peer ACS has average concessions on its roads of 20 years, while French giant Vinci has 17 years…

Another way of describing toll road concessions is monopoly rent, because it's the length of time an operator gets to collect on earnings before interest tax, depreciation and amortisation margins of 80 per cent plus.

It helps to run an asset where you are the only one in the play pit.

Charlton wants to maximise the assets he has and it must be said that so far, he has done the job superbly.
And while motorists are being gouged, Scott Charlton is enjoying massive remuneration of $7 million:
Charlton's total pay in the year to June 2018 was $7.05 million mostly because of a 17 per cent increase in his short term incentive, which was valued at $2.97 million. The STI is paid half in cash and half in securities that are subject to a two-year restriction period.

His total pay is now higher than three of the big four bank CEOs, according to the latest available data published by the Financial Review.
This folks is Australia's population ponzi economy in action. It's a model of growth where corporate Australia privatises the gains from mass immigration and socialises the costs on everyone else.
Former treasury secretary turned disgraced NAB chairman, Ken Henry, explained this model in a speech:
Research NAB carried out earlier in the year showed that among our customers there's not wholesale support for a larger Australia. For many, the prospect of a higher Australian population means more stress in the ability to buy a house, to live where you want to live, to get to work with a reasonable commute time. And many in the community are also concerned about our ability, as a nation, to maintain norms of Australian social and economic inclusion, and to continue to provide access to high quality services in areas such as healthcare and education…

But what is the business perspective? The same NAB research showed that most of our business customers would strongly prefer a larger population, which supports better business growth.
With Australia's two biggest states desperately trying to build infrastructure to keep pace with the population ponzi, private companies like Transurban are facing further strong profit growth, paid for by ordinary motorists like you and me.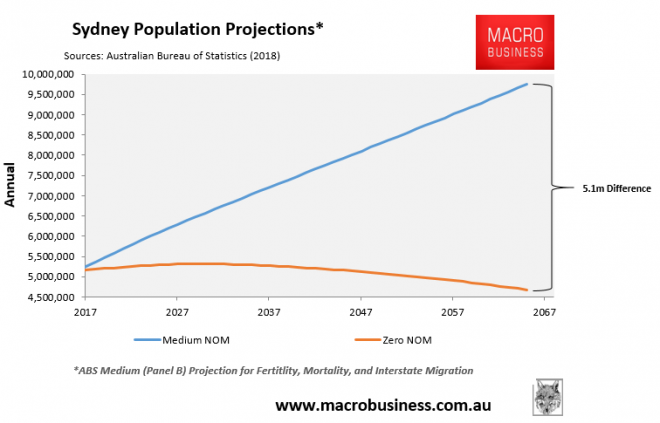 For example, the Victorian Government's $6.7 billion West Gate Tunnel Project will see Transurban contribute $4.4 billion towards the cost, but in exchange motorists will have to pay additional tolls on CityLink until 2045 estimated at $15 billion. It's a sweet deal for Transurban, but a dud deal for Melbourne motorists.
In a similar vein, Sydney's $17 billion WestConnex project (sold to Transurban) has seen existing free public roads like the state-owned M4 (that have already been paid off) being tolled to help fund the project, raising costs for residents.
Clearly, private businesses like toll road operators, retailers, banks and property developers love mass immigration because they get to enjoy the easy growth in revenue and profits that come from an ever expanding customer base, whereas households suffer from the increased competition and reduced bargaining power at work, rising housing costs, rising infrastructure costs, and longer and more expensive commutes.
These are the hidden costs of a 'Big Australia': in effect giant private taxes, which are being conveniently swept under the rug.