Late last year, the endless immigration-driven population flood drove Sydney's train network into meltdown:
Pressure on Sydney's Town Hall train station has grown significantly during peak periods due to a 23 per cent surge in passengers in just three years, raising the prospect of staff limiting access to platforms more often to avoid severe overcrowding.

The growth underscores the demands on Sydney's already stretched rail network from a population boom…

Mr Collins said a major surge in passengers at Town Hall during peak periods – especially evenings – was partly due to a near doubling in people catching trains to and from fast-growing suburbs such as Mascot and the Green Square precinct in Sydney's inner south…
Yesterday, Transport Minister Andrew Constance admitted that "off-the-charts" demand has stretched the train system to its limits, necessitating the purchase of 17 trains from China. From The SMH:
Sydney's 163-year-old train network is struggling under the demands of what the government describes as "an explosion in demand". Last year passengers took more than 413 million journeys on the rail system, up 38 per cent from 300 million in 2013.

And over the next three years a 21 per cent rise in annual passenger trips is forecast…

"A hundred million passenger increase in a five-year period is off the charts, and that's what we've had to cater for."
Purchasing 17 new trains is good, but it will barely hit the sides without massive investments in new track and station capacity.
Remember, Sydney's population is projected to balloon by around 90,000 people every year for the next 48 years to nearly 10 million people. So, it doesn't take a rocket scientist to recognise that the public transport system will continue to be overrun: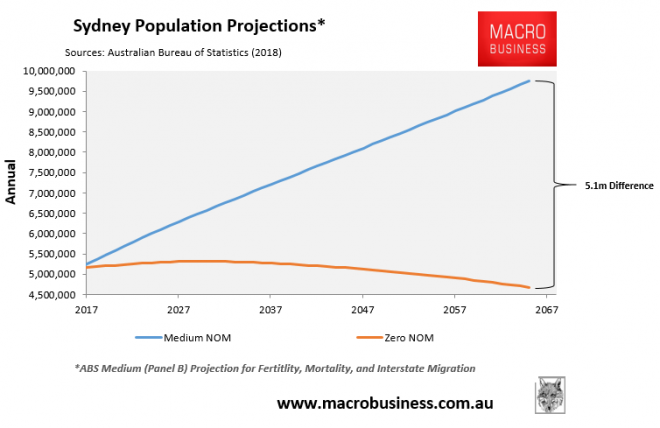 As we know, the crush-loading will extend well beyond public transport to include roads, schools, hospitals and green space, as explicitly projected by Infrastructure Australia under every build-out scenario: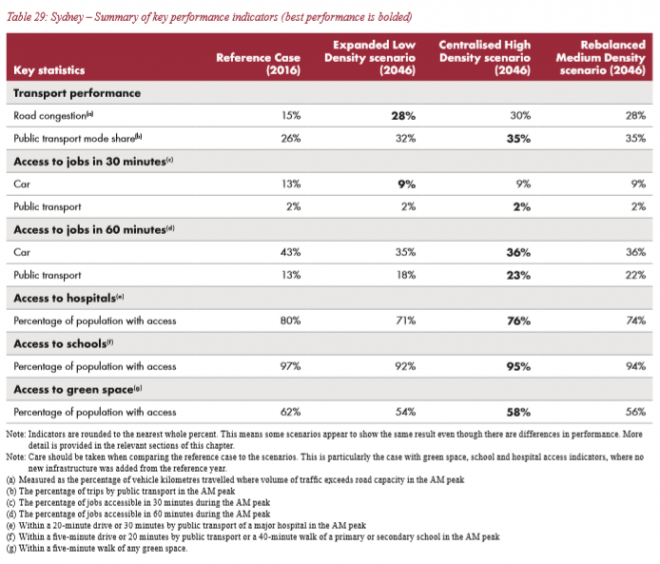 How's the 'vibrancy', Sydney? And how much worse will liveability get when the city's population expands to around 10 million?
This is a disaster in the making. Cut immigration.