Scott Morrison seems to believe he can "bust" Melbourne's congestion, and bribe his way into office, for the pissy sum of $140 million. From SBS News:
Prime Minister Scott Morrison has vowed to spend $140 million to bust traffic congestion in Victoria, asking the state government to match the commitment.

The federal investment, announced on Wednesday, would spend $50 million on the Calder Freeway between Sunbury and the M80 Ring Road, and $50 million to ease traffic on the Hume Freeway.

Another $10 million has been pledged to ease congestion on roads in Eltham, with $30 million to upgrade Ballarto Road in Skye…

"I want people to spend less time stuck in traffic jams and more time at home with their families and working in their businesses," Mr Morrison said.
$140 million won't even touch the sides. What Melbournians (let alone Sydneysiders) need is tens of billions in funding to build the infrastructure necessary to keep pace with the manic population growth.
Over the past decade, Melbourne's population ballooned by an average of 100,000 people a year, thanks to the federal government's mass immigration policy. Worse, over the next 48 years, Melbourne's population is projected by the ABS to grow by 109,000 people per year to more than 10 million people by 2066: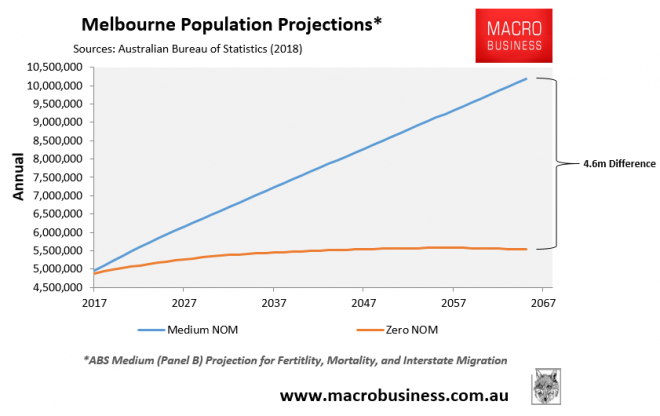 Therefore, if you thought the last decade was bad, Melbourne's population is projected to grow even faster over the next 48 years, as will the associated negative impacts on liveability.
The fact of the matter is that under the federal government's mass immigration settings, Melbourne will need truly record breaking infrastructure investment if decent living standards are to be maintained. This was made abundantly clear by Infrastructure Australia's modelling, which projected worsening traffic congestion and reduced access to jobs, schools and hospitals under every build-out scenario: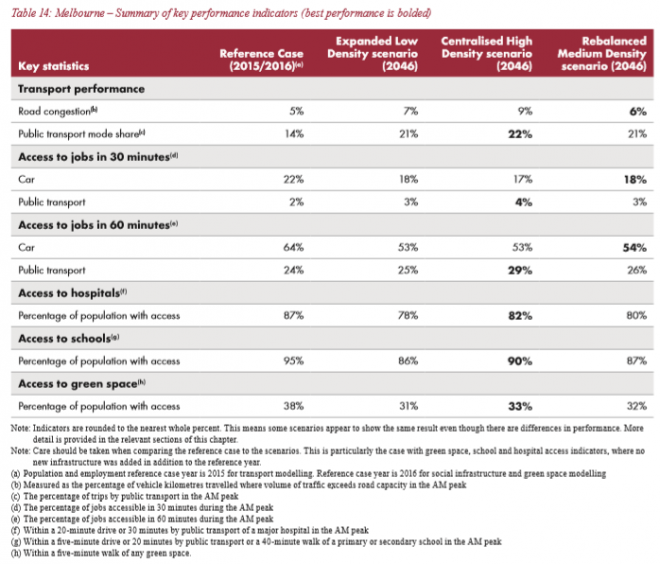 It took Melbourne around 170 years to reach 3.2 million people in 2001, serviced by adequate infrastructure and a functional political economy. Yet somehow Melbourne is expected to magically cope with more than three times that population in less than 70 years (i.e. by 2066)?
Rather than throwing pissy sums at Victorians in a desperate bid to buy cheap votes, the best thing Scott Morrison could do for the state is halve immigration. This would alleviate the population pressures, improve liveability, and mitigate the need for costly infrastructure investment.
Sadly, Labor seems even worse and has indicated that it will maintain the mass immigration 'Big Australia' policy, no matter the cost.