Via Nikkei:
A massive building boom across China, including in tier-two cities like Jinan, has left as many as 65 million empty apartments across the country, according to estimates by Gan Li, a professor at Southwestern University of Finance and Economics in Chengdu.

Sales volumes in 24 cities tracked by China Real Estate Index System fell by 44% in the first week of 2019 compared with a year earlier, though the four largest cities — Shanghai, Shenzhen, Guangzhou and Beijing — still saw a 12% increase.

Many analysts now expect China's home sales to contract this year. Perhaps more worrisome, though, is the growing number of Chinese property companies that appear to be struggling under the weight of heavy debt burdens. Moody's Investors Service has assigned junk status to 51 of the 61 Chinese property companies it assesses.

"We do see some challenges ahead" for the property sector, Kaven Tsang, senior credit officer at Moody's in Hong Kong, told the Nikkei Asian Review. While foreseeing overall selling prices to be "relatively stable," he predicts nationwide contract-based sales in 2019 to fall by 5% compared to levels last year.

The slowing real estate sector is a potential problem for China's policymakers. For years, real estate has played a pivotal role in creating jobs, boosting investment and generating cash for local governments. Roughly 25% of China's gross domestic product has been created from property-related industries, according to CLSA. And housing is a crucial means of asset formation in China, where ordinary citizens face restrictions to overseas investment and have few domestic options besides local stock markets, which lost 25% of their value last year.

…Even while the Chinese government has stopped short of officially speaking out on the risks facing the property industry, a top economist from a state-controlled university recently sounded the alarm. Xiang Songzuo, a professor at the prestigious Renmin University in Beijing, warned in a speech in Shanghai on Jan. 20 that real estate is one of a few serious "gray rhinos" — a potential risk that is obvious, but ignored — facing the economy this year.

According to his estimates, about 80% of Chinese people's wealth is in the form of real estate, totaling over $65 trillion in value — almost twice the size of all G-7 economies combined. A significant slowdown could, therefore, have a substantial impact on citizens' financial health.

To him, Chinese people have "played around with leverage, debts, and finance, and eventually created a mirage in a desert that will soon entirely collapse."

In December, Xiang challenged the government's official economic growth estimate of 6.6%, saying it was actually just 1.67% — or possibly even negative — in 2018. He then went on to warn of a potential crash in the property market.

"This collapse will be a perfect Minsky moment," he added, using the term for a sudden collapse in asset prices after a long period of growth, named for American economist Hyman Minsky.

…Tsang of Moody's told Nikkei that China's crackdown on its "shadow banking" system has made it harder for these companies to finance themselves.

Shadow banks "used to be one of the major funding sources for developers," he said, but China's recent efforts to reduce risky debt "have weakened the liquidity for small and medium-sized developers who relied on this type of funding."

While developers struggle to refinance their piles of debt, Chinese cities are facing a glut of unoccupied flats.

Prof. Gan's striking estimate that 65 million urban residences — or 21.4% of housing — stand unoccupied was published in a report in December. The proportion is up from 18.4% in 2011, driven by a rise of vacancies in second- and third-tier cities, where demand is relatively weaker and speculative activities are more prevalent than in Shanghai, Shenzhen, Guangzhou and Beijing.

In other words, almost half the bank loans are tied to housing assets that are neither being lived in nor churning out rental income. According to the stress test conducted by the professor, a 5% fall in housing prices would take away 7.8% of the actual asset value of occupied houses, but 12.2% for unoccupied houses. "If housing prices keep on falling, the damage to unoccupied residences accelerates even more than the occupied [ones]," Prof. Gan said in the report.

In response to the property slowdown, some local governments have been quietly removing some restrictions on home purchases, including by scrapping price caps for new units and relaxing the requirements for non-local buyers. In early January, China's central bank also moved to lower the amount of cash that banks must hold as reserves by 100 basis points, freeing up a net of 800 billion yuan, or $117 billion, for new lending.

But economists and analysts are skeptical about the effect of these easing measures. "The broad attempt to reduce risks in the financial sector has been the main reason for the slowdown," said Shaun Roache, Asia-Pacific chief economist at S&P Global Ratings. "Deleveraging is considered to be the critical battle … policymakers are easing, but only carefully," he said in an interview.

Alan Jin, head of non-Japan Asia property research at Mizuho Securities, said the easing measures are "fairly trivial" and not likely to stimulate much new homebuying.

"The most draconian period on the [debt] policy front may be over, but this by no means indicates that developers can look forward to rosy days ahead in 2019," he said in a Jan. 10 research note.
This is the main reason we remain bearish on China in the near term and convinced it will slow severely longer term. It is simply not clear to us that China even can stimulate again when it is still building more of epochal this waste than ever before. Longer term it certain that it cannot: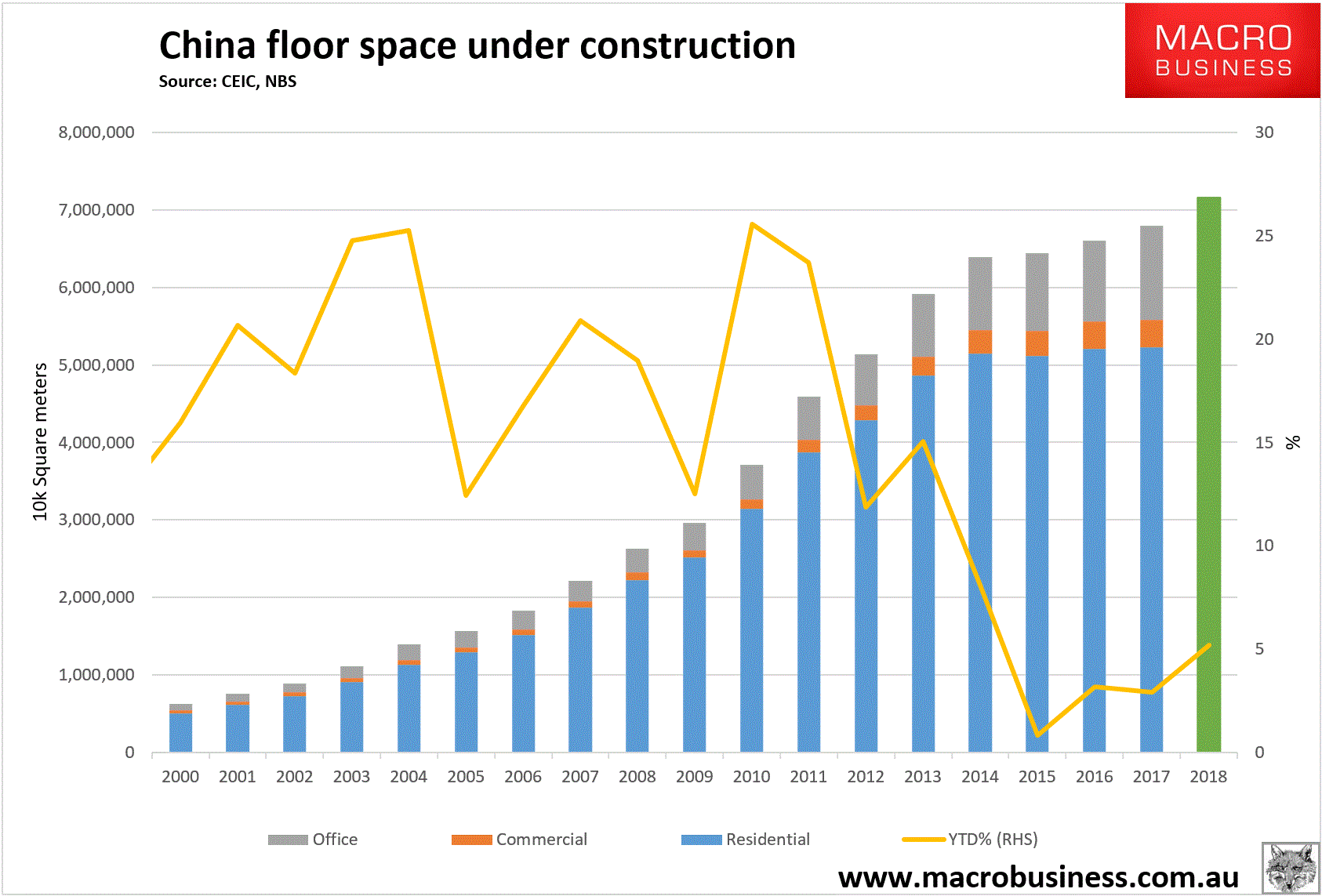 House prices have barely slowed but sales have crashed and starts are set to follow: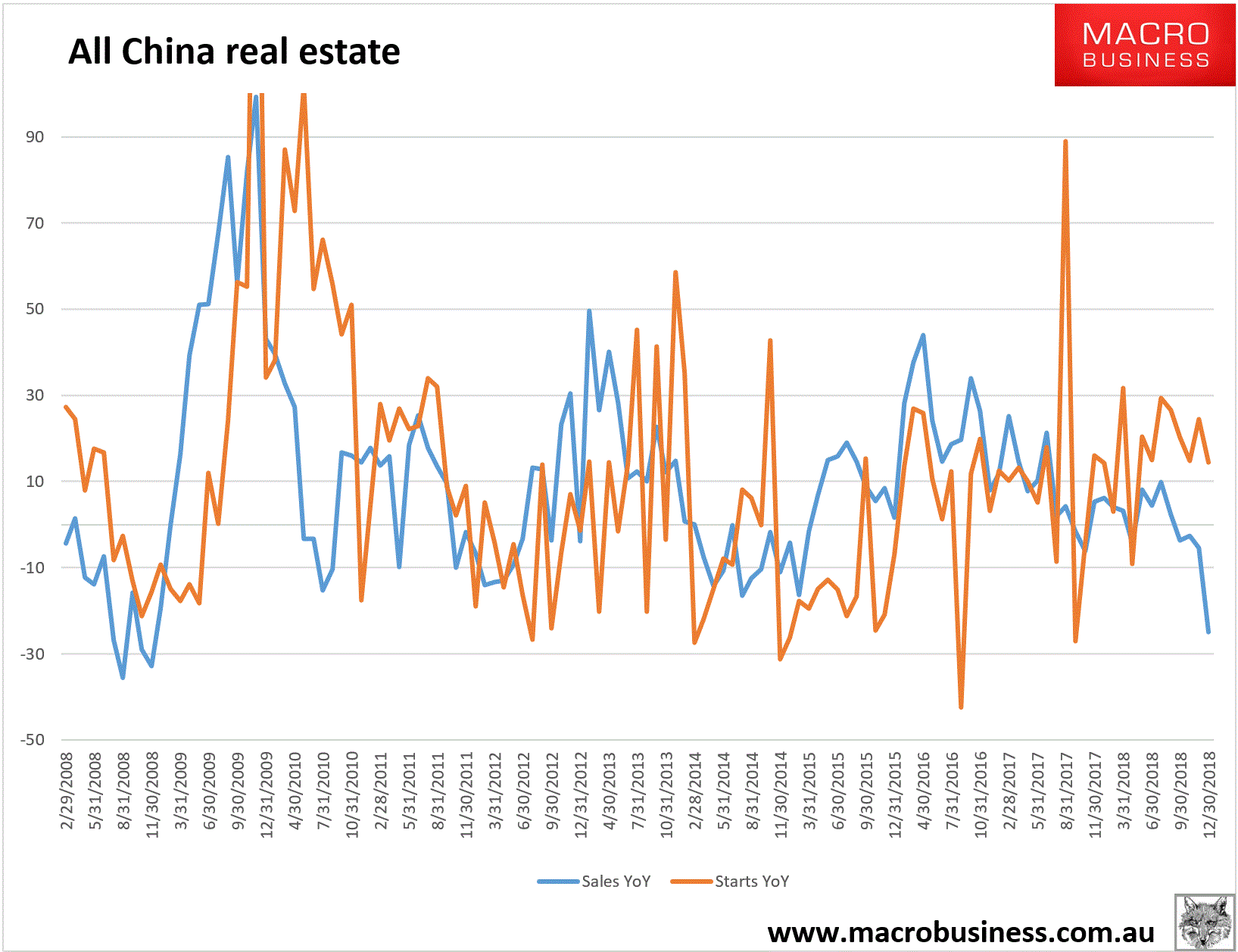 Why is a bit of a mystery. It could be:
the trade war spooking domestic demand;
the deleveraging of shadow credit hitting construction rather than price speculation;
the tightening of US dollar credit in the real estate sector hitting developers;
or some combination of all three which adds up to the next domino in China's slow motion Minsky moment.
The last would suggest that China's structural debt problem is beginning to overtake activity as credit simply loses traction in the real economy.
If so, the great global deflation that began in 2008 will get very much worse before it gets better.