Digital Finance Analytics has released its Household Financial Confidence Index results for January, based on a survey of 52,000 households, which revealed that confidence has fallen to the lowest level in the survey's five year history: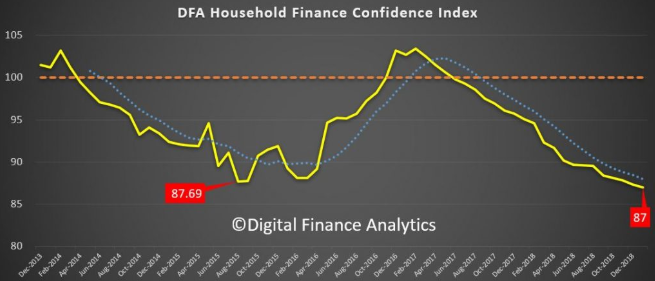 According to Martin North:
Looking at the results by property segments, we see a fall in confidence among property investors, as home prices and rental yields continue to fall, and reflecting concerns about potential changes to negative gearing and capital gains ahead. That said, purchase interest has risen a little. We will discuss this later.

Owner occupied borrowers are also feeling the heat, reflecting some mortgage price pain, as well as the basic affordability issues. Those renting however are a little more positive relatively speaking, thanks to rents being lower now and a greater choice of property for rent being available, especially in Sydney. Overall investors are the least confident now, a considerable switch from a year or so ago!…

The most significant fall was in NSW, as home prices fall – and the fall out from Opal Tower had an impact more broadly on new purchases, and off the plan commitments.

Across the age ranges we continue to see weakness, with younger households more exposed…

Those feeling more secure about their job prospects fell 2.19% to 10.57%, while those feeling less confident rose 4.84% to 33.85%…

Savings rates continue to fall for many, and others are raiding what savings they have to maintain their lifestyles…

Turning to debt, 1.11% of households are more comfortable than a year ago, and 52% are about the same. 46% are less comfortable than a year back…

Income growth remains a real concern for many households (in real terms many have seen falls in recent years). 3.88% of households reported their real incomes had grown in the past year, 51.99% said incomes had fallen in real terms, and 42.5% said there had been no change…

One of the killer categories is the costs of living… 87.75% said their costs had risen over the past year, up 3.2%…
That's a bearish set of numbers.