Last week, in the ultimate sign of desperation, the Morrison Government convened a housing roundtable with a veritable who's who of property industry lobbyists. Excluded entirely from these deliberations were representatives from renters associations, social housing providers, housing academics, and affordable housing advocates.
As was later discovered, the event was hosted by the Property Council and aimed squarely at attacking Labor's negative gearing and capital gains tax (CGT) policy.
One of the key 'findings' from this roundtable was that Labor's policy would magically push-up rents – a claim that has since been smashed by housing 'experts' denied access to the roundtable. From The New Daily:
Grattan Institute budget policy director Danielle Wood… said that the Treasurer's "scare campaign on rents makes even less sense".

"If there are fewer investors there are less properties for rent, but those properties don't disappear – home buyers move in, and so there are also fewer renters," she said.

Tenants' Union of NSW senior policy officer Leo Patterson Ross said that renters, would-be home buyers, researchers, and those at the coalface of affordable housing and homelessness know that "this housing tax warning and these problems are not real concerns" but rather "just industry trying to protect their business model".

There is "no credible evidence" to support the government's claims that rents would rise, Mr Patterson Ross said…

"If they think reforming negative gearing and the CGT discount would increase rents, then why are they not supporting it? They are treating Australians with contempt."

UNSW City Futures research fellow Chris Martin also rubbished the Treasurer's claims… "Investors do not currently pass the benefit of negative gearing onto tenants; they leverage that benefit into greater purchasing power for themselves, and hence into higher prices," he said.

By reducing investor demand for housing as a financial product, the reforms should also help bolster flagging home ownership rates, by assisting renters in making the leap to buying, Dr Martin said.

"The proposals should result in more renters becoming home owners, because they will be less likely to be outbid for properties by 'investors' than they currently are," he said.
Good stuff. As we all know, the entire point of Labor's policy is to stop property investors from crowding-out first home buyers, in the process lifting homeownership rates: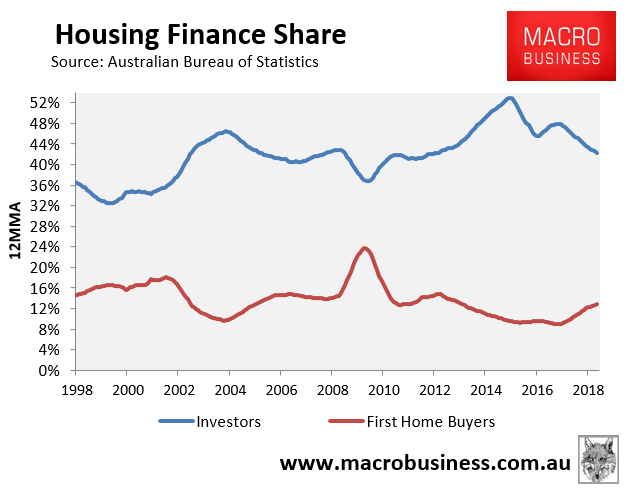 As shown above, when investor demand falls, first home buyer demand rises. This is a good thing.
Moreover, the overwhelming majority of so-called property investment – 90% – goes into established homes: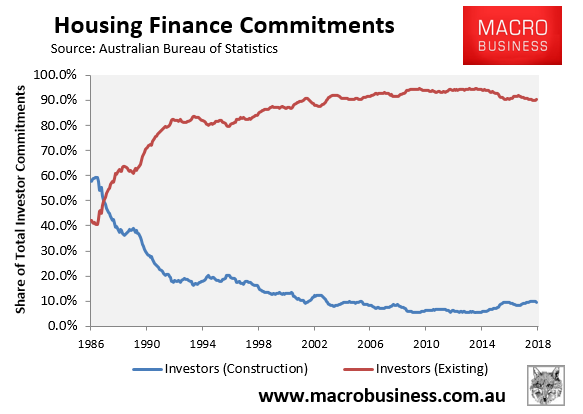 Therefore, negative gearing does little to boost actual housing supply and lower rents, but rather raises prices and crowds-out first home buyers.
Now is actually a good time to implement Labor's policy. Since investor demand has already crashed, there's far less risk of investor flight and widespread market disruption than if investor demand was running at the wild levels of two years ago.
What Labor's policy will do, however, is prevent a future investor bubble, moderate the cycle, and boost the first home buyer share over the longer-term.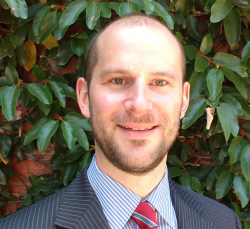 Latest posts by Unconventional Economist
(see all)