I have noted previously how China's economy is facing stiff headwinds from an ageing population (see here, here, here, and here).
Essentially, China's ageing problem stems from its 'one child policy', which was brought into effect in the early-1970s and is credited with preventing around 400 million births from 1979 to 2010. This policy initially produced a population pyramid optimal to economic growth – that is, where the largest segments of the population were neither young nor old, but in the middle (i.e. working age).
However, the demographic blessing provided by the one child policy has turned into a curse, with the United Nations forecasting that the number of working aged people to dependents is set to almost halve over the 50 years to 2065, from a peak of 1.9 workers to dependents in 2015 to only 1.0 by 2065 (see charts below).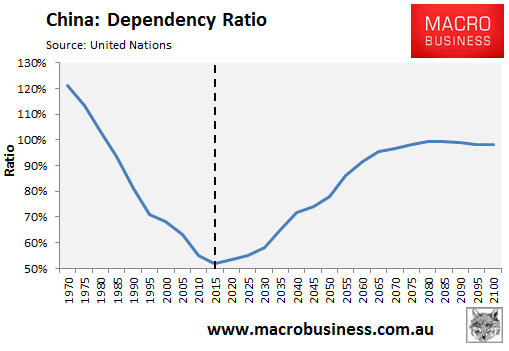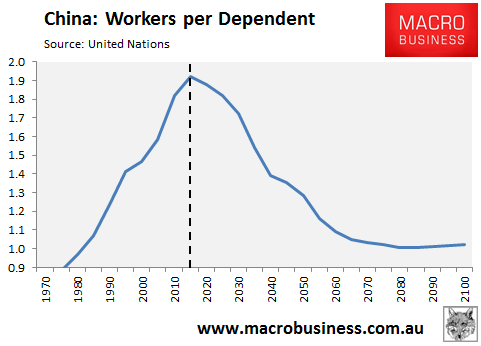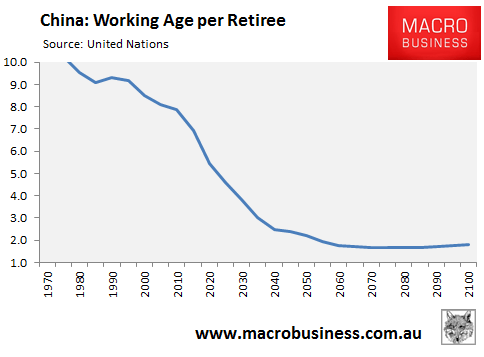 In 2015, the Communist Party leadership belatedly ended the 'one child policy', announcing that all married couples would be permitted to have two children. And the Chinese Government is currently considering easing all birth controls.
This policy change did seem to have an initial impact, with The Economist reporting that China's birth rate shot up in 2016 with almost 18 million babies born, the highest total since 2000, and the biggest annual increase in three decades.
However, a survey conducted in 2015 also found that three-quarters of Chinese said they did not want a second child mainly because of the expense and lack of support.
Accordingly, births retraced in 2017, down 3.5% to 17.2 million.
Now, the WSJ reports that births dropped again in 2018 to the lowest level since 1961:
The number of newborns in China dropped to 15.23 million in 2018, according to the National Bureau of Statistics. That's two million less than 2017 and 30% below the median official forecast of more than 21 million.

It was also the lowest level of births since 1961, when millions were struggling to survive during China's Great Famine…

The demographic outlook is fueling fears China could grow old before it gets rich, leaving it with too few workers to cover the cost of its aging population…

China is graying earlier and faster than other countries. In 1970, China's median age was nearly 10 years younger than that in the U.S. By 2015, it was older. By 2050, there will be 1.3 workers for each retiree, according to official estimates, compared with 2.8 now…

Exacerbating the pressures, China has one of the world's lowest average retirement ages—55 for most women, and 60 for men…
Another problem is that while the two-child reform would be positive for the Chinese economy in the very long-term, since it would help to ease labour shortages and spread the costs of a rapidly ageing population, the implications over the short to medium-term for the economy would be negative. This is because China's shrinking working aged population would be required to support both a growing number of elderly citizens as well as more children, thus worsening China's dependency ratio.
China's debt has also exploded, which will eventually place limits on its ability to continue building-out cities to support both its growing urban population and economic growth: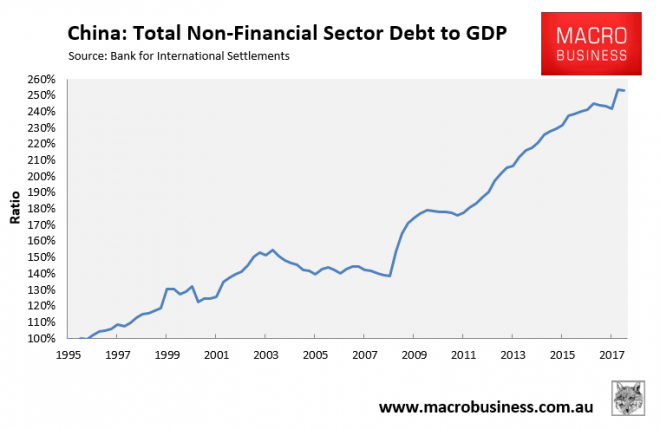 Thus, it is debateable whether China will ever escape the "middle-income trap".
China will very likely 'grow old' before it 'gets rich'.