DXY rebounded a little overnight. EUR was weak and CNY surged: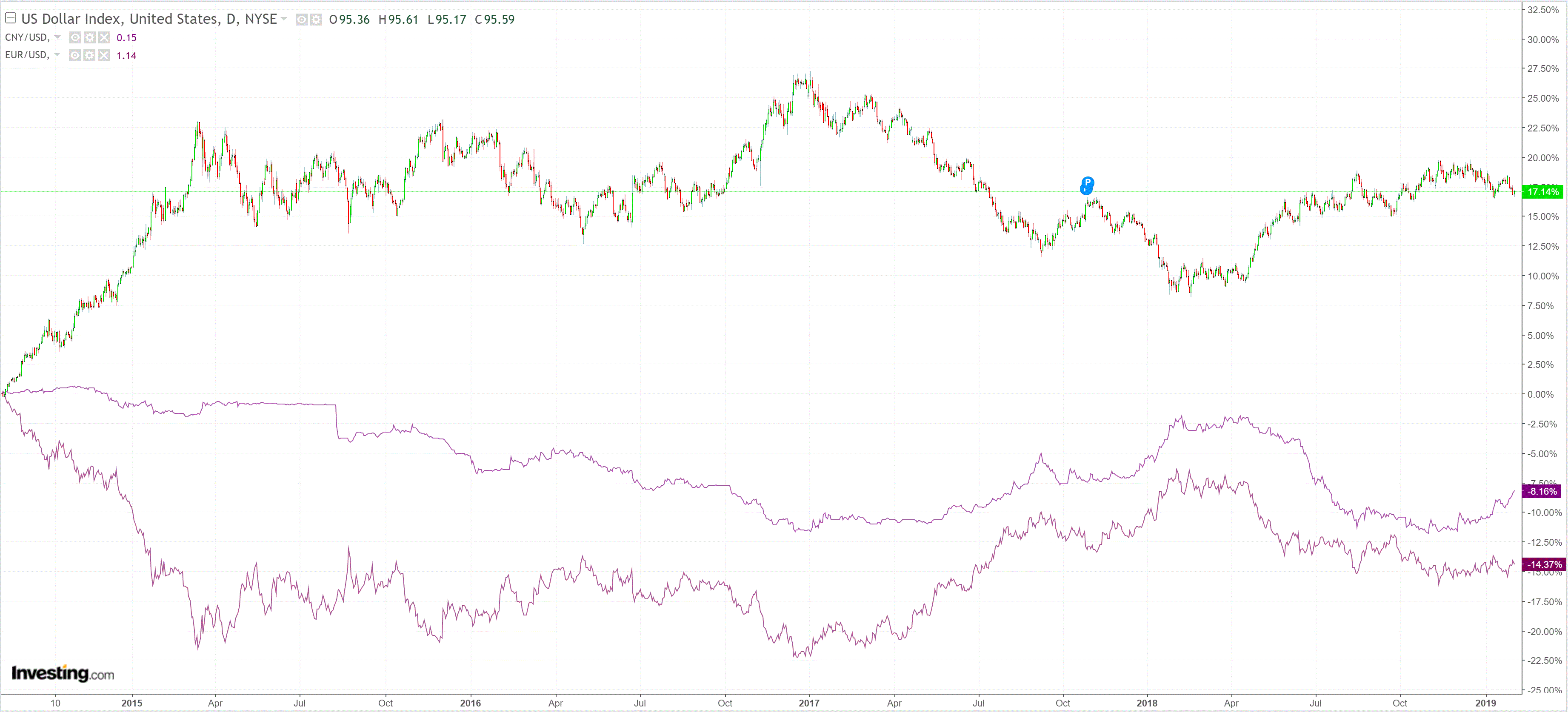 The Aussie dollar is tracking CNY: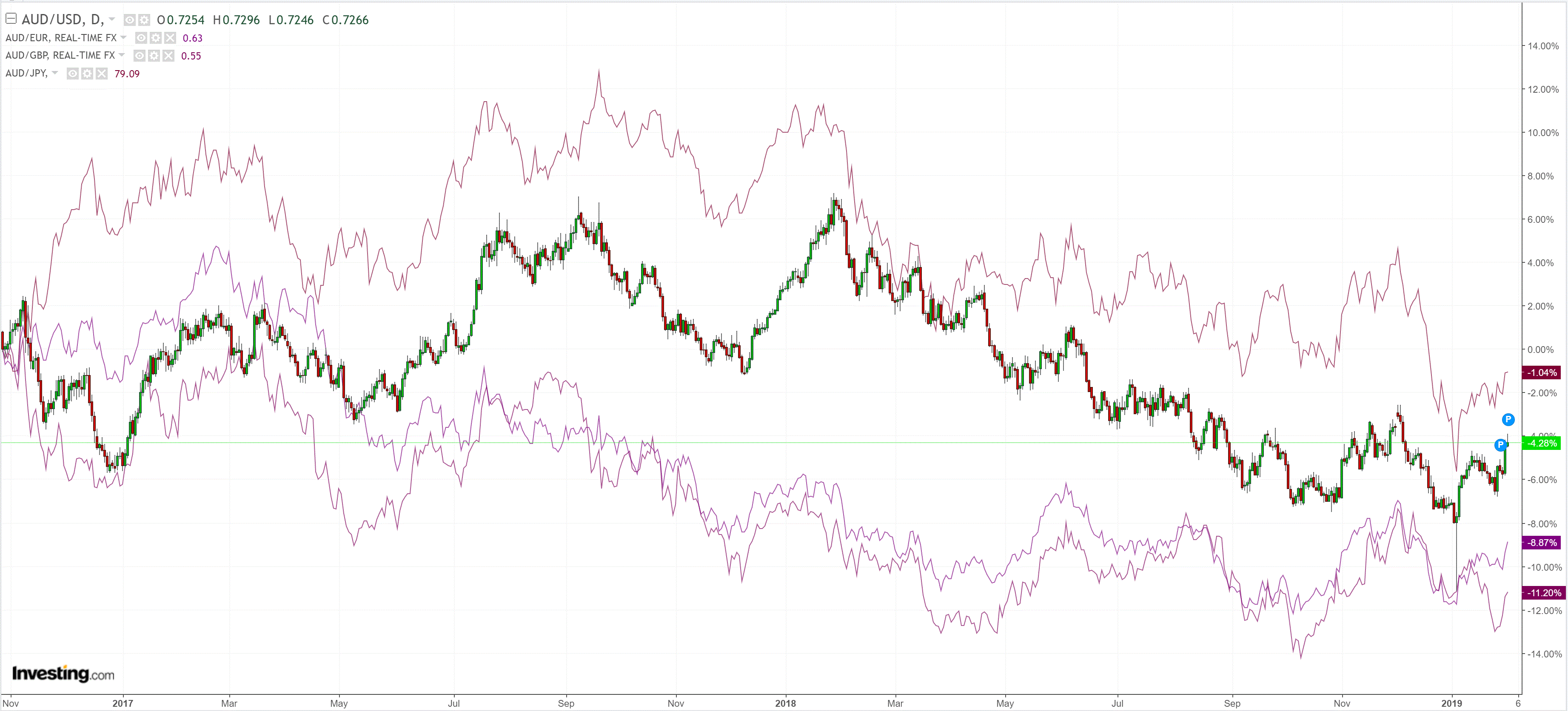 EMs even more:
Gold to the moon: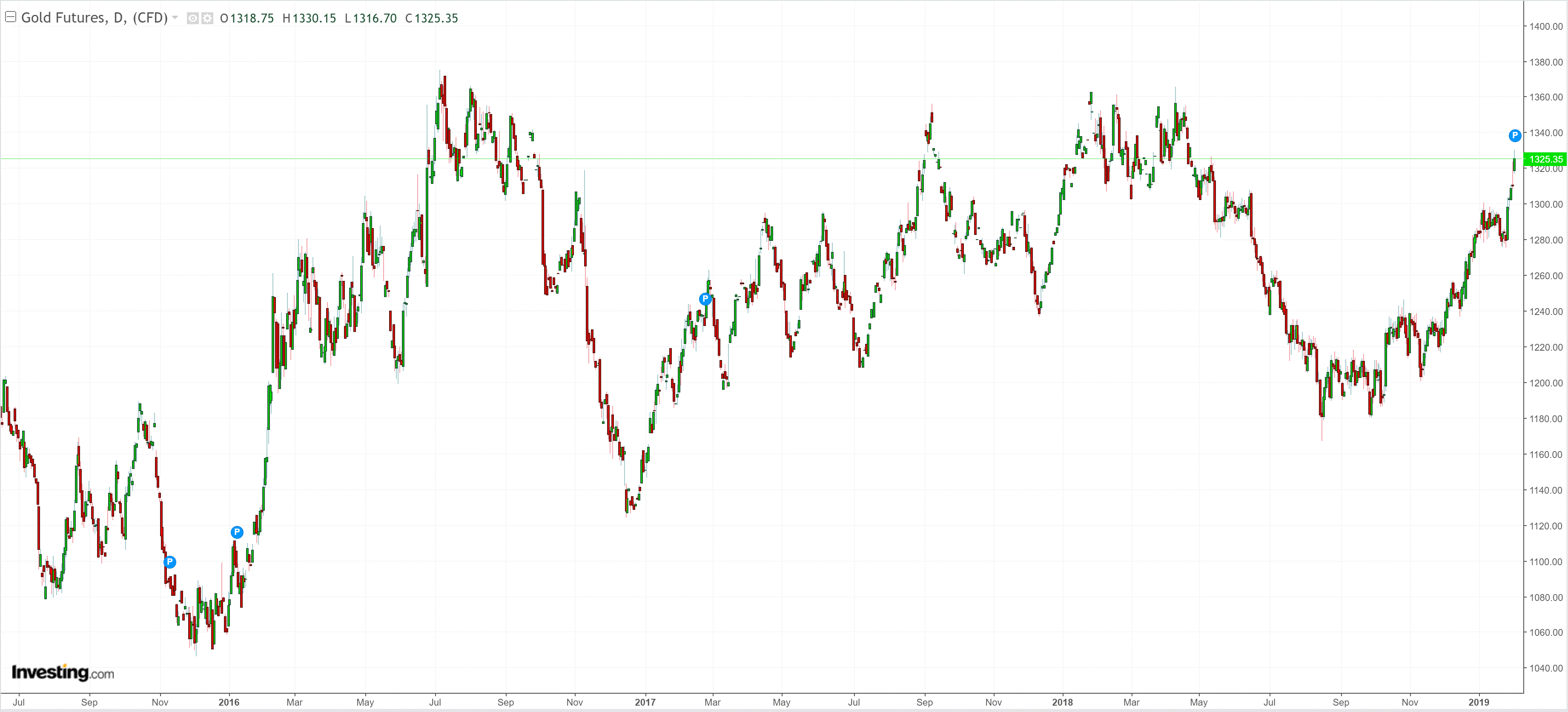 Oil fell: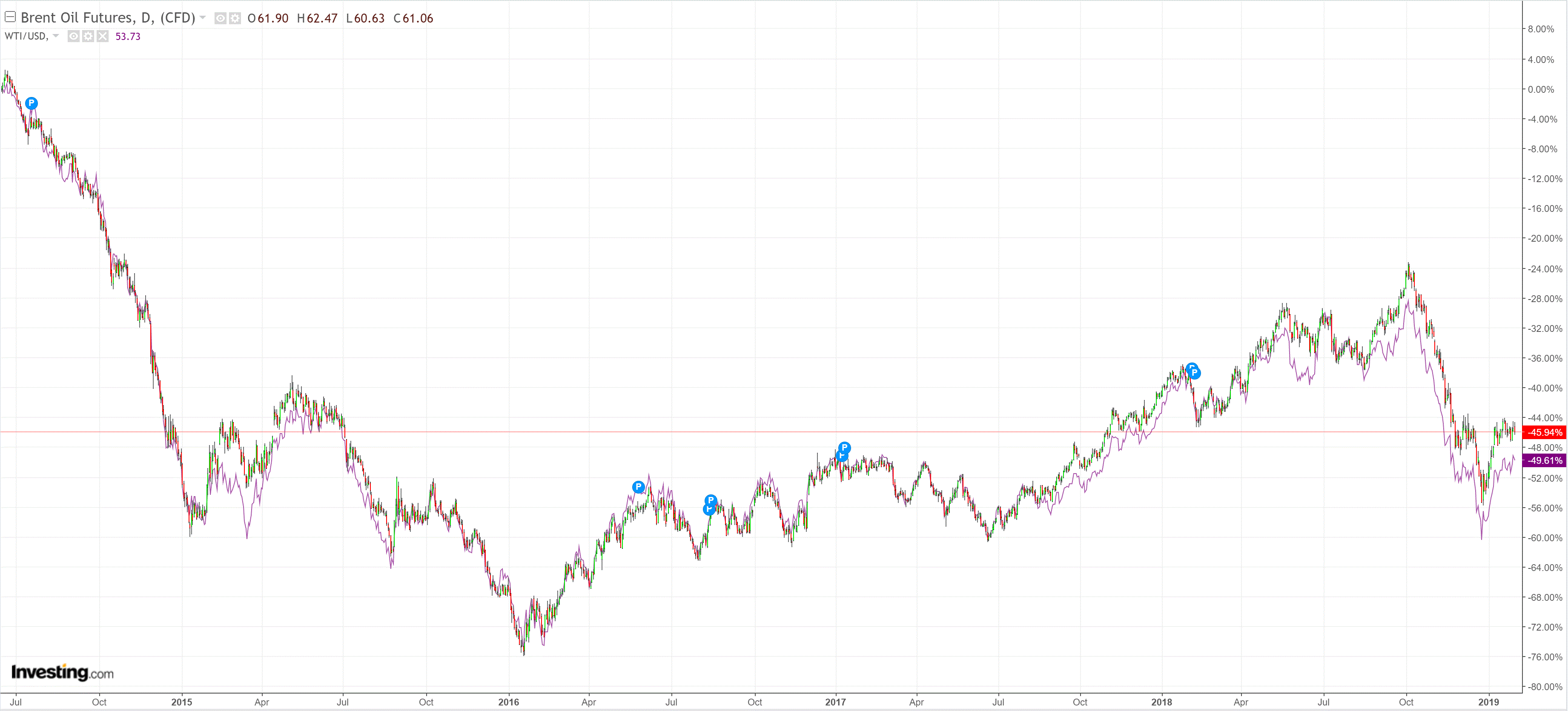 Base metals beginning to show life: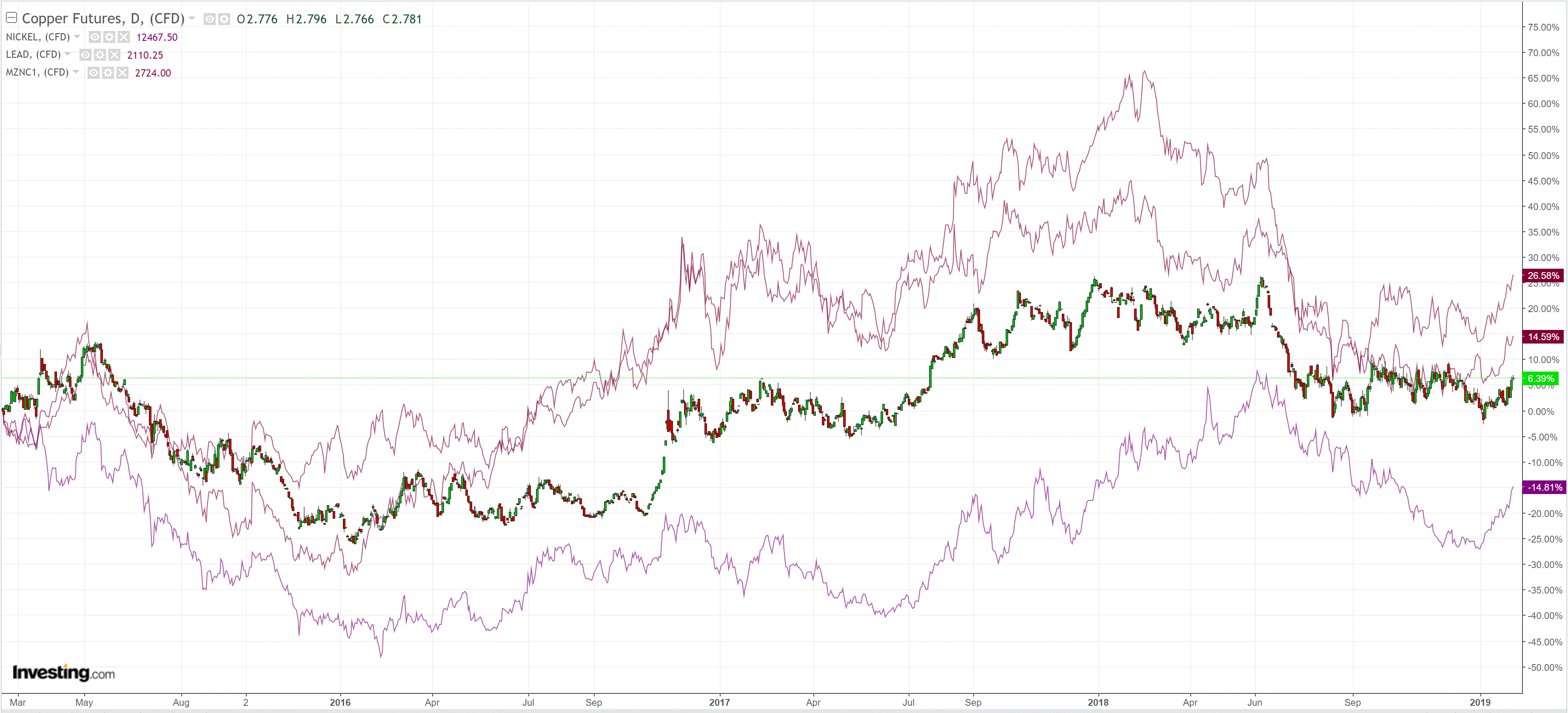 Big Miners cock-a-hoop: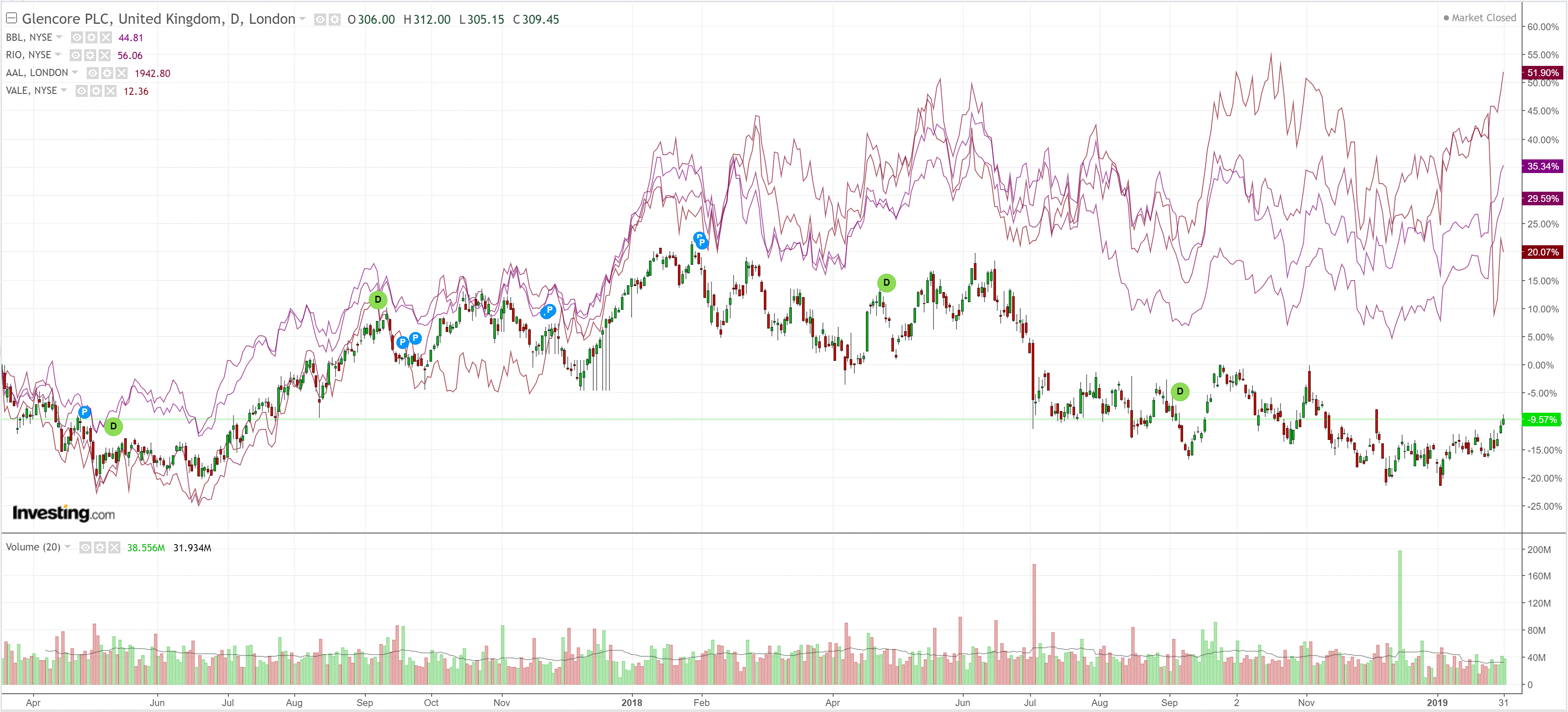 EM stocks have broken out: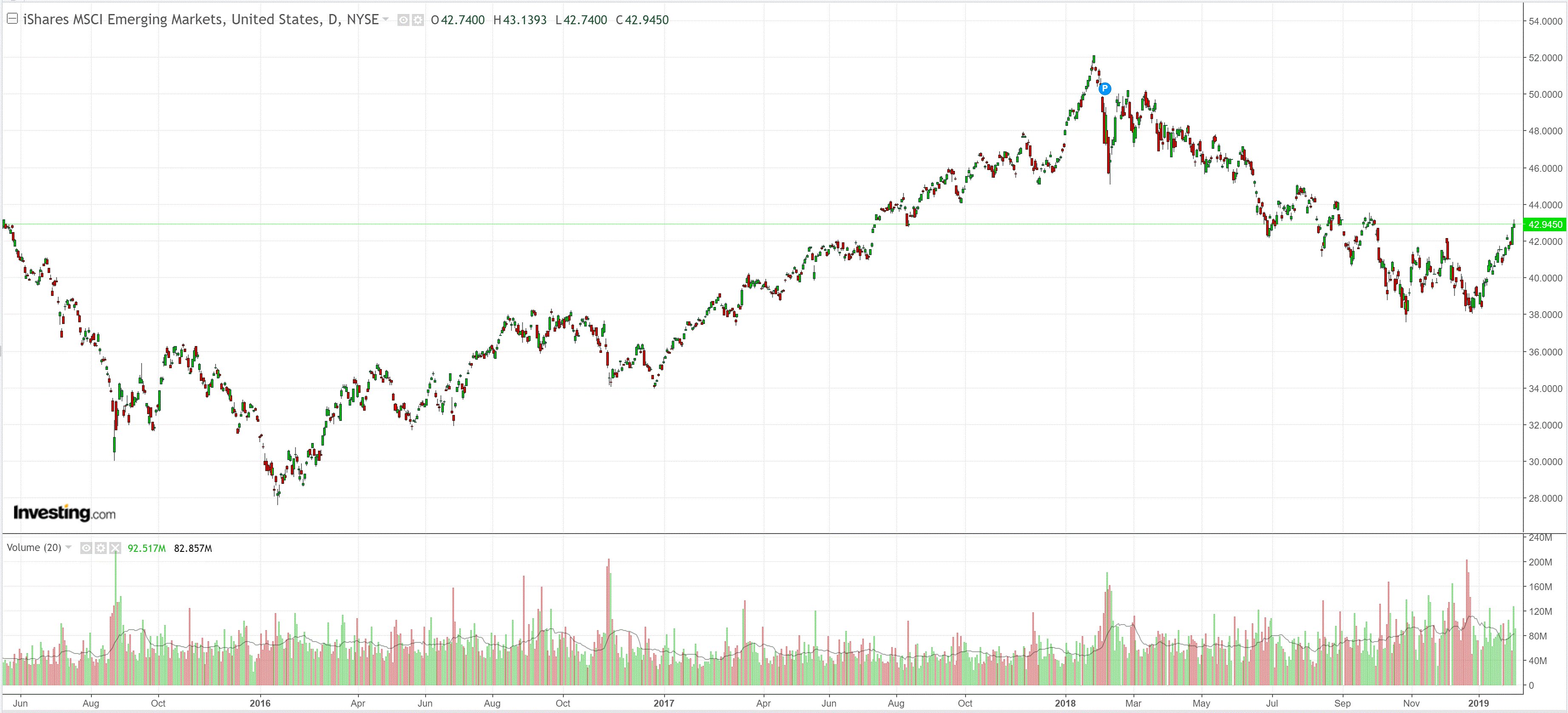 Led by junk: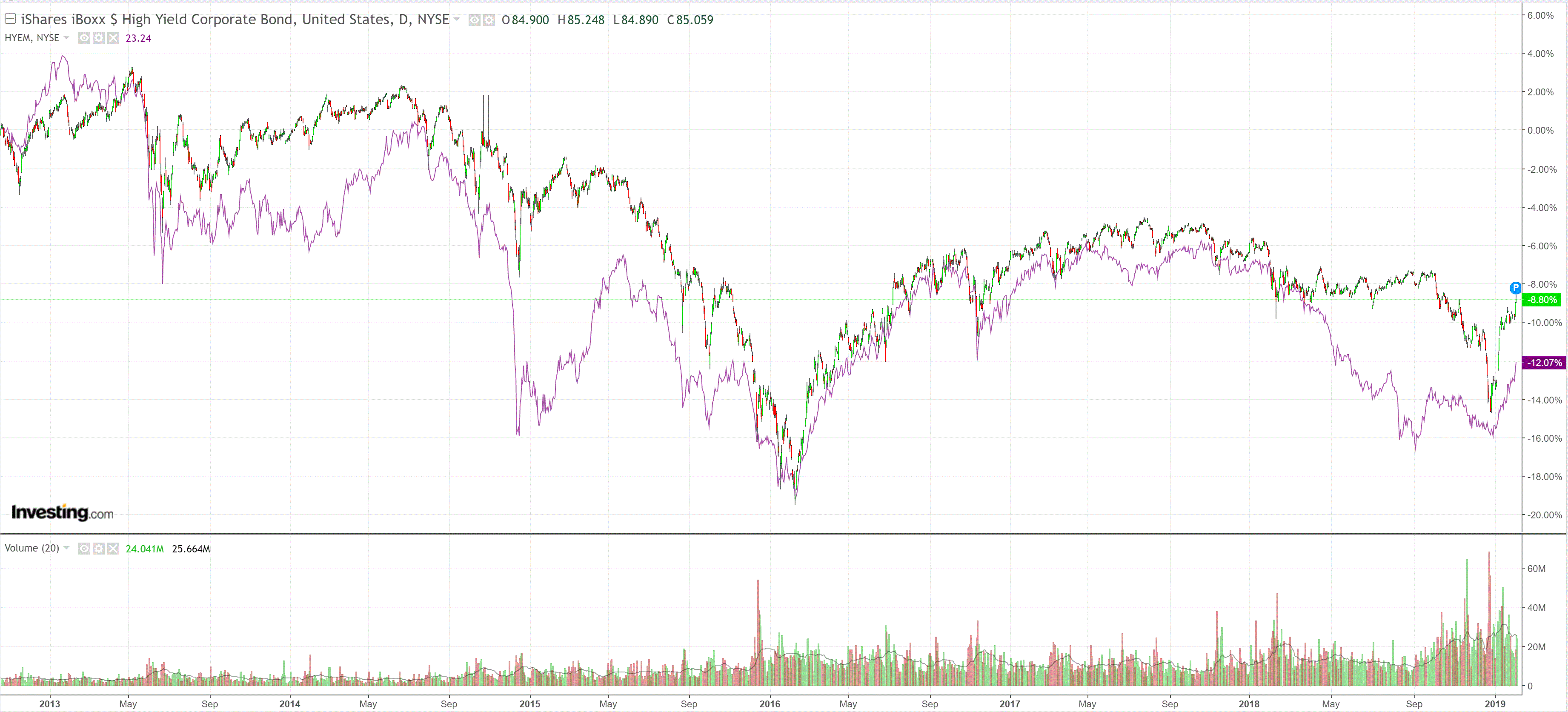 And a big bid for Treasuries: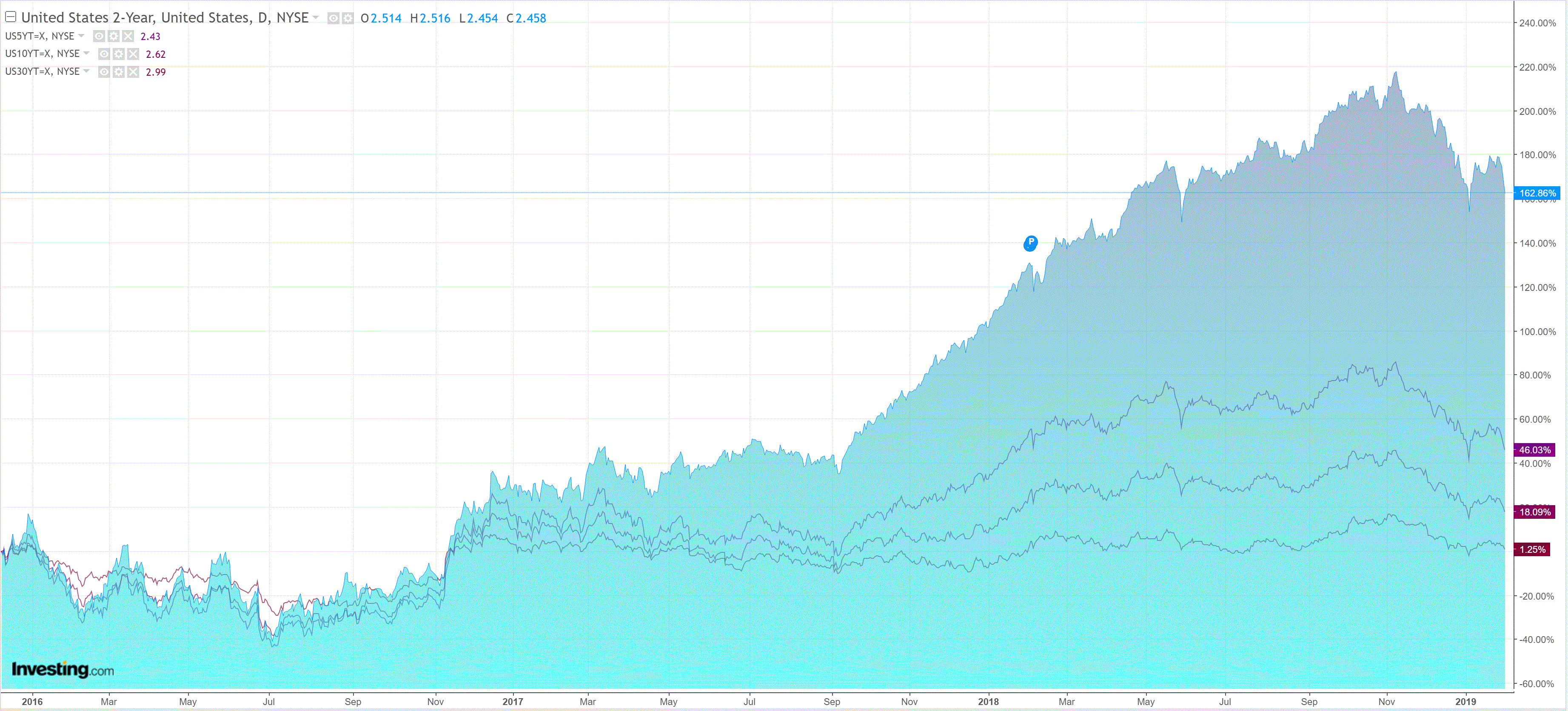 As well as bunds at the long end: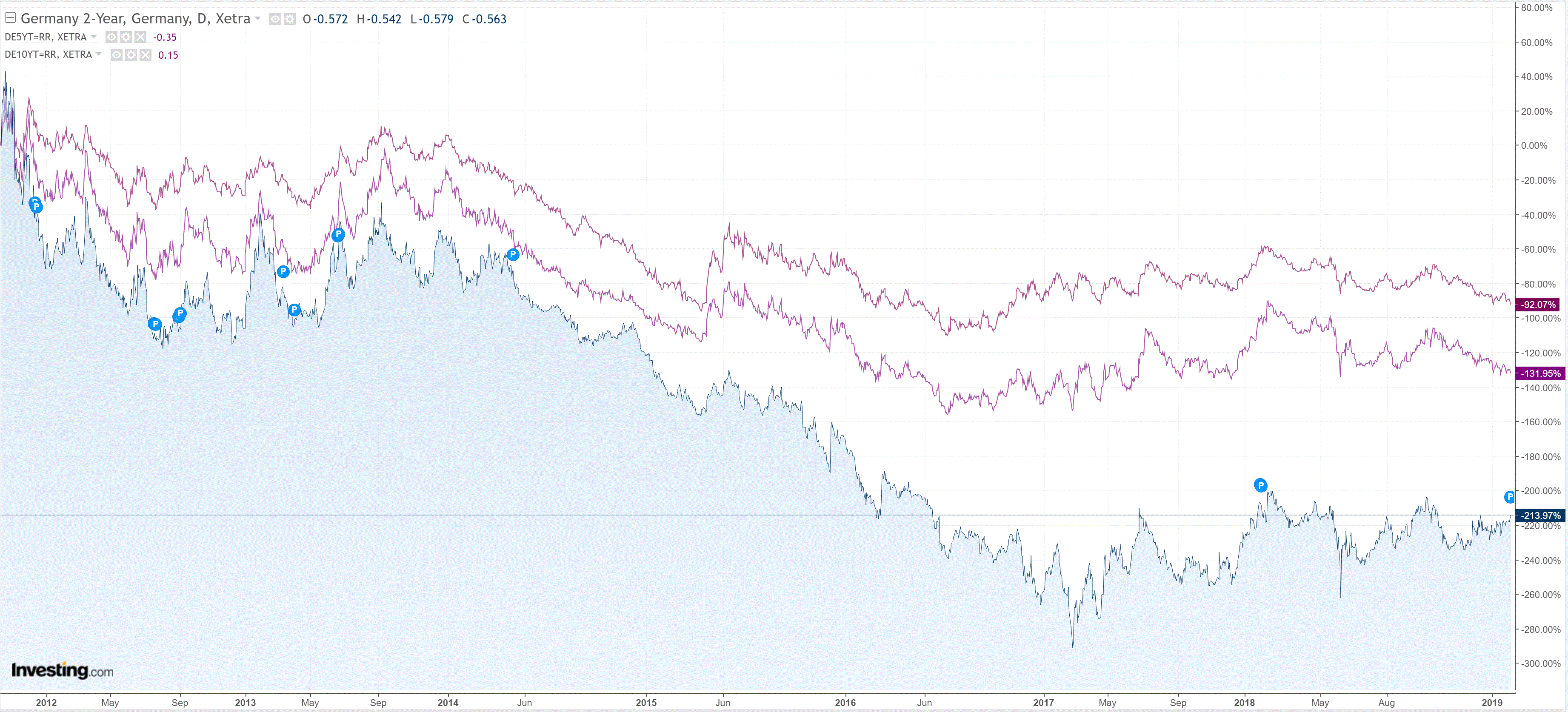 Stocks love it: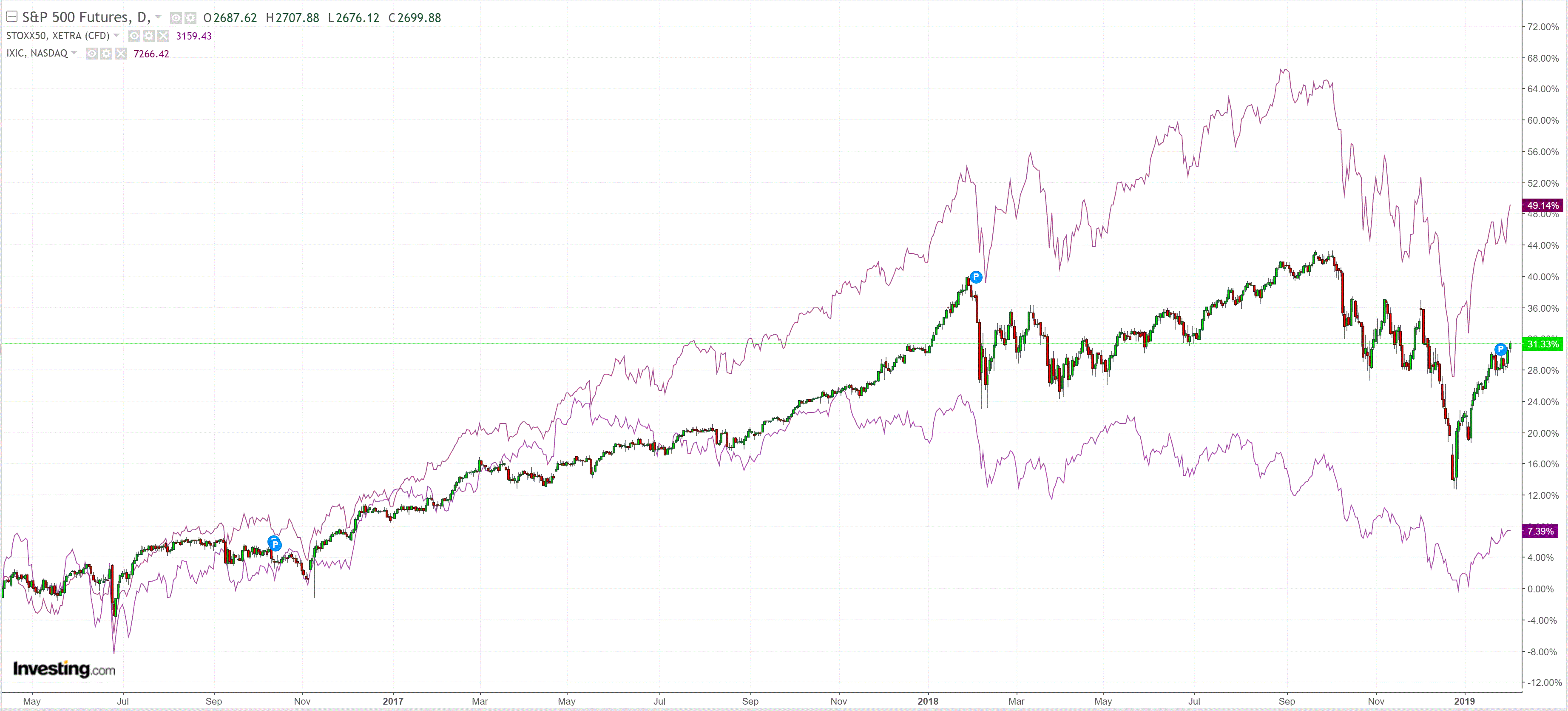 Westpac has the detail:
Event Wrap

Although Eurozone Q4 GDP met, admittedly low, expectations of +0.2%q/q (1.2%y/y), market attention was grabbed by the confirmation of technical recession in Italy where Q4 GDP's -0.2%q/q (est. was -0.1%q/q) followed Q3's -0.1%. Concerns over Italy's budget proposals submitted in Q4 2018 are about the Government's projection for relatively sound growth in 2019. Politics in Italy is continuing to bubble. Recently Salvini and his right wing League have intimated the advantages of another election. Today Berlusconi suggested that a centre-right allegiance could sweep away the populist 5-Star even without an election.

Earlier German retail sales for December fell a sharp -4.3%m/m (est. -0.6%m/m). This was much more than can be explained by a distortion due to Black Friday boosting sales in November.

Bundesbank and ECB'sWeidmann acknowledged the low growth potential for Germany in 2019 but asserted that growth would return to its expansion course in 2020 and 2021.

Event Outlook

Australia: Jan CoreLogic home value index is expected by Westpac to decline 1.0%, continuing the downtrend. Jan AiG PMI is released after the index slipped to 49.5 in Dec – the first contraction in 26 months.

Japan: Dec jobless rate is expected to remain very low at 2.5%.

China: Jan Caixin PMI follows yesterday's NBS reading which showed a still subdued manufacturing index but a jump in non-manufacturing.

Euro Area: Jan CPI is anticipated to show annual headline inflation decline to 1.4% from 1.6% due to energy prices while core inflation remains at 1.0%.

US: Jan non-farm payrolls are expected to rise 165k following the very strong read in Dec. The unemployment rate is seen to hold at 3.9% with average hourly earnings annual growth also unchanged at 3.2%.
And Charlie McElligot at Nomura has the reflexivity:
The steepening is the longer-term catalyst for U.S. Equities "Value" factor market-neutral as funds rebalance portfolios into the "end of cycle / start of next cycle" trade (long "Value," short "Growth" as steeper curve "bleeds" the prior funding-advantage of now-EXPENSIVE Growth companies in a flattening curve environment, and further down-the-road as we approach easing, we see "Value Longs" work, which are economically-sensitive / very Cyclical which respond to easier FCI)—also worth again noting that the steepening too is a powerful headwind for "Momentum" factor as well
The curve steepening is the core then to my favorite risk-book hedge, 1Y expiry 5s30s curve cap options contingent with SPX lower (we have this flow, and doing it contingent with SPX cuts the price in half)
The dovish capitulation is driving a massive move lower in U.S. Real Yields and U.S. Dollar, which means another impulse higher for Gold
For the same "lower USD / lower real U.S. Real Yields" catalysts, we are SUPER bulled-up on market-neutral (+) EEM / (-) SPY expression on the EM / DM convergence trade
A similar (but even "saucier") thesis with additional "High Beta-" and "Value / Growth-" kickers is (+) FXI / (-) QQQ
Also juicing the rally, there is this, via Sinocism:
President Trump took to Twitter Thursday morning to tell us that the trade talks are progressing and that he will be meeting Xi Jinping soon:

A Trump-Xi meeting in the "near future" is not a surprise, as I wrote last Thursday:

My neck hurts from all the US-China trade talks whiplash. I wish everyone could chill out but that is not how the markets work. Be wary of leaks and "scoops", what matters next is the the Liu He visit next week. The two sides are still far apart, but there are also 35 days until the March 1 deadline and I don't expect any deal will truly happen until Trump and Xi meet again.

I concluded my CNBC appearance Wednesday by saying:

When Liu He meets with President Trump tomorrow…he is likely to..convey a message from Xi Jinping that Xi would like to meet with Trump some time in the near future…because ultimately the Chinese believe that the only way they are going to get a deal is if there is another face-to-face between Trump and Xi and ultimately they believe if they can get face-to-face with Trump they will probably get a more favorable deal for China.

My guess is that the meeting will be scheduled around the Trump-Kim summit, and if Trump and Kim meet in Vietnam or Thailand then Hainan, and perhaps Bo'ao (China's Palm Beach…) is the likely location.

But even if Trump and Xi get to yes on a trade deal the broader friction and competition in the relationship, including around technology, is only going to intensify.

One wildcard: When they meet will Xi make a last-minute request to release Meng Wanzhou and settle the Huawei indictments with a fine? It worked for Xi in the ZTE debacle.
Yet fundamentally this is still a counter trend rally. Europe is sinking: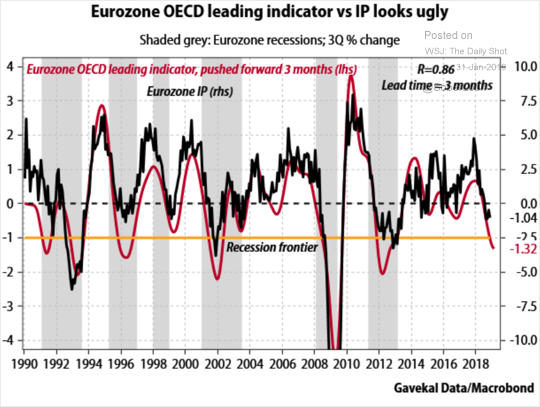 And its rates liftoff disappearing: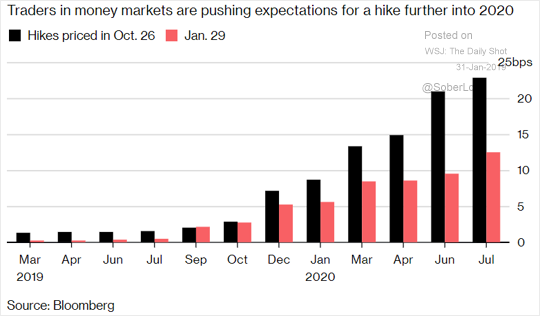 The ECB will need to pivot soon too. As well, China is still slowing and will need further material stimulus.
I don't like fighting the Fed but in circumstances where the USD will struggle to keep falling I see a better option of getting on board with it via bonds than equities.