Remember this rubbish from last year? According to Business Insider, mining wages were "soaring" once more in Western Australia as the state experiences another commodity boom:
…within the broader macro picture, there are pockets of good news. Among them is a mini-resurgence in Australia's mining sector.

Research from NAB this week shows activity levels are rising, for both capital expenditure on existing projects and new exploration…

NAB is seeing more evidence of upward pressure on wages…

"A deeper dive into labour demand trends from the SEEK data base reveals an already-emerging increase in salaries on offer in in the 'Port Hedland, Karratha, and Pilbara' region over the past year," said NAB economics director David de Garis.

Although the numbers are coming off a low base, de Garis said advertised salaries for those regions were up a very solid 35% in for the year to July…

"This fits with the general tone of reporting of pressures emerging on costs (including labour costs) from several key resource companies of late, and cannot be of comfort to operators in the sector with aspirations to increase spending and activity further."

Also of little comfort — recent media reports cited by de Garis raising concerns about a critical shortage of mining engineers, following a sharp reduction in student intake since the end of the mining boom in 2013.
Not today, via the AFR:
Perth-based mining and civil contractor NRW Holdings last week won a $57 million contract for the earthworks, roadworks and drainage works for the rail component of Fortescue's $US1.9 billion Eliwana mine.

The company is also involved in BHP's $US2.9 billion South Flank iron mine and has previously worked with Rio Tinto, which is building the $US3.5 billion Koodaideri mine.

The three projects are at the early stages of development, but NRW chief executive, Jules Pemberton, said the surge in activity was nothing like the construction boom of 2011 to 2013, when the iron ore miners raced to build new mines to expand their output and meet demand from China.
All three mines are not expansions but replacements. That hasn't prevented the usual industry response, amplified by a gormless or corrupt press, to soften-up the government and open the floodgates for temporary foreign workers to fill invented 'skills shortages'. From The West Australian:
A growing skills shortage is threatening to derail billions of dollars in mining and resources investment, prompting industry leaders to call on the McGowan Government to relax its restrictions on overseas workers.

Chamber of Commerce and Industry WA chief executive Chris Rodwell warned the recovering WA economy "will grind to a halt" without an influx of skilled labour, while the head of a national recruitment firm said the number of Pilbara vacancies was already in the hundreds and growing every week…

"There is simply not the horsepower within Australia itself to meet demand," he said.
It's hard to take this 'skills shortage' claim seriously when WA's labour underutilisation rate is running at a sky high 16.4%: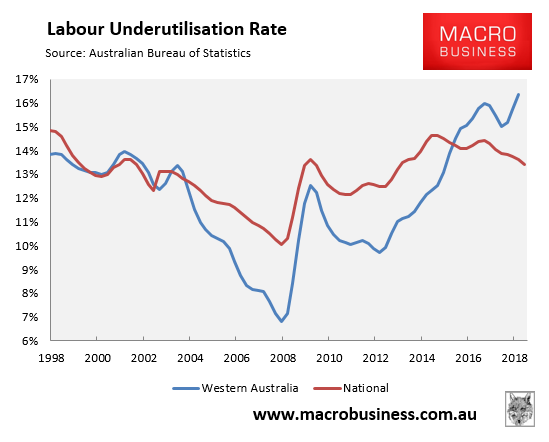 And mining wages growth, although recovered somewhat, is running at just 1.8%: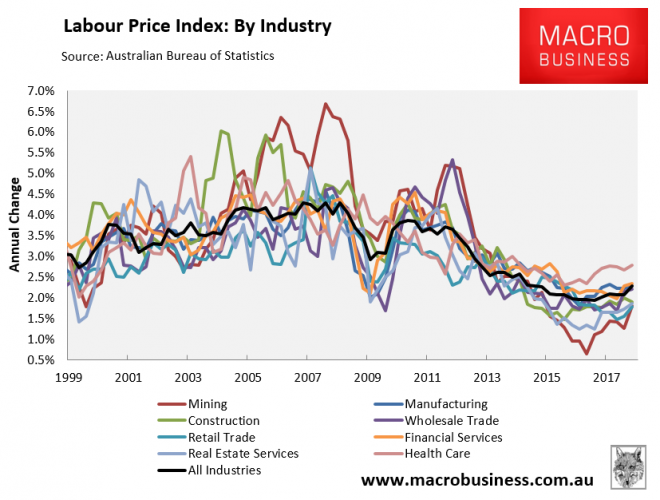 Interestingly, back in July hundreds of Aussie miners took to Facebook to protest against being replaced by foreign workers:
A Facebook group called "What Happened to Australia?" wrote: "Many people said their job applications were turned down, despite previous experience. Aussies want the jobs but mining companies have been rorting the visa system for years to save money. The government does nothing as usual."

"I know multiple people who have applied to work in the mines, myself included, and get rejected, so it's not that Aussies don't want them, it's that the mining company's don't want Aussies," Stuart Lightman added.

As more migrant workers are flown in to pick up mining jobs, conditions and pay have also begun to deteriorate…

"The more migrant workers that come in makes things difficult. They'd say yes to anything, they don't give a f**k," he said.
Whereas in August, Woodside Petroleum CEO, Peter Coleman, hosed suggestions about rising labour costs in Western Australia's Pilbara region, stating he could see no signs that "cost inflation" was rampant:
Woodside chief executive Peter Coleman has lashed Rio Tinto for warning costs were exploding across the Pilbara, saying expense growth had remained tame even as resources heavyweights compete for labour and equipment to fuel the next wave of resources investment…

Mr Coleman refuted the suggestion, saying wages were increasing modestly at between 3 per cent to 4 per cent…

"I've just been on a roadshow and I'm getting asked about price increases in the Pilbara," Mr Coleman said.

"It's not a good message because the answer for us is we are not. It was a broad brushed statement but it had reverberations. People are skeptical about our costs. It's actually scaring investors"…

BHP chief executive Andrew Mackenzie told investors last week the company was seeing some signs of inflation, but was "not fazed" by it, did not want to exaggerate it and believed it could be more than offset by productivity measures.
The only boom underway in WA is in lies.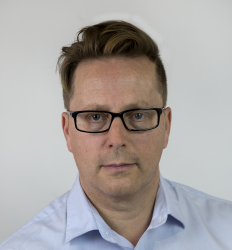 Latest posts by David Llewellyn-Smith
(see all)