Via Bloomie:
The U.S. dollar may be poised to decline, according to Goldman Sachs Group Inc.

Comments from Federal Reserve Chairman Jerome Powell on Friday boosted the chances that the central bank will pause interest-rate increases, strategists at Goldman wrote in a note Saturday. Powell cited the events of 2016, when rates were kept unchanged through most of the year due to concerns about slowing growth in China. The potential hold presents a chance for the greenback to drop.

"Combined with net softer U.S. data for December, we think a more data-dependent Fed creates space for further dollar downside," the strategists led by Zach Pandl wrote. "We are therefore recommending short DXY (or a basket with approximately these weights), with an initial target of 93.0 and stop of 97.5."
This may work in the short term but not for long is my view. The reason why is China and Europe and slowing even more than the US and their central banks will next be reversing course, and even more sharply.
Critical to support for DXY is the EUR. The US may be slowing and the Fed pausing but Europe is virtually already in recession with the ECB even further behind the curve and needing to pulled  u-turn urgently. From Damien Boey at Credit Suisse:
On Friday night, we saw a blisteringly strong US employment report, coupled with some dovish nuances from Fed Chair Powell. Just prior, we saw the PBoC cuts its reserve requirement ratio by 50bps. And before that, we witnessed a dramatic flash crash in certain currency pairings, partly driven by an unwinding of carry trades.

Central banks have started to respond to recent financial market turmoil, trying to talk down the significance of market weakness for economic growth, and lower volatility. Take Powell's comments for example. Powell suggested that:

The Fed is listening to what the markets are telling it.
Officials are open to changing the trajectory of policy settings if necessary, including balance sheet reduction (off run-off).
The latest payrolls data suggest that the economy is performing reasonably well for now.

Most of the street is obviously talking about the revised tone in central bank speak. However, the real question is whether Fed commentary and PBoC easing really changes anything. On the positive side, central bankers need to demonstrate some flexibility here to evolving financial conditions, and this may soon extend to other central banks, including the all-important ECB (who incidentally is confronted with a very sharp slowdown in economic growth, if PMIs, or our financial conditions index are anything to go by). On the negative side, they are responding to bad news, and therefore may still be behind the curve.

For what it is worth, the most reliable, and relevant leading indicators we follow suggest that at this juncture, the negatives still overshadow the positives, even though at the moment, the stock market is perhaps taking a different view. We note that:

The world real yield curve is quite inverted, even after recent talk and action from the Fed and PBoC. This foreshadows a very sharp slowdown in growth, with no end yet in sight. Literally, central banks are still "behind the curve".

Yield curve flattening has tended to be an ominous leading indicator of rising volatility in the medium term. So until central banks can materially steepen the curve through real and effective action, the risk is that volatility will continue to rise. Investors will not be fooled into thinking that the real economy is magically decoupled from financial markets.

The ECB is about to compound the net shrinkage in central bank balance sheets relative to GDP. Unless balance sheet run off is really stopped, and even reversed marginally, the risk is that credit risk will continue to get re-priced.

Wide and possibly rising credit spreads are likely to impair the transmission of rate cuts to the broader economy, keeping central bankers "behind the curve" for longer. We are likely to see this first in Australia, given that elevated interbank credit spreads usually foreshadow "out-of-cycle" rate hikes …
The same argument could be applied to gold as DXY. It is going to pull right back again if the ECB reverses course (though it will get support from a lower AUD).
I'm not buying it.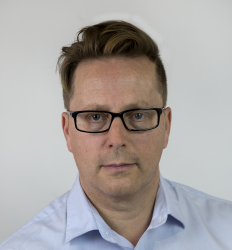 Latest posts by Houses and Holes
(see all)