Cross-posted from Prosper Australia: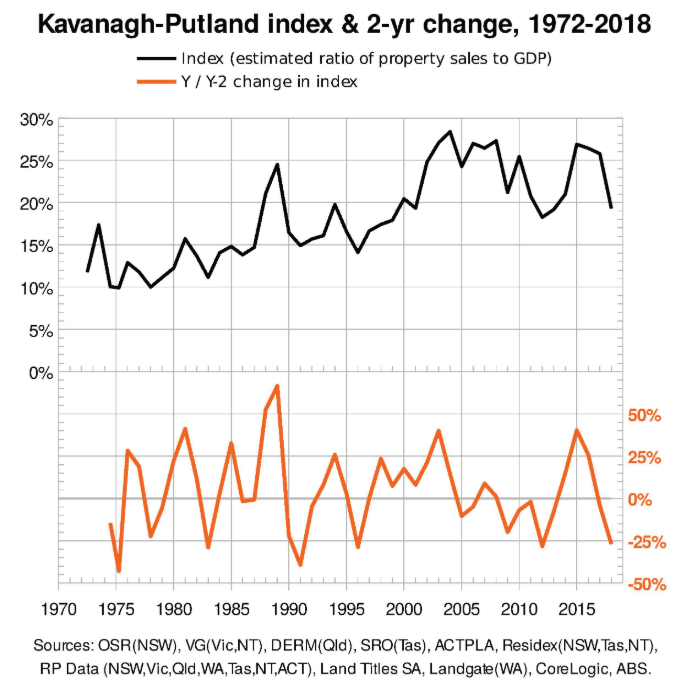 Real estate cycle expert Bryan Kavanagh says turnover and price declines in Sydney and Melbourne during 2018 indicate an economic recession in the 2019-20 financial year.
The 2018 "Kavanagh-Putland Index", released today, shows the total value of Australian real estate sales to GDP. Mr Kavanagh said the $50 billion pumped into markets by the Rudd-Swan government in 2008-09 to forestall the 2008 real estate bubble-burst of the USA and Europe "had simply kicked the can down the road for a greater financial correction".
"Led by the residential sector, Australian real estate markets have been in bubble territory since 1996, and the 2018 K-P Index update shows the correction is imminent", Mr Kavanagh said. "The Kavanagh-Putland Index demonstrates that recessions usually ensue within 12 months of the year-on-year index declining by more than 25% – and it did this during 2018."
Advertisement
"Since 1984, Australia's total land values increased by a factor of 23.5, averaging an increase of 10% per annum, whereas seasonally-adjusted nominal GDP growth has tracked at just 6.6% per annum. Whilst this represents a great return for buyers and landholders, it has been counterproductive because wages and demand have languished."
"Quite simply, the more we spend on real estate, the less we have to spend as consumers. This hurts small business, wage growth and employment."
"Australians have been doing what the tax system has encouraged them to do: to invest in real estate, because their increase in real estate wealth tends to dwarf the wages they're able to earn", Mr Kavanagh said.
Advertisement
"In 2010 "The Henry Tax Review" (Australia's Future Tax System) recommended getting rid of 100 taxes in favour of four: income tax, the GST, the resource super profits mining tax and an all-in land tax. Implementing those reforms could have redressed the imbalance between real estate investment and productivity" he said. "Except for a failed attempt at the new mining tax, these recommendations have not been taken up."
Mr Kavanagh said "The Progressive Era, from the late 1890s to the early 1920s, when much of Australia's infrastructure and its regions were developed, carried lessons for Australia. Some 50% of all revenue at the time was real estate-based whereas it now represents less than 10%. Over the last six years, Australia's income tax has ranged between 57.0% and 59.1% of all revenues and property-based taxes are now only between 8.6% and 10.8%."
"Billions will be lost, including in superannuation, because we inflated a gigantic real estate bubble to which our political leaders closed their eyes", Kavanagh stated.
Advertisement
More information is provided in the PowerPoint, The Economy Made Easy, presented below: