A recession election is coming. We may not be in an actual two quarter growth draw down by May but will feel like it and will likely to be happening in per capita terms. Here's my best guess for where we'll be at by May: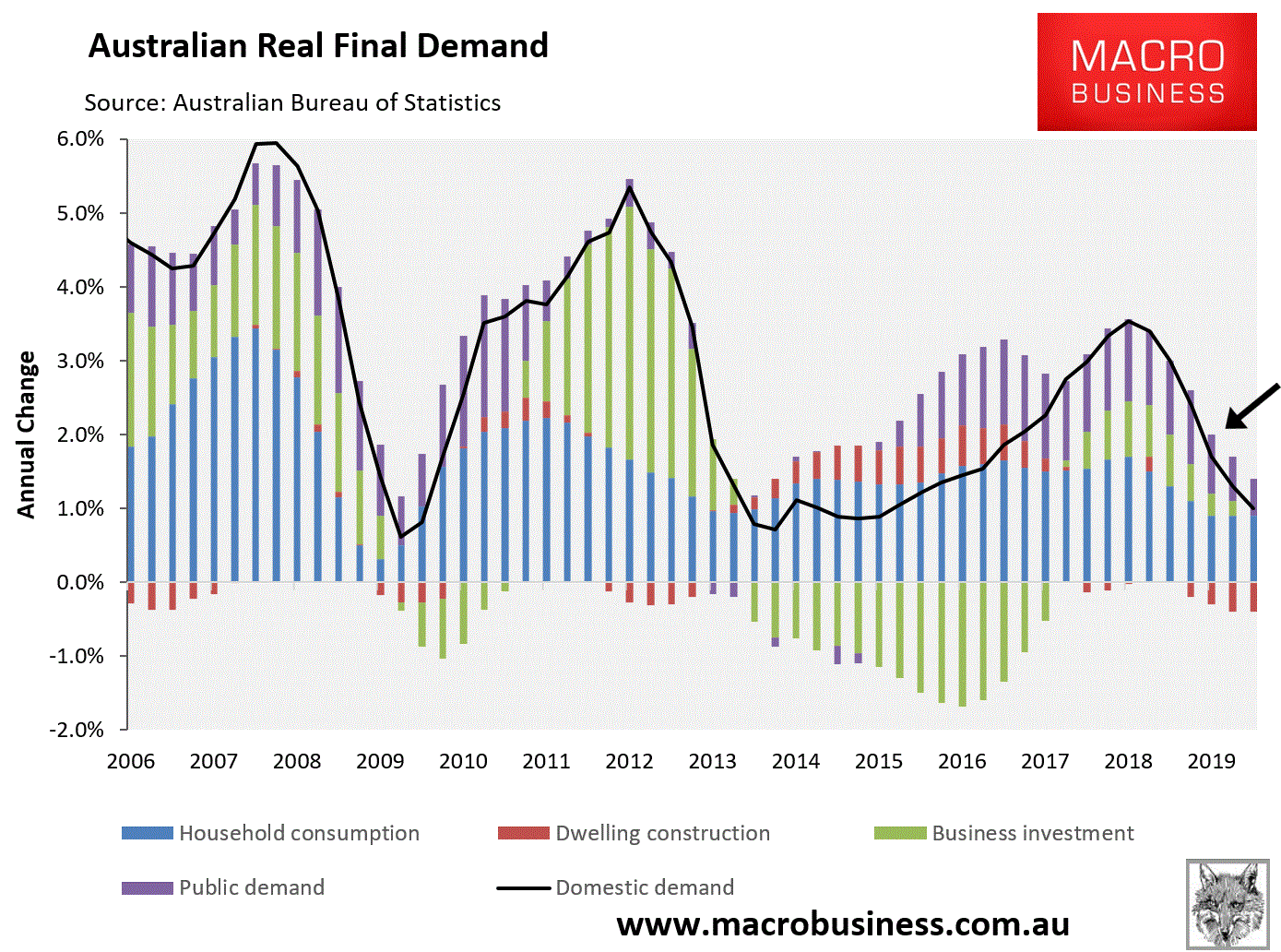 How will this impact the election?
The Coalition is planning to campaign on three fronts:
economic management and a surplus;
Labor's supposed tax hikes, and
border security.
The first is about to become a liability. It's all very well to crow about surpluses in the good times but in the bad it just looks like penny pinching. To fix that, Josh Recessionberg will have to swing to a framework of how the surplus has positioned the nation for new stimulus yada, yada, yada. Even if this is couched as tax cuts, it is inherently playing on natural Labor territory.
The second will get a boost. Given the developing downturn is driven primarily by the house price bust, Labor's negative gearing reforms are going to come under intense attack.
The third leg is neither here nor there but support for mass immigration is also going to come under more pressure as wage growth rolls over. That is again very difficult territory for the Coalition given its years of doing everything it can to gut wages.
For Labor the calculus is a little better. For a start it's not in government. Second, Keynesian spending suits its brand. As well, it is already campaigning under the rubric of "fairness" which will be reassuring to voters amid a declining economy. Its policies include:
tax reform to concessions such as negative gearing and franking credits;
low income household tax cuts;
better infrastructure and services provision;
fairer welfare structures.
Clearly the first will be a political liability as the housing bust worsens. But Labor has already booted these reforms out to 2020 so it can reasonably argue that they are not responsible for the downturn and will be timely by then.
The last three are all well-suited to a recession election as households look to public support as they tighten belts.
There is one other free radical to consider. The lunatic RBA will return soon with more outrageous corruption as it seeks to restore illegal mortgages. That will also help the Coalition as it attacks Labor's housing reforms. The hapless RBA may also be forced to cut interest rates either before or during the election campaign. That will also favour the government.
In conclusion, I am usually of the view that recessionary conditions favour the incumbent given people turn conservative and risk averse. As well, Labor's tax reform agenda will become more difficult to sell. Even so, the election is a foregone conclusion and, given the Coalition rabble unable to maximise political gain from anything, any economic downturn will most probably only offer the polity one final reason to kick Scummo from power with a bullet.