Australia's infrastructure deficit is now projected to be around $800 billion, according to The Australian:
Engineers Australia last year estimated the infrastructure deficit — classified as the amount needed to bring the nation up to scratch — at $800bn. Infrastructure Partnerships Australia (IPA), the private think tank, has put the figure at $770bn….

Eight of the top nine projects identified by Infrastructure Australia as being a 'high priority' are designed to ease urban congestion, which is a growing problem in the nation's expanding city centres…
Blind Freddy can see that this infrastructure deficit has arisen because Australia's population growth was ramped-up from the early-2000s via the massive increase in immigration – a situation that is projected to continue indefinitely: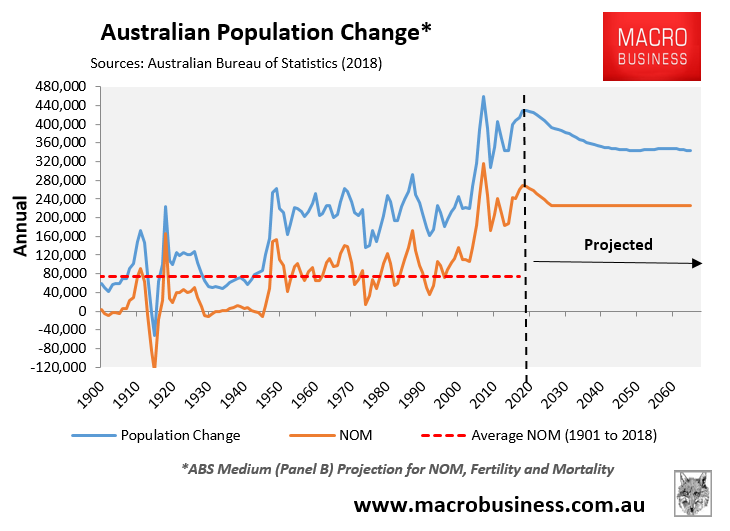 Advertisement
Yet, despite the massive recent increase in investment across Australia's major cities, the infrastructure deficit continues to worsen, as noted by planning expert Prof Michael Buxton of RMIT's Centre for Urban Research:
Melbourne's infrastructure building program doesn't go far enough, a professor of urban planning has warned…

Prof Buxton, of RMIT's Centre for Urban Research, said Melbourne was playing catch-up and could not keep pace with population growth…

Of the current building projects, he said: "There's certainly a lot happening, but it's all catch-up.

"And the rate we are going, we are never going to catch up with the need. While it's important work, it's nowhere near the level of infrastructure building that we need,'' he said…
Last month, Infrastructure Australia released a report entitled Planning Liveable Cities, which lambasted our governments' intractable failure to cope with the last 15 years of extreme population growth. The report also admitted that Australia's federal system of three levels of government and entrenched vertical fiscal imbalances makes it practically impossible to build enough infrastructure to cope with the projected population deluge brought about by the mass immigration 'Big Australia' policy.
Advertisement
Specifically, Infrastructure Australia identified six holistic planning failures afflicting "Australia's largest cities as they grow":
Finding 1: Infrastructure delivery is struggling to keep pace with rapid population growth and change. Our largest cities are 'playing catch up' in delivering infrastructure to support population growth. In fast-growing cities, housing development tends to lead infrastructure delivery, making it difficult for governments to plan strategically for the long term and meet the needs of growing communities.

Finding 2: Australia's three-tiered governance structure can make it challenging to consistently deliver liveable places. Different levels of government have different responsibilities and priorities for delivering and maintaining infrastructure in our cities, which can lead to fragmented decision-making and investment.

Finding 3: Sector-led infrastructure planning can lead to uncoordinated outcomes for communities. Governments are structured to deliver sectoral outcomes, such as transport, education, and health services, rather than 'place' outcomes. Sector-based governance structures, particularly at the state level, can lead to siloed planning and infrastructure decision-making, inconsistent outcomes, and unintended consequences for places and communities.

Finding 4: Communities are increasingly disappointed by their experience of growth. Communities are understandably resistant to growth when they witness development that is poorly designed and not accompanied by commensurate increases in infrastructure. Community trust in governments to deliver infrastructure and services in growing cities is diminishing, as outcomes for a place are often not well defined and communities can feel left out of conversations about the future of their area.

Finding 5: Our infrastructure funding mechanisms have not kept pace with growth. There are limitations with the current funding mechanisms for timely delivery of local and state infrastructure. Funding mechanisms lack consistency and transparency, and vary in their effectiveness as a means of raising revenue. This creates uncertainty for governments and industry.

Finding 6: Governments and industry lack a shared understanding of the capacity of different infrastructure networks. Governments and industry differ in their understanding of the current quality or performance, and projected growth and capacity across infrastructure networks in our cities. While the different levels and arms of Australia's governments increasingly use common population assumptions, information about the available and potential capacity of infrastructure networks is often fragmented, resulting in uncoordinated decision-making and planning.
So basically, to overcome the structural impediments Australia will need a new constitution, a new financial system, a new private sector and a new social compact that allows a centrally planned tyrannical system like China's. Otherwise we'll be crush-loaded across all public services!
Advertisement
Indeed, this is exactly the outcome predicted in Infrastructure Australia's February modelling, which projected that traffic congestion and access to jobs, schools, hospitals and green space will all worsen as Sydney's and Melbourne's populations balloon to a projected 7.4 million and 7.3 million people respectively by 2046 (let alone to around 10 million people respectively by 2066, as projected by the ABS):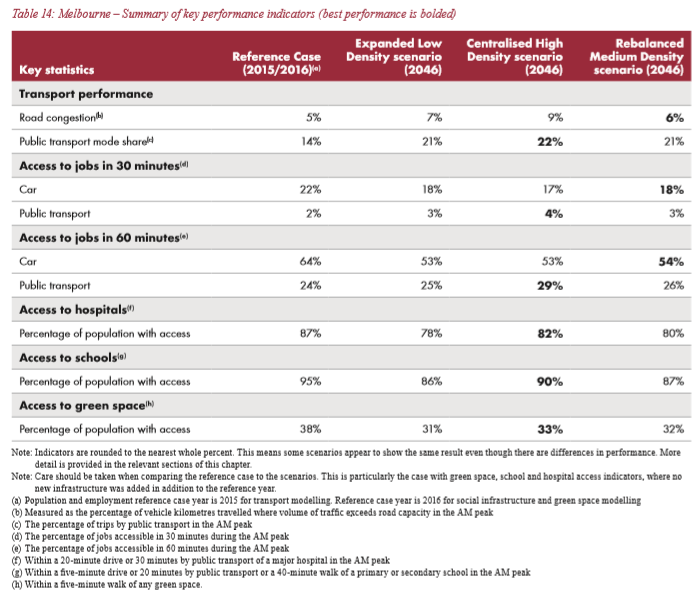 Clearly, the only viable solution to mitigate Australia's infrastructure and liveability pressures is to dramatically lower immigration (population growth) back to historical levels.
Advertisement
Why waste time attempting to 'plan' in vein for 43 million people by 2066 when we can simply stop it from happening by slashing immigration with the stroke of a pen?