by Chris Becker
While the headline looks bad at first glance, there's still a lot of good news for renewable energy investors and energy consumers with the Bloomberg New Energy Finance annual report out this week.
Global clean energy investment totaled $332.1 billion in 2018, down 8% on 2017; last year was the fifth in a row in which investment exceeded the $300 billion mark. Solar commitments declined 24% in dollar terms even though there was record new photovoltaic capacity added, breaking 100GW barrier for the first time.
So while in dollar terms the value of new investments has declined, the good news is the cost curve for renewables is also declining, making it more cost effective than fossil fuels.
More detail here at CleanTechnica:
The vast majority of technologies saw varying levels of increased investment in 2018. Smaller technologies such as biomass and waste-to-energy increased by 18% to $6.3 billion, biofuels increased by 47% to $3 billion, geothermal increased by 10% to $1.8 billion, and marine investment increased by 16% to $180 million.

Small hydro, on the other hand, decreased by 50% to $1.7 billion.

Wind investment increased by 3% in 2018, representing an increase of 14% for offshore wind with $25.7 billion and a 2% increase for onshore wind which saw investments total $100.8 billion.

Most importantly, however, has been the shift away from traditionally dominant offshore countries towards China, with 13 Chinese offshore wind farms starting construction in 2018 at an estimated value of $11.4 billion.

"The balance of activity in offshore is tilting," explained David Hostert, head of wind analysis at BNEF. "Countries such as the U.K. and Germany pioneered this industry and will remain important, but China is taking over as the biggest market and new locations such as Taiwan and the U.S. East Coast are seeing strong interest from developers."
So why has solar investment reduced so quickly? Mainly due to Chinese investment as a result of the dramatic shift in their internal policies as the renewable sector became too disruptive, even for the so-called command economy. This may reverse as the market stabilises, as does the ongoing trade war with the US, but also as the glut of PV cells made in China is absorbed by the global market.
But the upside news is the cost of installing solar energy is reducing at double digit rates, with a 12% drop to install 1 MW in 2018, with solar and wind continually cheaper than fossil fuels, confirmed by the CSIRO/AEMO study released late last year, even when you include storage costs.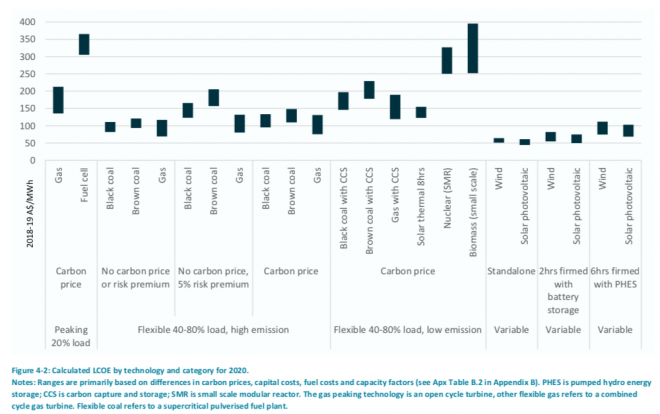 And this is all without any widespread carbon price or a reduction in the gigantic tax subsidies given to fossil fuel energy extraction and production.
Australia needs to urgently reserve its gas exports and veto any new fossil fuel power generations, and still save money by investing in renewables. Conservatives are supposed to be more economic savvy than the tree-huggers, so why haven't they stepped behind the reality of cleaner and cheaper energy?
Latest posts by Chris Becker
(see all)