by Chris Becker
From Commsec's latest report:
Crude oil's sharp fall since October is helping to put some extra coin in consumers' pockets, in the form of falling unleaded petrol prices. Aussie motorists on the East Coast are enjoying the lowest pump prices in 15 months as the discounting cycle continues. According to MotorMouth and Informed Sources, daily average retail unleaded petrol prices are currently around $1.16-$1.18 a litre in Brisbane, Sydney and Melbourne

Pump prices in Adelaide ($1.11 a litre) and Perth ($1.14 a litre) are even lower, but prices remain elevated in the less competitive fuel markets of Canberra, Hobart and Darwin, where prices are as high as $1.50 a litre. Importantly, the wholesale unleaded petrol price is down more than 35 cents a litre from recent highs.

As of December 31st, the national average wholesale (terminal gate) unleaded petrol price stands at 112.0 cents a litre, down by 3.6 cents over the week.
The terminal gate diesel price stands at 121.3 cents a litre, down by 3.7 cents over the past week.
The wholesale unleaded price is down 35.4 cents a litre from recent highs.  
Last week, the key Singapore gasoline price fell by US$1.45 or 2.6 per cent to US$55.50 a barrel – the lowest level in over two years. In Australian dollar terms, the Singapore gasoline price fell by $1.39 or 1.7 per cent last week to $78.71 a barrel or 49.50 cents a litre – the lowest level in around 1½ years.    
MotorMouth records the following average retail prices for capital cities today: Sydney 115.9c; Melbourne 117.3c; Brisbane 116.7c; Adelaide 111.4c; Perth 114.6c; Canberra 147.4c; Darwin 136.5c; Hobart 152.1c.
Even with the latest OPEC agreement to cut supply, Brent crude has fallen over 15% from its peak, now at a two year low, as US shale supply come on line strongly with more than 100 additional rigs added in 2018: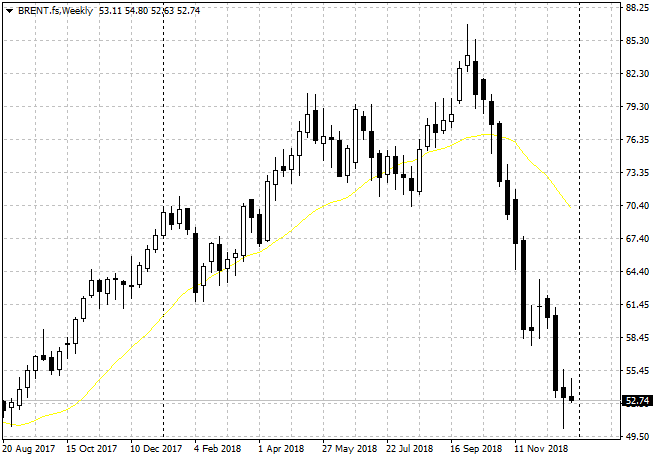 But will this bear market persist? In the short term, the uncertainty around the US-China trade war is the major concern, while the medium term effects from increased supply over relatively stable demand should – or "hopefully" – result in a recovery. More from Oilprice.com:
Despite a slight recovery in oil prices on the last day of 2018, benchmarks are set for their first overall annual decline since 2015, Reuters reports, noting since the start of trading in Asia today, Brent crude and West Texas Intermediate had gained around 1 percent each.

In fact, despite this year's overall loss, crude oil benchmarks are seen by investment bank analysts to soon start rising. A Bloomberg survey among analysts suggests sentiment will change in the new year, with the consensus on Brent crude at US$70 a barrel.

According to the participants in the survey, demand for oil will remain strong in 2019, OPEC's cut's will work to prop up prices, and production losses in Venezuela and Iran will strengthen the bullish effect.

"We could even see something similar to a V-shaped recovery next year, on two very important conditions," said Barclays' Michael Cohen, adding the conditions were "One, that the reduction in Opec exports leads to a reduction in inventories. And two, that we don't see a further deterioration in macroeconomic conditions."
The fly in the ointment is that OPEC members and non-members alike will not voluntarily cut supply as they have done so in the past. And the fact that a recession or at least a slowdown is around the corner for the US economy. The longer term problem remains the electrification of the transport system that will spell oil's demise.
Latest posts by Chris Becker
(see all)