by Chris Becker
The crew at Capital Economics are out with another very bearish forecast, reckoning the Pacific Peso is going to crash to 60c this year against the USD. After last week downgrading its longer term forecast for the RBA's move on interest rates – with a view of 1% as the housing market implodes – this is no suprise.
More from AFR:
Capital Economics sees the local currency falling to US60¢ this year and hovering there through 2020; it previously forecast it at US65¢ for 2019 and US70¢ for 2020.

"While we have been negative on the prospects for the exchange rate for some time, we previously thought that relative interest rate expectations would prevent it from falling too far," Simona Gambarini, the firm's London-based markets economist, said.
"Given that we no longer think that these will support the exchange rate, we have revised down our forecasts," Ms Gambarini also said.
That's a pretty steep fall and takes the Australian dollar back below the GFC low at 63 cents: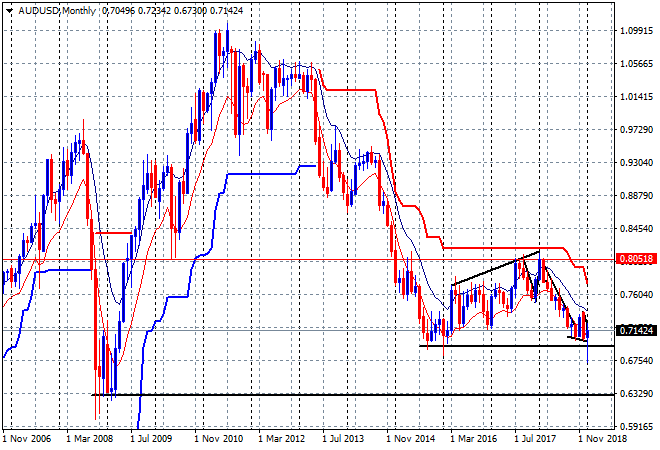 In the short term, watch the 69 cent lows – reached during the last nadir in late 2015 – as the crunch point for positions to move swiftly against the Aussie, which Capital Economics rightly points to as a risk proxy. With the US and European economies now at the end of their business cycle, the risk cycle has also peaked, and thus, the Aussie is going downtown.