See the latest Australian dollar analysis here:
by Chris Becker
It's the official start to the New Year after the two week break and of course, all the economists are out with their *predictions (YMMV) about the direction of the Aussie dollar.
To wit, ABC:
Citi's Paul Brennan described the bank's forecasts for the end of 2019 as "not particularly exciting, with both the cash rate (1.5 per cent) and the Aussie dollar (72 US cents) expected to be largely unchanged from where they ended 2018.

Chris Weston, head of research, Pepperstone agrees with Mr Brennan that the Australian dollar is likely to end the year at a similar level to where it traded over the second half of 2018, around 73 US cents.

David de Garis, senior economist, NAB expects the Australian dollar to be a touch higher at the end of the year than at the start, at 75 US cents, but warns the currency is likely to weaken before it strengthens, possibly below 70 cents for a while.

Richard Grace, chief currency strategist, Commonwealth Bank which has the same currency forecast as NAB,  expecting a 75 US cent exchange rate at year's end, and a very similar interest rate outlook.

David Plank, head of Australian economics, ANZ says his team also sees a fairly steady outlook for Australia's economy, but said the risk of things going wrong had risen and that would delay any thoughts of a rate rise by the RBA.

Damien McColough and Imre Speizer, Westpac have one of the gloomier outlooks for Australia's economy, and consequently for interest rates and the Australian dollar.
"With at best trend growth and still quiescent inflation, we maintain our long-held view that the RBA will remain on hold through 2019 and in 2020."
Not "everything is fine, move along" but a definite echo in terms of predictions and tempered downside risks. It's worrying when they're all in agreement, particularly when the Aussie dollar has been such a loser in the last 12 months against, well everything: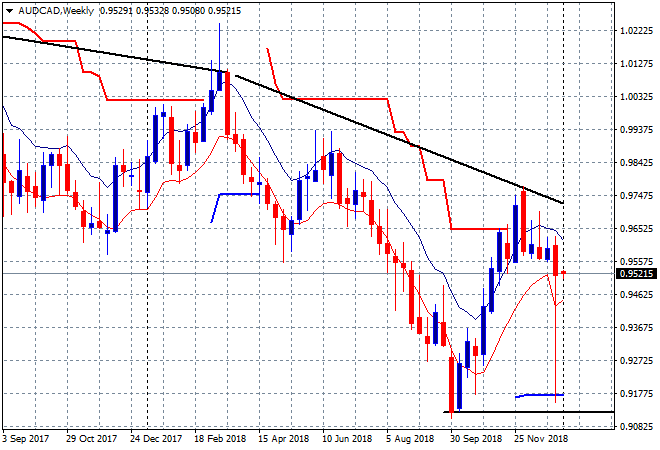 Given that the AUDUSD rate has dropped 10% in the last 12 months, and that the various forecasts this time last year were for a finishing point in the high 70's, low 80 cent region (CBA taking the cake with a 83 cent prediction, although Westpac was closer on the money)  it's hard to take these dart throws seriously: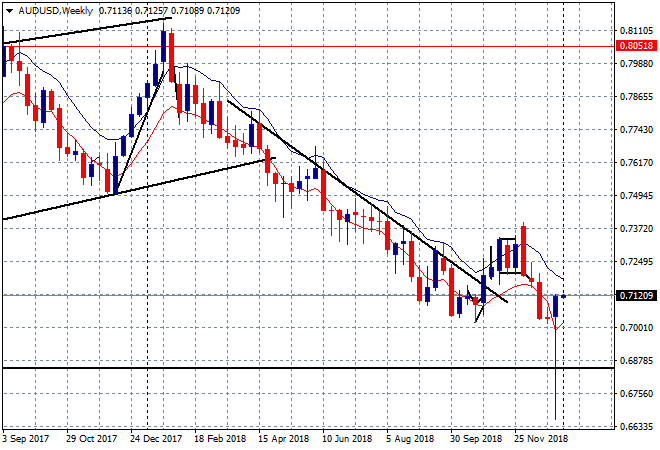 Predictions are hard to make, especially about the future, but the main support of the Australian dollar is as a risk proxy. With China slowing, the Euro region near recession levels, and the US economy peaking the downside potential for the Aussie is growing and growing. It's a loser, not a winner.
Latest posts by Chris Becker
(see all)